This weekend Christie's gallery at Rockefeller Center debuts a diverse group of works by Jean-Michel Basquiat that had remained largely unknown until just last spring, when the artist's former girlfriend Alexis Adler first spoke publicly about her collection.Adler shared an East Village apartment with Basquiat—Jean, as she and her friends knew him—over the course of 1979 and 1980. Before he knew Andy Warhol, before he had his own studio, before he could even afford canvas, Basquiat was already an irrepressible font of creativity, producing a constant stream of paintings, sketches, and text pieces. 
While many of the people in their circle didn't think to hold onto those scraps of paper, Adler saved a great many of them and kept them safe through the decades. If you can't make it to the gallery, where the collection will be on view over the coming weeks, don't worry—you can buy one of the works and to view at home at your leisure. Three sculptural paintings will be offered in the March 6 First Open sale, while another 39 works on paper and painted articles of clothing will be offered in an online sale running through March 17.
The morning before the show's opening, as she toured the display for the first time, Adler spoke with Artspace about her memories of the artist's first years in East Village and his legacy today.
So, you are still in the apartment where most of these pieces were made?
Yeah, though it has changed and been fixed up a few times over the years. We moved in to the apartment in 1979. The landlord had abandoned the building and it was half empty. You had to know someone to move in, and I knew the guy in the apartment next door. A few years later, the city was trying to get rid of these buildings, and I bought the apartment for $250, then about 10 years later the guy next door moved out and I bought that. It's a sixth-floor walk-up, and the neighborhood was kind of scary and wild through the '80s, but I was able to live in the city and raise two kids there.
And when you first moved in, the apartment was also his studio, is that correct?
You can see how the place looked back then in this picture I took [see photo below]. The furniture was a milk crate and a speaker. The floor was covered in paint because he was always painting stuff. You can see the TV he found on the street. The drawing on the front of the TV is here in the show, but the TV itself was painted over.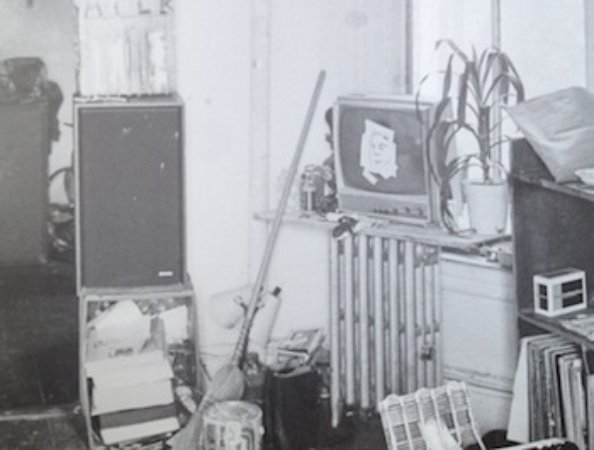 The drawing that was on the TV looks a little different now, the background has been filled in.
Things were constantly transforming. You see that in his later artwork. He was always adding to things, reimagining things, repositioning things. One day he painted my refrigerator door, and I said, "This is so beautiful," and the next thing you know, it was painted over. I would wake up in the morning and find a piece of clothing of mine had been painted. For the opening of this show, I'm planning to wear a gold coat he painted on. I got up one morning, and what could I say? It was just more beautiful.
So he took the idea of the street as canvas back home with him. Everything was canvas to him?
He used anything he could get his hands on. This is all just what he had access to. There's collage with cut outs from comics. Color Xerox was just coming out then, and it was so cool. It was expensive, but we knew the people who worked at these shops, and they would sneak us copies. This piece is a flyer for one of his first bands, Test Pattern. These texts are written on letterhead from Rockefeller University because that's where I was working at the time. 
His writing is something that he had obviously really developed, and it came through in all his work. He expressed it in his music, in the lyrics, and it's in his paintings. How many artists have so much writing in their paintings? In the next stage of releasing these things out into the world, I hope to address that further, looking at the writings included in these pieces.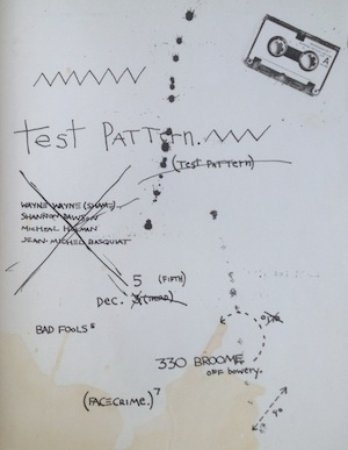 What led you to, as you say, put these things out in the world, things that you have lived with for more than 30 years?
Well, I've lived with some of the pieces. The painting of "Olive Oyl" was our living room wall at the time he painted it; more recently that room was my bedroom. I've painted around it three times. You can see a pink color and a blue color and a green color. But I always preserved his painting. To remove it this past year was a challenge. We went through five set of conservators over a period of about six months. 
There was a face that was on another wall, but there was a fire that almost burned the whole building down and it was demolished when they were putting out the fire. One time, he found a radiator cover on the street and painted on it and it has always been in the apartment, though it would move around the place.
Many of the paper pieces in the show, however, have been in a safe deposit box for 20 years. Every year or so somebody would come forward and ask me about Jean, and I would think about it. But I wasn't really that aware how much there was, and I hadn't seen it until December 31st of 2012.
When Hurricane Sandy hit, the river came to half a block from where I live and every basement on my block got flooded. The work was in a bank a few blocks north and the water didn't get that far, but…. So at the end of 2012, I went with my daughter and her friend to this funky old bank. The papers were on the bottom shelf in this basement. I knew I could not leave it there. It's his work, and it's not appropriate that it's in my bedroom. I could have tried to be a guiding force, but I'm not in the art world, so I turned to a really good friend, the art framer Barry Frier, and we looked a various options.
And are you hanging on to other things?
Well, some of the works in this show are not for sale—I'm keeping them. And I have all these photos, many of which I've never printed, and that I haven't looked at for 30 years. 
Do they show his work or him?
There are whole series like the one in the catalogue, where he said one day, "Ok, I am going to put Silly Putty on my face, and you take my picture?" I want to get that out next. And I am working on a series of essays by people who were part of our world with my own memories included as part of that. I've realized I have a responsibility to him and the work.