This year's Tate Britain Commission sees artist Pablo Bronstein take over the Duveen Galleries with Historical Dances in an Antique Setting, a punchy performance piece that blends dance styles from the Baroque to today's underground clubs. The multitalented Argentinian-born artist, who grew up in North London, has a lifelong obsession with architecture. Here, in his own words, Bronstein tells Artspace about how his latest project (up through October 9) is reinvigorating the museum space, and why he's such a devotee of Pironesi. 
THE PERFORMANCE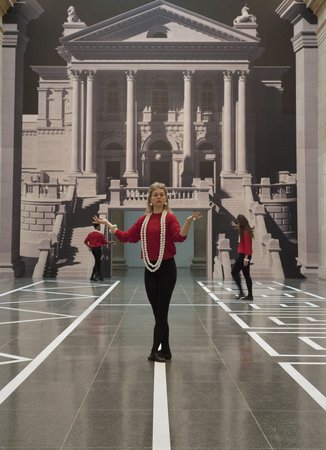 All photos from Pablo Bronstein's Historical Dances in An Antique Setting, 2016. Photography © Tate 2016.
The Tate Britain commission is an ongoing performance piece within a large set that transforms the Duveen Galleries into a stage. When you're in the space it feels as though the project has been successfully achieved, in that you're somewhere you recognize but it isn't the same old Tate. It's a six-month-long, seven-day-a-week continuous performance with three dancers. It's a kind of miracle really.
I started this kind of performance work about a decade ago as part of the Tate Triennial. In that sense it's like coming full circle—returning to the space and doing it properly, with a proper budget, feels like tying a knot somehow. I've had two weeks to work on the movement, which is very generous of Tate. For a museum to take the movement aspect and how it's developed so seriously is very rare. That said, two weeks is still not enough to choreograph it immaculately. But the dancers are so good I get all gushy about them.
Though it's one continuous piece, each of the three rooms that the performance inhabits in the museum is treated differently. The south Duveen space has a formal and rigid architectural structure, so the movement reflects that by being more controlled and formalised. In the middle galleries, the movement is set to a neutral piece of music and each dancer has their own solo. The north Duveen Galleries, meanwhile, are slightly more fractured and difficult architecturally, so at that point they don't perform in unison—it's more haphazard. Then it all loops back to the beginning again, in a loose narrative about the collapse of order and its restoration.
THE ART OF SPREZZATURA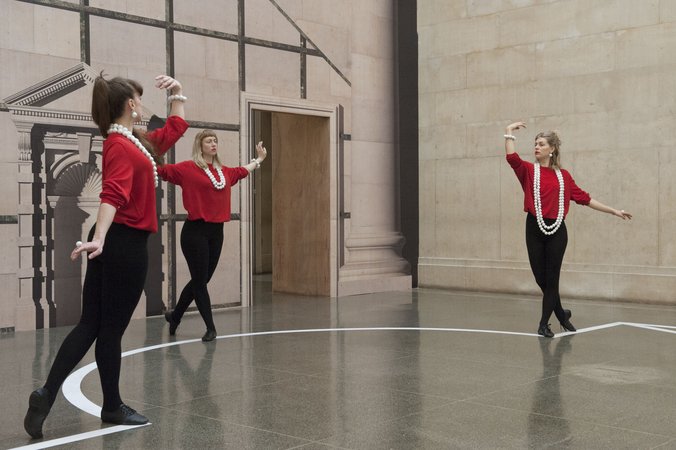 The performance draws on the Italian concept of sprezzatura—the art of refinement and elegance. It's physically very demanding. The dancers have to have an interest and experience in contemporary dance. If you take some ballet bunhead from a provincial company who's been doing Swan Lake all their life, they'd freak out. You need to be able to walk very straightforwardly and get on with it and cross the room without acting as though you're about to walk onstage at the Royal Opera House in Covent Garden.
The references in the performance are deliberately all over the place. One minute the movement is a bit Baroque and the next a bit Vogueing. It's minimal with a flick of the wrist. Like a period drama on television, it's a consternation of historical motifs that supposedly sum up a time. Imagine an inaccurate reconstruction of the Tate looking back from 500 years in the future, and this is it.
I see museums, essentially, as theatrical sets in which things are staged. This work makes us look at the fact that museums are public arenas for the personal act of looking at art, but it does in a tongue-in-cheek way. I'm not a Michael Asher who will make a gesture about the length of a gallery's stud wall—it's theater with a big capital 'T,' it's paste-it-on-a-billboard theatre with big, enormous pearls.
IT'S ALL ABOUT ARTIFICE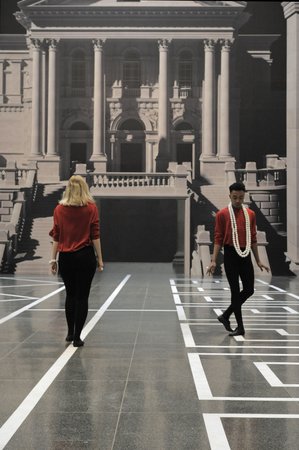 My work is always about artifice, and about how one language is not more real than another. There isn't some sense of total truth within the work. If this commission is about anything, it's making people observe something they wouldn't normally see in a museum. I'm less interested in the viewer experience—I'm too obsessed with the way things look. I'm more about making a picture myself, so I create and compose a picture, or a setting, or a tableaux. This is not about human beings—it's about image and objects.
I think my interest in architecture happened by mistake. I was born in Argentina, but grew up in North London. I've always drawn buildings compulsively. When you're a kid and you make a drawing of a house, your parents assume you want to be an architect—just like they'd think you want to be a firefighter if you draw a fire engine. I went along with it and was compulsive enough to carry on until I got to architecture school and had a meltdown. I realised it just wasn't what I'd thought it was. It was this incredibly commercial, straightlaced environment. All along I'd simply been making art, I just thought it was something else. So at that point I very easily jumped into art school.   
I've always loved and lived through objects. I'm a collector of porcelain and silver, and I'm obsessed with houses and doing them up. My partner has had enough of my interior decorating... and redecorating. I've always emotionally over-invested in decorative objects and buildings. I play around with an interior like it's a giant palette. I've repainted my Chinese room in a panic about 12 times. When I freak out, the thing I think needs changing is my dado rail color. Then I'll find I'm drawing in that same colour. Or I'll buy whatever I happen to be obsessed with at the time, and months later I'll start drawing it.  
IN THE FOOTSTEPS OF PIRANESI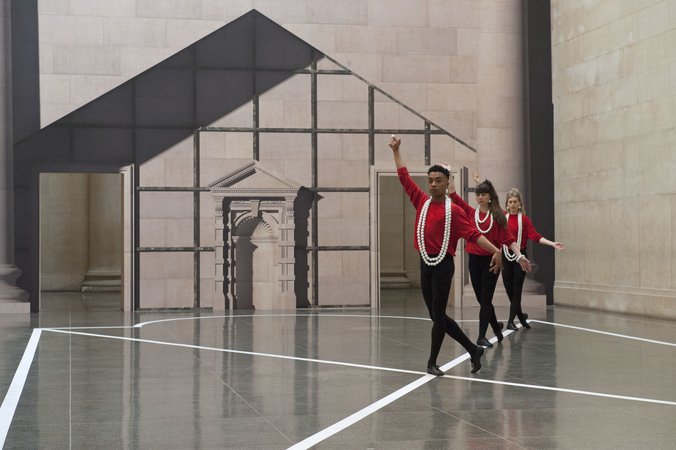 Giovanni Battista Piranesi [the 18th-century Italian printmaker] means a lot to me as an artist. The depth and richness of his emotions in relation to architecture is remarkable. He really invests himself in structure and its dramatic powers. To Piranesi, it's not about architecture—it's about emotion. He's one of those creators who makes these architectural pieces out of pure fantasy. He also used history in manipulative ways that I find appealing. He creates reconstructions that aren't really reconstructions, or increases the width of an arch in an illustration just because it looks better. Accuracy is superseded by the impulse towards drama that I love.
There's been a huge interest in performance and dance over the last 10 years. I think that when you have a space like the Tate's Duveen Galleries, you're obliged to show a diversity of practices. If not, the logical way of filling the Duveen Galleries will always be to shove enormous big sculptures in it. The Tate is looking for as many alternatives as possible—and rightly so.
For me the space is very bleak and cold but also very beautifully designed. Strangely, it's actually not that big when you've been in it for a long time. When you first look at the floor space it looks huge and monumental, but it's the size of a normal dance floor, not like Versailles. That's the power of the architectural details—the height, the mapping of the volume—which adds to the sense of grandeur. Yet with just three dancers, it's perfectly fillable. They don't feel lost in the void.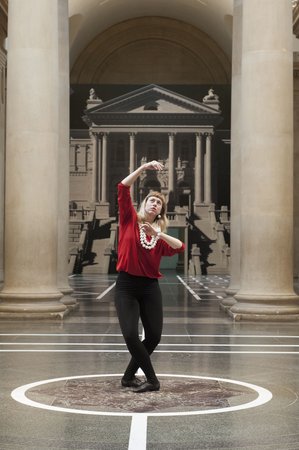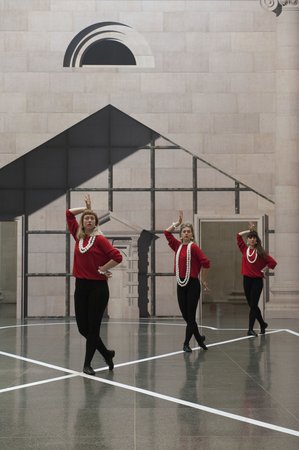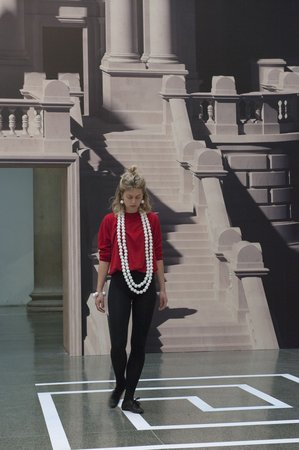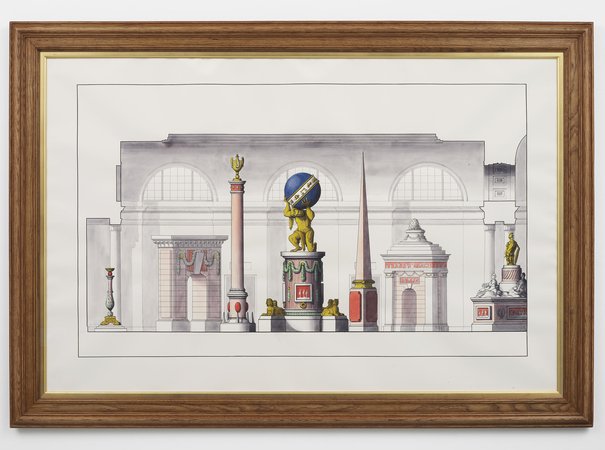 Pablo Bronstein's Tragic Stage, 2011