In his show of new work at Lehmann Maupin , the British art-provocateur Billy Childish seems to be looking back to a bygone era; his paintings of birch trees, naked women, flowers in vases, and his own visage immediately evoke the swirling compositions of v an Gogh , a comparison that pleases Childish. Indeed, the career of this self-declared "radical traditionalist" can be characterized by his dogged adherence to expressionist painting, as well as stream-of-consciousness writing and garage rock.

Born and raised in Chatham, England—well outside the gravitational pull of London culture— Childish found the freedom to pursue his interests in the utopian, D.I.Y. scene of British punk rock in the mid-to-late 1970s. He's started influential bands like the Pop Rivets , Thee Milkshakes , and Thee Mighty Caesars , although he's perhaps more famous for his involvement in the Medway Poets (a group of British writers who staged performative readings at punk shows) and, above all, the Stuckists , the anti-conceptual-art movement that railed against the rise of the Young British Artists with virulent, humorous manifestos and colorful figurative paintings.

These antics have earned Childish a place in the history of British contemporary art (as well as solo shows in places like White Columns and ICA London ), but he remains philosophical about his relatively newfound recognition. He's far more interested in finding himself through spiritual questioning, a practice that he champions with almost evangelical fervor as an emotional counterpoint to the "dead end" of postmoderism. In this condensed and edited excerpt from a recent conversation with Artspace's Dylan Kerr , Childish expounds on his worldview with his characteristic candor and wit.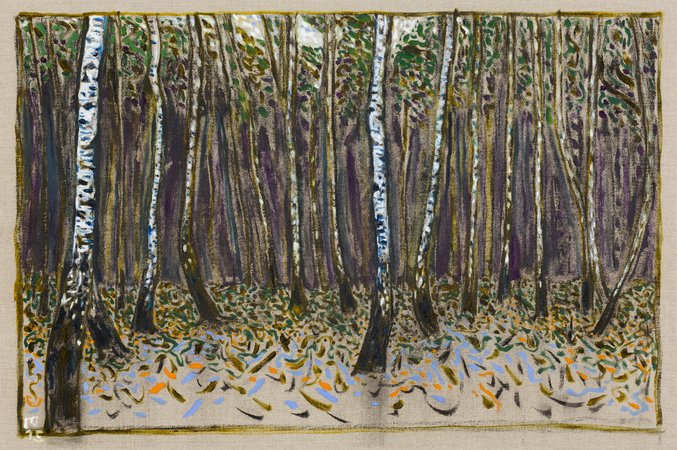 birch wood , 2015
I'm happy to have success in painting, but it's never been a goal. It happened by itself over a very long period of time and with some certain luck, and you can't tell how much is fashion and how much is sustainable. People might say, "We like mustaches after all. We'll have a mustache this week." You don't start thinking that mustaches will always be here as fashion requirements—they might become something to be ridiculed again. Painting often goes through these fashions—something can be okay and then not okay.
Quite a few people I know are slightly embittered because of their ability and the lack of reward, whereas I sit and ask, "What do you expect?" That's what it's like. The world is full of talented people. I think talent is vastly overrated. It's commonplace. Every town has a dozen guitarists or bass players that could play in a top group, but circumstances didn't work that way. You're better off engaging with the thing for the reason you want to do it, because the universe will give you what it wants. You better be putting your belief into something that's meaningful and sustainable, which is your relationship with yourself. If you've got any maturity—and the point of being alive is to gain maturity—you understand that you have fuck-all to do with the energies. The energies do what they do. Your part in it, the plan for you, it is to deal with your stuff and not get overly dramatic.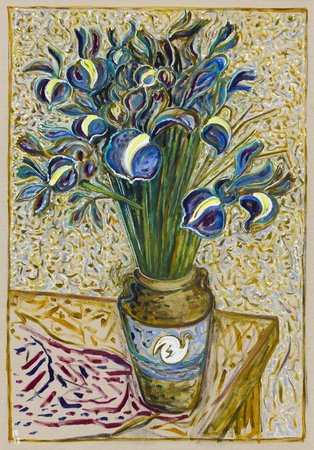 flags , 2015
I don't look for validation from other people. In music, I never thought that we weren't as good as anybody else. I thought we were better than anybody else. When we were in the Pop Rivets and we made our records, people asked us if we wanted to be successful. Even as 18-year-old kids, we said, "As far as we're concerned, we are successful. We're doing what we want to do." I'm probably a bit like that it painting as well. I'm innately confident, even in inability.
The thing I like about painting, you see, is painting. I'm not interested in the aftermath so much. I just happen to be someone with an artistic nature, so I like doing art. That's something that plays out, but it doesn't define me. The paintings rely on me—I don't rely on the paintings. They're just stuff. They do have some value to some people, but, really, anything that's any good will hopefully lead you to you, not to the object. We're looking for ourselves, not to own the Mona Lisa .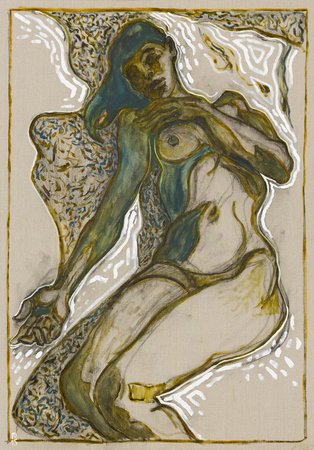 juju reclining , 2015
There are people who collect art that really like art. There're a lot of people who collect art because they really like investment. It really depends on your personal engagement. If you get worried about how other people are doing it, or if you're there to try to put the world to rest, it's a very tiring, impossible task.
You have to have the guts to engage with your own spiritual journey, which is what life is for. It can be reflected in art, but art won't take you there on its own. It's not good enough. You actually have to use your inquiring mind and question yourself and the bullshit of things. You have to avoid getting tied up in intellectual and ironic gameplay, which will not liberate you. We want freedom, we want liberation, and you're not going to get it in postmodernism. You're going to get it through authentic engagement.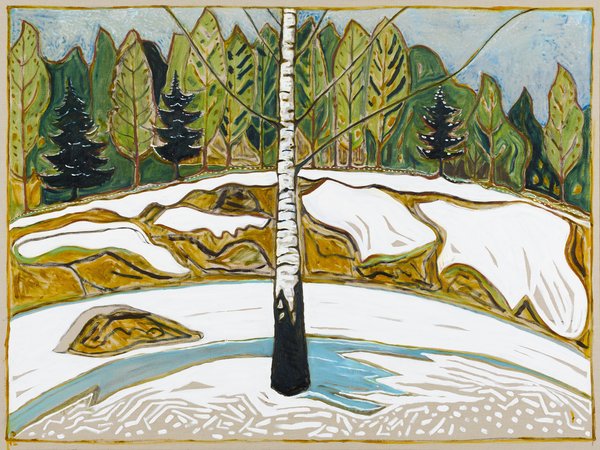 birch tree (after Munch) , 2015
Postmodernism is always making a joke or a reference to originality. It's worried about originality, but the only thing that matters is authentic response. Authentic response means you need to be in your heart, in yourself, because then you can respond authentically. You don't need to try find new ways unnecessary, innovative ways of taking art forward. Everything is already here. We're already completely equipped. That's why you could say there's a way beyond postmodernism, because you can look at the history of everything and work out what you like. You're trying to look at the whole map, and you can pick and choose where to go.
We live in a decadent time where everything zeroes out, but looking at your choices is a smart thing to do if you use your intelligence. If you don't have good discernment and you've got unlimited choice, it gives you complete inertia. This is why I don't think postmodernism makes a lot of sense. It's intellectually stunted. It's a hollow joke that might have had some resonance and meaning at the very beginning, but repeating it again and again is useless. It's like someone said, "I think that there's a shortcut to the freeway down there." It turns out that shortcut is a dead end, but then they keep driving down there forever. Postmodernism is stuck in this self-questioning, existentialist loop.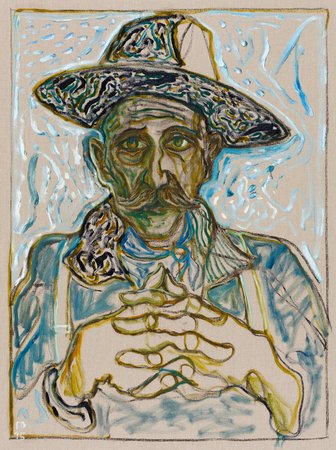 self portrait in hat , 2015
In painting, just like in music and writing, I'm interested in the elemental aspects. I like the basics of art, which is mark-making, and the basics of music, which is bashing sticks. You don't have to reinvent anything. You're given all these basic tools with a rich history. It's all for the taking, and you embrace that. That tradition gives you the freedom to do what you want to do, because you're not worshipping the tradition—you're using it.
This is why you could say there's a way beyond postmodernism, because you can look at the history of everything and work out what you like. You're trying to look at the whole map, and you can pick and choose where to go. There's no mandate. You could say that these paintings are ultra-postmodernist—they've absorbed everything, and then decided what's of value. Each one is just an exultation of being a painting. That's always current.