The paintings of Boston-based painter Emily Auchincloss are so saturated and colorful they're hard not to like. The fact that most of them are massive, original, and under $2,000 makes them even more lovable. Here the artist talks about how and why she made each piece available on Artspace.
Oovertaker , 2011
54 x 44 inches, Oil on Canvas
$2,000 or as low as $176/month

"I completed this painting during my final year of grad school at Pratt. I generally work very quickly and then stop to look at the painting for a while—maybe weeks or maybe months. I want to create space that allows me to take many risks for an attempted resolution. In this case I was thinking about the ocean as an emotional carrier of what we don't always know about ourselves. At first the painting was very still and didn't describe this idea, so after months I took this creamy, delicious, magenta oil stick and in about 30 seconds made these bright-red pulsing waves across the painting. My work often involves very fast moves and slower moves. It freezes time at different speeds. That's what I love about painting."
POV , 2012
50 x 40 inches, Oil on Canvas
$1,600 or as low as $141/month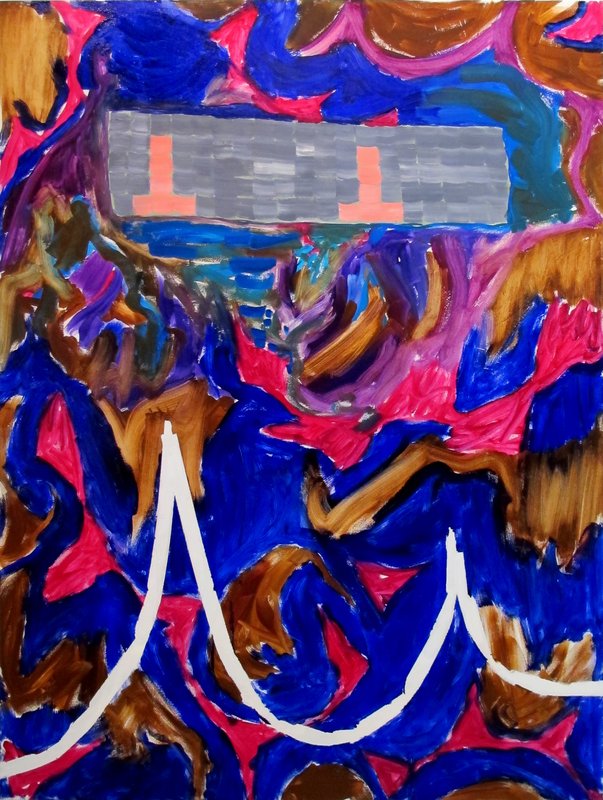 "This painting has an entirely different painting underneath it, and the only thing that remains from the original painting are the upside down 'T's with the blue around them. I had been working on it for a while and it was kicking my ass—I just couldn't find a way to resolve it so I decided to let it go. Then I put a group of juicy colors I've always loved on my pallet. In a very quick moment I added some lines of tape that creates those two heartbeat waves at the bottom, and then I painted a swirling (almost) pattern. From the moment I pulled off the tape I knew it was done, that was it. I love my paintings to live in a place in-between cohesion and falling apart."
Ultramarine , 2011
54 x 44 inches, Oil on Canvas
$2,000 or as low as $276/month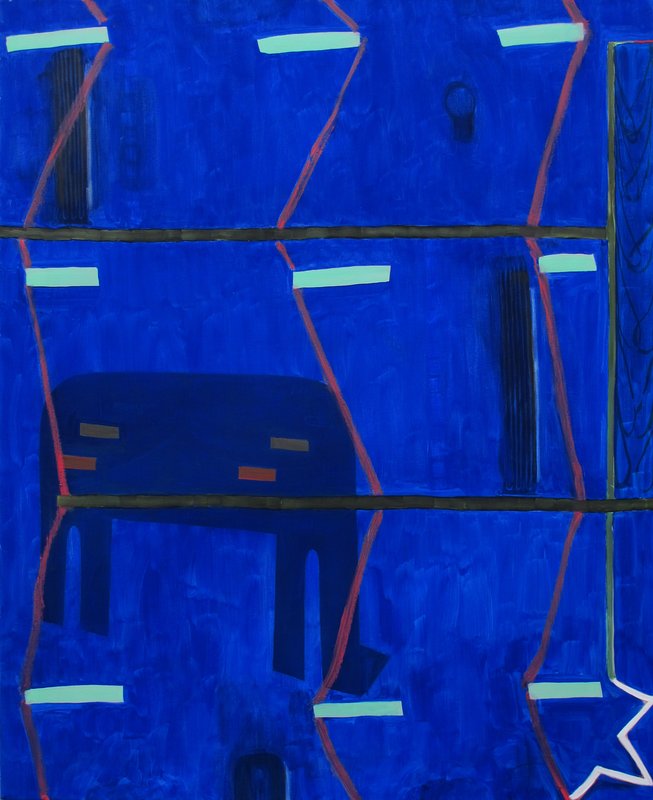 "This painting was also in my studio for a long time living as a very different painting. Underneath this painting is a bunch of floating objects: a watch, some pillars, an animal-esque object. I stared at if for a long time before I knew what this piece was saying. I ended up putting a netting over them, again very quickly, that captured these pieces into a space. I thought a lot about the Hindu and Buddhist concept of the universe as a net. It's talking about the interconnectivity of all things. So in my tiny little way, I created a net to capture these little floating objects and hold the in a space."
Eulalia's Vision , 2016
5 x 3.2 inches, Gauche on clay tablet
$400 or as low as $36/month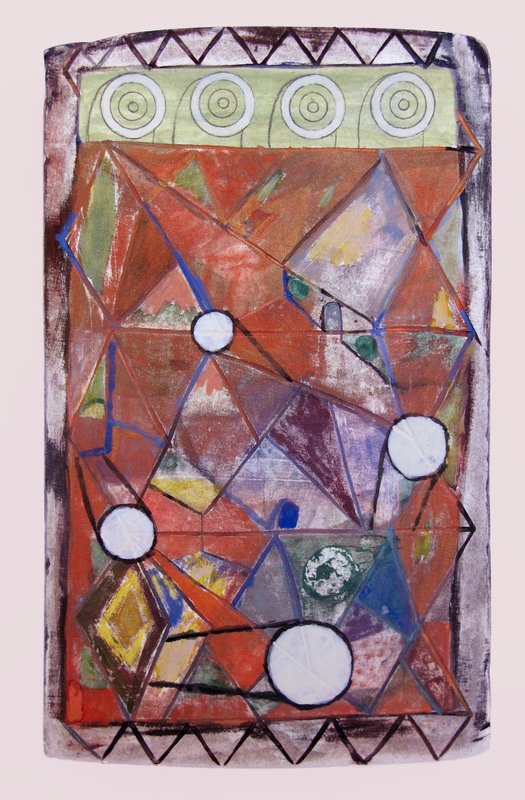 "Eulalia is my daughter's middle name; it means well-spoken. This work is newer and like all my new work it's gauche and some pen on air dry clay. This painting has many paintings in it, but it's been sanded down and carved into. Some of the lines you see are carved into it using word-working tools. Eulalia's Vision is about listening. Maybe it's listening to itself, I don't know. But these pipes coming up on the top of the image are somehow listening."

Smile , 2016
5.5 x 4.25 inches, gouache on clay tablet
$400 or as low as $36/month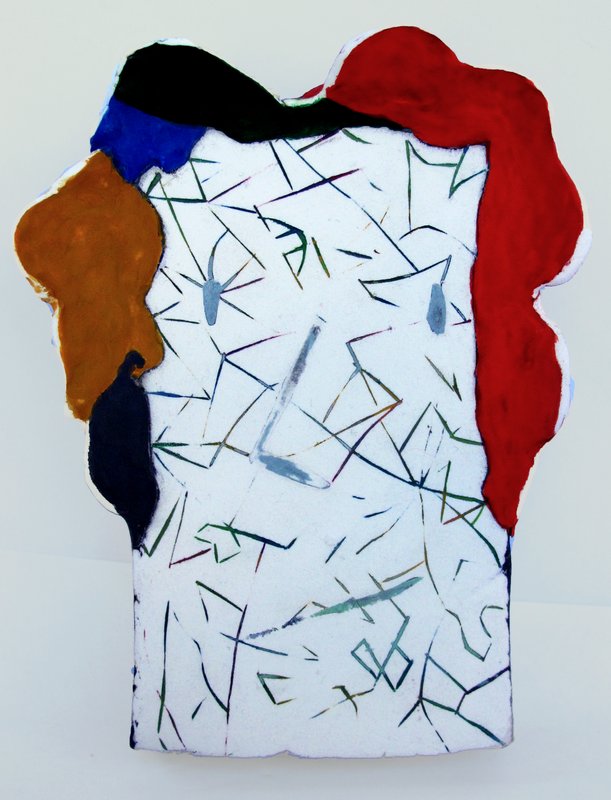 "All the lines in this painting are inscribed. It started off as a black painting and I fell in love with it, as painters do. But then the love wears off, which is great because you can step back and really look at it without a feeling of preciousness. Then you can really be free and wild. So this painting started off black but then I took some sand paper and sanded it way down. You're seeing the palimpsest. When I sanded it down and saw this smiley face I thought, 'You're a painting that is smiling back at me. You will live.'"