Whether you're an artist or not, you know that working on a team has its pros and cons. Collaboration can be, to put it lightly, a pain in the neck; things get personal, disputes are inevitable, and unanticipated hierarchies emerge. But despite some unavoidable drama, working collectively can lead to some unexpected gems. (Like they say, two—or more—heads are better than one.) But let's be honest, "plays well with others" doesn't apply to everyone, and some folks seem naturally more adept at working well on a team. But are they? Or can effective collaboration be learned?
Successful collaboration might be a code worth cracking, which is why London-based writer and curator Ellen Mara De Wachter asked the real pros—25 leading artist duos and collectives—about what it's like to work collaboratively, and what we (artists and everyone else) can learn from their experiences. Luckily for us, De Wachter collected her findings in a book: Phaidon 's newly released Co-Art: Artists on Creative Collaboration . We dug through the paperback (which contains full interviews with artists like the Guerrilla Girls, SUPERFLEX, Elmgreen & Dragset, Lizzie Fitch/Ryan Trecartin, DIS, and many others all definitely worth the read) and found a few common threads: the distribution of labor, shared philosophies and politics, creative rituals, market influence, and the benefits of working collaboratively.
In the following excerpt from Co-Art: Artists on Creative Collaboration , we share what these artists had to say about these nuanced topics. ( See Part I, where we we dove into topics like dispute resolution, hierarchy formation, and the notion of authorship and "genius." )
...
Question #1: Is there a philosophy or politics you try to embody through working together?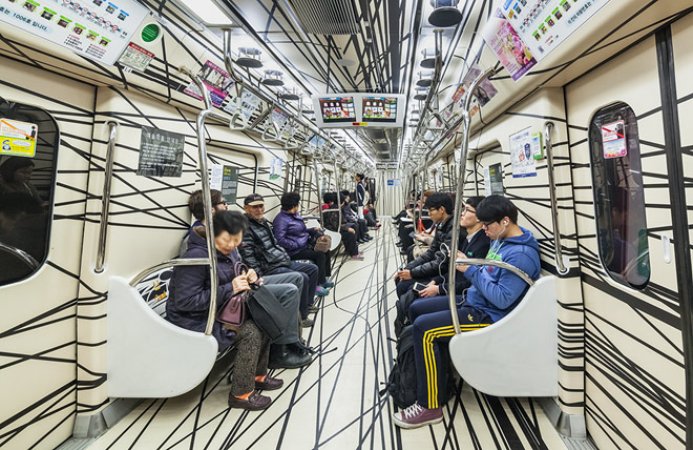 Raqs Media Collective
RAQS MEDIA COLLECTIVE
(Based in New Delhi. Co-artists since 1992. Three members.)

One of the things that sustains us is a kind of ethic that we could call a "communism of everyday life." This is the decision to live beyond the transactional, the measurable and the commensurable, in order to be always present to the things that really matter to us.
This is not a utopia. Or, if it is an utopia, we could define it in the following way: "utopia is a hearing aid." It is a matter of listening to what exists. We are listening to the sounds and silences of countless acts that constitute different ways of living.
ALLORA & CALZADILLA
(Based in San Juan, Puerto Rico. Co-artists since 1995. Two members)

We read a lot, but for us, it is also essential to have an innovative formal language that can stand for itself—like trying to craft a riddle or a well-formed knot—or poetry. I think it is also important to mention that at the beginning when we were first discovering theory, we were also very much involved in the protest movement against the US military in Vieques, Puerto Rico. The small island municipality was used for over sixty years by the US Military and NATO forces as weapons storage facility and live firing range. Viegues was bombed an average of 180 days per year. Napalm, Agent Orange, depleted uranium and other chemical weapons were tested there. A local civil disobedience movement began in the 1960s and reached its peak in the early 2000s. This movement used public manifestations of civil disobedience as vehicles for demanding peace and justice for the island. It was through these experiences that we found practical examples of how theoretical and philosophical ideas can be applied to concrete reality. For example, to trespass and to break the law to demonstrate how the law itself is unjust. Or to demand that certain groups of disenfranchised people can and should also count among the list of endangered species worthy of protection.
LIZZIE FITCH/ RYAN TRECARTIN
(Based in Los Angeles. Co-artists Since 2000. Two members.)
I think the ideal way to collaborate—no matter how that comes to be—ensures everyone who collaborated feels good about it. That means something different for everyone and I don't think there's a way to make a real model for it. I think trying to make one model for it is kind of the opposite of what collaboration is.
For me, collaboration is not about how things are merged, it's about preserving diversity and simplifying ideas while simultaneously making the work that results from these ideas more complex and layered. It's also about being excited about how your ideas are transformed and humbled by other people's ideas.
CLAIRE FONTAINE
(Based in Paris. Persona "born" in 2004. Two members.)
There is the idea of de-subjectification which isn't exactly anonymity, but it's a conquered distance from our social individuality and the oppressive aspects of it.
ASSEMBLE
(Based in London. Founded in 2010. Twenty members.)
We probably have some ideology in common, because we work together and talk to each other every day, but individually, our politics are really wide-ranging. Assemble itself is not political, but we are aware that anything we do is a political act and we own that. That has much more to do with the work we've done than with any of us. We say that everything should be about the work, and not about who we are as individuals. The work should speak for itself becase it is the manifestation of us as a group.
THE PROPELLER GROUP
(Based in Ho Chi Minh City, Vietnam and Los Angeles. Co-artists since 2006. Three members)
The philosophical paradox comes up a lot in our projects and discussions and we also discuss Marxism, free market economics, neoliberalism, Buddhism, and sometimes consult fortune-tellers for Feng Shui purposes. Working in a collective allows us to embody multiple philosophical positions at once, and these positions are constantly in flux. I think that's the force behind our philosophical trajectory, knowing that everything changes all the time. Revolutions are followed by revolutions and it's an endless cycle. But with these vicious circles we try to slip between the cracks that define how we identify and how we operate. This allows us to constantly question ourselves and our work as a collective. We believe that there are moments of complete clarity that can happen between these bombshells of insanity we call our world.
Question #2: Do you have any rituals when you work collaboratively?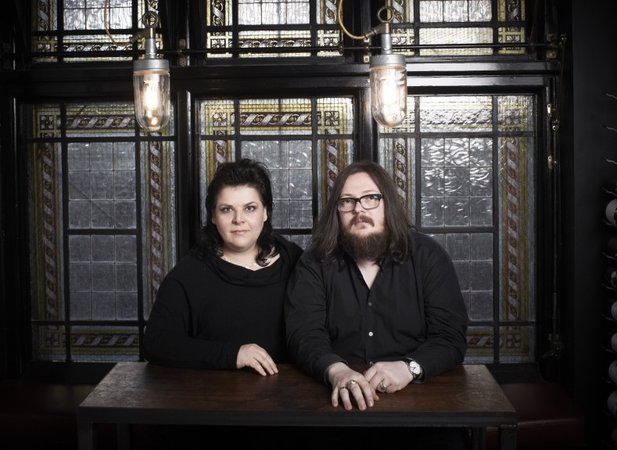 Iain Forsyth and Jane Pollard

IAIN FORSYTH and JANE POLLARD
(Based in London. Co-artists since 1994. Two members.)
There is something that we do again and again, and we've found it is really effective: the secret ballot. It's not really a ritual—it's more of a method, because the one thing that you do get to know a lot about when you've grown up as a collaboration is the psychology of discussion, psychological manipulation and persuasion. Our secret ballot is just two bits of paper and two pens. You write down the decision, choce or opinion, or whatever it is. And then we go: "one, two, three: turn over." It's about forcing an answer out of both of us without over influence.
ÅYR
(Based in London. Co-artists since 2014. Four members.)

Smoking good weed, using the steam room and sauna, tarot-card readings, eating Neapolitan food and burning sage.
ALLORA & CALZADILLA
(Based in San Juan, Puerto Rico. Co-artists since 1995. Two members)
In order to keep our lives and our work going in an organized way, we work every day from 10 o'clock to 6 o'clock, but the conversations never really end. As far as productivity is concerned, what's important is finding the right timeing—there are moments when the planets align and everything flows right away and other moments, which can eel like an eternity, when we get stuck. We often take walks or drives. This seems to help get things moving.
RAQS MEDIA COLLECTIVE
Tea plays a very strong role in the studio. For every decision, every disagreement, every moment of thinking and speculation, we brew and drink tea.
THE PROPELLER GROUP
Group meetings over beers are the furthest extent of the rituals we perform as a collaborative group of artists.
Question #3: Has the art market had any effect on your collaboration?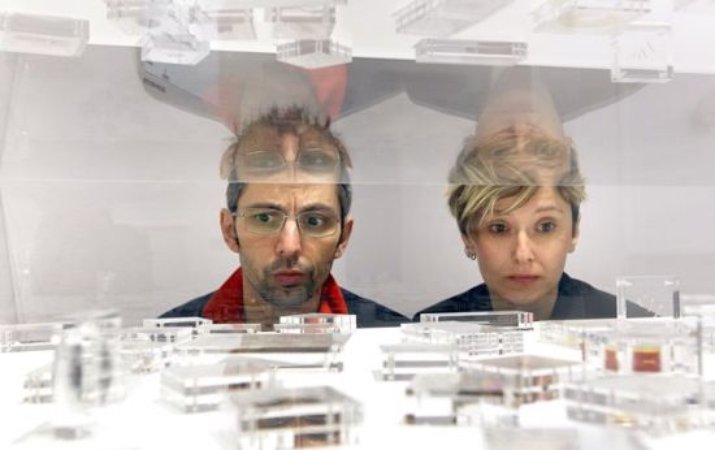 Eva and Franco Mattes

EVA and FRANCO MATTES
(Based in New York. Co-artists since 1994. Two members.)

In the beginning some of the dealers were a bit skeptical, asking "What if you split?" When they get to know us they usually understand that is not an option. There are so many duos, collectives and groups in the art world nowadays, that hopefully the fact that you may split at some point is less and less an issue for collectors or galleries. The idea of authorship is much more fluid than in the past.
GUERRILLA GIRLS
(Based in New York. Co-artists since 1985. Over 55 members since formation)

We never wanted to be a part of the art market. We want to show there were alternatives in the twenty-first century. It's a lot of work but we created a new market paradigm of how to survive as artists. One of our secrets is that we don't want to be rich or even admired. We just want to keep working, be respected and continue to have some fun attacking the system.
It is possible that living and working the way we do isn't so compatible with the social space of the art world today, and this has affected our "career" in a certain way, let's say it hasn't helped it. But actually the way values and status are codified and read by different social systems is the core of the work.
BROOMBERG & CHANARIN
(Based in London. Co-artists since 2000. Two members.)
The fact that we're a duo means there's no fingerprint on our work: there's no particular brushstroke and that means it lacks an aura. It's quite difficult for some people, especially in relation to the market, because they want an aura.
GCC
(Formed in 2013. Eight members.)

People are intrigued by the fact that we are such a large group. As a potential commissioner of a project said to us, we don't have a "sustainable business model."
Question #4: How do you divide the division of labor?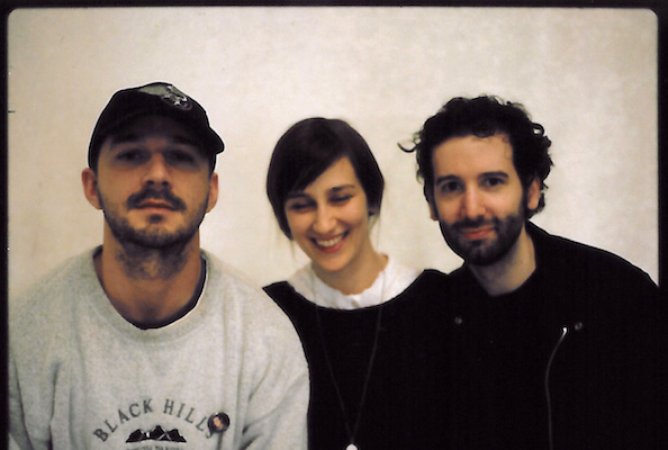 LeBeouf, Rönkkö & Turner
LaBEOUF, RÖNKKÖ & TURNER
(Based in London and Los Angeles. Co-artists since 2014. Three members)
It's never the case that one person is handling tech and another person is handling emtion because all of us add dynamics to other people's qualities. I find it hard to define what each of us do because we all have hands in all things, but there are specific skills—like Nastja knows about connectivity and gesture, Luke knows about framing. Nastja and Luke don't know much about Stanislavski. Not a lot of it is academic either, it has to do with intuition. There is a sensitivity in Luke for certain things that he probably won't talk about, but that Natsja and I don't have.
The most important thing in our collaboration is that all three of us trust in each other's intuition, so if I frame a shote and show the other two, they don't even have to say anything, I can see in their eyes that that's the one. We all have power of veto. We don't work in a hierarchy or two votes versus one. it's either all three of us or nothing.
GCC
It depends on the project and how we choose to share space with one another in order to collaborate on it. A dominant—but not exclusive—scenario would be this: a member brings up an idea in one of our face-to-face annual 'summit' meetings; if the majority are into it, then we discuss it and figureo ut how to make it happen. If the work demands a certain skill (like editing video) ithen the person with the relevant experience is responsible for this aspect. Then the location and schedule of the members comes into play (a recording studio in London, a reserach subject in Bahrain and so on), so skills and logitistics play a major role in the division of labor. But when it comes to a task that everyone can do, then it's usually done at the same time on the Internet using an interface such as Google Drive.
DIS
(Based in New York. Co-artists since 2010. Four members.)
There is overlap; sometimes we do projects at the same time. Right now, we're working on DIS Magazine, the Berlin Biennale, an exhibition in London, plus we just had a show in Paris. Production-wise, we haven't produced much sculpture before, so we haven't been so involved in that side of it. We mainly work with really great companies based in New York on the production of our videos. We bring on a lot of partners for our projects. When we are invited to give talks, we usually cannot all go, so we take turns.
ASSEMBLE
(Based in London. Formed in 2010. Twenty members.)
The way it works is that projects come in and people express interest in them, so you only work on what you want to work on and every member has the freedom to choose how much work they take on and the scale of it. Some people go for certain types of work more than others and pockets of knowledge experts in the subject of play in particular. For example, most of Amica's projects are to do with play and education. She already has an interest in that field, and once you've done a project in that area, other clients approach you with similar offers. We have done a lot of projects around work spaces. Louis does a lot more construction work, and he has set up a separate construction company under Assemble to take on larger-scale construction projects. I'm doing a lot of small exhibitions. We also have people in Granby in Liverpool as we are doing ongoing projects there at the Granby Workshop. They are trying to establish that as an independent company at the moment. We do all the business plans, legal work and finance relating to the companies that we set up around Assemble.
PAULINE BOUDRY / RENATE LORENZ
(Based in Berlin. Co-artists since 2007. Two members.)
Mostly we take turns. It is very often a ping-pong practice when we write a script or text, edit a film or build something. One will work on the thing on her own for a bit, and the other one continues the work, and so it goes, back and forth.
Question #5: What are the benefits of working collaboratively in your experience?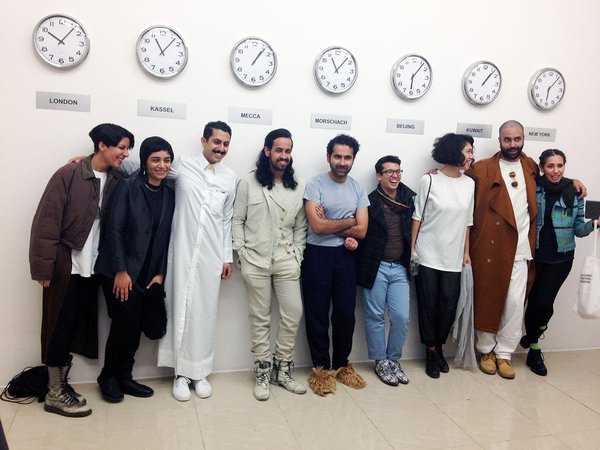 GCC
GCC
Working together wills something into existence that didn't exist or wouldn't be possible with only one or two people—it gives a force to our collective experience and also allows us to bounce off and learn from each other. Working under a collective name also levels us in some ways to institutional bodies, and we find that very interesting.
PAULINE BOUDRY / RENATE LORENZ
It's so much more fun than being alone. There is always another point of view, a person to discuss the problems with. We can make jokes about the things that dont turn out so well, and be excited together when we are happy about something that is successful. When we travel for an exhibition, we also share this experience. We have both always worked in collective, so we can't tell how it might be otherwise.
THE PROPELLER GROUP
I recently asked a friend of mine, Archie Pizzini, this question as he participates in a n architecture collaborative. He said that he describes the process of collaborating as the longest distance between two points. It may not be the fastest or most efficient way of getting things done as you are usually thrown off course, regularly sidetracked during the process of developing a project. But what that does is put you in the sometimes uncomfortable position of thinking outside yourself, so that when you get to that endpoint, it is wildly different from what you could have done yourself... In my opinion, the most successful collaborative projects are where the mistkaes are so seamlessly embraced and seemingly intentional in nature that the viwer doesn't even notice them.