Barbara Kruger's earliest professional work wasn't the production of art, but the more formalised design of the books and magazines for which she was a head designer and picture editor. However, when she began to develop her artistic practice, many of the same tactics and approaches migrated over from her previous work: the precise juxtaposition of imagery and text; the repurposing of found photography; the recontextualising of familiar text; the power and immediacy of an arresting image allied to a bold statement in an eye catching typeface and colorway.
The mastery of these techniques made Kruger one of the most emblematic of American artists in the 1980s and beyond. From the start of the decade, her work increased in both size and impact, evolving from small-scale paste-up collages to billboard-sized images, commonly executed in her trademark red, white and black, with text set in Futura Bold. She produced murals, public art, clothing, album covers (most notably Consolidated's industrial hip hop album Business of Punishment) and in the case of the 1989 Women's March on Washington, the protest posters (declaring, in that instance, that 'Your body is a battleground'.) In the 1990s, things came full circle as she was commissioned to create magazine covers for the likes of Esquire and Newsweek in her signature style.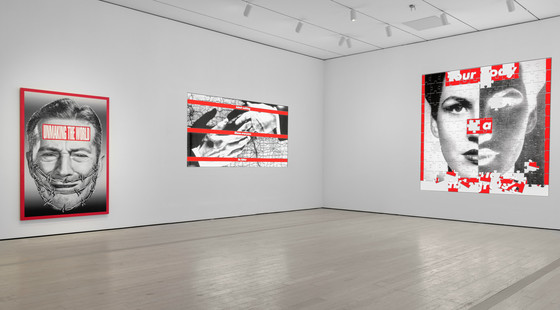 Installation photograph, Barbara Kruger: Thinking of You. I Mean Me. I Mean You., Los Angeles County Museum of Art, March 20, 2022–July 17, 2022, photo © Museum Associates/LACMA
Along with contemporaries such as Jeff Koons and Jenny Holzer, Kruger had created an aesthetic which dissolved the lines between art, advertising, public information and agit-prop. Her art wasn't something discrete that sat within the physical and philosophical confines of the gallery, but something which pushed itself into the public consciousness and actively sought to provoke discussion, emotion and reaction. It took the language and visuals of modern capitalism, hacked them and turned them back on the system which had produced them. 'Pictures and words seem to become the rallying points for certain assumptions,' she told an interviewer in 1982. 'There are assumptions of truth and falsity and I guess the narratives of falsity are called fictions. I replicate certain words and watch them stray from, or coincide with, the notions of fact and fiction.'
One of Kruger's best-known works is Untitled (I Shop Therefore I Am) (1987), a large size screenprint on vinyl. This image shows a square, monochrome image of a hand facing palm-forward to the camera. A thin red border frames the image, the punched-up color immediately giving the photograph an antique, archival quality while also constricting it. Light floods in from the left hand side, bleaching out the tips of the fingers and highlighting the dark contrast in the lower part of the hand. In the center, 'held' by the fingers, as if delicately proferring a business card, is a text box. The flat, solid color and obvious artificiality of this part of the image contrasts with the organic and human element of the hand. In the box, set in Futura Bold is the legend – 'I shop therefore I am'. The index figure of the hand appears to point immediately above the first letter 'I' in the epigram, drawing the viewer's eye to it and reinforcing the individualistic nature of the statement. The central word, 'therefore' is in a smaller size type, lessening its importance and serving to make it feel like a pause in the statement.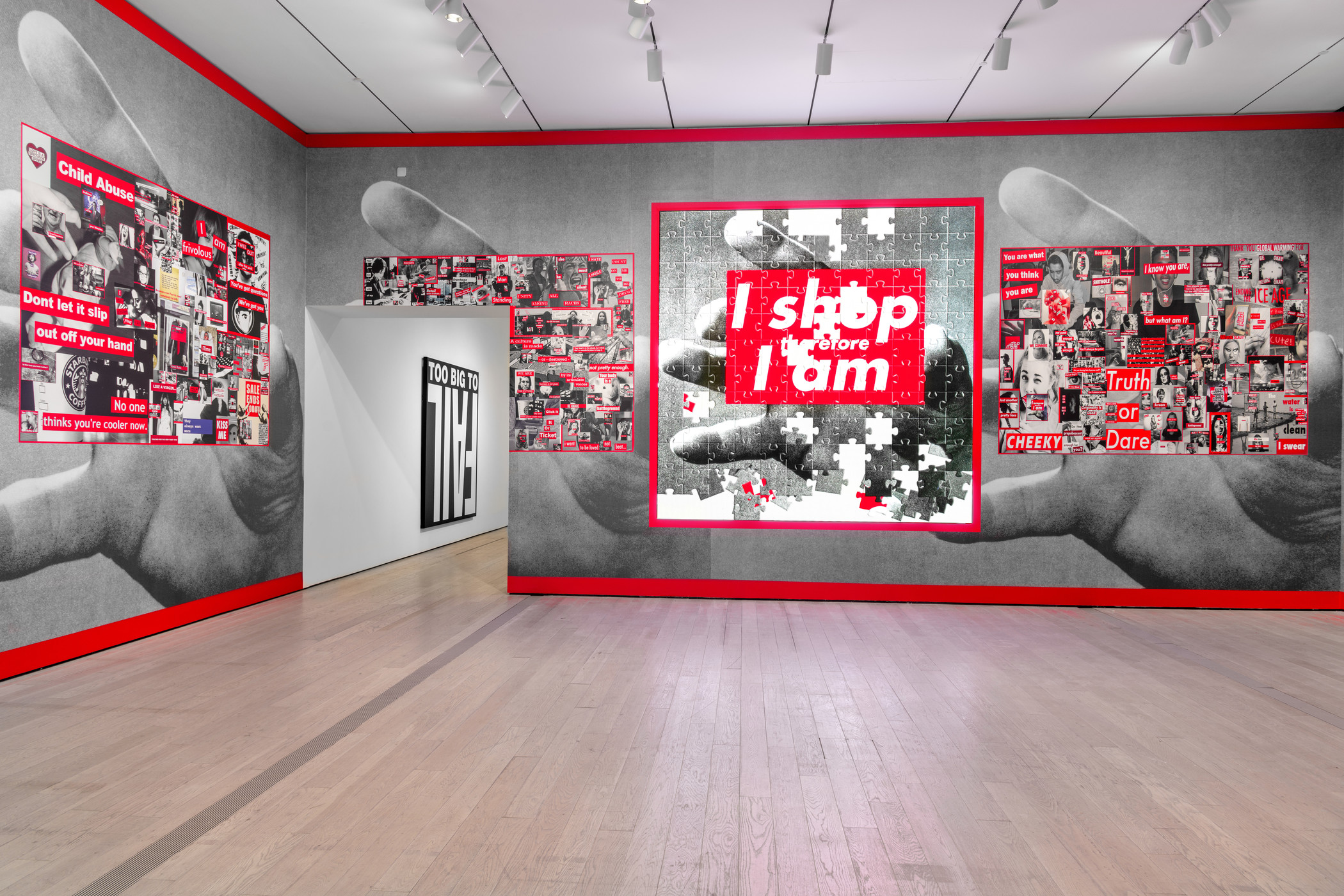 Installation photograph, Untitled (I Shop Therefore I Am) 1987/ 2019 Barbara Kruger: Thinking of You. I Mean Me. I Mean You., Los Angeles County Museum of Art, March 20, 2022–July 17, 2022, photo © Museum Associates/LACMA
The statement at the heart of this artwork is a modern, seemingly vacuous riff on René Descartes' 'I think therefore I am'. Where the French philosopher posited that merely thinking was sufficient action from which to create a full and meaningful life, in Kruger's 1980s, this world of the mind has been replaced by a world of the consumer where spending and accumulating and owning have become the leitmotif of human existence.
Kruger's visual skill and sensibility is what has elevated this work above being a hectoring period piece and ensured it a long afterlife despite (or perhaps because of) its inherent contradictions. She operates within the commercial art market and has profited from the booming creative economy; you can buy Barbara Kruger tote bags at various galleries; the statement can be read ironically, disapprovingly, or in a celebratory mood, it's emphasis shifting with the mood of the times. And for her latest show at LACMA, Barbara Kruger: Thinking of You. I Mean Me. I Mean You, she has included a 2019 update of this piece, reframing the original image as a single-channel video on an LED panel. Reworked into a one-minute loop, the image is animated as a puzzle that assembles itself, reorders and resolves into new phrases, including 'I need therefore I shop' and 'I love therefore I need.'
Just as it was originally open to interpretation,  Kruger's work continues to be remixed and reordered almost four decades on. As modern communications become increasingly fragmented, open-ended and individually targeted, this deconstruction makes perfect sense.
Barbara Kruger: Thinking of You. I Mean Me. I Mean You is at LACMA from March 20-July 17 2022.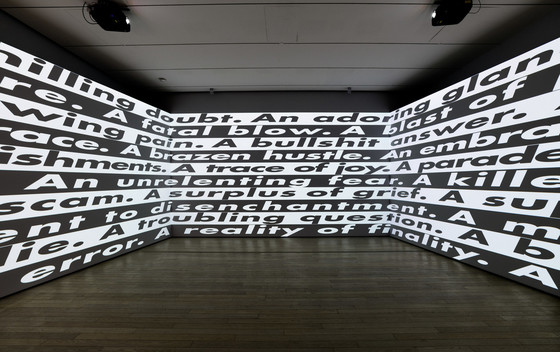 Installation photograph, Barbara Kruger: Thinking of You. I Mean Me. I Mean You., Los Angeles County Museum of Art, March 20, 2022–July 17, 2022, photo © Museum Associates/LACMA