No season has the potential to so utterly transform the landscape as winter. Not spring with its new growth, nor summer with its heat, nor Autumn with its drifts of falling, orange leaves. Only winter has the power to turn the whole world white with snow, to render flowing water immobile, to banish light from Earth when the clocks strike four, and to drive even the grizzly bear to hibernate in its cave. For the Norwegian writer Karl Ove Knausgaard, the season is both a "king", and a "cheap conjuror", dominating a quarter of our lives, year after year, with the same dazzling, wearisome trick.
For much of human existence, winter was not only a time of cold and dark, but one of scarcity and death, hence the various seasonal festivals – from the Roman Brumalia to the Victorian Christmas – which provided an island of light and plenty during these long, harsh months. Today, for the lucky among us, the season is less a source of terror than of mild inconvenience, and one with its own aesthetic compensations: the sight of a robin and the first sip of steaming gluehwein, the sound of snow crunching underfoot and the texture of a cashmere scarf wrapped around our necks.
With its visual distinctiveness (all that white!), winter has given rise to numerous great works of art, from Pieter Bruegel the Elder's painting Hunters in the Snow (1565) to Gustave Caillebotte's canvas Vue de toits (Effet de neige) (1878-9) to Alfred Stieglitz's photograph Winter, Fifth Avenue (1893).
For this edition of Group Show, we bring together six contemporary pieces that take this chilliest of seasons as their subject, and in the process explore everything from the pleasures of snowbound domesticity to the anxieties of homecoming, from fleeting experiences to ephemeral natural phenomena, showcasing both the bleakness and the beauty of these pale, apparently lifeless months. Winter isn't coming, folks – it's already here.
Matt Eich - The Road Home (As the Winter Snows Melt) (2007)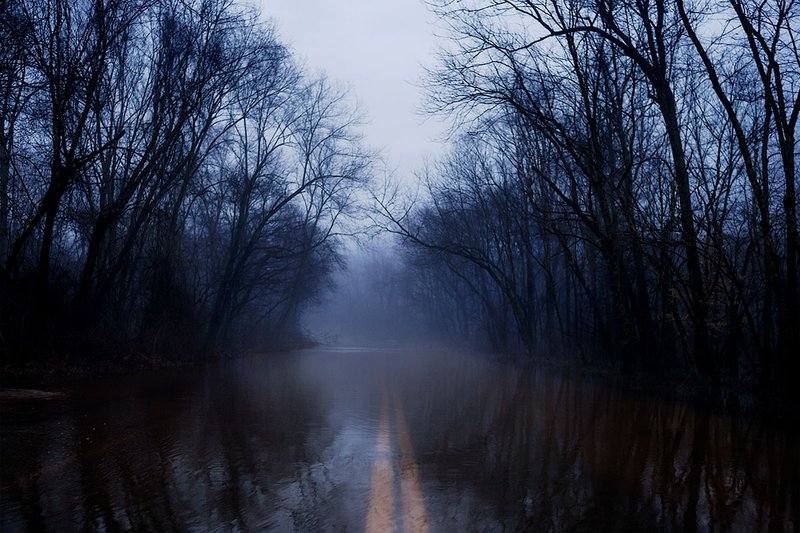 A snowbound location serves a useful narrative purpose, isolating characters from the outside world just as well as any desert island or alien planet. The lovers described in Arcade Fire's classic 2004 track Neighbourhood #1 (Tunnels) respond to this challenge by digging through the frozen landscape that separates them from each other, and eventually evolving into a new, subzero species, while for the recovering alcoholic protagonist of Stanley Kubrick's seminal movie The Shining (1980), the snows that envelope the deserted Overlook Hotel force him to confront the ghosts of the past, and his own inner demons. In this image by the noted American photographer Matt Eich, we're presented with the moment when a thaw has set in, and the way back to normal life seems clear. Can things really be so simple?
Eich's shot depicts a country road lined with black, looming trees and flooded with chilly snowmelt. This, his title assures us, is the route 'home', but looking at its treacherously wet tarmac, we might feel wary about putting the pedal to the metal just yet. How long have we been trapped here (wherever 'here' is), and what's been happening in the outside world while we've been away? Is there still a place for us there, or has all we once knew been utterly transfigured, like a winter landscape once the last of the snow seeps into the wet, long-hidden earth?


Silke Otto-Knapp - Frostflowers (December) (2018)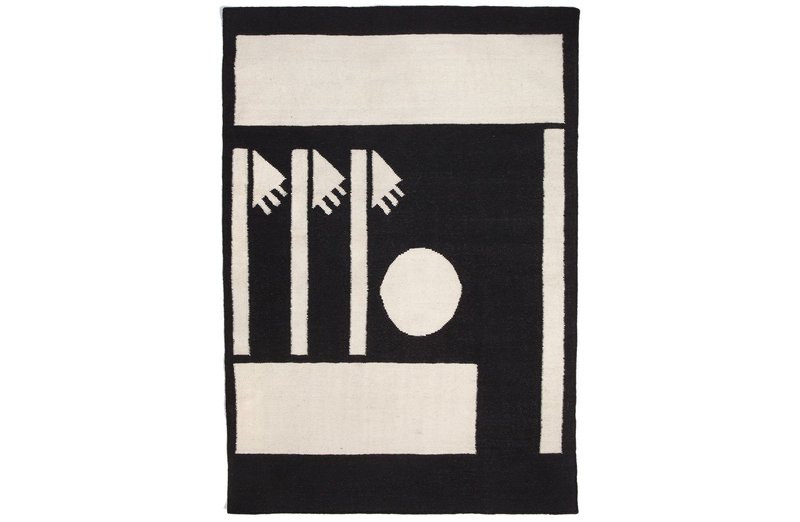 Frost flowers – or crystallofolia – are not botanical specimens. Rather, they are a rare type of ice formation, created when frozen sap is extruded through long-stemmed plants in autumn or early winter, giving rise to exquisite, petal-like shapes. A kind of vegetable self-portraiture, then, albeit one that's both unconscious and ephemeral. Extremely fragile, frost flowers seldom survive beyond early morning, melting or evaporating beneath even the weak rays of a winter sun. Crystallofolia that bloom in shaded areas may last a little longer, but even these crumble in the slightest breeze, or when touched by the gentlest of human hands.
In Silke Otto-Knapp's work Frostflowers (December), the German artist – who has been the focus of solo exhibitions at Tate Britain, Kunsthalle Wien, and the Renaissance Society, Chicago – employs heavily stylized images of the titular pseudo-flora to decorate a handwoven woolen rug. As with snowflake patterns on a winter jumper, there's a pleasing contradiction, here, between the chilliness and delicacy of the motif and the coziness and durability of the utilitarian object on which it appears. Note the circular form that occupies the centre of the design, which resembles a sun rising above a horizon. For now, Otto-Knapp's inorganic blooms stand tall, but surely it won't be long before their white stalks thin to nothing, and their icy petals are reduced to a distant memory.
David Hockney - My Window. Art Edition (No. 501-750), iPad drawing 'No. 610', 23rd December 2010 (2019)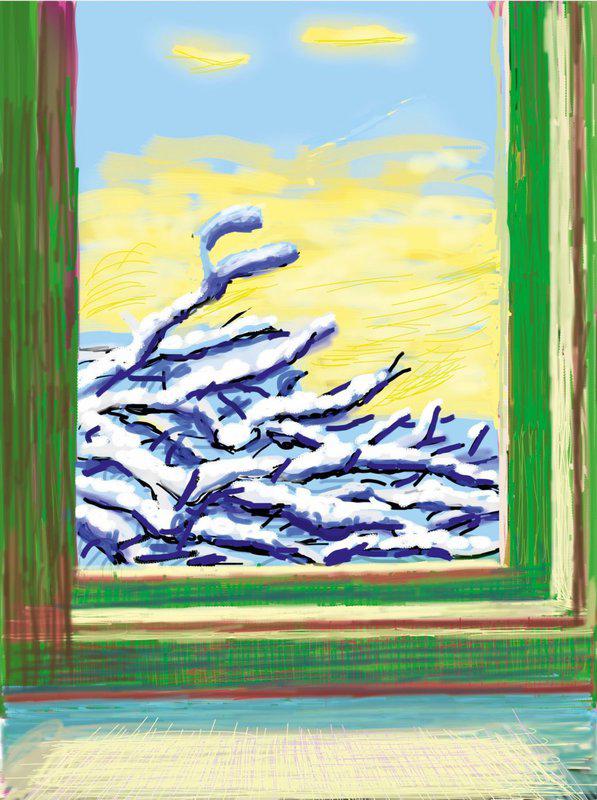 One of the most celebrated British artists of the 20th Century (not least for the crucial part he played in the development of '60s Pop art), David Hockney's career has been marked by an abiding fascination with new technologies, which in recent years has seen him produce hundreds of drawings on an iPad and iPhone. Of the works in his 2009-2012 series My Window – each of which depicts the view beyond the pane of his bedroom in Bridlington, East Yorkshire at a particular time – the artist has said that "there was a great advantage in this medium because it is backlit and I could draw in the dark. I didn't ever have to get out of bed". Nor, we imagine, might he have wanted to on the 23rd December 2010, the date of this particular work, when the boughs of the tree that scraped against his window wore a heavy blanket of snow.
It might be cold outside in Hockney's iPad drawing, but the interior spaces have an almost Mediterranean heat, those lemon, terracotta and turquoise shades summoning less the wintry Yorkshire countryside than a villa in the south of France. Even the snow on the tree's branches feels somehow warming, like a fluffy duvet or the lining of a sheepskin slipper, while the blue sky and huge, yellow sun seem to belong to quite another month. With his great mastery of colour and form, Hockney creates an image that's almost psychedelically cozy, while still capturing the crisp, clarifying light that poured through his window on that cold December morn.
Adam Ekberg - Sparkler on a Frozen Lake (2005)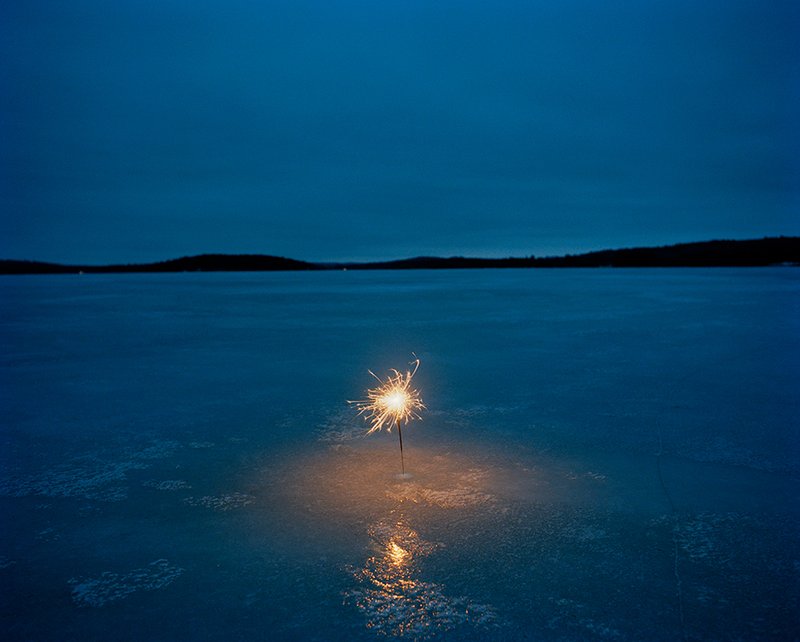 A meditation on transience, this image by the acclaimed photographer Adam Eckberg depicts a vast lake stretching beneath the canopy of evening, its frozen surface extending far beyond the bounds of the frame. These numbed waters are the same dark blue as the sky, and the only thing, here, which distinguishes the Earthly from the Heavenly realm is a distant range of hills, which undulate blackly on the horizon. Looking at this shot, it's not clear whether Ekberg took it while standing on the safe ground of the lake's shore, or ventured out onto its temporarily solid surface, hearing it creak ominously beneath his feet with each cautious step. Either way, what his lens captured is as unexpected as it is dazzling: a single sparkler, rooted in the ice, which blazes like a star that's fallen out of the inky winter night.
Ekberg's photograph turns on contrasts: liquid and solid, cold and heat, darkness and luminescence. At the same time, there's a chime in the brief life of the sparkler's flame and the fact that the lake will one day melt under the warmth of a spring sun. While this is a staged image (how could it not be?), its artifice nevertheless gives rise to both wonder and a strange disquiet. We're reminded, perhaps, of the poet Robert Frost's famous verse, Stopping by Woods on a Snowy Evening (1922), in which a pause by a "frozen lake" on "the darkest evening of the year" causes a traveler to reflect on his own mortality and entertain sudden, seductive thoughts of self-oblivion, which he finally dismisses with the words: "But I have promises to keep / And miles to go before I sleep".
Donald Baechler - Winter Tree (2014)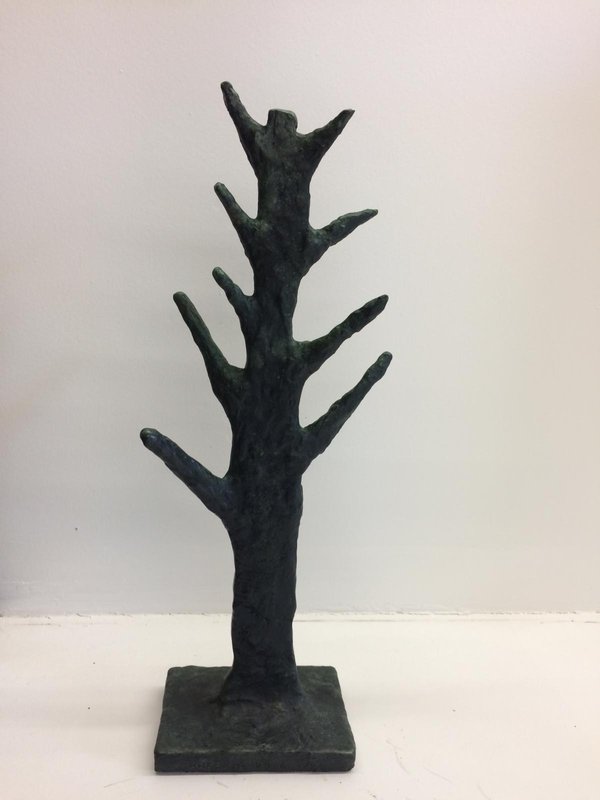 In his Sonnet 73, William Shakespeare describes the "boughs" of a tree in winter as "Bare ruin'd choirs where late the sweet birds sang". It's an image in which life has given way to death, sound to silence, and while Shakespeare mourns this seasonal transformation, it is positively celebrated in Emily Brontë's later poem Fall, Leaves, Fall: "I shall smile when wreaths of snow / Blossom where the rose should grow; / I shall sing when night's decay / Ushers in a drearier day". Is this willful perversity on Brontë's part, or might we find something to sustain us – a bleak beauty, perhaps? – in the sight of skeletal, leafless branches, reaching up into a grey, winter sky?
In this bronze sculpture by the celebrated artist Donald Baechler – who like Kenny Scharf was associated with the 80s East Village scene – we're presented with a black and stubby trunk, whose bare boughs seem to be shrinking inwards, as though against the cold. This is not a depiction of Nature as an endlessly abundant, unstoppable force, but rather as something parsimonious, and thoroughly humbled. So lifeless is Baechler's tree that we might wonder whether the winter his title refers to is of the nuclear sort. Will these branches come into leaf again? Bronze is not known for its responsiveness to the summons of spring. Perhaps what we need, here, is a dose of Brontë's bracing aesthetic medicine.
Kenny Scharf - Untitled (Ranch Skier) (2011)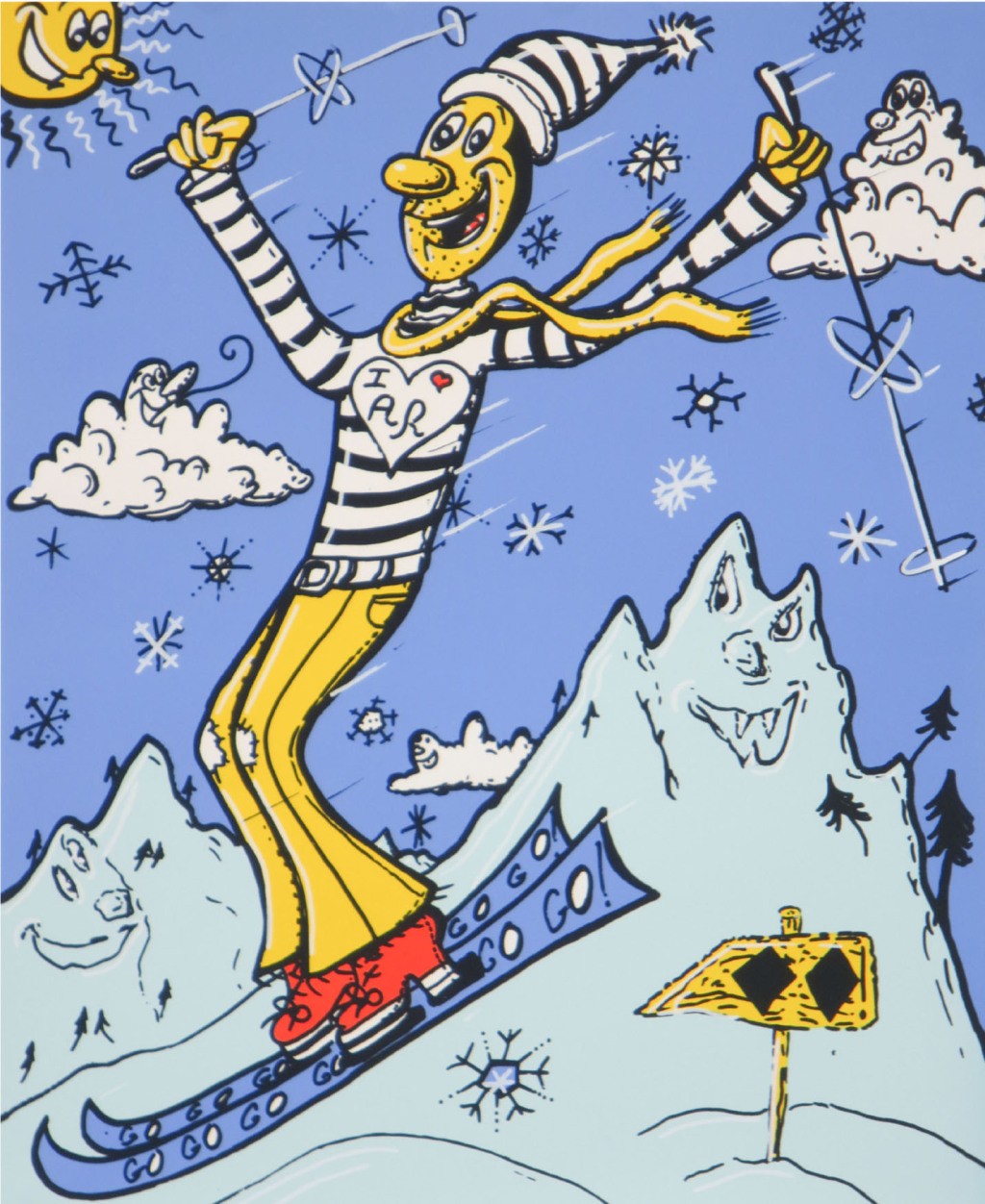 A key figure in the 1980s East Village art scene alongside Keith Haring and Jean-Michel Basquiat, the artist Kenny Scharf is celebrated for his witty, phantasmagoric paintings and installations. A self-described "Pop Surrealist", he has spoken of a childhood in which he was "bombarded" with TV images, and of his art as "just responding to what has been thrown at me". The result is a visually arresting, often sci-fi inflected body of work (the Hanna-Barbera cartoon The Jetsons has been a major influence), which for all its exuberance also catches on the darker corners of our psyches. As he has said "as an artist all I can do is reflect, warn, and offer hope".
Untitled (Ranch Skier) showcases Scharf at his most unambiguously joyful. In this wintry screen-print, we're presented with a bleary, stubble-cheeked ski-bum, anomalously dressed in a Breton top, patched flares and red platform boots, whizzing down the Colorado slopes. Every natural feature here – the snow-topped mountains, the fluffy white clouds, the grinning yellow sun – has been anthropomorphized, and seems to cheer the skier on. Hell, even his skis bear the encouraging words "GO GO GO!" Snowflakes, each one of unique design, fall against a cornflower blue sky, and looking at them, we get to thinking of how experiences such as this make us feel intensely alive, intensely individual, while also (and perhaps contradictorily) helping us to escape ourselves, if only for one brief, thrilling moment.