Optical art has been quietly having a revival over the last few years. In the public sphere, Camille Walala's Mondrian-meets-dazzle-ships urban takeovers have transformed spaces from a run-down parade of shops in East London to a deserted gas station in Arkansas. In the gallery, Tornabuoni Art's current group show, 'Dynamic Visions' rounds up Kinetic and Op Art from the Sixties to today and has been curated as a response to 'The Responsive Eye', MOMA New York's 1965 show which is seen as being the starting point for the genre.
2019's Bridget Riley retrospective at the Hayward was a much written about critical and commercial success. Victor Vasarely, one of the father's of the entire movement, is the subject of a trio of shows at the Vancouver Art Gallery opening October 2020 looking at his work and those of the artists who he inspired; and shortly before his death in July last year, the similarly influential Carlos Cruz Diez showed how far his art had moved into the mainstream when he worked with storied Swiss watchmaker Hublot to create a timepiece that incorporated his work for Art Basel Miami.
This interest has been reflected at the auction house too. One consequence of the pandemic was British Airways auctioning off part of its art collection to generate funds, including Riley's 'Cool Edge' (1982) painting which previously hung in the Concorde Room at Heathrow airport. The work eventually sold for £1.875m, having been estimated to fetch £800,000-1.2m.
Essentially op-art is abstract work which uses optical illusion to create a sense of movement, hidden patterns, swelling or depth in a flat surface. Elements of it were present in the Bauhaus, Cubism and Futurism but it purified around the mid-Sixties into what we now recognise as a distinct form. Cruz-Diez talked of the style encouraging "An awareness of the instability of reality", and this dynamism has continually attracted artists. Here's our selection of work from the originators and those who have been inspired by them more recently.
Intervals 1, 2019, Bridget Riley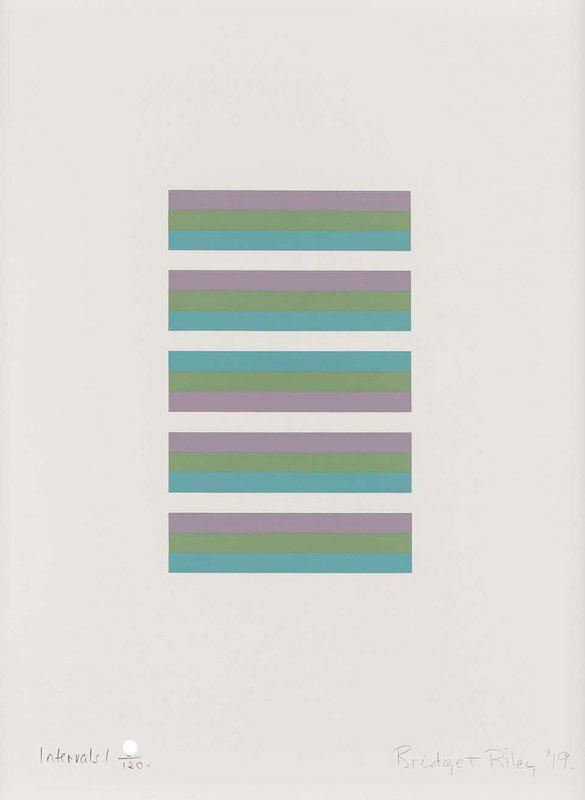 While Riley's best-known work has been her most extreme – the dizzying vortex of Blaze 4 (1964) and the warped dots of Hesitate (1964) – her lifetime's work has been far more diverse. As early as 1959 she painted a copy of Seurat's Bridge at Courbevoie, citing this realisation of how color and perception could be manipulated and deconstructed as the key inspiration for her move into pure abstraction. Throughout the subsequent decades, the colors, patterns and shapes of the natural world have recurred in her work ("Growing up, there was no TV – we looked at the world," she told The Daily Telegraph around her 2019 exhibition). These obsessions – with the softer colors of the natural world, the formal power of stripes and the geometry of patterns – come together in this work from 2019. The screenprint is on white woven paper, comes signed, titled, dated and numbered by the artist in pencil, and is sold float mounted in a museum quality box frame (using archival materials) with UV glazing.
Solstice A4, 2018, Matt Neuman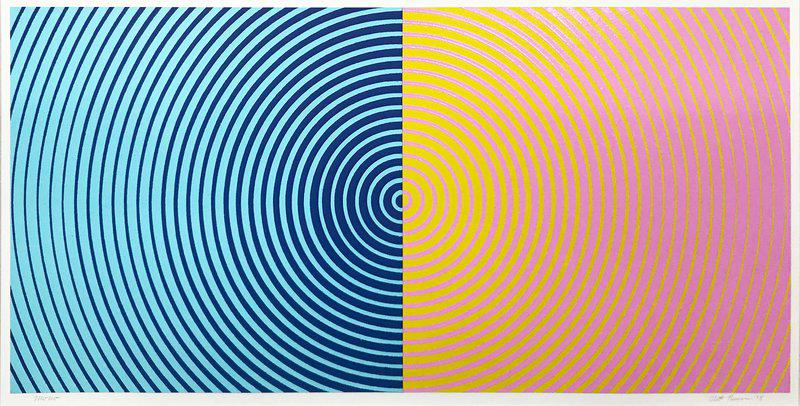 Born in 1985, Matt Neuman is a painter and printmaker based in Brooklyn. In 2010, during his MFA studies at Boston University, he hit a block of "boredom and frustration" with the representational oil paintings that had occupied him to that point. "I put my brushes down and set off to experiment with new ideas and materials," he wrote. "Over the subsequent 18 months leading up to my thesis exhibition I made hundreds of pieces using a variety of materials as I followed my nose through ideas and techniques. Eventually I found a real connection with working with wood. Wood brought me away from painting and into sculpture, inevitably leading me back to 2D through wood-based paintings." Since then, his work has gradually clarified and simplified, the multi-layered and complex circle paintings of 2014 giving way to these woodblock prints four years later, built from simple elliptical lines and binary color schemes. This unique mono print is signed by the artist and comes with a certificate of authenticity.
Multiple Realities, 2019, Paul Amundarain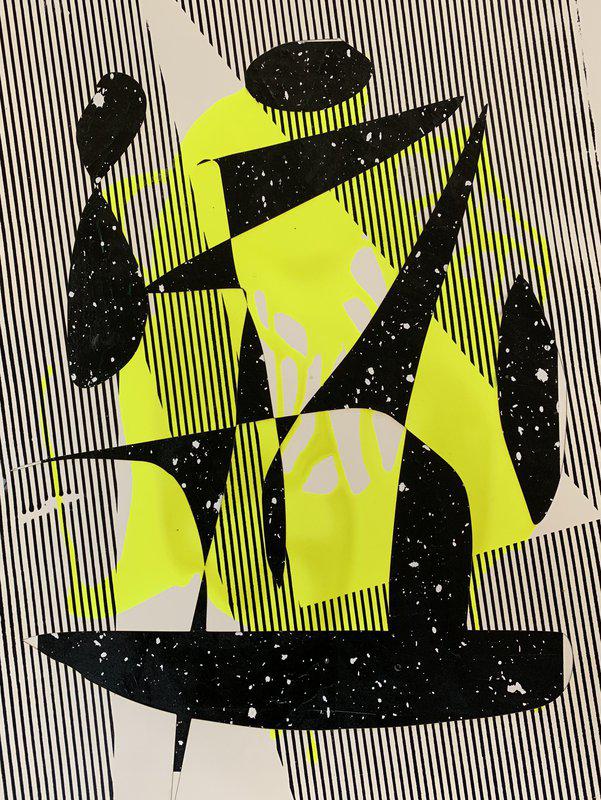 Born in Caracas in 1985, Paul Amundrain's aesthetic was forged in one of the most tumultuous – and ongoing – periods in Venezuela's history. The work he has created in response is more explicitly political than much Op-Art, but has the same dislocating visual impact. For his 2019 show at Chacao Cultural Center in Caracas, curator Lorena González Inneco drew a parallel between the patterns and ideas present in Amundarain's work and "the tangled appearance typical of Latin American megalopolises." His work is often large format, multi-layered and three-dimensional with elements – chains, wire mesh, boxes – protruding from the frame and into the gallery space. But ultimately, his art is pushing towards something optimistic: "The intention of drawing lines that evoke cities and architectural forms is to show that from the ruins or decay can always emerge a better future, hope, the quest for modernity," he writes. This work is a silkscreen with acrylic paint and comes signed by the artist.
Curvas Opticas en Negro III, 2018, Alberto Gonzalez Vivo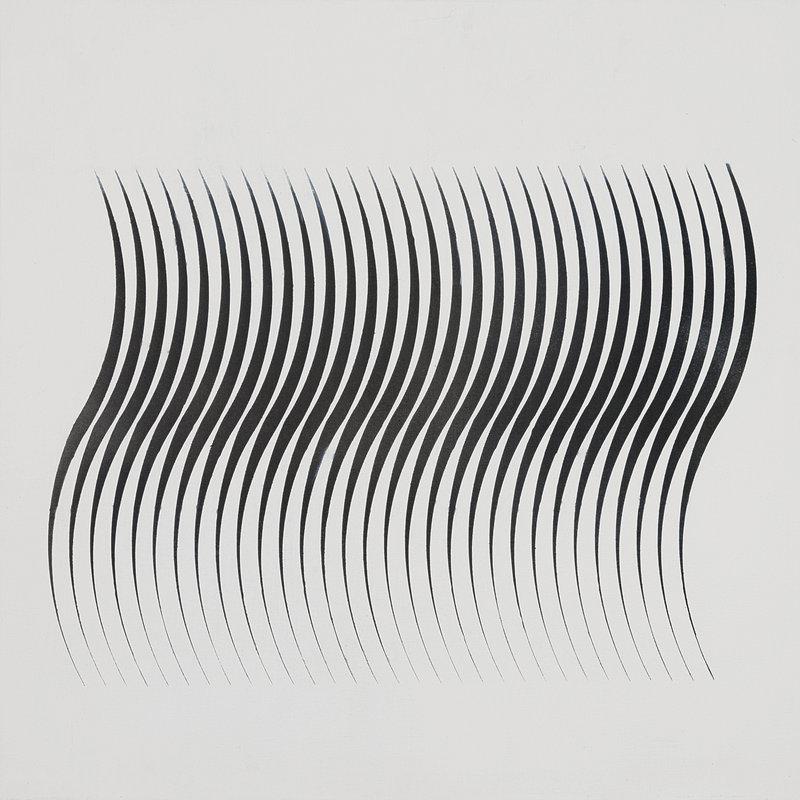 Alberto Gonzalez Vivo was a relative latecomer to the world of art. Born in 1958 in Buenos Aires and having spent his career working in technical schools and universities, he was almost 50 years old before his work first appeared in group shows and exhibitions in his home city. Influenced by Geometric Abstraction and Pop art, his paintings are detailed, precise studies of the way that light, color and shape can be combined to maximum impact on the viewer. Having relocated much of his practise to Miami in 2012, this piece is one of his 'Curvas Opticas' series, a unique work on canvas that comes signed and with a certificate of authenticity.
Tape Drawing and Pattern, 2017, Ashley Layendecker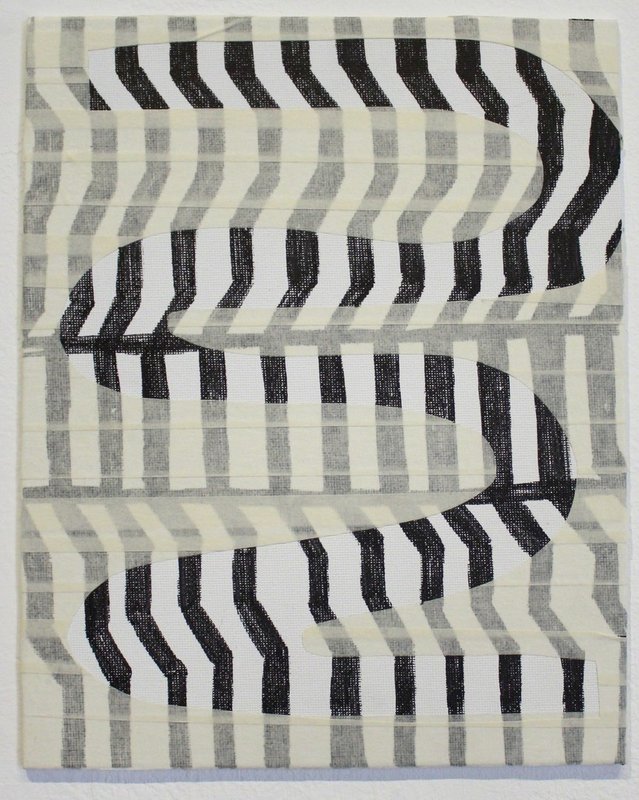 Based in Nashville, Tennessee, Ashley Layendecker works as an artist, but also a curator and art writer. While her recent work has become more like formal op-art with vibrant use of yellow and purple, this earlier piece is something softer and more simple, using tape and marker pen to build up layers on the canvas and break up the shapes. But as with her more recent paintings, the grid-like pattern is a constant: "While the grid more often serves to organise or compartmentalise, it can also function as an illustration of anxiety or tension. Although the grid evokes representation, I also use it as a signifier of the indescribable. When creating these images I place very specific colors in vertical and horizontal lines," she has written. "I want the paintings to be different than each other but still employ similar themes to relate them all together as a unit." This unique work is signed by the artist.
Intersection – Red and Blue, 2019, Andrew Schoultz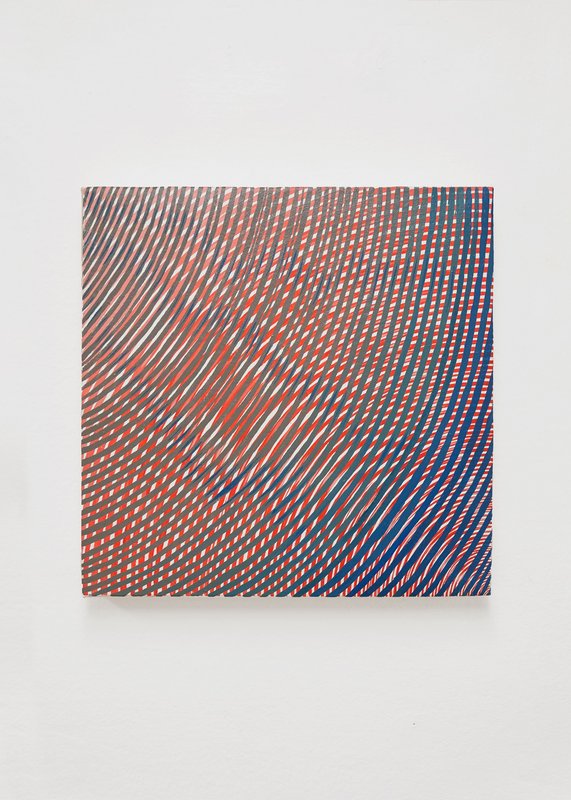 While Op-Art often looks wildly modern, it draws on some of our oldest visual traditions about how we understand pattern, color and shape. Just as Bridget Riley drew on the Impressionism of the 19th Century, LA-based Andrew Schoultz has referenced influences as disparate as 15th Century Germanic illustrations and map making and the technique of Persian miniatures. In his titles, he often makes references the state of flux and chaos that shapes the modern world. "Chaos and destruction are recurring themes in my work because I feel like these things are happening all around us constantly," he says. "Whether it is the multiple wars being fought all over the world, the natural disasters that seem to happen on a regular basis, the man-made environmental disasters that are becoming more and more prevalent, to the economic crisis that has been crushing this country's poor and middle class for years. I feel like you really cannot talk about one of these things without talking about all of them, so it becomes a monster of a subject." The result is his dense, finely worked paintings – this specific piece is a unique work on canvas and comes with a certificate of provenance from the gallery.