Cheryl Haines, an artistic champion and visionary dealer based in San Francisco, has brought German-Japanese-American artist and upcoming Whitney Biennial darling Kota Ezawa's work to the floors of Frieze 2019. Haines is well-known for building the careers of legends like Andy Goldsworthy and Ai Weiwei, helping to facilitate the latter's ground-breaking installation project @Large on Alcatraz Island in 2014, and has amassed an impressive international roster over the years, ranging from artists in Beijing to the Democratic Republic of Congo. This is Haines Gallery's second time at Frieze, and the fare is bright; Kota Ezawa's videos, watercolors, and lightboxes dilute sourced images and film by flattening dimensional sight into essentialist, de-contextualized color-worlds. At once iconic and taciturn, Ezawa's pieces speak to the myth-making capabilities of mass media as it is filtered through pubic consciousness.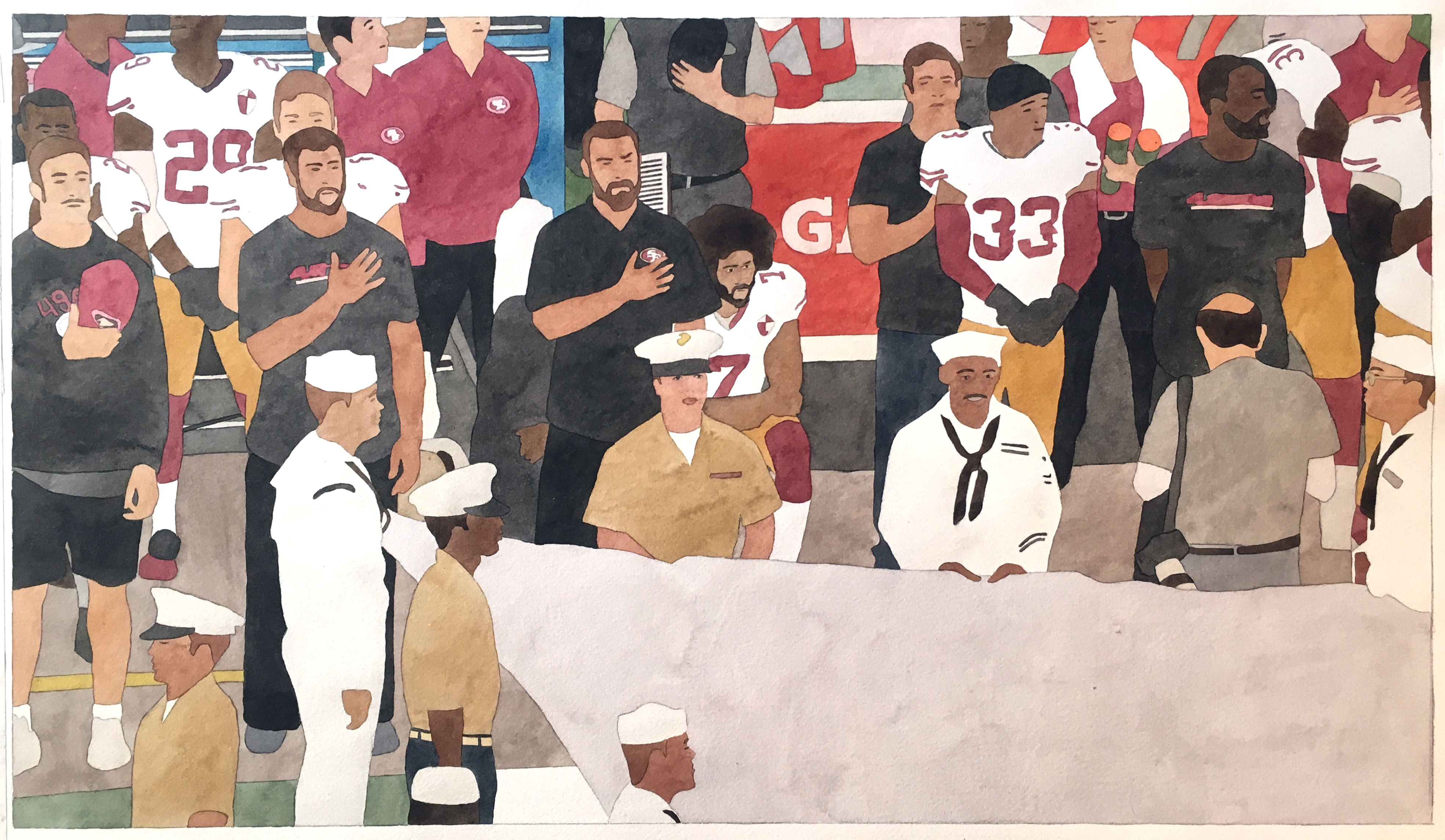 National Anthem (San Francisco 49ers) , 2019, watercolor on paper, c/o Haines Gallery
On display this year at Frieze is one of Ezawa's best known works, 2002's The Simpson Verdict, an animated video that recreates the moment of Simpson's acquittal for the alleged murder of his ex-wife Nicole Brown Simpson, a cultural flashpoint of racial divide and debate in America for years to come. To the left are a series of charming lightboxes accompanying a video from his The Crime of Artseries that narrate the beats of high-profile museum heists. Additionally, a suite of smaller watercolors, entitled National Anthem, are making an appearance in the booth; this recent collection sources images from social media in the wake of Colin Kaepernick's knee-taking protest on September 1, 2016. By simultaneously highlighting and abstracting the politicization of racialized bodies, Ezawa implicates the viewer in the inevitable personal carnage of a breakneck news cycle, one populated by oft-disgusted but consistently disgusted, burned out, but nonetheless highly participatory viewership. This relationship with the gaze also mirrors the context of an art fair; we drink in the noise, waiting for something extraordinary, positive or negative, to spark attention. Check out Ezawa's work in booth C15.
RELATED ARTICLE:
At Frieze, Galleries Are "Risking it" with Newly Represented Artists: Here Are 7 Highlights