Trained as an artist at UCLA, Tif Sigfrids experimented in a few mediums (at one point she put out an album with the then-Chinatown dealer Joel Mesler, going on tour) and then got a job at Los Angeles's Thomas Solomon Gallery, where as a lark she started organizing miniature "shows" of works by the artists in her friend group on and around her desk.
Oddly enough, these fun little displays—by artists like Max Maslansky, Thomas Winkler, and Zachary Leener—started to more attention than the gallery itself, and soon the shows at Tif's Desk began appearing on Contemporary Art Daily. Eventually, Sigfrids says, "the artists became so creative that it started to impede ability to work," so a few years ago she set off on her own to see what she could do with a gallery of her own in Hollywood.
Her first show, by the artist Joe Sola, was characteristically offbeat—and, in fact, was even smaller in scale than her desk activities. It consisted of Sigfrids sitting in the middle of the empty gallery, wearing microscopic portraits that Sola painted on tiny wooden train-set parts (with an acupuncture needle) inside her ear. It, of course, got tons of attention too, getting written up in Art and America and other publications. "It's funny to open a gallery where there's no art in it, because it creates a context where anything can happen—it doesn't just have to be art in a gallery," Sigfrids explains.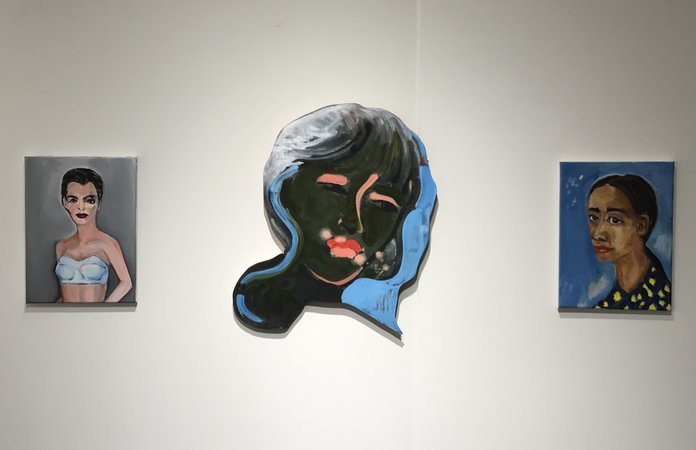 Paintings by Becky Kolsrud at Tif Sigfrids's NADA Miami Beach booth
Since then, her gallery has grown a reputation for curatorial savvy, with shows by younger artists like Mimi Lauter and the ascendant painter Becky Kolsrud (an old friend) as well as older figures like the German filmmaker and painter Frances Scholz, who has the next show at the gallery, and the late Danish artist Albert Merz, who Sigfrids discovered while living for a time in Copenhagen.
At NADA Miami Beach, the selection of works she had on offer ranged from $2,000 to $20,000. As for building a network of collectors, she acknowledges that she's "not the best salesperson—that's not my kind of thing" but adds that she's become better over time, and that now a coterie of loyal collectors have grown around the gallery.
The whole desk thing? Sigfrids looks back fondly on her DIY start, and has been pressing her assistant, Keenan Jay, to start curating shows around his workspace. "It never really took off," she sighed.