English artist Boo Saville is interested in the threshold between the experienced and the represented world in our minds. In her most recent work she has investigated how color can be an access point for this. But as well as her use of color, Saville increasingly sees her use of framing as integral to her art.
"I have been experimenting with frames in my work for a while now," she tells Artspace from her studio in the south-east England coastal town of Margate, home also to Tracey Emin, Turner Contemporary and a very fertile art scene.
Rather than a presentational tool, Saville views these frames as an integral part of the work. The frames in her new release with Manifold Editions One Thing After Another (Morning, Afternoon, Evening, Night), 2022 provide a border but also the blurring of roles; different fields of surface suggestive of something that happened or is about to happen.
Saville received a BA from London's Slade School of Art in 2000, and in 2007, she was a nominee for the Sovereign Painting Prize. She has shown her work at institutions including MOCCA Toronto and the Museum of New and Old Art in Tazmania, among others. Her most recent shows were 'The Smoke Detector and the Watchtower' at Davidson Gallery, New York (2021-22) and 'Ma' at TJ Boulting gallery, London (2022). She was also one of three artists involved in a group exhibition at Damien Hirst's Newport Street Gallery in 2018, called 'True Colours'.
The new edition One Thing After Another (Morning, Afternoon, Evening, Night), 2022 is a series of four collaged archival pigment framed prints. The framed size is 34.8 x 29.6 cm (13 11/16 x 11 21/32 in). The edition of 30 is signed and numbered by the artist on verso, and comes with a signed and numbered certificate of authenticity.  To mark the launch of the edition we caught up with Boo Saville for a chat about the new work.
We guess the title, One Thing After Another, relates to the series aspect of these works, could you tell us a little bit about that? Yes, you are right they are about the passing of time. But the title also refers to the placement of one print on top of another, a collage. Something I've never done before in print. I've used this phrase to describe a series of events that seem to keep coming along, like buses all coming at once.
Can you tell us a little about the framed aspect of the work? I like the edges of things. A frame can have many functions; it could embody peripheral ideas; it could be an environment or a shelter or have religious metaphors. I've been preoccupied with the edges of a work, the presentation or where the work meets the world for some years now. Whenever I see paintings, I always walk to the sides to see what's going on, how it's attached, does the paint drip. I enjoyed playing with how your eye reads color and how one color then informs the next. The frame is a satisfying construct that does this for me like being in a swimming pool and going back to the side to take a breath.
BOO SAVILLE - One Thing After Another (Morning, Afternoon, Evening, Night), 2022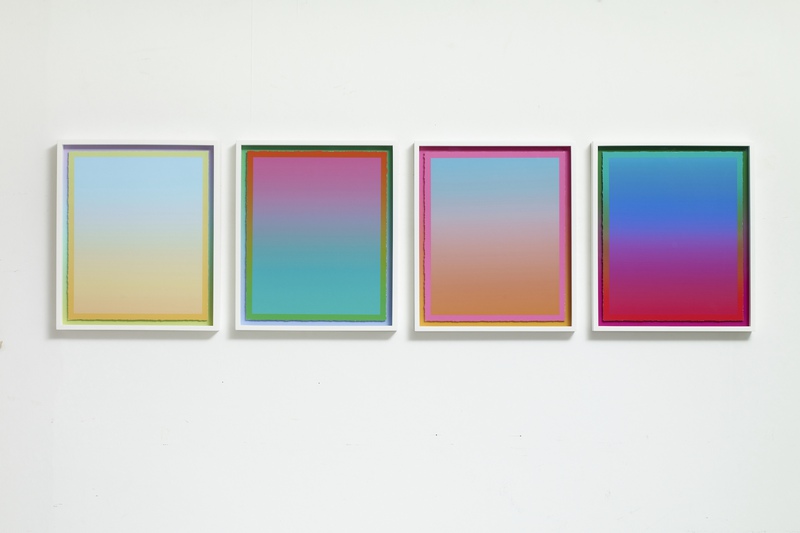 Is this part of your recent computer screen callibration inspired work? I have embraced the computer screen and application as painting tools just as I've embraced drawing with biros or using paint. With these digital prints you are dealing with many aspects which effect the color. Calibration being one, paper and ink being another. It's an incredibly slow process of proofing and making small changes. But the saturation is really exciting to me, this can be calm or neurotic but ultimately human as they end up as objects in real life that you can hold and see.

What were your chief inspirations for it? I never liked being outside as a child, I preferred looking out the window. It's partly why I love looking at paintings.  I'm drawn to the idea of reframing that's used in therapy. Re-evaluation of one thing in the context of another. The psychological state of how we are outwardly, versus what's going on behind the scenes - looking out of a window, or looking in, and what if the window is your own eyes. Interior landscapes.

What feelings do you seek to provoke in people and what is the most unusual thing someone has said to you about your work? I want to create an experience of looking where you are initially hit in the eyeballs with the intensity then as you linger it changes and deepens. Can something be calming and energising at the same time? I'm interested in what other people are bringing to this work. Perception changes depending on how you've slept, what you've eaten, your eyesight - all sorts. So, what I want to provoke just depends on what happens in the studio on that day. Someone once said to me about one of my colorfields was that the color was so intense that it felt desperate, which was astute as at the time of making it I was feeling desperate with grief.
Some of your older work seems much more psychologically threatening, for instance: Cry, 2018, Dissected Head, 2014, Snakes, 2014, Jericho, 2009; where did that come from? I tend to respond directly to my life even if I don't know why at the time. At the time of making Cry for example I was in a very bad relationship, and I was working in response to that. It came from one of many Google image searches looking for stock images that best described the day I was having.

When I was younger, I tended to look at the tragic side of being human as something that connected us and tried to reflect that in my work. I was always obsessed with death as a child,  in particular tragedy. I had a book about the sinking of the Titanic that I kept by my bed and still have now. I used to look at those early snuff websites, Ogrid, Liveleak and draw from the screen.

As I became more involved in the painting, I realized that one of the main things that excited me was color and surface and how we can find connection through that. I also lost my parents in my mid-thirties which drew a line under that interest. Grief is very transformative in that way. I have come to see everything as an opportunity for change. Nothing is a finished statement, just part of an ever-expanding continuum. Until you die.
BOO SAVILLE - One Thing After Another (Morning, Afternoon, Evening, Night), 2022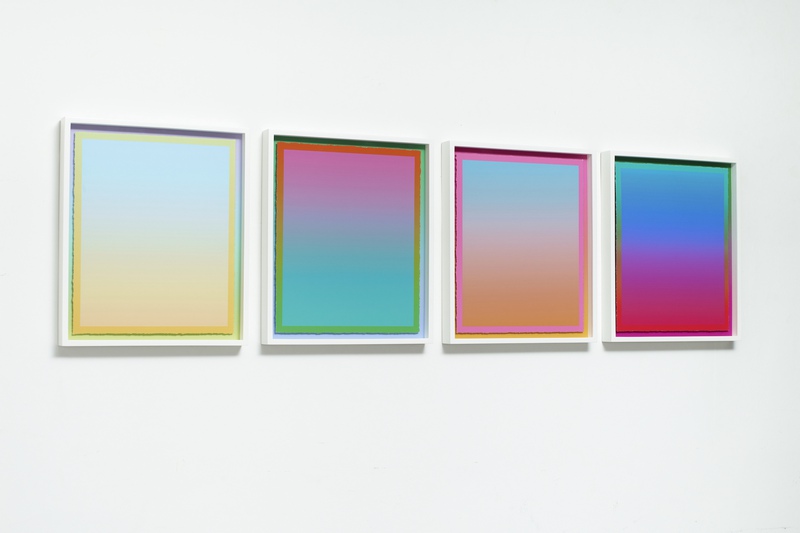 How do you work? Do you sketch out ideas beforehand, do you go to the studio each day, do you wait for the moment to grab you? I work every day except Sunday. I usually wake up at about 5am and like to get going as soon as I get up. I've always kept loads of sketchbooks and keep some at home and some in the studio. It really depends what I'm doing but I don't tend to sketch things out as I'm more interested in what paint does on its own and in having a conversation.

This helps me tap into something without being too didactic. The material and how it's used usually suggests to me what to do next. I'm working with poured ink on canvas at the moment which is difficult to plan out so I'm just enjoying letting go. With figurative work I use a grid method so that is worked out before.

What did you learn from working with Damien Hirst? Oh, a huge amount. The main thing was ambition within the work. Not to be afraid to be bold. I have the tendency to shy away and be very insular so having support has been very important to me.  You can spend years rattling around the studio on your own not knowing if you're getting anywhere. Working on my Newport Street show was a very expansive and exciting time.

How does Margate impact on your work? It's an incredibly fertile place for art right now, isn't it? I've had studios all over London and in Margate I've certainly found the most peace.  I actually work out of town on the site of an old airport so it's incredibly quiet. Margate is a very exciting and nourishing place to be with a great artist community. We're about to go into winter which is my favourite time to walk on the beach.
See more of One Thing After Another (Morning, Afternoon, Evening, Night), 2022, here . The edition is a series of four collaged archival pigment prints framed. Framed size 34.8 x 29.6 cm (13 11/16 x 11 21/32 in) each Edition of 30. The work is signed and numbered by the artist on verso, and comes with a signed and numbered Certificate of Authenticity. And see more of Boo Saville's work here and at Manifold Editions .