When did Devin Troy Strother realise he was an artist? "Straight out the womb," the 35-year-old, California-born, LA-based painter and sculptor tells Artspace. In truth, though, his early life also played its part. "I got into art by watching a lot of cartoons and not having a babysitter all the time," he explains. "You're having to stay at home and watch television, that's how I got into painting I guess."
Critics have found traces of Gerhard Richter, Willem de Kooning, Joan Miro, Felix Gonzalez-Torres, Matisse, Jeff Koons and Yves Klein in Strother's work. He has exhibited across the globe, and seen his work added to the collections of the Los Angeles County Museum of Art, the Santa Barbara Museum of Art and the Studio Museum in Harlem, New York.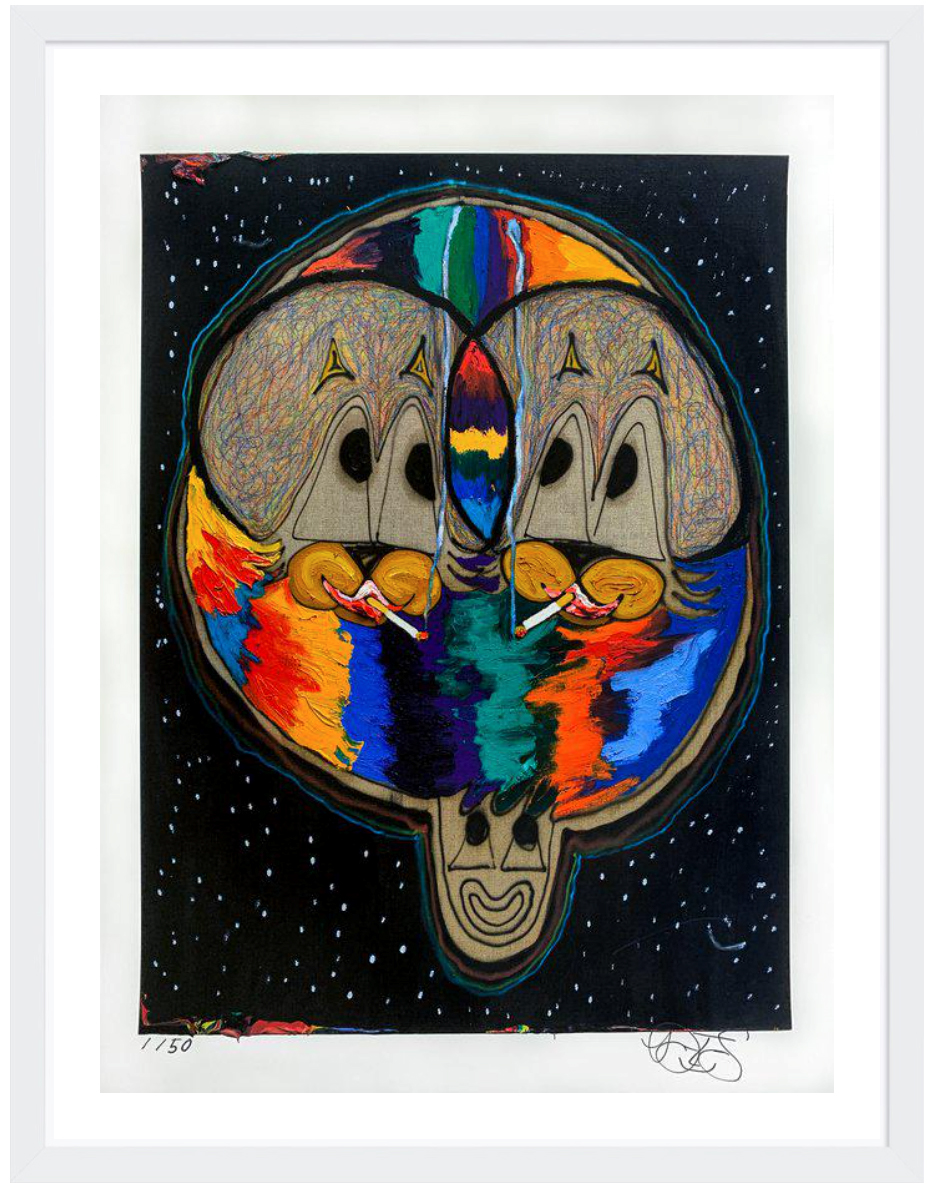 Devin Troy Strother. Grateful Dead Afro Cat Show, 2021. Digital archival print and paint marker on Epson Hot Press Natural 330g/m2 paper. 24 x 18 inches. Edition of 50 plus 5 APs. Hand-embellished, signed and numbered on front. $1,000 unframed / $1,250 framed
Yet Strother also draws inspiration from less comfortable sources too. His paintings, sculptures, mixed-media works, performances and installations often address racial prejudice, black stereotypes as well as familiar racist motifs and memorabilia made all the more powerful for his lightness of touch. His 2018 limited edition lamp, Colour in the Night – a ceramic sculpture depicting a black ghost holding a candle that functions as a lamp – carries uneasy overtones for anyone with a working knowledge of mid-century racist iconography.
His new Artspace edition is called Grateful Dead Afro Cat Show, 2021 and is an edition of 50 prints, signed and numbered by the artist on the front. Each copy has been hand embelished in paint by Strother, making each edition unique in its own way. The image spotlights his trademark boldness, wit, and embrace of materiality, brought to life by distinct paint elements that speckle the image's enveloping nightscape.
Proceeds from the sale of Grateful Dead Afro Cat Show, 2021 will support Free Arts NYC, a New York-based nonprofit that empowers underserved youth through art and mentoring programs to develop their creativity, confidence, and skills to succeed.
Inspired by Strother's new body of work currently on view at Broadway in New York City, the edition image centers on two cartoonish felines floating inside a rainbow afro, suspended in an infinite night sky.
Strother's appealing visual forms belie a critical examination of complex subjects which confront the viewer with some of the most pressing social questions of our time. Yet he feels a cartoon-like approach can help when it comes to such a violent and abhorrent side of human nature. "It does take the edge off," Strother admits. "With themes like burning white men at the stake. It helps if most of the figures are happy." Blackface, in particular, serves as an almost universal signifier. "Everyone has like a relationship with it," the artist explains, "which is great, something I don't have to establish with each viewer."
A comedic streak shows up in the titles of his exhibitions too, which employ black vernacular, sometimes pairing it with artworld speak, to great effect. Consider, Gurrrrl You Know I'm Just Talkin About That Composition, Gurrrrl what'chu Know About That Post Contemporary, the name of his 2012 show at the Bendixen Contemporary Art gallery in Copenhagen; or What if Yayoi Kusama had Jungle Fever? his 2015 exhibition at Richard Heller in Los Angeles.
"They (the titles) come to me in dreams," he says "No, I'm joking. . . They have several ways of developing," he admits, "usually while I work on other paintings." The artist is aware of the way he switches between different moods and modes in his work, sometimes angry, sometimes playful, sometimes cynical. "It's similar to just growing as a black person," he says, "gotta code switch, and juggle all type situations. I think you know where I'm going with this."
Indeed, rather than shy away from material that's viewed as stereotypically African American, such as hip-hop, jazz and basketball, Strother pulls it all into his work. "Sometimes stereotypes need to be embraced," he explains.
The artist was born on 27 February, in 1986, and believes he did not experience the same kind of prejudice as older, more established, artists may have.
"I went through a totally different thing than David Hammons or Kerry James Marshall went through," he says. "They went through real racist shit. I went through racist shit, but it was a lot more subdued. I feel like my work talks to that genre of being a black kid in America. It's more of a celebration of being black than Kara Walker beating you over the head with slave imagery. For me, I just don't want to talk about the Civil Rights Movement. I want to talk about some things, but in a comedic way."
Indeed Strother sees some parallels between his work and the role of the black stand-up comic in American culture. "From sports to music, we're always performing," he says. "Painting is the same shit. You're just one step removed from it. When you're a comedian and you're onstage, you're so vulnerable. You're letting all of these emotions out in front of a crowd. But when you're a painter or sculptor, you take the back row. Your work is like a stand-in for you."
A near contemporary of his in the entertainment world helped Strother's early career. "Kanye West had written that he was going to buy one of my paintings," the artist recalls. "It was on the front page of his blog. But he never bought it. He didn't want to pay for it. It was really cheap; it's funny cause now it's sold for way more."
He's equally comfortable being compared to the greats, such as Joan Miro and Jean-Michel Basquiat. "I'm flattered. Miro, really? That's wild, but I'll take it."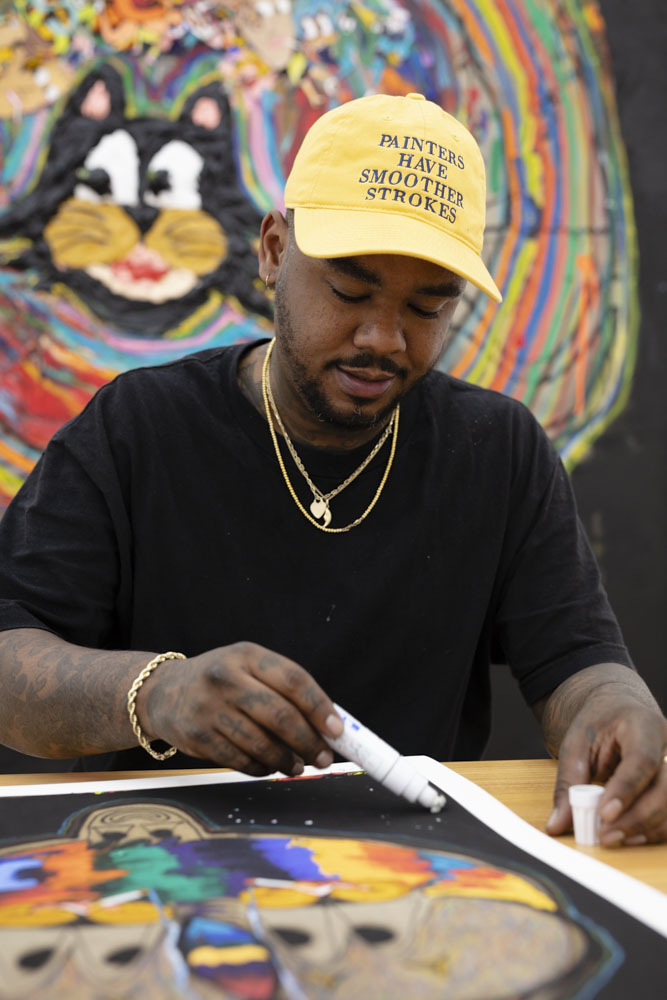 Devin Troy Strother hand embellishing his new Artspace & Free Arts NYC edition - photo by Lance Brewer
The artist is also fairly sanguine when it comes to the use of the most infamous word in the American vernacular. "Nigga it's really regular, but calling someone a cat is way cooler," he reasons. "I made a painting recently called 'nigga'. It was a picture of a black cat. That shit was pretty fire, my nigga."
You could put some of Strother's flights of imagination and easy manner down to his love of weed, but the artist says he smokes for other reasons. "I can be creative sober," he says, "I just have crippling anxiety, and it helps sometimes, and I just like to get high. It's a mix of reasons," he says, "like a salad."
He's certainly been free with his brushwork. Though this new Artspace edition is a archival print Strother took time to add unique paint strokes to each one. Why? "Cuz you asked me too," he laughs.
Strother has a forthcoming exhibition at The Pit in Los Angeles, he's also working on a film, and, during a spare moment in between, he's messing with people's heads. When asked about his work, Strother says, "I tell people that I'm the custodial arts." Prison may be no joke, but somehow this artist manages to find a way to put a grim cartoon gloss on almost everything.
Find out more about the limited edition print, Grateful Dead Afro Cat Show, 2021 here. Each one sold benefits Free Arts NYC's mission to empower underserved youth through art and mentoring programs that are designed to develop their creativity, confidence, and skills to succeed.


For 23 years, Free Arts NYC has been committed to providing high-quality arts programming to over 2,000 youth, annually. Through its partnerships with community-based organizations, NYC's Department of Homeless Services and city schools, Free Arts NYC continuously strives to create equity in the creative space by facilitating opportunities through its programs. We'll be carrying an interview with Free Arts NYC's founder & Executive Director Liz Hopfan next week.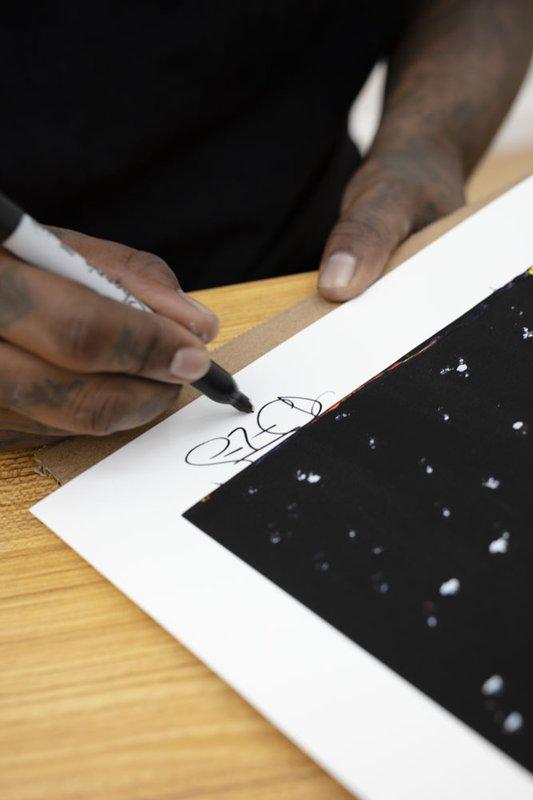 Devin Troy Strother signing his new Artspace & Free Arts NYC edition - photo by Lance Brewer