Rashid Johnson has always been interested in the utilitarian nature of art. It can be traced back to his earliest works: the iconic wall-mounted shelf sculptures that held objects such as incense, shea butter, and vinyl records, embodying layered significance as talismans, gestures, and practical tools simultaneously.

And that utility is there in Sodade, his current show of work at Hauser & Wirth, Menorca, where more traditional art materials are evident in the beautiful oil seascapes and bronze boat sculptures that actually function as fire pits. The works are partly inspired by sketches Johnson made on beach walks during the pandemic. The boats, in particular are examples of what he calls a refocusing on "the poetry of the object".
"As artists grow - especially as we navigate canonical structures, history, education through critical form - there's a kind of corruption of some of these integral ideas around beauty and exploration and poetry," he tells Artspace.

"So, kind of getting back to the roots of my projects without abandoning some of the critical concerns that are present, is where the work lives now. It's about that hybridity in allowing both sides of my thinking to be reflected in what it is I've made."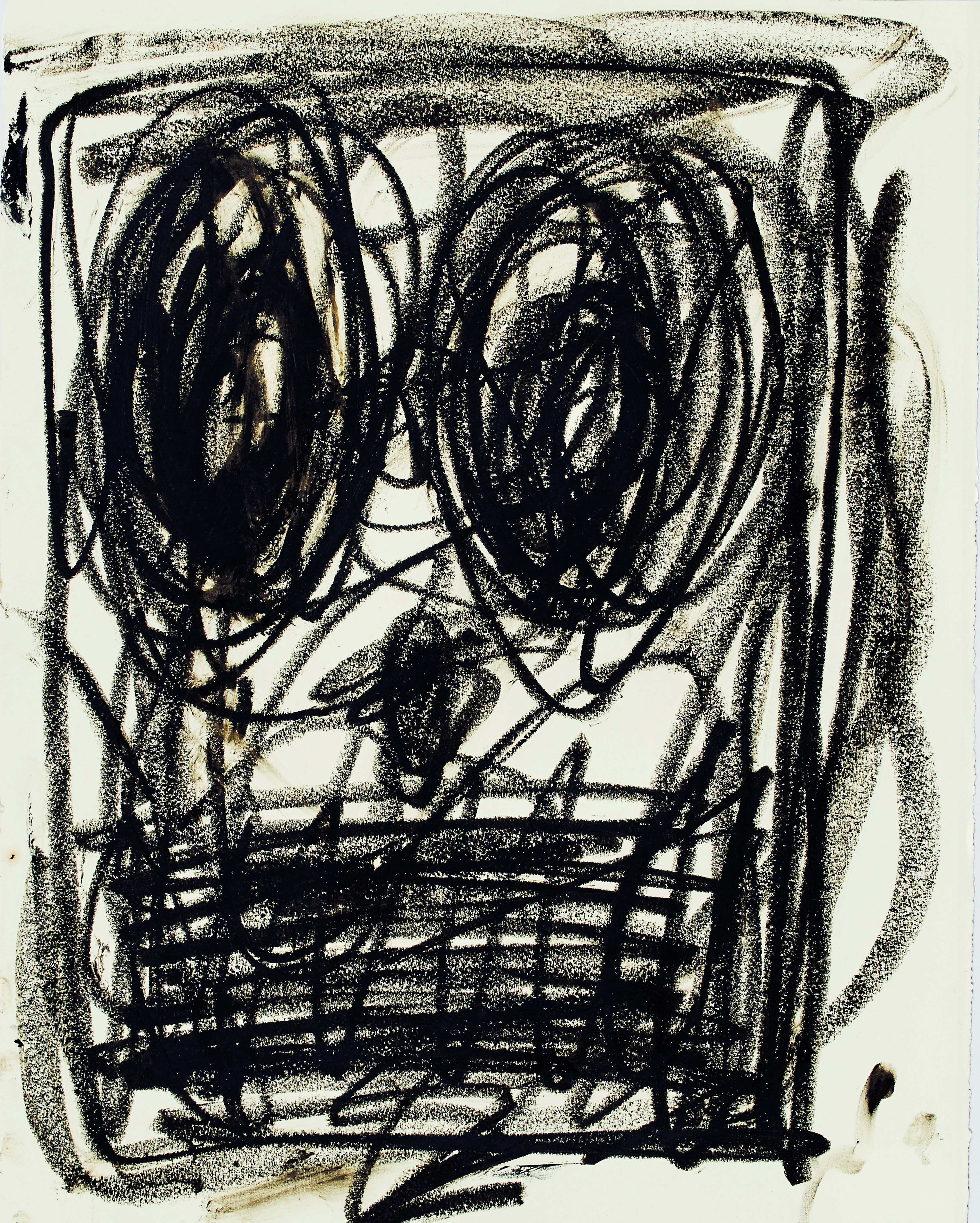 Rashid Johnson, Untitled Anxious Drawing, 2017, oil on cotton rag, 82.8 × 63.5 cm (32 ½ × 25 in). Picture credit: artwork (c) the artist / Photo: Martin Parsekian - from the Phaidon book Vitamin 3D: New Perspectives in Drawing

Johnson was born in 1977 in Evanston, Illinois, just beyond Chicago's city limits, on the shores of Lake Michigan. His mother, the academic Cheryl Johnson-Odim, was finishing her PhD at nearby Northwestern University, while his father, Jimmy Johnson, owned and ran an electronics business. The couple split while Johnson was still an infant and, the artist recalls "growing up between my father's laboratory and my mother's library."

Studying first at Columbia College Chicago then at the School of the Art Institute of Chicago, Johnson earned his MFA in 2005, and focussed initially on photography. He was the youngest participant in the seminal 2001 Freestyle group exhibition at the Studio Museum in Harlem. Its curator, Thelma Golden, selected a series of black-and-white photographs of homeless men by the young man.

These works were followed by later images in which Johnson interrogates ideas of race and place in society. His 19th-century-style portrait series, The New Negro Escapist Social and Athletic Club (Emmett), dating from 2008, engages with the abolitionist and orator Frederick Douglass's thoughts on the emancipatory power of photography, while his video work, The New Black Yoga (2011), featuring five African-American men performing graceful, choreographed movements on a beach, challenges cultural stereotypes and the limits of cross-cultural fertilization.

Johnson became less of an artworld secret with his Anxious Men series of works in 2015. In these works he channelled his anxieties and vulnerabilities into a series of images created by pouring a mixture of shea butter and melted black soap onto the surface of white tiles.
Before this 'cosmic slop' (as the artist referred to the mixture) set,  Johnson would incise a rough, expressive face into the mixture, to create works which, to some observers, appear to echo earlier artists, such as Jean Dubuffet and Edvard Munch, while continuing the great American tradition of gestural abstraction, while addressing contemporary hopes and fears.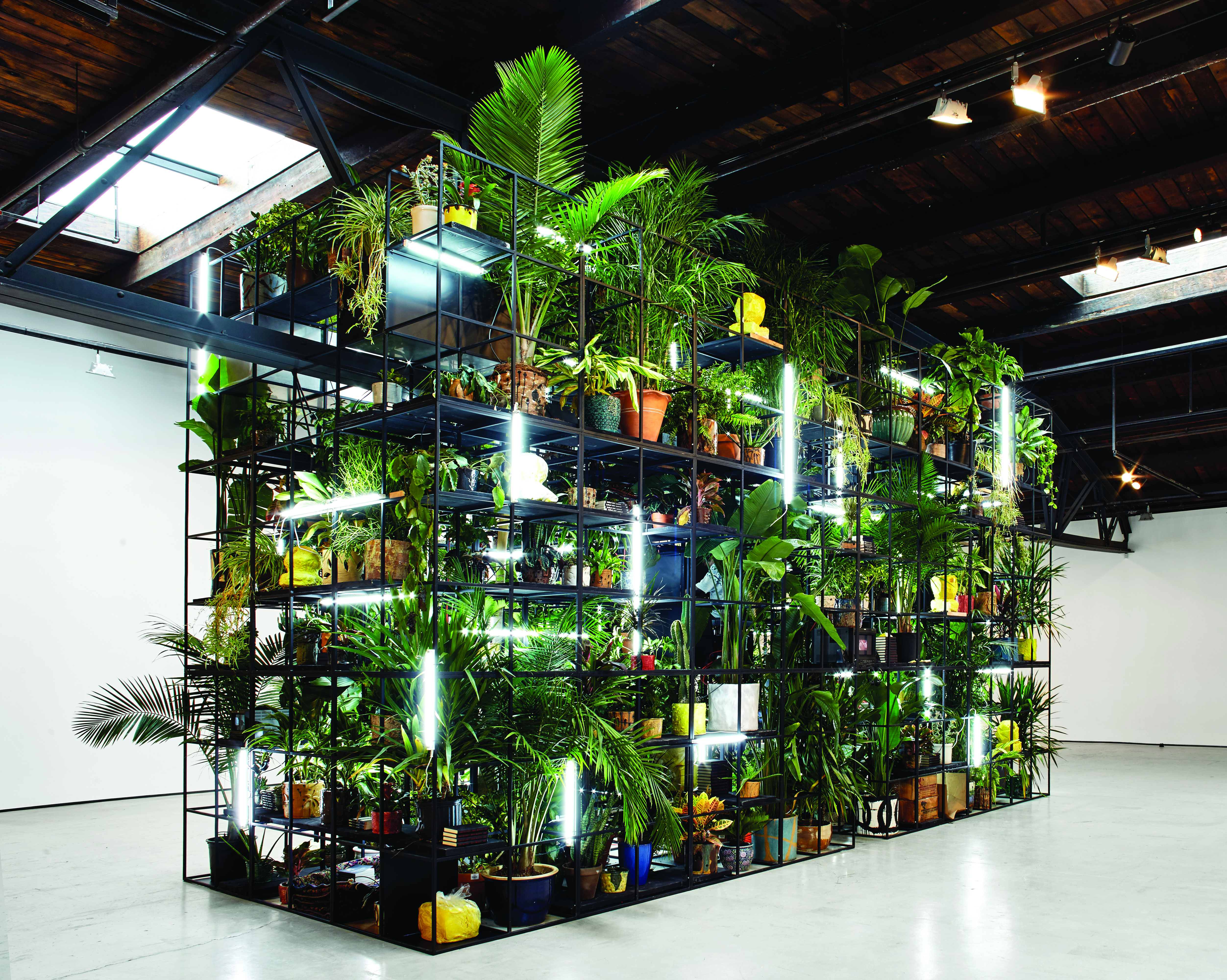 "From my perspective in art as an artist, the time after that Abstract Expressionist period is when the principles that I continue to adhere to were born," Rashid told Artspace. "You have the psychological drama of the body as well as the tension of interacting with material—it becomes the instrument for how that material is distributed, but also how the ideas around that material are distributed. The body is kind of forced into whatever position it needs to be in to allow that representation to become accessible."
In recent years, Johnson has not only presented a series of highly acclaimed gallery exhibitions – in which the artist has placed mirrors, plants, and work by other artists such as the photographs of French-American photographer Elliott Erwitt, and the music of Melvin Van Peebles – he has also gained prominence outside of the gallery system.
In 2019, Johnson directed the HBO drama, Native Son, based on the 1940 novel by  Richard Wright; and this summer (2022), his work "'The Travelers' Broken Crowd", was unveiled in the arrivals and departures hall at LaGuardia Airport's new Terminal C.

The mosaic, consisting of rows of Anxious Men-style faces, fashioned from broken ceramics, addresses both political and perennial issues. "Travel is such an interesting and complicated and beautiful and frustrating event, whether you think of it for the purpose of bettering oneself or the substantial refugee crisis right now," Johnson said. "These characters that I call 'Broken Men' are witnessing the travelers and being witnessed by the travelers. It kind of feels like all of us."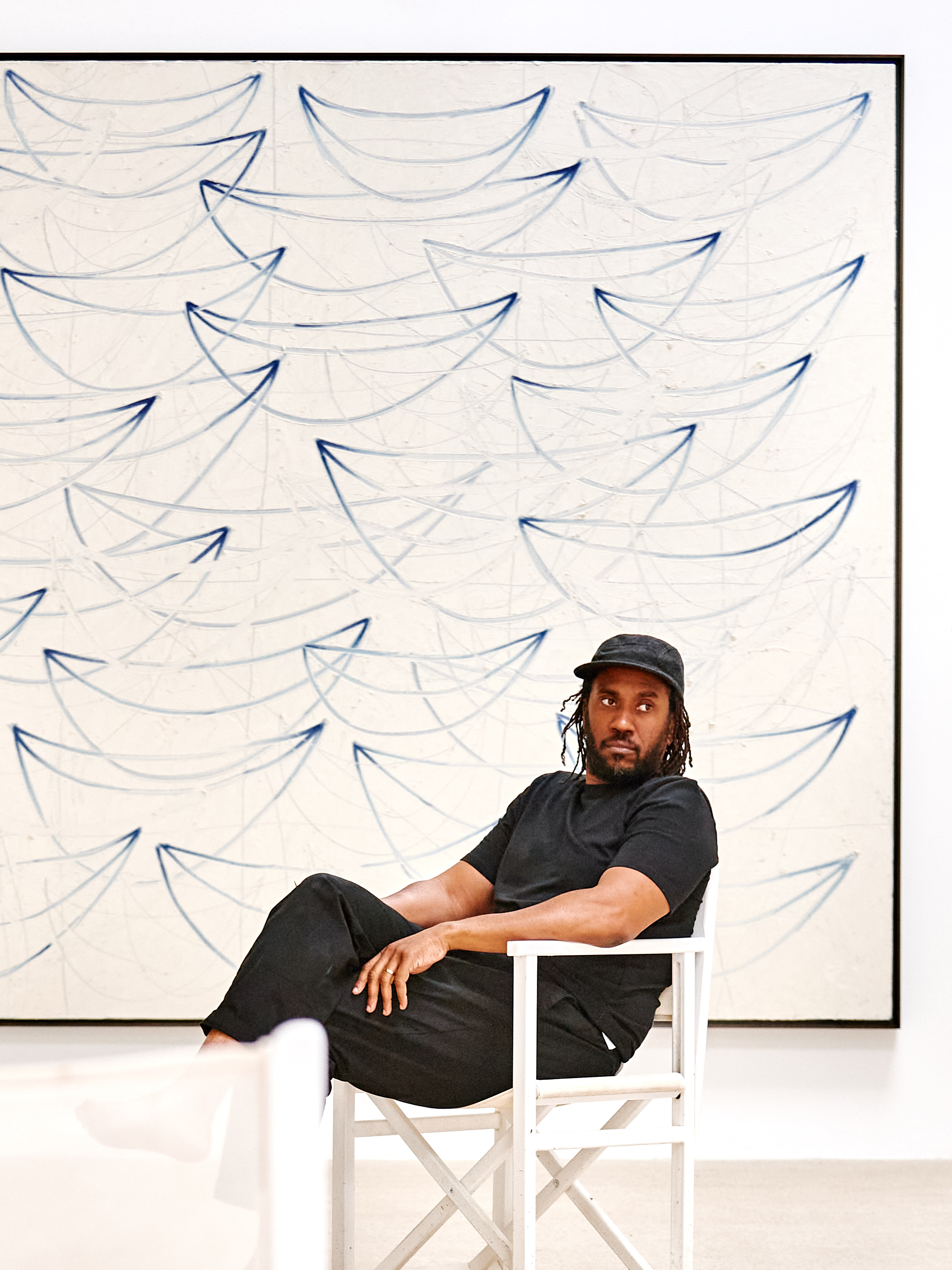 Rashid Johnson photographed at Hauser & Wirth, Menorca, by Daniel Schafer Courtesy the artist and Hauser & Wirth © Rashid Johnson
Like the travelers sufficiently open-minded enough to pause their rush through an airport terminal to take in the mural, Johnson says the key to moving forward for him is to stay curious.

"The amazing thing about being able to grow both as a human being and as an artist is if you have a real curiosity it continues to get more interesting. In your twenties you should not be the artist that you are in your fifties," he tells Artspace.
"I'm still in the process of growth and development and feeling the obstacles and opportunities that are born from that experience. So I'm just acting on all the things that come my way. That's how I can honestly unpack where I am and that gives me the work and opportunities that illustrate that vocation."
Look out for a very special Artspace edition from Rashid Johnson in the coming weeks. To register your interest in this very limited edition work sign up for our emails .