Painters have used projection as a tool at least since the days of the camera obscura, the device thought to have facilitated Vermeer's uncanny photorealism. More recently, however, artists have been bringing light-projection technologies of various kinds out from behind the scenes and weaving them into works that still read, unmistakably, as paintings. The following list is by no means comprehensive, but it includes some of the most interesting and current practitioners of this hybrid medium.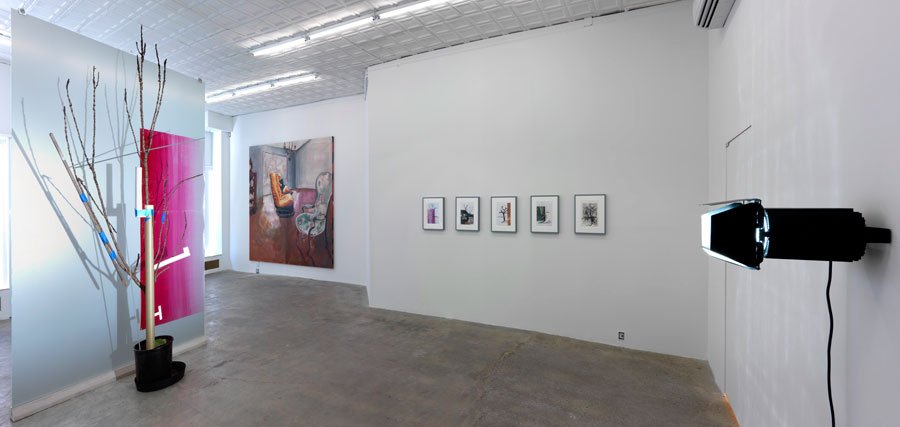 "Albert Oehlen: 'Home & Garden' Annex," installation view. Photo by Rob McKeever. Courtesy of Gagosian New York.
The German painter has used projection since the period of his "computer paintings" of the mid-1990s, in ways that feel just as subversive. In Untitled ( 9 ½ Weeks) (1995), he projected the famous erotic film starring Mickey Rourke and Kim Basinger directly over one of his abstract canvases. As he said of the piece, "you want to see the movie and you forget about the painting but actually you stare at my painting for an hour and a half and it is burned into your eyes." More recently, in a show at Gagosian Park Avenue that coicincided with his New Museum survey this past summer, Oehlen sandwiched a sapling between a light projector and a pane of semi-opaque glass to make a stripped-down landscape with a strong resemblance to his tree paintings and collages.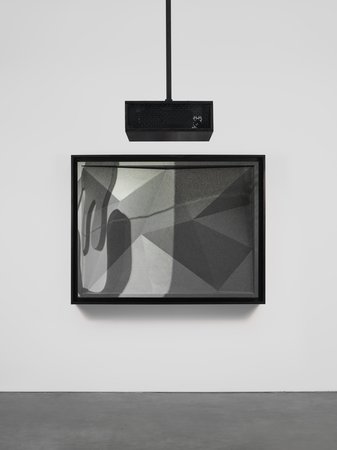 Projection Painting I , 2015 Projection paint on wood, museum glass, oak, Sumi ink, projector, hardware, film 50 x 64 x 9 inches (127 x 162.6 x 22.9 cm), endless loop. Courtesy Andrea Rosen Gallery, New York (C) Josiah McElheny. Photo: EPW Studio / Maris Hutchinson.
Inspired in part by Oehlen's projection-paintings, the sculptor Josiah McElheny—best known for his glass vessels laced with high-modernist references—has been striking out in a more painterly direction. His current show at Andrea Rosen includes two works in which outtakes from the experimental mid-century films of Maya Deren are projected on bumpy-looking silver screens (they're actually multi-planar wooden reliefs painted in various shades of gray and placed behind glass). Like his recent Screens for Looking at Abstraction , which showed abstract films on translucent projection cloths stretched over mirrors, McElheny's Projection Paintings are three-layer cakes of film, painting, and sculpture in which no single medium comes out on top.
DAVE MIKO & TOM THAYER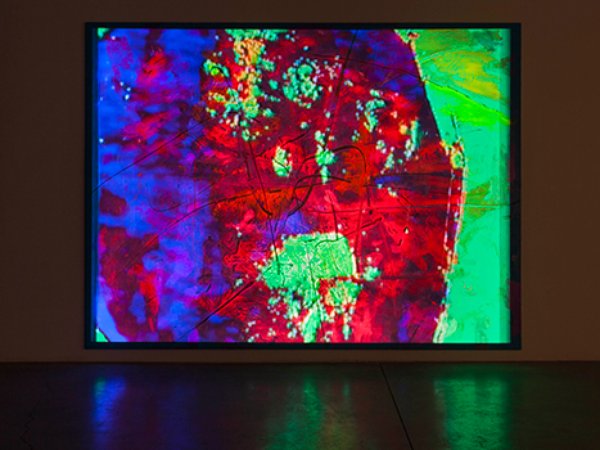 The Tender Color of the Raspberry Darkens, Slowly Obscured by the Pale Mold , 2013. 4:30 loop; acrylic on aluminum with video projection, 80 x 60 in. (203.2 x 152.4 cm). Image courtesy of Eleven Rivington, New York.
Working as a duo (they also maintain separate practices), Dave Miko and Tom Thayer have come up with a delightfully rich symbiosis of narrative art and abstraction. In their collaborative installations, which have been seen at the 2012 Whitney Biennial and in more recent outings at the Kitchen and Eleven Rivington , Thayer's whimsical stop-motion animations are projected on Miko's enameled aluminum panel paintings. Thayer's lo-fi technologies (he often works with VHS) consort easily with painting, and Miko's shiny surfaces generate all kinds of filmic effects, so their combined efforts are more of a marriage than a competition.
KEN OKIISHI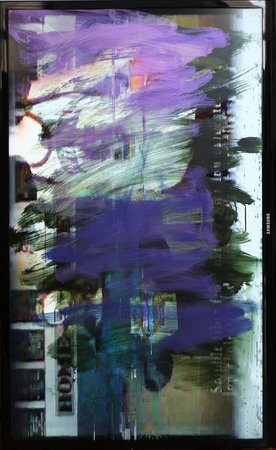 Ken Okiishi, gesture/data , 2013. Oil on flatscreen, VHS transferred to .mp4 (Color, sound), 35 1/3 × 21 × 3 7/10 in. Collection of the artist; courtesy the artist and Reena Spaulings Fine Art, New York. © Ken Okiishi.
Working with television recordings rather than film or projection, Ken Okiishi nonetheless combines painting and the moving image in works that look of a piece with the others described here. (The main difference, you could say, is that the light is behind the paint instead of on top of it.) His series of paintings on flat-screen monitors, gesture/data, evolved from a routine museumgoing act: Okiishi admired a painting by Joan Mitchell at MoMA and tried to capture it on his iPhone. His sheer, streaky brushstrokes, which veil an equally glitchy mixture of VHS and digital recordings, remind you how much gets lost in translation from the wall to the cloud. He'll be showing new works from the series at this month's Frieze London fair, at the booths of Pilar Corrias and Take Ninagawa.
SANYA KANTAROVSKY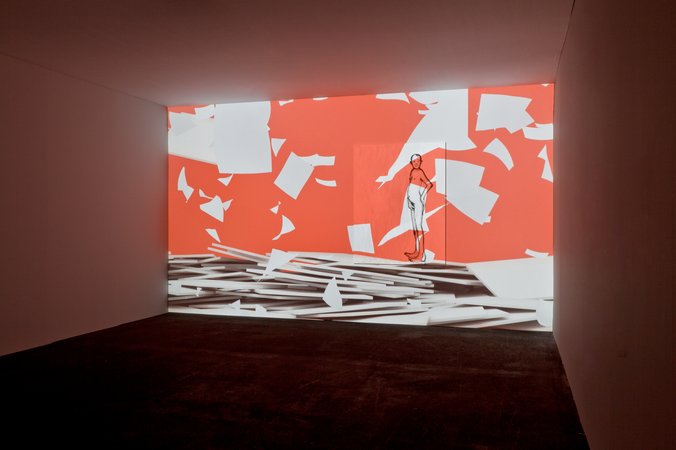 A still from Sanya Kantarovsky's Happy Soul , 2014. Copyright the artist. Courtesy Stuart Shave/Modern Art, London and Casey Kaplan, New York. Photo: Dawn Blackman.
Putting a new spin on his cartoonish paintings of "everyman" figures, the Russian-born artist Sanya Kantarovsky made an auspicious foray into animation with his 2014 piece Happy Soul. In this installation, which debuted at LAXART in 2014 and was shown in the high-profile "Unlimited" section of Art Basel 2015 , Kantarovsky surrounded a simple black-and-white painting of a single male nude with a series of colorful projections and set the whole thing to a Motown soundtrack. The changing images interacted with the static figure and made reference to the frustrations of the creative process (blank sheets of paper figured prominently, as did the back sides of canvases.) As Happy Soul suggests, projection can offer painters not only rich narratives and new spatial complexities but also a way to overcome artist's block.