If there's one thing that can be gleaned from this year's terrific edition of NADA New York, it's that artists are really letting their freak flags fly when it comes to the materials they choose to work with. Following in the well-worn footsteps of Duchamp and Neo-Dadaists like Jasper Johns and Robert Rauschenberg, these emerging talents are plucking—or curating, if you prefer—objects from the Internet-empowered culture around them and placing them in the gallery setting for our mental delectation, sometimes with little or no change to the original object at all.
The goal, typically, is not to make an anti-commercial statement or anything like that, but merely to subtly manipulate the use value of everyday objects in order to see what they look like in a different context. If one wanted to put a label on this pervasive trend in art, it might be "Weirdo Realism"—or maybe, "Browser Conceptualism"? Either way, these 10 pieces are cool and fun. 
Adrian Wong
LTD Los Angeles
Lenticular Composition III (Tropical Paradise / Mr. & Mrs. Gerald Furman) (2015)
$6,000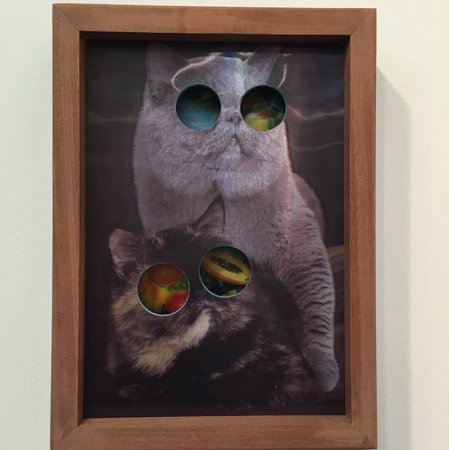 The Chinese-American artist and UCLA art professor Adrian Wong was once approached by a wealthy collector with an odd request: the collector wanted to import a 65-million-year-old dinosaur skull to Hong Kong, and in order to sneak it through a tax loophole he wanted Wong to transform it into an artwork. To do so, the artist took the artifact to several mediums and collected their seances. The experience got Wong thinking about the past lives of animals—a theme he explores in these unusual box portraits that he makes using lenticulars for a shimmery there-but-not-there effect.
Puppies Puppies
What Pipeline (Detroit) and CourtneyBlades (Chicago)
$2,200 for the crab and $2,000 for the vampire (open edition)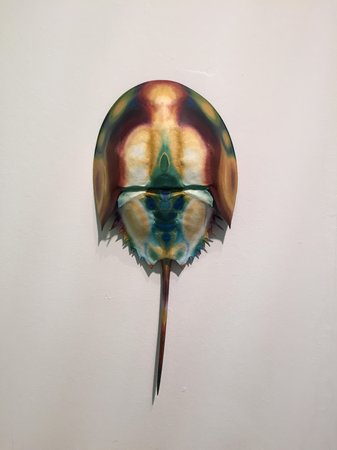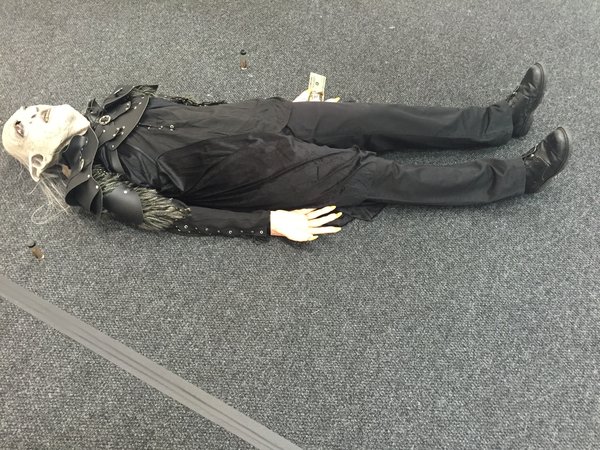 The artist who goes by Puppies Puppies is hilarious, smart, and totally obsessed with Harry Potter, Spongebob, doge (an inexplicable Internet thing—look it up), and other child-and-web-friendly memes that he can arrestingly detourn in an art context. At Chicago's CourtneyBlades, the artist has a mannequin in a "Lord of the Rings" mask that is clutching a fork speared through a $20 bill—it's based, the gallery says, on a previous piece called Voldemort With Lunesta (and possibly also inspired by Darren Bader's Ork With a Fork). A Detroit's What Pipeline, Puppies has one of the irresistible painted horseshoe crabs—apparently quite a popular craft endeavor—that he sources from Etsy and presents as readymades. 
Yousef Jdia & Katherine Bernhardt
Magic Flying Carpets (New York)
$600-$7,000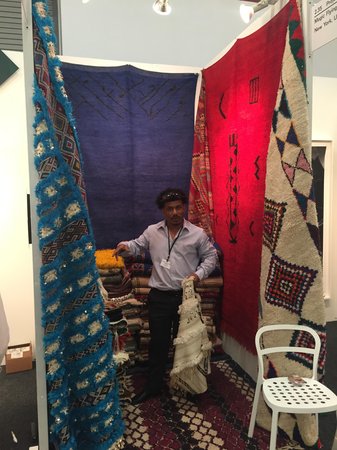 Run by the Moroccan entrepreneur Yousef Jdia and his painter wife Katherine Bernhardt, Magic Flying Carpets brings an ancient business model into the art context, holding pop-up souks at places like CANADA Gallery (which represents Bernhardt) and the Hole. For the fair, Jdia filled a booth with colorful rugs made by nomads who live in the mountains of Morocco and Berbers roaming the Sahara desert. The fact that the old rugs hold their own as cutting-edge art is a pretty exciting and fun discovery—look out for the pricey variety known as "Berber Picasso."
Caroline Chandler
Roberto Paradise (San Juan)
$6,000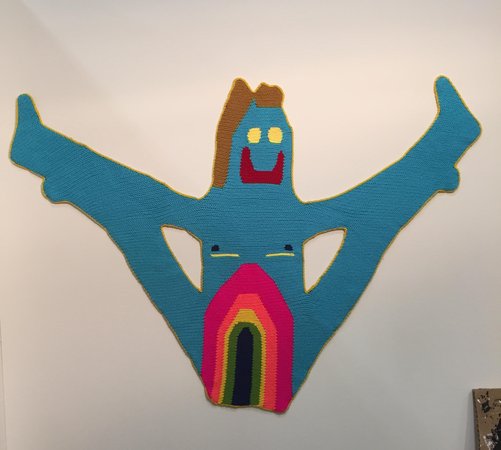 The 29-year-old Yale MFA-schooled artist Caroline Chandler is currently undergoing a sex-change procedure to transition from female to male, and her hand-knit compositions of colorful store-bought wool yarn address this process. Here, for instance, the horizontal lines indicate the incisions that were made when she removed her breasts, and if one looks closely at her rainbow vagina, what is that shape that seems to be emerging? That's right, a penis. (The piece is titled Orgin, fusing together "organ" and "origin" into a new word.) 
Jesse Greenberg
LOYAL (Stockholm)
$10,000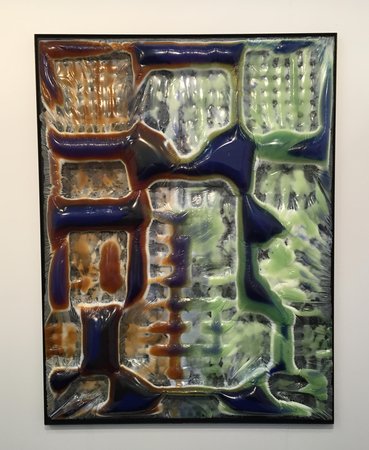 The Columbia MFA grad Jesse Greenberg makes these sculptures that look like a cross between sticky candy, a waterbed, and packing materials by manipulating resin and pigments under a plastic sheet over a steel frame. The result is a visual jamboree of textures: soft, firm, wet, dry, plush, bouncy. You just want to poke it to see it squish around, but in fact it's all hard as a rock.
Chloe Wise
Division Gallery (Montreal & Toronto)
$5,200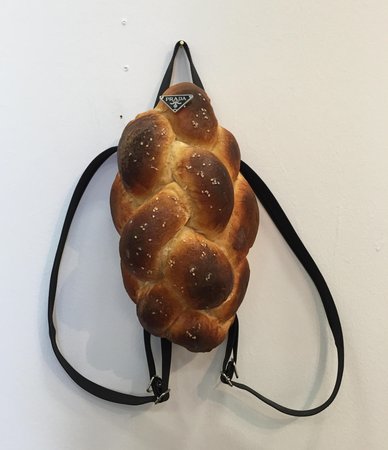 Prada at NADA? Yes indeed, in the work of the 25-year-old whippersnapper Chloe Wise, who sculpts bread products (often ones from the Judaic tradition) out of urethane, paints them in a convincingly trompe-l'oeil manner, and combines them with elements of luxury accessories. This one incorporates a Prada backpack that was very popular among the teens in the '90s (and had a cameo in "Clueless"). Another of the artist's works—a Chanel bagel-with-cream-cheese clutch—went viral when her roommate, the actress India Menuez, wore it to a Karl Lagerfeld party. 
Michael Assiff
Regina Rex (New York)
$2,000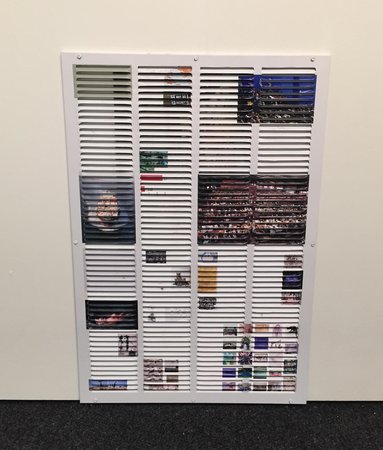 Here's a work of art that's undeniably grate. Michael Assiff, an environmentalist who collects imagery from Greenpeace emails and other eco-friendly sources, prints these Internet-derived pictures on vinyl in a website layout and spreads them across vents as a commentary on the circulation of images in contemporary life—specifically, how they can sometimes just blow away and disappear.  
Clive Murphy
Rawson Projects (New York)
$6,000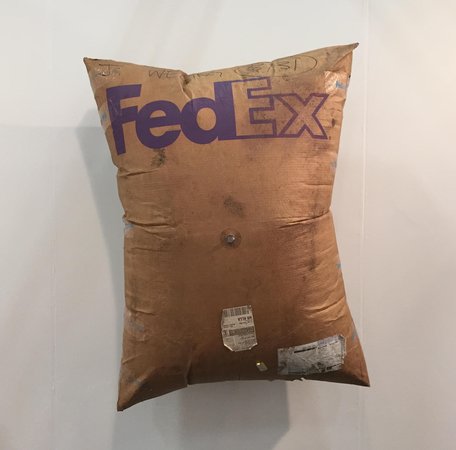 The artist Clive Murphy takes large cardboard boxes—from FedEx, TV sets, and the like—and soaks them in water to remove the first layer of corrugation, which he strips off and wraps around bladders made from pieced-together beach balls. The end product is not so different from what he started with, in fact, but just different enough to create a pleasing little buzz of confusion in the mind. Murphy titles his sculptures after lesser-known Britney Spears songs, and this one is called Inflatable Cardboard Box (Nobody 'Til You).  
Andrew J. Greene
Michael Thibault (Los Angeles)
$5,000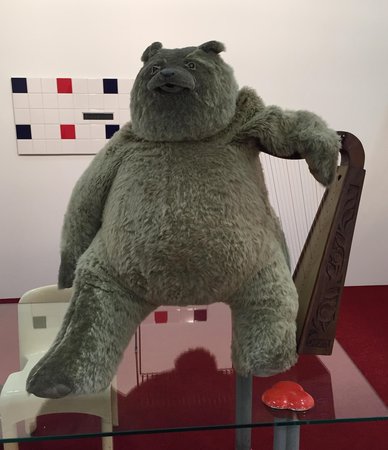 The New York-based artist Andrew J. Greene prowls the urban landscape with the searching eye of a street photographer, but instead of capturing the odd things he finds with a camera he recreates them from similar objects in his studio. This piece, for instance, arose after Greene spotted this cuddly ursine mascot for the Rocky Mountain Ice Cream Co.—which the company sets outside the door of all its stores—lying in a heap of trash next to a harp. Recreated here, it does have a certain kind of perfection that sometimes you just can't make up.
Jill Baroff
Galerie Christian Lethert (Cologne)
$15,000 for the pair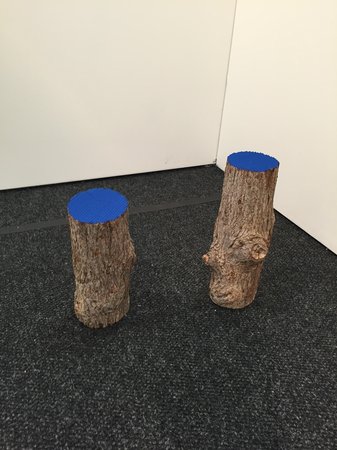 For years, Jill Baroff has been making sculptural clusters of fluted and painted wood. She uses a very Yves Klein blue to create a perceptual effect: the ridges of the fluting play tricks with the light, making the eye perceive different shades of blue across the different sculptures. A former woodworker, Baroff took down a butternut tree on her property in the Hudson Valley recently and chopped it down into these stubby little logs. They're riffs on the tradition of the monochrome, and friendly-looking little guys to boot.