Apart from being Facebook's Global Art Program Manager, Jessica Shaefer is also the co-founder of Mixed Use, a nomadic curatorial collective that brings together artists, chefs, and selected guests for hybrid food and art experiences, with a focus on working with female-identified makers, and is the Chair of the Board of Directors at The Lab, a nonprofit arts incubator in San Francisco. Formerly, Shaefer was the project director of Sites Unseen, a public art nonprofit organization that produces large-scale projects in downtown San Francisco, and was also the communications director at Creative Time, the renowned public art nonprofit organization based in NYC. Here, the cultural powerhouse shares who she's most looking forward to seeing at this year's Untitled Art Fair, San Francisco, opening January 12th. (Check out our preview of the fair here.)
RICHARD COLMAN
Untitled Figures (BLUE), 2017
Southern Exposure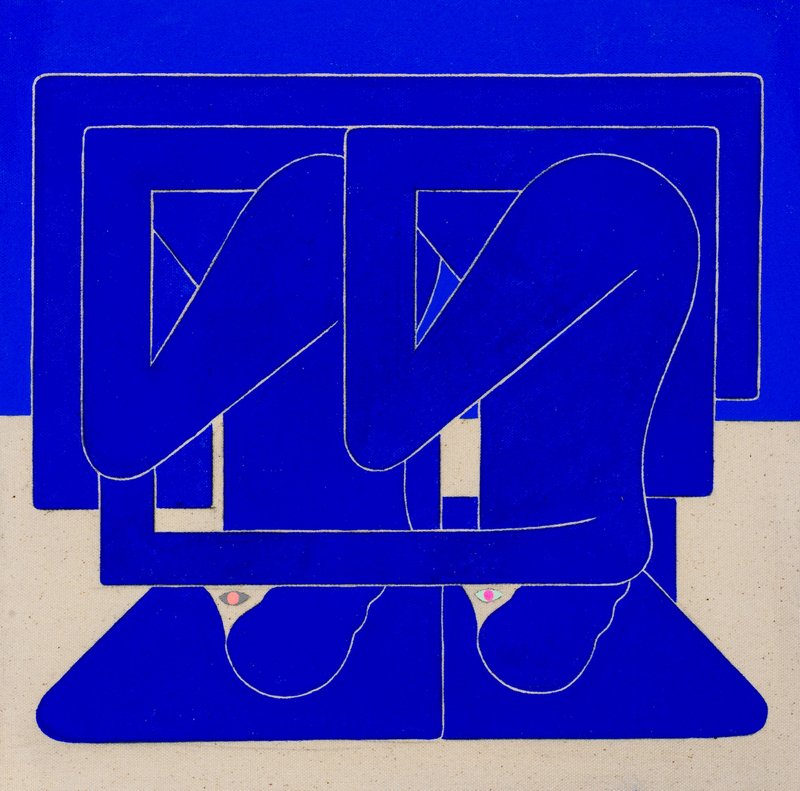 I find Richard Colman's work compelling because of the way he combines bold geometry and colors with figurative imagery to produce paintings of women in impossibly contorted positions, creating a visual language that especially resonates in the current political and cultural climate. I empathize with the women who are twisted up and turned upside down, struggling to make sense of––and regain power in––a world that is increasingly complicated to navigate.
STEPHEN SOMPLE
Sphere, Cube and Tetrahedron to Rectangle, 2017
The Hole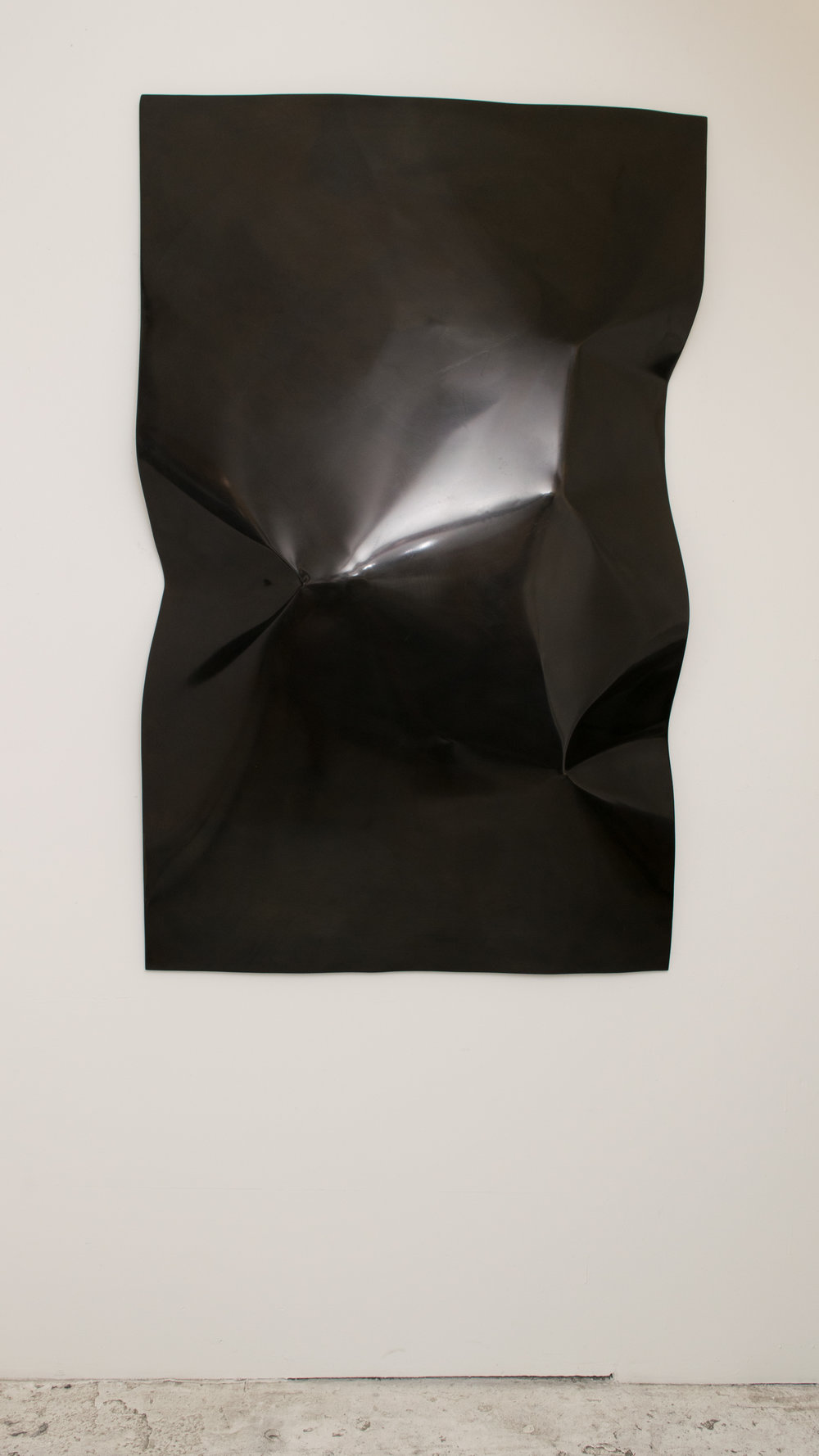 Stephen Somple's wall sculptures are refreshingly elegant; they have a quiet but pervasive presence. There is so much tension inherent in the work, as if the shapes described in the title (Sphere, Cube and Tetrahedron to Rectangle) are pushing again the surface of the metal, trying to transform the organic shape of its contours into something rectilinear against the material's will.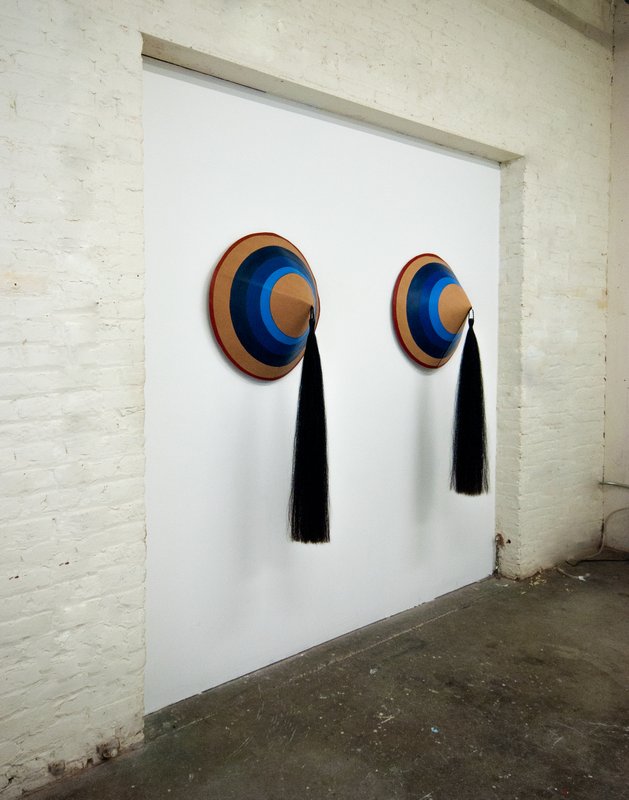 Xandra Ibarra, also known as La Chica Boom, is a performance artist from the US/Mexico border who "problematizes" boundaries of gender, race, sexuality and ethnicity through her work. I love these sculptures of giant tasseled pasties; I'm not sure if they were ever used as part of a performance, but I can imagine them being used almost as giant shields, a symbol of sexuality and objectification enlarged to the point where they don't just protect/decorate nipples, but actually protect a women's entire body as she readies herself for battle.
CHIHARU SHIOTA
State of Being, Book
NF Galeria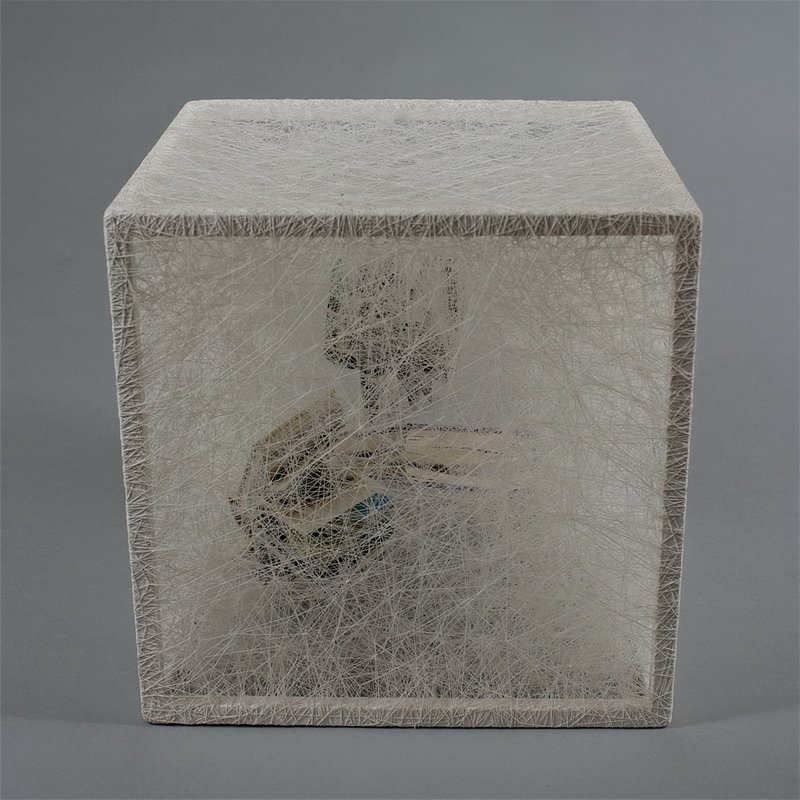 I pretty much love everything that Chiharu Shiota makes, especially her massive site-specific installations. The piece featured here is a small box but captures the essence of her practice of interweaving thousands of strands of thread, symbols of connections and networks. Here, the threads encase and ultimately imprison the books inside, suggesting issues of censorship, lack of access to education, and obscured communication. I love the atmosphere of mystery that emanates from this piece.
SUNÉ WOODS
Traveling Like the Light (2), 2016
Casemore Kirkeby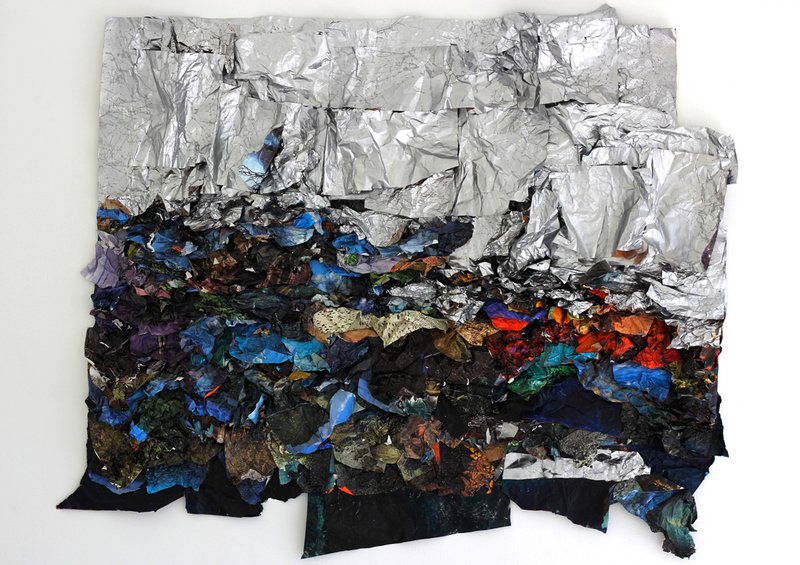 Suné Woods's work is new to me, and I'm intrigued by the way she combines mediums, here using photography and collage to create a textural wall sculpture that suggests disparate identities and new topographies. This is very sensual work that evokes, for me, conflicting sensations that I can't even articulate yet. I'm looking forward to spending more time with this piece and learning more about the artist and her practice.