DAN GRAHAM'S FISH POND/SWIMMING POOL (2012)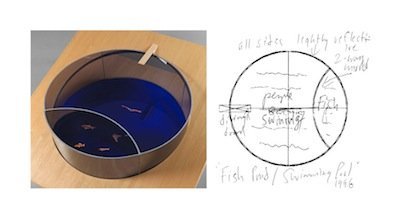 A nearly unclassifiable artist with a pronounced conceptual approach, Dan Graham has made seminal video-art works, text interventions, and performance pieces, but he is principally known for his perception-flummoxing glass structures that exist at the intersection of sculpture and architecture. This generously large (and affordably priced) wall piece shows a pair of preparatory works—a maquette and a sketch—for one of these structures, which humorously proposed building two conjoined swimming pools, one for humans and one for fish.
PENELOPE UMBRICO'S SUNS FROM FLICKR, 2006 (2006)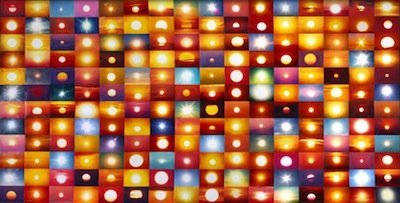 A Guggenheim Fellow whose work is collected by MoMA, the Met, and other major museums, Penelope Umbrico is by far best known for her series of mosaic-like accumulations of photographs of the sun—often blazing over exotic waters—that she has sourced from the online photo-sharing site Flickr. This radiant, wall-filling piece from 2006, the year she began the series, would be a knockout addition to any collector's home with its formal ingenuity and exuberant color scheme.  
BRUNO BARBEY'S A BOY PLAYS IN THE RIVIERE OF GALETS (1991)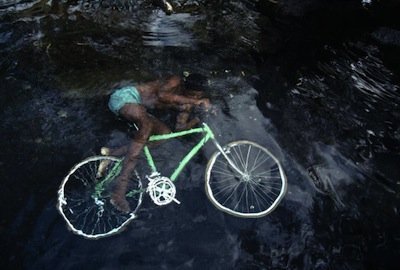 The Morocco-born French photographer Bruno Barbey has traveled the world for more than five decades to chronicle political unrest and military conflicts, most frequently in Africa and Asia—and always with a deeply humane perspective alive to each locale's cultural particularities. This photograph, taken on the French-controlled island of Réunion in the Indian Ocean during a period of violent riots over the shuttering of a popular TV station, is a vibrant image of life going on—inventively, innocently, joyfully—in the midst of chaotic upheaval.  
ED RUSCHA'S POOL PORTFOLIO (1968/1997)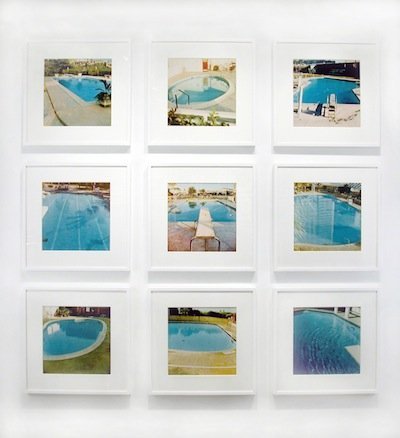 As Ed Ruscha becomes recognized ever more widely as one of the greatest, least dispensable American artists of the last half century, his deeply influential work with artist's books has become hotly sought after by collectors. This series of archival prints from his 1968 book Nine Swimming Pools and a Broken Glass—one of his most famous efforts, along with Various Small Fires and Milk and Twentysix Gasoline Stations—presents an extraordinary opportunity for the most serious art collectors to own a major nine-part piece by Ruscha in a currently undervalued category of his work. 
JOHN JONAS GRUEN'S WILLEM DE KOONING (WITH STAFF) (1959)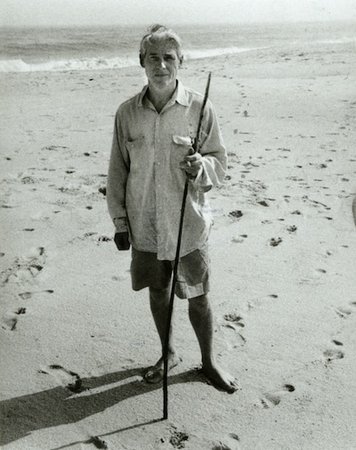 In the summer of 1959, the painter Willem de Kooning drove out to the Hamptons with Ruth Kligman, his girlfriend at the time (and the late Jackson Pollock's ex), and found a remarkable stretch of land in the Springs that would become his home, studio, and the inspiration for his majestic mid-to-late-career abstractions. This photograph, taken by his friend John Jonas Gruen, shows a relaxed de Kooning at a critical moment in his life—just as his career was taking off in New York, and as he was beginning to work with abstracted landscapes informed by the Springs's water and greenery—and is a must-have for anyone captivated by the Hampton's rich artistic history.
ROE ETHRIDGE'S ROCKAWAY BEACH (2008)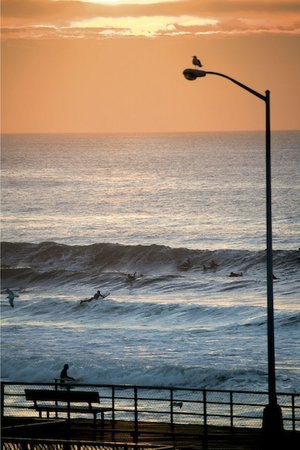 One of the most riveting conceptual photographers working today, Roe Ethridge has a rare ability to imbue his works with both pictorial intelligence and a mysterious force of personality: his images always seem to have more going on than meets the eye. This piece looks almost like a cliché of tropical bliss, with its mandarin-orange sky, azure waves, and paddling surfers, but the lovely vista was in fact captured in the New York-based artist's backyard of Rockaway Beach.