Here are the artists, and artworks, that Artspace's resident advisor Amanda Knuppel has her eye on. Add one of her favorites to your cart before she does!
ETEL ADNAN
Poids de la lune V , 2019
$2,895.00 or as low as $229/mo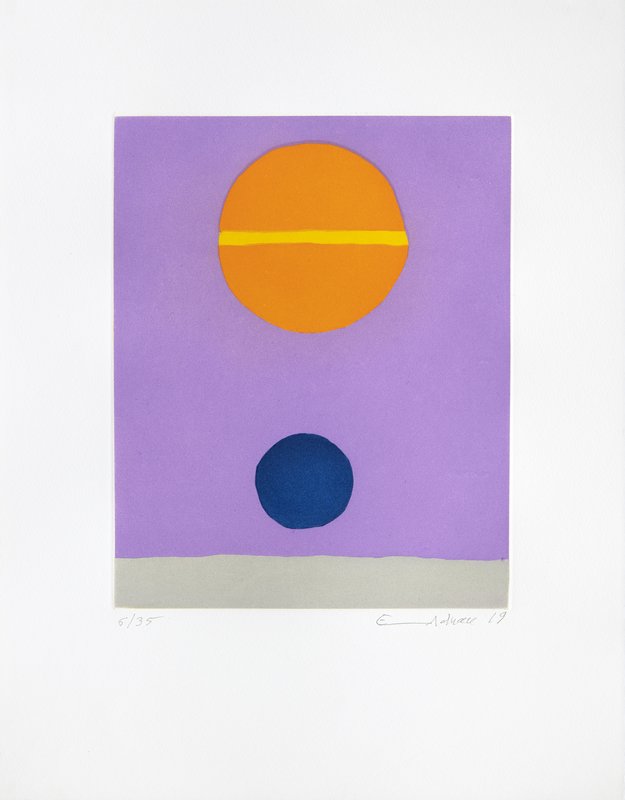 Beirut-born poet, essayist, and visual artist Etal Adnan is widely known for her writing, but she is no stranger to the upper echelons of the art world. Her work has been included in such prominent exhibitions as Documenta, Kassel; the Whitney Biennial, New York; and the Sharjah Biennial, UAE. Adnan's visual meditations on the relationship between nature and art often present color as a subject in itself. Her allusions to geographic or celestial forms are poetic, playful, and resonant of memory, calling to mind the works of Paul Klee. In Poids de la lune V, a midnight-blue sphere energetically tugs at a brighter orb above and guides the eye towards the horizon line, like a plumb. Even small paintings on paper by Adnan frequently fetch upwards of $20,000 at auction; for my money, I would commit to this well-priced beauty in a heartbeat.
JOHN BALDESSARI
Overlap Series: Double Motorcyclists and Landscape (Icelandic) , 2003
$2,500.00 or as low as $220/mo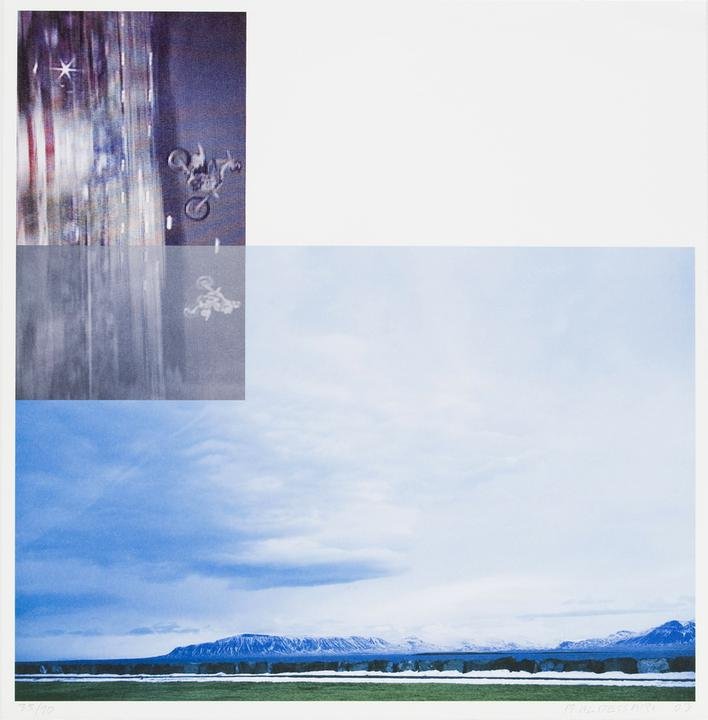 It is tempting to speculate on the scope of impact that late, great conceptual artist John Baldessari has had on artists working today, but given the volume of tributes to his career flooding the internet this month, I will not aim to do so here. (For curious readers, Colleen Hochberger does an excellent job of it in her article for Artspace Magazine). Suffice it to say, Baldessari's legacy looms large and there has never been a better time to collect his work than the present. His style is instantly recognizable for its wry juxtapositions of found imagery and unexpected graphic interventions, as is seen in works from the Overlap Series, like this one. Baldessari had a knack for synthesizing non sequitors. The formally compatible yet dissonant images presented together here—a motorcycle stunt race and a pristine Icelandic landscape—encapsulate the indiosyncracy of his exceptional career. Genius, with a sense of humor.

MATT MULLICAN
Coloured Elements , 2019
$2,286.00 or as low as $154/mo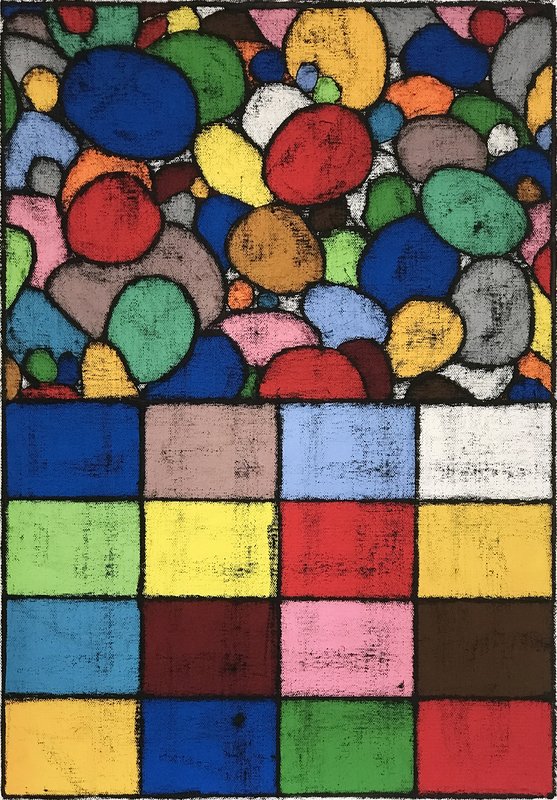 Coloured Elements is exceedingly easy on the eyes, but do not let its pleasing color palette fool you: institutional darling Matt Mullican is as irreverent as they come. He is obsessed with cosmology and the human psyche—particularly his own—and employs diverse, unconventional media as well as hypnosis to channel the subconscious and chart new visual sign-systems with each artwork. Mullican was one of John Baldessari's first students at the experimental CalArts school, and he gives a nod to his mentor's legacy with his own healthy skepticism of artistic convention. That said, pillars of the museum community including the Art Institute of Chicago, The Museum of Modern Art in New York, the Los Angeles County Museum of Art, and the Hirshhorn Museum and Sculpture Garden in Washington, D.C have collected his work. It's not everyday a collector can join those ranks for under $3,000.
LISA YUSKAVAGE
kk , 2002
$4,500.00 or as low as $264/mo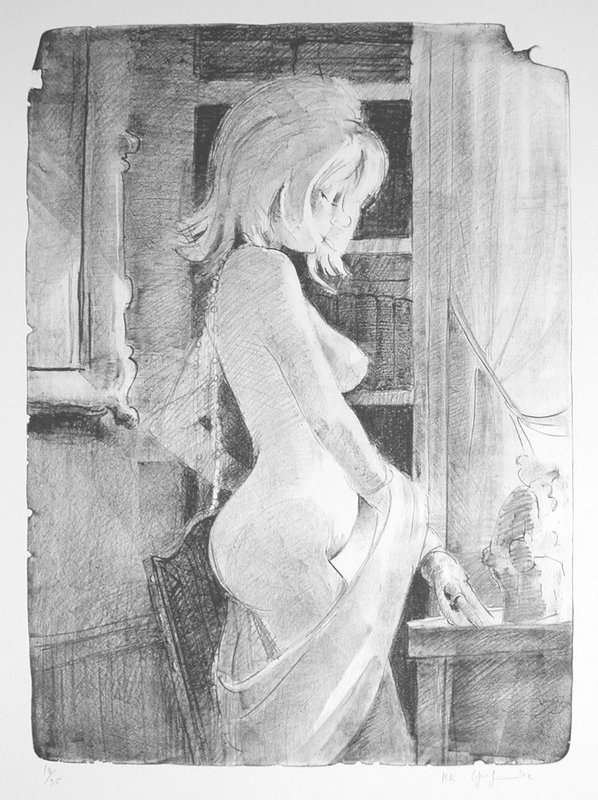 Despite the myriad cultural and critical themes that could be invoked by Lisa Yuskavage's provocative subjects, art critic Peter Schjendahl once wrote in the New Yorker, succinctly, that "wonderful painting is what concerns her." Indeed, few artists can render an overtly sexualized female form with such devastating beauty that the artist's skillful handling overshadows the work's cartoonish content. Kk depicts a seemingly ignoble female subject with classic compositional elements, as Yuskavage's works often do, referencing both contemporary representation of femininity in popular culture as well as portrait painting from the art historical canon. Limited editions with imagery as representative as this are few and far between—and considering that her works reside in countless public collections internationally, an investment in Yuskavage is a safe one.
AMY SILLMAN
Little 1A , 2018
$1,307.00 or as low as $88/mo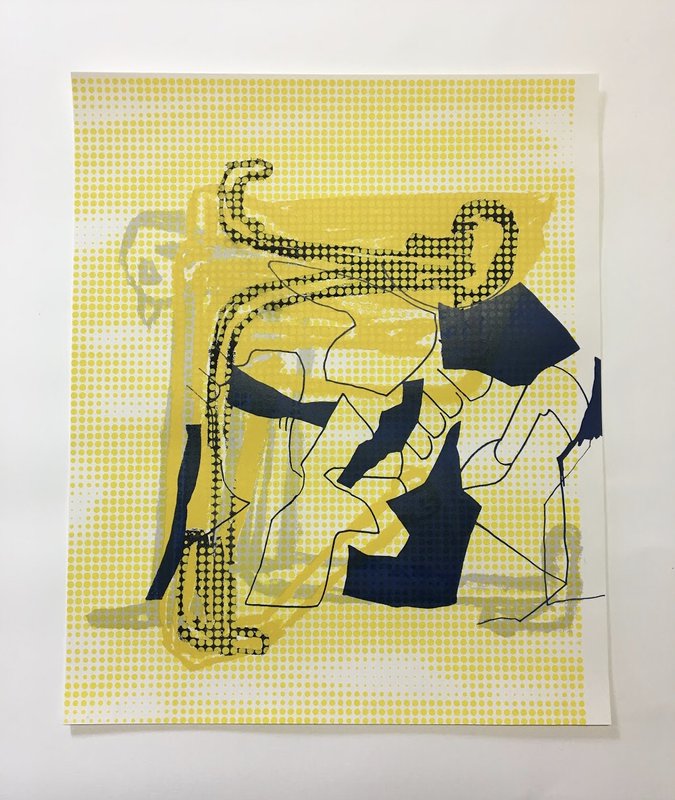 Amy Sillman is a master of conflating figuration and abstraction, and is known for intense color and dense layering in her process-based work. Little 1A exemplifies these qualities and pays homage to additional aspects of Sillman's practice for which she is beloved: her enduring commitment to making animation and publishing art zines. Who says that conceptually rigorous work can't also be exciting to look at? This complex silkskreen is a roadmap for ocular adventure, offering numerous twists and turns through sequential picture planes. But if aesthetics alone cannot sway you, consider this: Sillman is represented by blue-chip Gladstone Gallery, and has been the focus of solo exhibitions at the Institute of Contemporary Art in Boston, The Hirschhorn Museum and Sculpture Garden in Washington D.C., and the Tang Teaching Museum at Skidmore College, to name only a few. In other words, this one is a no-brainer.