New York-based artist Iman Raad's diverse works draw on influences such as Persian painting, Mughal painting, South-Asian Truck painting and internet image culture. He combines these local references with contemporary subject matter to create his mural-like installations. Using a vivid, high key palette, altered perspective, and repetition that mimics digital glitches, the result is a riot of color and movement that's both seductive and unsettling.
Raad is one of 70 artists whose work is featured in our Dear Beirut auction running for the next three days on Artspace. In association with Jobs For Lebanon, Dear Beirut will raise funds to benefit Offrejoie, a Lebanese NGO working on the ground to rehabilitate and reconstruct the neighborhoods impacted by the explosion on August 4th, which devastated areas of the city where some of Lebanon's most marginalized communities live, including artists, activists, members of the LGBTQI communities and low-income households. The auction has been put together by Atspace's Amanda Knuppel and five curators and creatives associated with the Beirut art scene .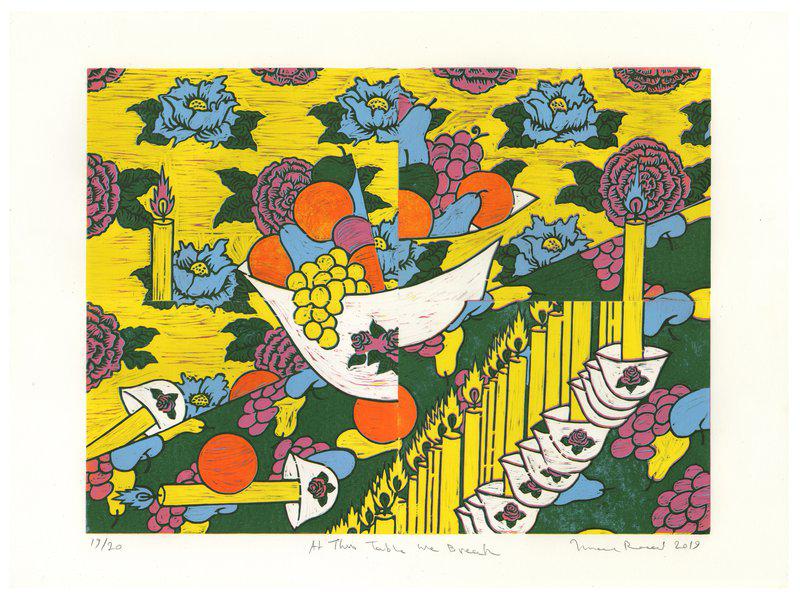 Your work hinges on feelings of rupture, of fear and of the anxiety of existence – feelings presumably intensified by the Beirut explosion, and its aftermath, is that partly what drew you to contributing to this auction? What drew me to the auction is a sense of responsibility and empathy. The truth is that few people in the world have the security and assurance to create art and express their feelings freely. Having lived a life in fear and anxiety in a corrupt system, I'm aware that terror and catastrophe is bigger than art in the affected communities. As an artist who was invited to participate in this cause, I'm lucky and privileged to have the opportunity to express my empathy by contributing my work.
The work is given extra power by the use of bright, often primary colours. Why this particular aesthetic approach? My approach to colours responds to the space that my practice exists through. The aesthetic of my work has evolved by oscillating between different areas of knowledge. On one hand, I studied painting in the US and developed my practice in the New York atmosphere, where I live and work. On the other hand, I taught myself art and design by researching and looking at crafts, traditional art and vernacular of where I come from. I expanded my knowledge of colours by exploring the colour practice among cultures, vernaculars, and mediums that colours exist outside control and domination of theory. I initially gained the courage of using vivid and bright colours by collaborating with craftspeople in Iran who produce colourful embroidered banners for religious rituals. I particularly researched Truck Art of Pakistan and how they use only basic hues to create glorious compositions. I learned from Persian miniatures that color can be evoked in painting without involving light and shade. Among these I'm inspired by popular posters, early colour prints and packaging which are made by a few solid colors and black contours, and are sweetened with printing errors and glitches.
Your paintings are quite dreamlike, with various mythologies and stories alluded to.
Where does this come from do you think? My narrative paintings, that formed in dream logic, mainly evolved after my migration to the United States. Living a hybrid life, and in an area that communication plays a key role in the art world, I have experienced a stammering communication with, and shattered understanding of my surroundings, and of myself in the eye of others. This experience led me to a visual order that entailed various narrative units with literal or metaphorical links and in various knowledge layers, but yet certainly open to interpretation. I've been also thinking of our time and the existence of images and narratives in the horizontal structure of the internet era. My smaller works, like the print in this auction, usually depict one obscure scene in a narrative framework that raises curiosity and opens a space for creating meaning, narrative, or story. Like a dream, images are fractured, incomplete, or replicated and the logical orders are disrupted.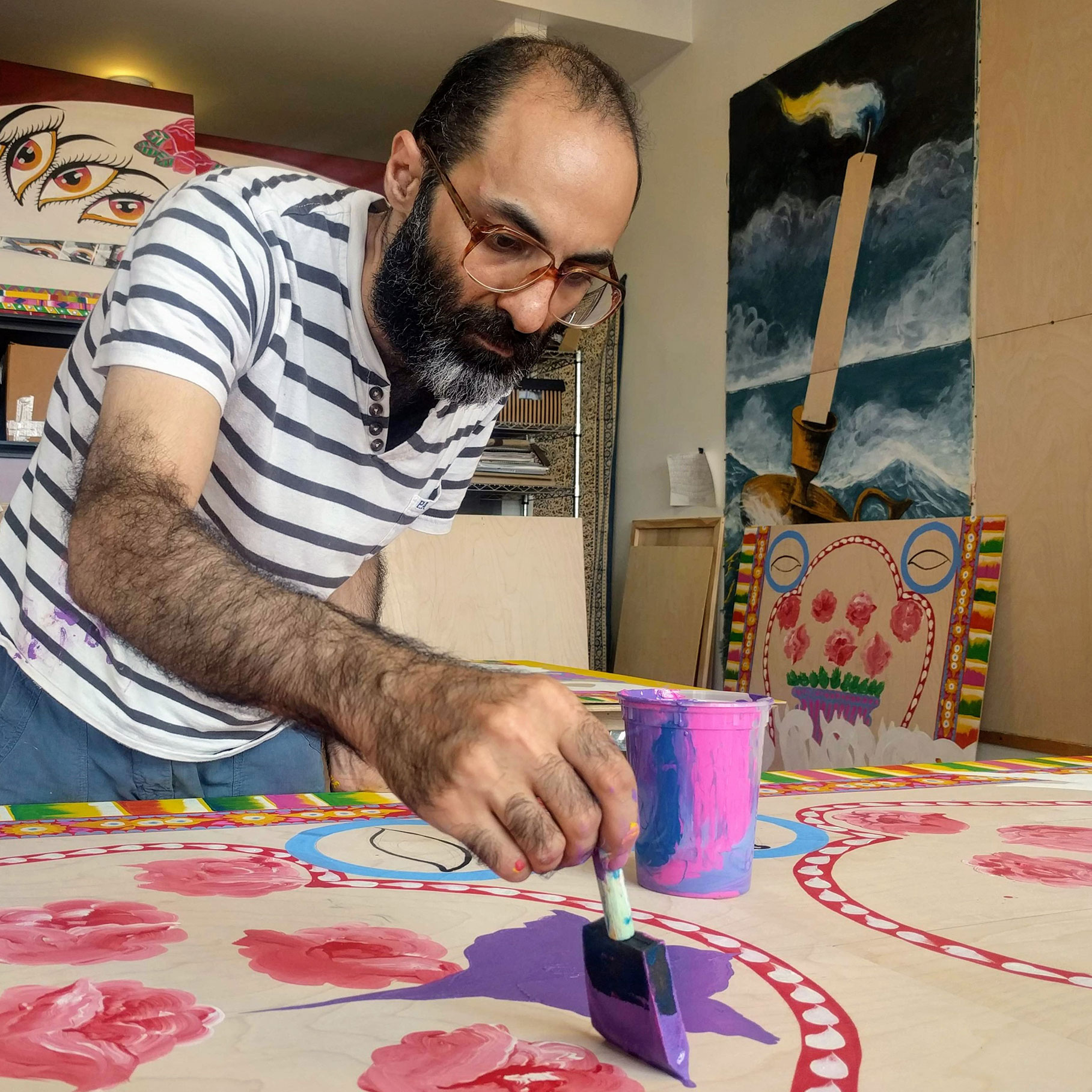 Iman Raad working in his Brooklyn studio
What is important about art at times of terror or catastrophe? What help or solace can it bring to the viewer? I think the essential role of art at times of terror or catastrophe can be to connect people, to manifest collective feelings and to create a sense of unity. In moments of catastrophe we experience the state of nature that we lost through the entrance into language. Like when we feel the urge to hold someone in our arms, art can connect people outside the realm of language.
How much of a part does your training as a graphic designer play in your ability to communicate visual ideas in your art? Does it help or sometimes even hinder? My experience as a graphic designer definitely plays an important role. I often think about my audience when I'm planning my work, and about the space and context in which my work will appear. That helps my art to communicate with its viewer and to respond to the architectural and intellectual space around it. But I sometimes feel I'm obsessed too much thinking about interpretation of my work. Some part of that might come from my experience as a graphic designer, and some part might be the result of my experience as an immigrant and the communication anxiety.
The image of the eye is prevalent in your work – what does it mean to you? The eye first appeared in my work through the influence of Pakistani Truck Art that I was exploring. Painted eyes on Pakistani trucks grant vehicles personality. Drivers adore their trucks, and adorn them as their metaphoric brides. Eyes on trucks have a feminine look; they wear makeup and represent the beauty of a beloved. In my work, those alluring eyes transform into watchful eyes. They grant my paintings intelligence and agency. They are unwinking eyes, looking back at the spectators. I would be gratified if someone interprets that as the Gaze that Lacan speaks about, that gaze of the object of
our eye's look that looks back at us. The Gaze that reminds us of our own lack and reflects our
existential anxiety.
What work do you have in this Artspace auction and could you tell us a little bit about it
please? I contributed with a colour reduction woodcut print, titled At This Table We Breach . In 2018, I was invited for a residency at, and collaboration with, the Experimental Printmaking Institute (EPI) at Lafayette College, which has a rich history of collaboration with great artists like Sam Gilliam and Faith Ringgold. During my time there and with generous guidance of Pedro Barbeito, the director of EPI, we kicked off two printmaking works including "At This Table We Breach". Colour reduction woodcut print requires carving and re-carving wood blocks after printing each colour. It took us more than a year to finish this work with all the back and forths between my studio in Brooklyn and the EPI in Easton, Pennsylvania. I used four 9x12 inches Shina plywood to create the whole image.
Come bid at The Dear Beirut auction now.