At 24 years old, an age when most recent college grads consider themselves lucky to land entry-level jobs in their fields, Max Levai became the principal director of Marlborough Chelsea (which has since become re-named Marlborough Contemporary). The son of Pierre Levai, who owns the bluechip Marlbourough Gallery on 57th Street, Levai benefited from the leg up his family business offered him. But like many young professionals just starting out, Levai also strived to make a name for himself independant of his heritage. For his first show as director, Levai went behind his father's back to produce a "risky" exhibition he truly believed in—a show that ultimatly won him the respect and support of his father, before being tragically destroyed by Hurricane Sandy. Here, Artspace's Loney Abrams speaks with Levai in his NoHo apartment about the highs and lows of this epic first show, about forging his own identity as an art dealer within a family business, and about his choice to rebrand his gallery and assume the program (and the name) of the mega-gallery's London outpost, Marlborough Contemporary.
You were born into a family of art dealers, so you obviously grew up around art. Can you remember you first art experience?
As a young kid I would go to my dad's openings. I remember going over to the gallery and seeing shows but also playing around in the office with the copy machine and stuff. But there wasn't really any sort of pressure put on me, in my teens, to really engage. I grew up on 28 th street and Fifth Avenue and by the time I was 17 or 18, Chelsea had started to become what it is now. I remember going and seeing some shows in Chelsea that really engaged me and gave me a lens into what the art world was like and how it functioned. I remember seeing it for the first time and, despite being brought up around gallery shows, I was impressed.
Do you remember which shows in particular gave you that impression?
I remember having this moment quite young in a museum in Italy seeing a Rudolf Stingel show that really blew my mind. There were installations and paintings and I was really impressed by the show after spending some time in it. I felt like I could definitively say that this was an important and great artist even though I didn't have any idea who Stingel was at the time. I also remember seeing a really good Peter Coffin show at Andrew Kreps around 2006, which was when I was a senior in high school. Being around my dad's gallery, I was used to the programming he focused on, but it was at that time that I realized that there were many different art worlds. I would see things almost by mistake that later on I'd realize resonated in my head.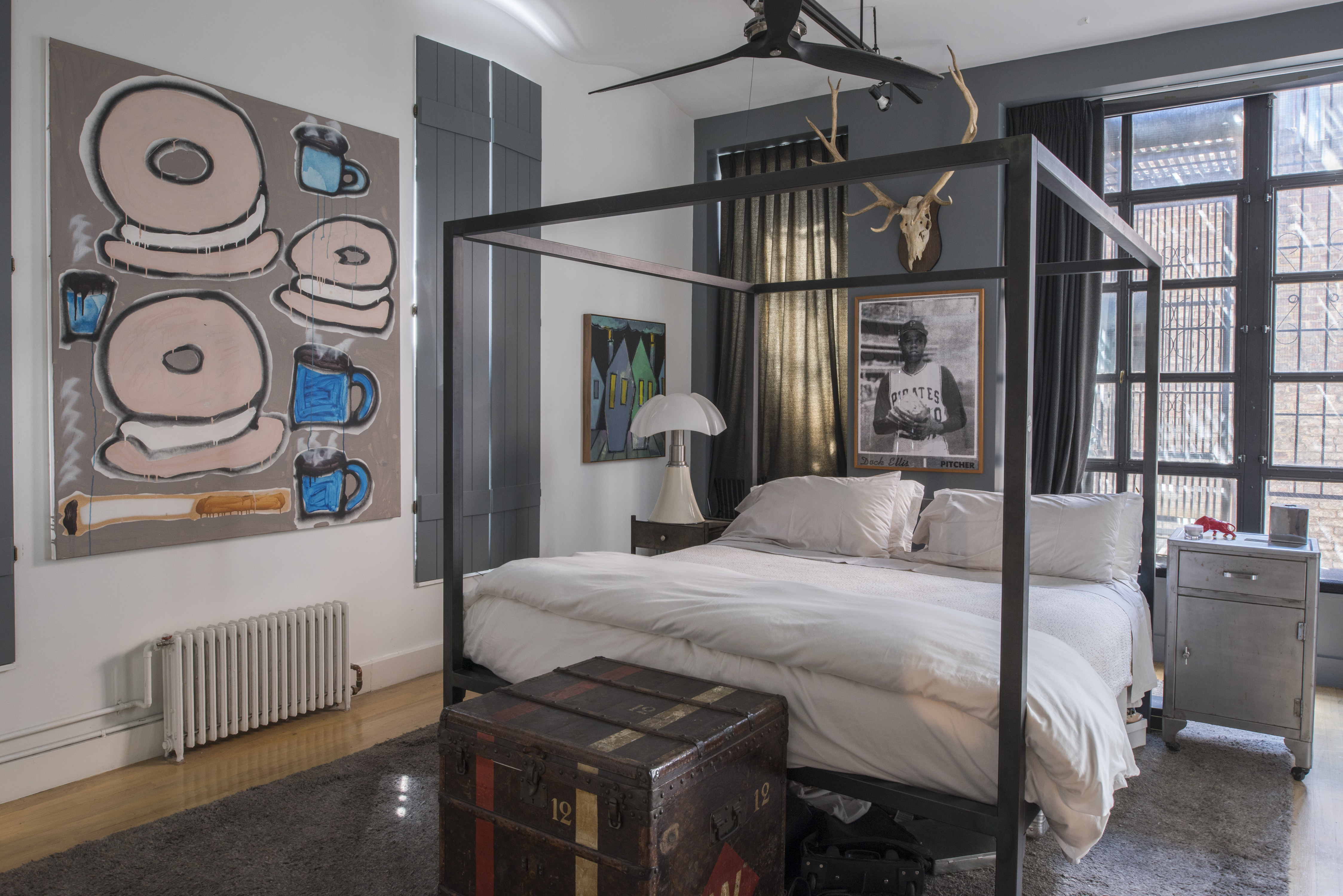 Levai's bedroom with works by Katherine Berhardt , Ansel Kurt, and Grear Patterson (left to right)

Did you ever feel like you wanted to rebel against your roots in the art world and do something totally opposite or unrelated to art?
I didn't have any intention to follow in my dad's footsteps, but at the same time, he never really applied pressure on me to. He always travelled a great deal so when I did see him, work wasn't what he necessarily wanted to speak about; he'd rather speak about basketball or other things. It became clear to me that my dad would be happy if I became an art dealer, but there was never any pressure applied. I think when I decided that I wanted to be an art dealer, I thought about what it meant to be doing the same thing that my dad does, but what seemed so much more important was the relationship with art that I was starting. Being in New York and having those discoveries that I discussed before, I quickly realized that there are many different art worlds, and in fact, a secondary market dealer is completely different than a primary market dealer, though they do meet at certain points. (I'm saying my father is a secondary market dealer, but really he's not, he's more of a primary market dealer.) I don't have any regrets. I know I'm doing what I want to be doing; I like making shows and working with artists and being part of this world and this community that we create.  I feel that as a young person, you could be steered towards things for the wrong reasons, but I was very conscious of that.
You're very fortunate to be working with a gallery that has such a legacy and already has name and brand recognition, but I imagine it might also be frustrating in some ways because, like you said, you're trying to make a name for yourself and forge your own relationship with the art world. Do you have any frustrations or challenges associated with being a director of a gallery that already has a history within your family?
I think when you have a gallery and you can grow organically, the blank slate that you start with is actually one of your biggest assets. That being said, there are a lot of other challenges that quickly become part of the equation. The ultimate decision to embrace the connection to Marlborough, to keep the name and do this programming within the context of the history of the gallery, came from the fact that there are not many examples of primary market galleries that last through generations. But the idea is that we would get to a certain point where the history becomes less important because we've built our own identity. It becomes another interesting part of our story and the story of my family and hopefully my personal legacy.
At some point I came to the realization that I wanted to have a serious career as an art dealer for years to come. Many people told me (and might still believe) that maintaining a connection to Marlborough is risky for me personally and makes my job more difficult, and I acknowledge that. But at the same time, there are other advantages that come with maintaining the connection. I'm really fortunate that I've basically inherited two terrific spaces that I program, and it would be unlikely that I would be able to have such prominent spaces if I were starting a gallery on my own. The key is to really understand the history and understand what I want to achieve, and to set goals for that over time because this is a long game for me.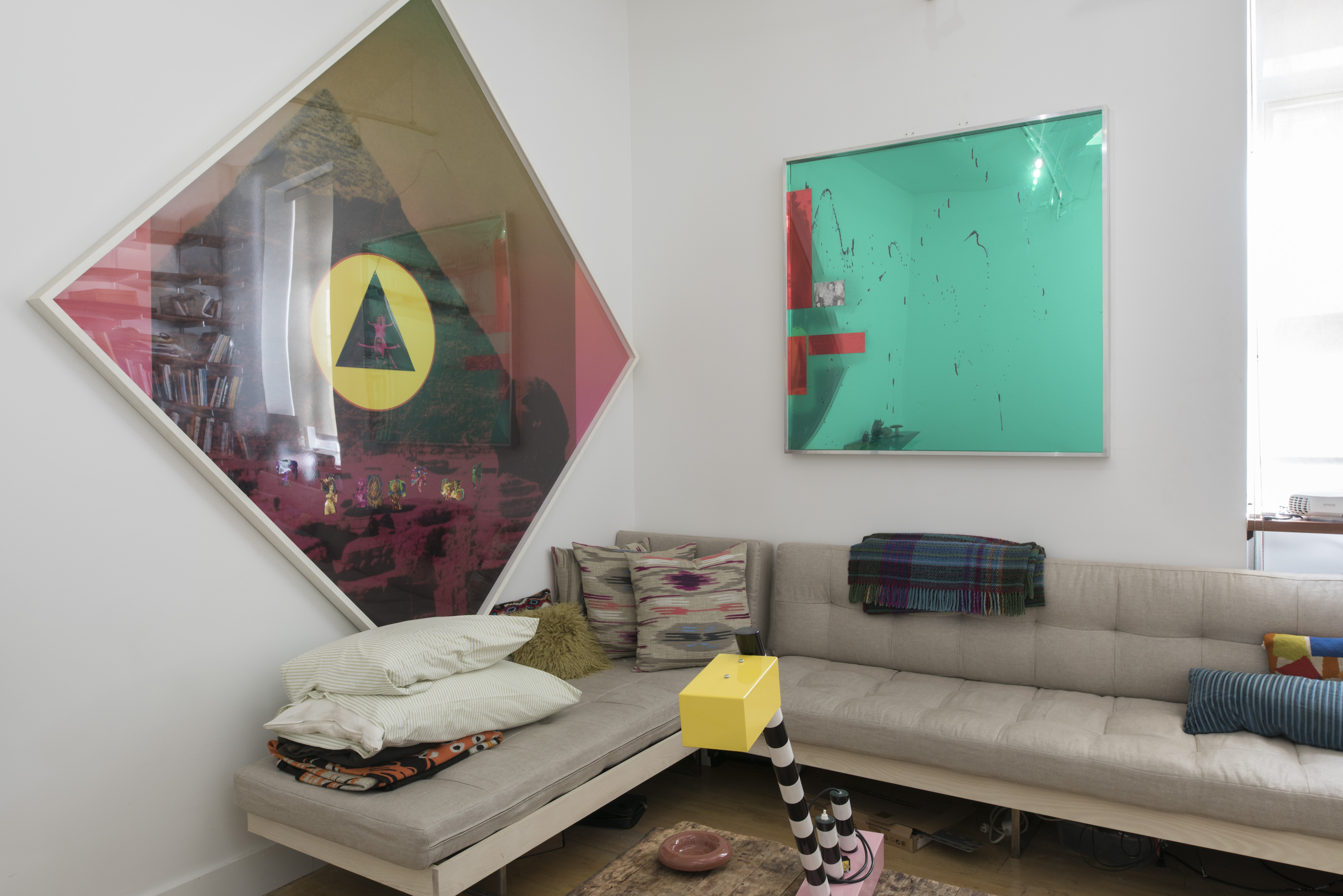 Works by Lothar Hempel and Sterling Ruby (left to right)
You started with Marlborough Chelsea, which is now Marlborough Contemporary, when you were 24. That's really young. What was it like to have such a huge responsibility like that at such a young age? Did you feel prepared or was it really challenging for you?
It was definitely a challenge. I was really lucky because there's a tremendous advantage to have an infrastructure. In fact, Marlborough Contemporary has now developed our own infrastructure and now the only thing we share with the mother ship is the nomenclature. But in the beginning, it was a great advantage to have this reference point. At the same time, it was very challenging. It was a completely new experience and I didn't really know anybody in the world that I wanted to penetrate.
I mark the start of the gallery with September 2012, when I did this really ambitious show with Justin Lowe and Jonah Freeman , "STRAY LIGHT GREY" . I was a fan of theirs—I saw their show at Deitch here and was blown away. I reached out to them and I went to go to see them in LA (I must have been like 22 or 23). At the time, they didn't really have the next thing lined up or the infrastructure to make an installation and to take their practice to the next level. So we both realized that we needed each other, and it started there. It was Justin and Jonah's suggestion to link me with Pascal Spengemann, whose gallery was just closing. Pascal had a lot of other options of what he could do next, but we met and it just felt right and we decided to do it. So, the most pivotal part of this all was when Pascal came on board and joined me, but Justin and Jonah were, in fact, the genesis of the new program.
So how did the show turn out?
The thing that I like about my father the most is how open-minded he is. He might be traditional in certain ways, but he's been an art dealer for forty, fifty years, and he really respects and understands the idea of being ahead of something. That being said, I was 24 when the first show I wanted to do had a serious price tag attached to it, and it was hard for him to understand coming from a more formal and modernist point of view. He desperately didn't want me to do this exhibition, and I really wasn't supposed to do it. But I had committed to doing it, and it was planned to open in September. So, for like six months leading up to the show I was paying Justin and Jonah my paycheck from the gallery so that they could commence production. I knew my father always went away on vacation for the month of August, so when he went away Justin and Jonah moved here [Levai's apartment] and we started building the show, which was multi-rooms and multi-levels. We built the show in secret over August when everybody was on vacation. Then, when my father came home in September, right at that Labor Day point, there was no turning back, the show was 75% there. It was a great hit, thank god for me, because I put a lot on the line. At that point, I established that I was going to make the shows that I wanted to make.
Wow. What was your dad's reaction when he finally saw the show?
Before seeing the show, seeing it at 75% done, he knew that it was going to be good. But sadly, the show got completely destroyed by Hurricane Sandy. The first day of de-install was the 29 th of October, and that was the day Sandy hit. We had taken paintings off the walls, but there were fully immersive rooms… it was terrible. We ended up having to close for four or five months, but it proved to be a real blessing in disguise for me. It gave me the ability to re-do my space. I inherited the space, and I didn't really like it. Most of the buildings in Chelsea were fine, they got wiped out but then they'd get their contractors in, re-do the walls, and open up their roll gates. But they also tended to be the only tenant or one of a few tenants in the building. We're in the Chelsea Arts Tower, which is a 22-story high rise, and they had all their equipment centralized in the basement. So for us, not only were we really wet and underwater, but once we got past that point, we had to wait for the building's system to get in place before we could have anything insured or return to business. So, I made that first show and then after that, it turned into building our space out again and recovering from that.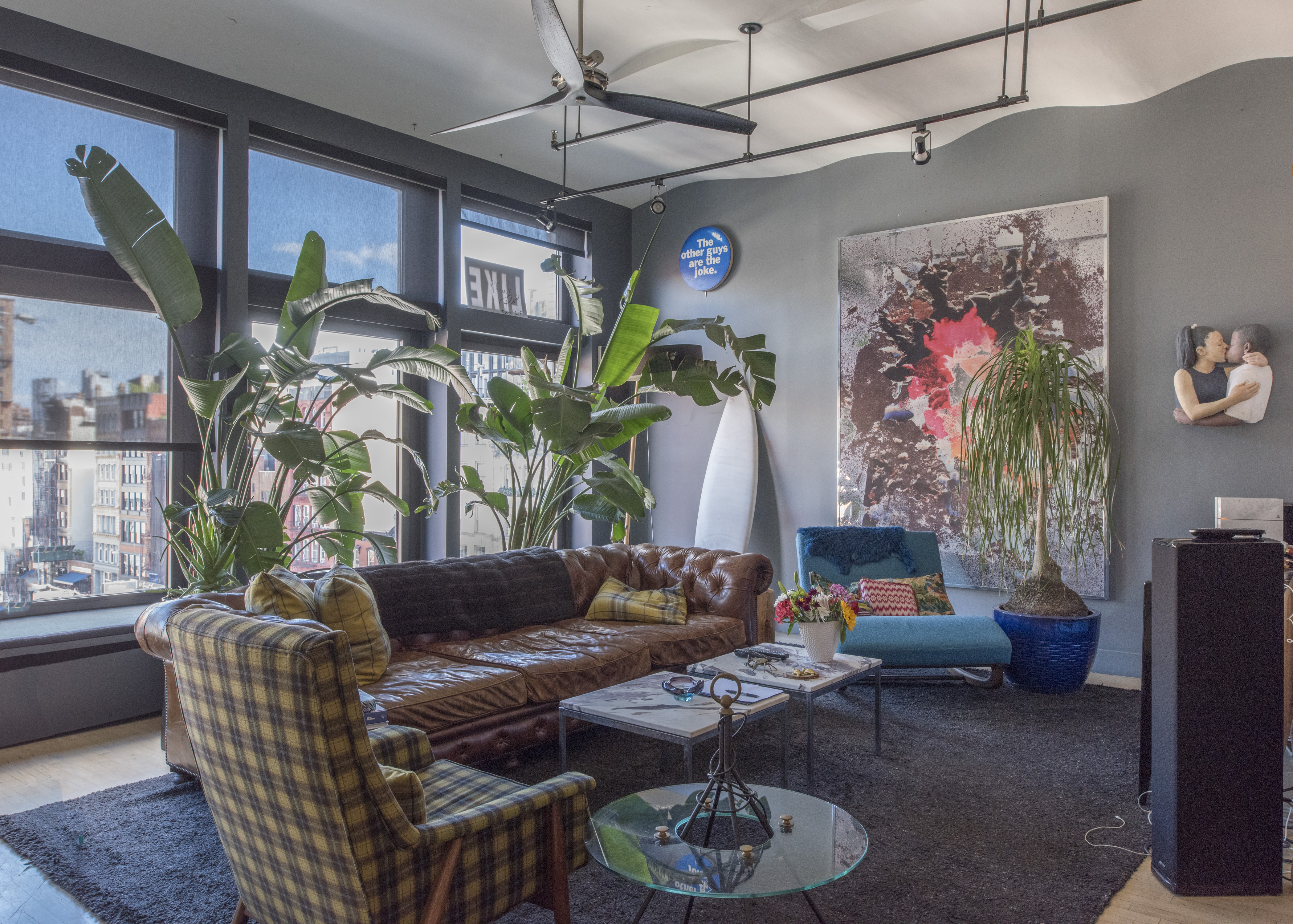 Levai's living room with works by Gibb Slife, Reena Spaulings, Justin Lowe and Jonah Freeman , and John Ahearn (left to right)

Fast forward a few years, and you've changed your name from Marlborough Chelsea to Marlborough Contemporary. Can you tell me about why this happened and what your relationship now is to Marlborough Contemporary in London?
Sure. It's really complicated and it's been something I've taken on internally within the organization to try and recalibrate and fix branding issues that have surrounded the gallery. Marlborough Contemporary in London was sort of an equivalent to Marlborough Chelsea. It was run by Andrew Renton, the great renowned scholar. Andrew put together his own independent program in London and that program ended about six months ago, as Andrew is no longer with the gallery. In April, I assumed responsibility for that space in London. I changed the name of our gallery, Marlborough Chelsea in New York, to Marlborough Contemporary, which was the name of Andrew Renton's former gallery. So now both the Chelsea space and the New York space have the same name, and I run them both.
While I was building my program and while Andrew was building his program, we had a very specific challenge: we were tied to Marlborough but we also had our relationship with each other. So clients would come to London and they'd ask about Justin and Jonah in New York and vice versa. The structure was holding us back a bit, and gave us this fragmented identity. So the opportunity to take over the London space arose and I'm really lucky to have it. Not only is it, like my space in Chelsea, in a really interesting neighborhood where I think we can have a lot of impact, but it's also the building where Marlborough was created in 1946.
So are you sharing the same roster?
Yeah, so with London, we're intentionally keeping it fluid. Artists who show with our program in New York will certainly show with us eventually in London, but it was a communal decision to, in the beginning, expand ourselves as a gallery as a whole by introducing artists we have relationships with and that we feel like we can work with in the context of London. It's important to understand that the space in London is substantial but it's nothing like the space in Chelsea. It's much more like your typical European second-floor gallery. It functions really well for sculpture and for painting, but it's not like our ground floor space in Chelsea in terms of size. So that's been really appealing in that we've been able to get friends and artists to commit to working with us. There is less of a commitment—they don't need to make a huge show for us in New York.
Like many dealers, you're also a collector. I'm wondering if you have any habits in terms of collecting. Do you always buy a piece from shows that you put up? Is there a very strong relationship between Marlborough Contemporary's programming and your collection?
I don't really have any strategies to collecting. I think that's a dangerous way to approach collecting. The relationship that's made the most sense to me when considering collecting work is to like the work I collect. Usually when there's something I want to buy, it will haunt me for some time until I decide to make the move to acquire the work. Unless I have that kind of recurring thought about the artwork, I usually won't commit to getting something. That's resulted in missing a lot of things over time, but that's just part of it.
I've tended, since a young age, to collect a lot of sculpture, which isn't really convenient but is certainly rewarding. In regards to buying from my artists and my shows, yeah, I tend to own work from every artist in my roster. A lot of my acquisitions happen in the process of building up to shows. Once the show is up, I don't necessarily get the luxury of going through and picking my first choice for myself. We prioritize selling work based on who we think is most important for the artist, and I don't fall into that category per say. That being said, my artists get excited when I do get work because I really immerse myself in it and live with it and I sometimes work on projects outside of the gallery. I'm working on a sushi restaurant right now where we'll integrate some of my artists and some of my artist friends who don't show with me but that kind of make sense for what we're doing—that gets me excited. I love when you see a piece of good art integrated into a public space. It really makes me happy.