Nathan Myhrvold is an unusually accomplished cookbook author, though probably not in the way you'd expect. A veritable whiz-kid who finished high school at age 14 and went on to earn degrees in mathematics and theoretical physics before eventually rising to the position of Chief Technology Officer at Microsoft, Myhrvold has spent most of his professional life at the cutting edge of high tech. It's not hard to see how this background has influenced his six-volume book Modernist Cuisine: The Art and Science of Cooking , a no-holds-barred deep dive into the scientific and aesthetic subtleties of the craft.
Started as a personal project by Myhrvold—who has studied cooking and worked part-time as a chef in addition to running his patent licensing company Intellectual Ventures—to better understand the advanced cooking technique of sous vide, the scope soon expanded to include nearly all aspects of food as we know it, from history and chemistry to preparation and plating. The focus throughout is on the latest technologies and scientifically informed approaches often grouped under the label of molecular gastronomy.
By the time it was published in 2011, Modernist Cuisine had reached encyclopedic proportions and was already being hailed as one of the most important cookbooks of the new millennium. Of course, the book's lasting success is due in no small part to its sumptuous and highly experimental photography, which caught never-before-seen images of food at all stages of production and featured everything from closeups to cutaways. (See below or here for some striking and affordable examples.)
Artspace's Dylan Kerr connected with Myhrvold amid his busy schedule to discuss what we can expect to find on our plates in the near future.
You've been fascinated by food from a young age and returned to the subject even after spending years at the cutting edge of computer technology. What is it about food and cooking that continues to fascinate? Is there a single event or moment that sticks out to you as catalyzing your decision to pursue the subject?
Cooking was a childhood interest of mine. When I was nine years old, I announced to my mother that I would cook Thanksgiving dinner all by myself. I dove into the subject at a local library we lived by, checking out a pile of cookbooks so big that I could barely see over the top. My family survived the dinner that Thanksgiving, and from there I embarked on a lifelong love of food and cooking.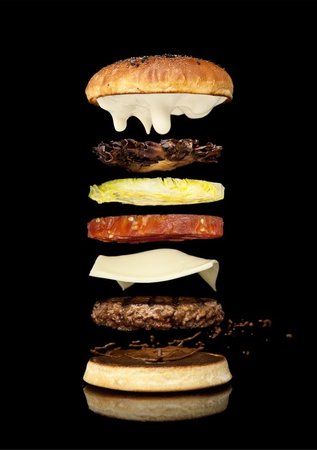 Levitating Hamburger , 2015
You're perhaps best known for your background in science and computing, but you're also an award-winning nature photographer. How do you approach the more artistic side of your Modernist Cuisine work?
People have been taking pictures of food for well over a century—and paintings of food were popular for many centuries before that—so the photography in our books had to show the world a view of food that was surprising and unexpected. I wanted to show food from a new perspective, literally, through annotated cutaway views of the interior and close-up, by using macro lenses, supermacro lenses, and even microscopes. We all know what rice looks like, right? But you don't, really, until you have seen it the way an ant does, with uncooked rice grains looming as giant translucent columns.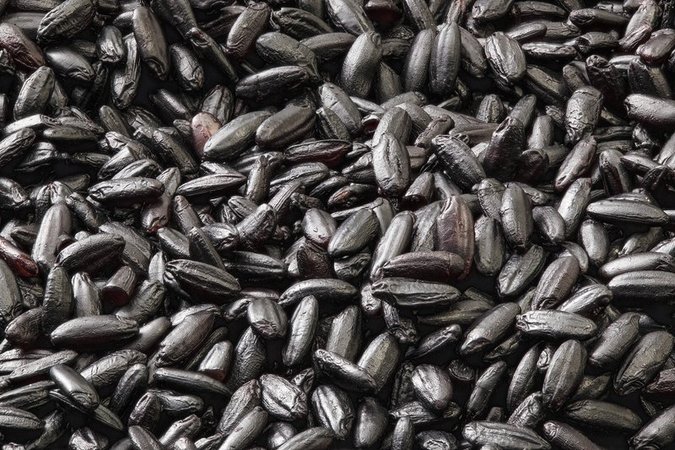 Forbidden Rice , 2015
What is the next step for food? So many chefs are delving back into the past for inspiration—what's coming in the future?
Technology is the best chance we have to solve the dilemmas we face with our current food system, but those changes must be large-scale. Over the last several decades, however, the only people who have invested the time, energy, and money are big food companies or government agencies that research these companies. We can't just use technology to find cheaper ways of making foods, we need to innovate for taste.
Steve Jones runs a research facility called the Bread Lab which is located just outside of Seattle that is breeding wheat to taste good. It's called a lab for a reason—if you want to make the best wheat you can, it helps to use all the tools of science not to make food cheaper or more industrialized, but to make it better.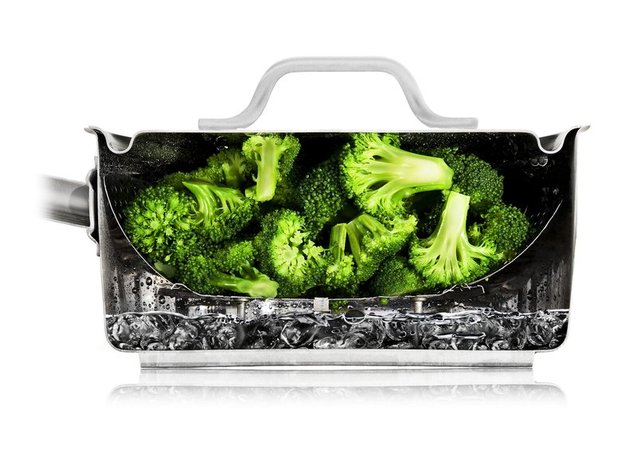 Steaming Broccoli Cutaway , 2015
What is the next culinary tradition that is going to sweep the world stage, following sushi, Szechuan, et cetera?
The idea of importing food is mostly done. There might be one or two new styles of cuisine that the rest of the world has yet to discover, so instead we are going to have to rely on creativity, technology, and innovation to make new types of cuisine. I believe that these are the things that are going to create the food of the future and that will ultimately feed our demand for variety in food.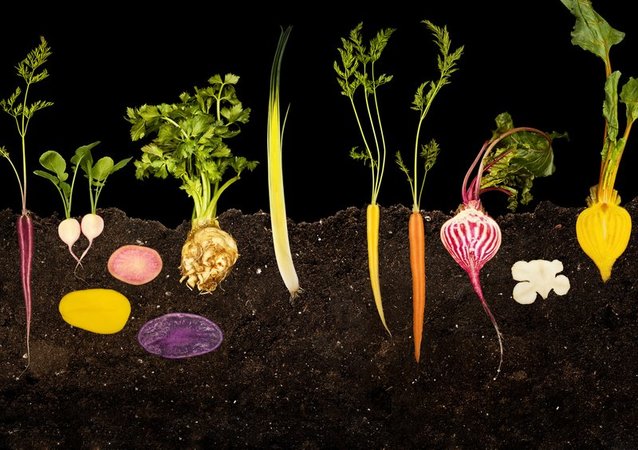 The Hidden Garden , 2015
There are a number of chefs on the world stage today, from Ferran Adria to Magnus Nilsson to René Redzepi, who are using both advanced and ancient techniques to elevate cuisine to approach the status of art. Do you agree that food can be an art form? Or is it simply something else?
Cooking is an art, but like all art, doing it well requires knowing something about the techniques and materials involved. Cooking is also largely experimental, but there are some insights from science that really help. Science lets us cook while knowing what we are doing, though it is not a replacement for the skills of a chef. When people understand the science, however, that actually gets the creative juices going and gives them more freedom to explore new techniques and novel applications of existing techniques to make original dishes.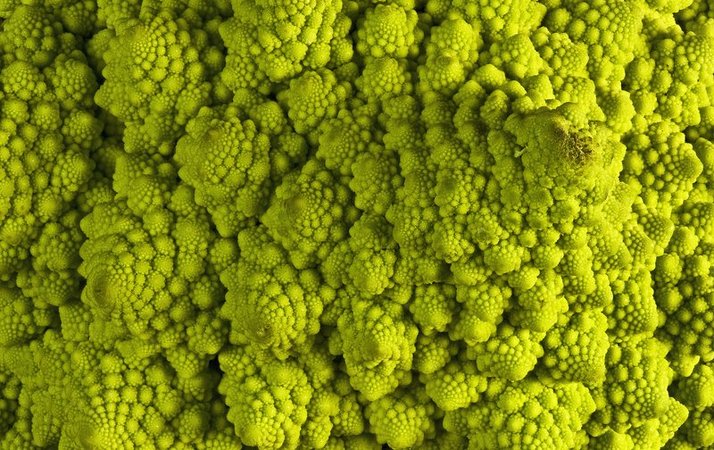 Romanesco Broccoli , 2015
The next Modernist Cuisine book will focus on the science of bread making.  What's the biggest surprise you've encountered there so far? What should we expect from that project?
We started working on Modernist Bread: The Art and Science over 3 years ago. We have fully immersed ourselves in the world of bread, both baking and researching it, all in the pursuit of understanding everything we possibly can about the science of bread. The Modernist Cuisine team has performed over 1,500 experiments, and are still experimenting. We have collected (and are still generating) an incredible amount of content, so much so that it will fill five volumes, just like Modernist Cuisine: The Art and Science of Cooking . The culinary team has developed more than 1,200 recipes from around the world that are both traditional and avant-garde. Modernist Bread : The Art and Science will total more than 2,000 pages, feature over 3,000 new photos, and more than a million words.
As we learned more about bread, we have come across a rather interesting phenomenon—every new answer that we discover leads to a new question. The ingredient list can be simple, but baking bread is deceptively complex. Our hope is that, by revealing the history, science, and techniques of baking bread, we will create a set of books that will be useful and accessible to amateur home bakers, passionate bread enthusiasts, restaurants, and small-scale bakeries alike.