Mined from the landscape, clay is a quite fitting material for Italian artist Salvatore Arancio, who makes work that mimics the natural world and its ability to provide an escape for people feeling trapped in the modern, tech-driven world. In his recent exhibition at Federica Schiavo Gallery, the artist found inspiration in the caverns located underneath the Naica Mine in Mexico that hold some of the biggest natural crystals known on Earth, and the petrified tree forest on Hawaii Island that formed after a volcanic eruption in 1970.
Trained as a photographer, Arancio ultimately gave up the medium in favor of ceramics "as a way to liberate myself from hyper-technicality," and his deep connection to the physicality of clay is palpable in his seemingly organic sculptures. Featured in Phaidon's brand new Vitamin C: Clay and Ceramic in Contemporary Art, a compendium of the most ground-breaking ceramic artists working today, Salvatore speaks with Artspace's Loney Abrams about psychedelia, the goofiness of clay, and going under hypnosis to become a better artist.
Much of your work is inspired by nature, or even represents nature in some cases—you've made ceramic stalagmites and petrified forests, for example. Your approach to nature isn't as much scientific as it is psychological. Can you tell me about the relationship you see between natural environments and psychology?
First of all, as you correctly said, I'm a complete outsider from a scientific point of view, but I find the aesthetics very interesting and stimulating. Our relationship to nature is very much about finding something that's above us, some kind of spirituality that nature becomes the vehicle to reach. It's a place to escape and to feel more free. I'm also interested in things like psychedelia and drug-taking, which takes place within nature, as nature has been a theater for rituals.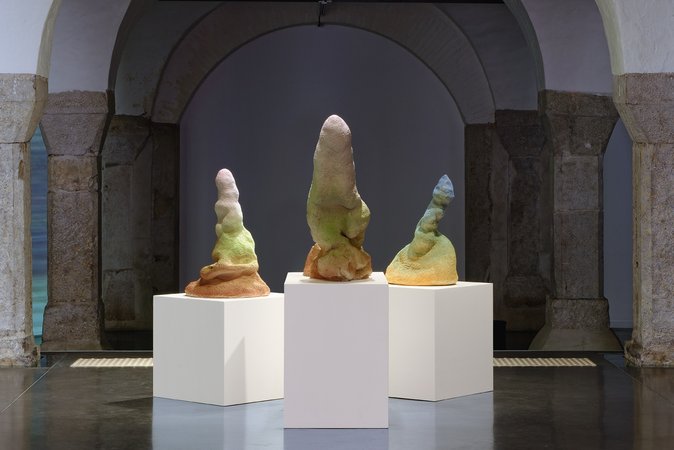 And These Crystals Are Just LIke Globes of Light (2017). Photo: Andrea Rossetti. Courtesy of Federica Schiavo Gallery

When you say "something above us," do you mean god? Is your work religious?
Not a specific entity, no. And I would definitely not use the word "religious" as it brings so many connotations that I distance myself from. The work is more about a connection with something spiritual and primordial. It refers to nature as a theater of rituals and a manifestation of something we cannot fully control or understand.
More people live in urban cities now than ever before, and I imagine we're spending less and less time in nature. In recent years we've seen a boom in the self-care industry; people look for this kind of mindfulness or spirituality you speak of in retail, whether it's a yoga class or a cold-pressed juice or whatever. Psychological relief has become commoditized. But what's interesting is that so many of these products and commodified experiences use images of nature in their branding and advertising. Are you interested in nature as an image that connotes tranquility and spirituality? Or are you interested in representing the natural world itself?
I suppose a bit of both. First of all, I think something that branded self-care cannot do that nature can is the option to somehow escape from rules of the city. Nature has that edge to it. But I'm also interested in the representation of nature; it's very important to me and it's a starting part. I think it helps us understand what's around us. But at the same time, you have an idea of what's around us but then perhaps something else gets discovered and that idea keeps changing over time. Nature is a place to escape, either physically or mentally.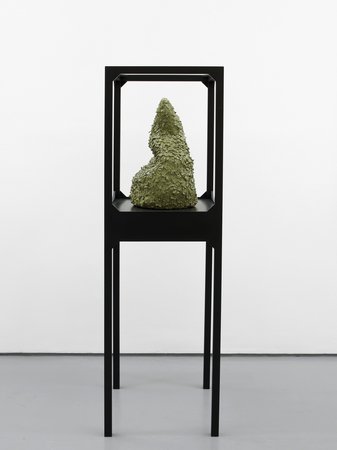 BF37 Twisted Lava (2013). Courtesy of Federica Schiavo Gallery
It's hard to talk about nature without also thinking about climate change, as well as the political debates that surround it. Does your work take a stance?
Oh, not at all. I don't do political work. I have a bit of an issue with it. I understand in principal the need to express a political view through an artwork, but I believe it inadvertently becomes a political stunt. I struggle to justify the fundamental integrity of an artwork that eventually gets sold through a rather unregulated art market.
But still, sometimes my work ends up having slightly political connotations. I think the closest thing I did in that respect was a show in Paris about a garden that at the beginning of the 20th century was a place where people went to research tropical plants. The plants were imported from one colony, were grown there, and then exported to other colonies—and that completely destroyed the ecosystem of the natural heritage. So that was touching on these kinds of issues, but was not something that I search for in my work at all. My work starts from nature but then becomes something that's even more fantastic and leads into escape. So in a way, that could be seen political, because it's a way to detach yourself from what's going on.
So then what do you hope your viewers get out of your work? Does your work in the gallery become a surrogate for nature, and thus provides a form of escape, in your view?
There's always different ways my work can be read. It starts from that vision of nature but then there are other layers of things that I'm interested in. So it's a juxtaposition of different elements. It could be seen as an experience but also if you dig deeper into it then you realize it also references other things. I quite like the idea that viewers first get attracted to the work; it's seductive. I always try to make my work with that in mind. I want to the viewer to feel like they want to touch the work or have some kind of relationship to it visually. Then if they want to see other elements of it they can do that also.
So it's not a representation of nature itself—it's more a translation of it. It starts from an image but then it becomes something completely layered with other elements and it becomes something else. I use ceramics because I try to make a connection between form and content and for me, the use of clay was obviously the natural vehicle to represent nature because it comes from the same landscape that I then end up replicating. It couldn't be another material, really. But I like to think that the work comes from nature, but then it becomes manipulated by me, so then it becomes my own version of it.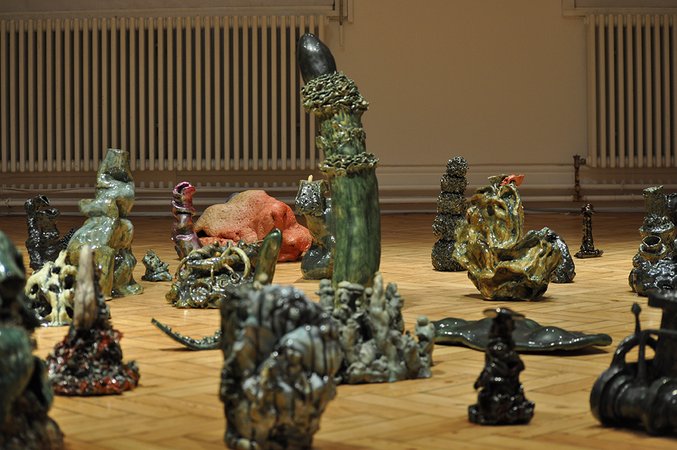 Installation view of "Fashioned to a Device Behind a Tree" (2015). Courtesy of Federica Schiavo Gallery

Earlier you said that you're interested in drug-taking and psychedelia. Is tripping or doing drugs in nature part of your research or artistic practice?
No. I mean, I did try when I was a kid but somehow hallucinogenic drugs just don't agree with me. But I'm really fascinated by the aesthetics of that kind of world. I'm also interested in the slippage of time, and a trip will create that—it creates a moment that is difficult to pinpoint. And I'm also interested in how tripping adds some experience that has nothing to do with what you normally see every day. So that could be seen as a spiritual kind of connection.
Is part of your practice or research spending time in nature? Do you have any favorite places that you like to go to do research or to escape?
It's not just nature but it's also a city. For example, I grew up under a volcano in Sicily. So in a way that bleak and harsh representation of nature is somehow part of my upcoming, and subconsciously it's part of my vision of nature. But I also enjoy exploring the city like a flaneur, navigating it without knowing where I'm going, losing myself there as much as I do in nature. It's kind of different but in the same way it achieves this disconnection from this constructed things humans do in the city or in society.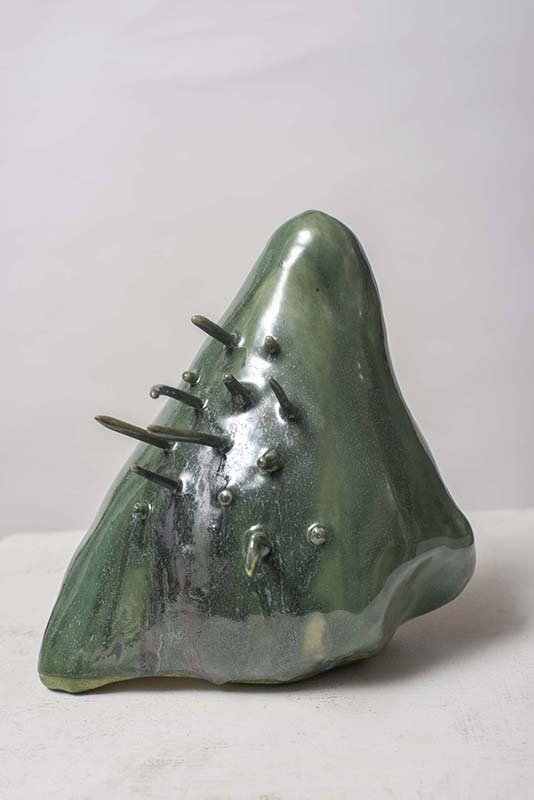 PV0721 #6 (2014) is available on Artspace
It seems like in some cases your work has a very sincere reverence for these spiritual and psychological benefits of nature. And then in other pieces it seems like that sincerity is replaced by a kind of tongue-and-cheek cynicism. I'm thinking of the video MIND AND BODY BODY AND MIND where you perform a reenactment of a Youtube video in which there's a hypnotherapist hypnotizing someone to become a better artist. That seems much more satirical and playful from your more contemplative work. Is that a fair read? How do you negotiate between these two different attitudes?
I don't think the work is cynical at all. It's more of a journey, transporting us to this kind of landscape where we're in the middle between something from the past or a vision of the future. MIND AND BODY BODY AND MIND came from a personal experience. I used to do—and I still do—hypnotherapy. So when I was asked to do a performance at Whitechapel Gallery in London, I decided I wanted to share my personal experience with the public and wanted to do a group hypnotherapy performance. And it was through research and through chance that I found that Youtube video. The video makes you question what it means to be an artist and how you got to be one. I could have just done 16 minutes of hypnotherapy and expanded my potential, and instead I've been studying for five years just to get to where I am now. So it was really questioning the function of the art education system and what it means today to be an artist. And it emphasized my interest in psychedelia. The sounds in the video have to do with alpha waves, the waves the brain creates when we're in a creative moment. Then there are flashing lights throughout the video, and that has to do with the pulsation of the Dreamachine that Brion Gysin, William Boroughs, and Ian Sommerville created in the '60s. And then there are some found images of things that have to do with nature, scientific images, but also other random images that I found myself quite attracted to. So that's how it came about.
Ceramic art is having a moment right now, as evidenced in Vitamin C. Why do you think this is, and do you think this resurgence has impacted your work?
I think even if it didn't become a trendy material I'd still be using it because it really makes sense for me to use. I think my work has possibly benefited from this trend but I started using in 2011 before it became popular. For me, it was very much about the need to physically work with a material. My background is in photography, which is more or less about pressing buttons. I never really had the training to work with sculptural materials and when I got invited to do a ceramic residency in Italy it was a real liberation. That's how I see the material—as a way to liberate myself from the hyper-technicality of photography and the other materials I was using before.
I use the clay in a very anarchic way. I know the basics but I try to not become to involved with the technicality of it, because I feel like that could distract from the creativity. But I think another reason it has become so popular might be a reaction to the simulacra that we find ourselves surrounded by, and the digital world that we're not really sure how to place ourselves in. Ceramics is a complete antidote to that. It's dirty, it's goofy, and it never comes out as it should in terms of the shapes. As opposed to the computer-generated stuff there's a strong physical connection to the material that is perhaps why it's so popular.
[related-works-module]