The art community in Beirut is one of the biggest fundraising sectors in the city today, trying to save and rebuild what is left of the social fabric, and historical and architectural heritage of the city, following the dreadful explosion that decimated people's homes and lives on August 4.
Photographer Tarek Moukaddem was in his apartment on the day the explosion ocurred. More at home documenting Beirut's frenetic nightlife and alternative culture scene, he found himself wandering the streets, literally dazed and confused, in the hours after the blast, trying to make sense of what had just happened. For so many thousands of Beirutis displaced by the blast, that sense of confusion is ongoing.
In order to help them rebuild their lives, five women from the arts and creative industries have got together and launched a benefit auction, Dear Beirut , which opens today on Artspace.
In association with Jobs For Lebanon, Dear Beirut will raise funds to benefit Offrejoie, a Lebanese NGO working on the ground to rehabilitate and reconstruct the neighborhoods impacted by the explosion on August 4th, which devastated areas of the city where some of Lebanon's most marginalized communities live, including artists, activists, members of the LGBTQI communities and low-income households.
The Dear Beirut auction features nearly 70 artworks from artists around the world, including work by Kiki Smith, Christine Sun Kim, Farah Al Qasimi, Mandy El Sayegh, Iman Raad, Stephen Webster, Rhea Karam, El Seed and Safwat Saleem. It's curated by Dina Bizri (Art Curator), Elda Hadajian (Art Director), Denise Maroney (Textile Designer), Shoham Arad (Director of TED Fellows) and Karma el-Khalil (Fine Jewelry Designer).
Check out the auction page here and read our our interview with Beirut-based visual artist Tarek Moukaddem, one of the artists affected by the explosion, and who has art in the auction, below.
Tarek el Moukaddem - M.C.03 (from the series After twelve) , 2018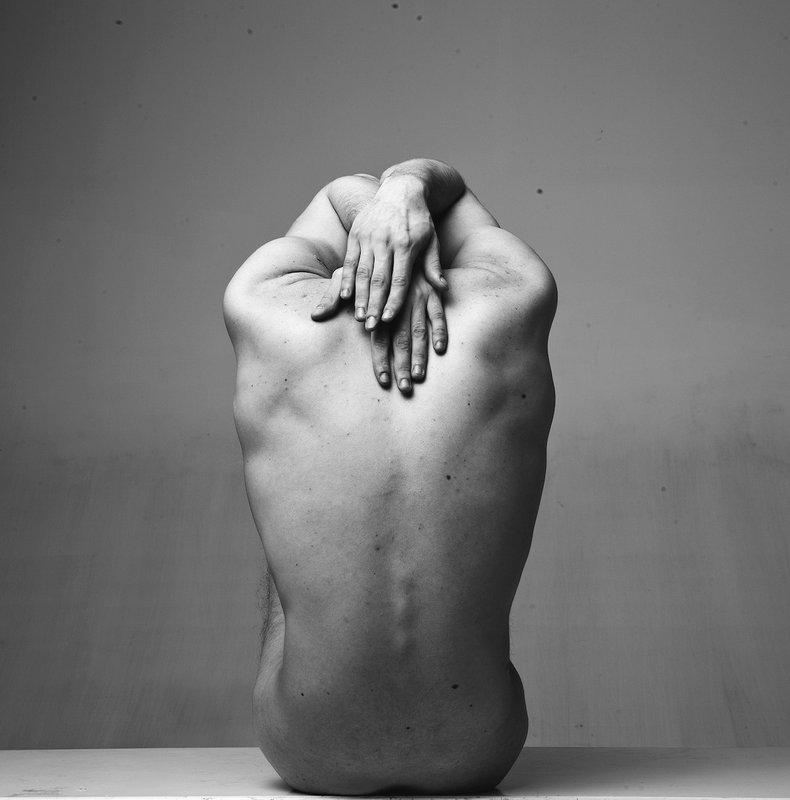 Tell us about your background and your work I'm a multidisciplinary artist known mostly for my photography work.  My work mostly questions sexuality, and representation in the Arab world.
What work do you have in this Artspace auction and could you tell us a little bit about it please? The work I have in this Artspace auction is a photograph entitled m.c.03. It's part of an ongoing series called after 12  that I started in 2010, and in which I document the underground party and sex scene in Beirut , through intimate portraits and photographs of Lebanese youth.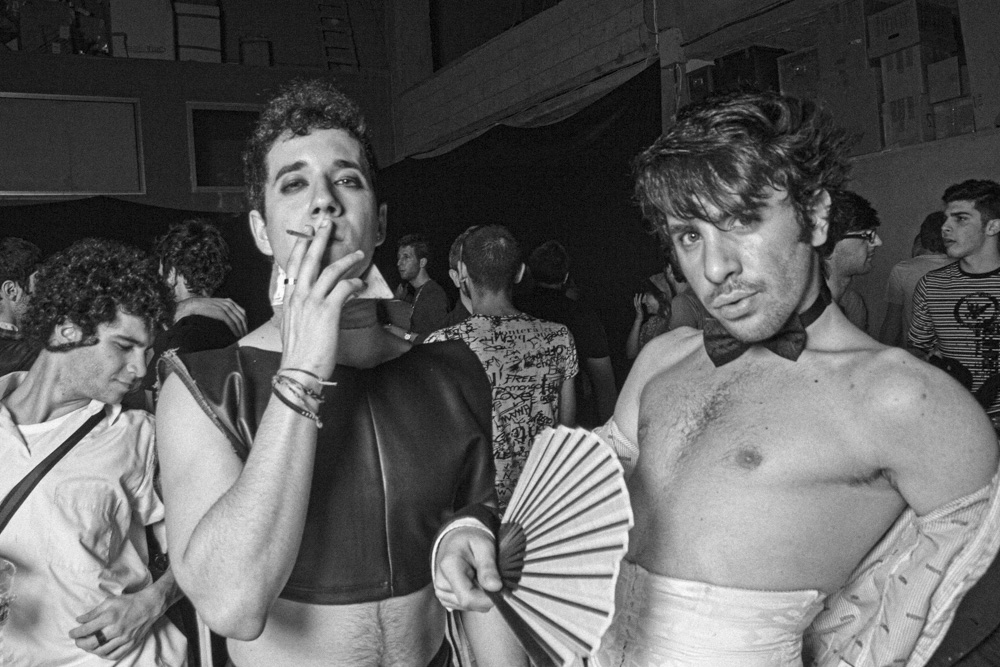 Photograph by Tarek Moukaddem
Do you know people personally affected by the catastrophe? Gemmayze and Mar Mikhael, two of the most affected areas by the explosion, are the heart of the Beirut art scene.  It's where most galleries but also where most artists and cultural field workers live. Most of my friends and colleagues lost their homes and workspaces and or got displaced (more than 300,000 people got displaced), many of them got severely injured and lost family members and friends. More than half of the city population was directly affected by the catastrophe. It's almost impossible to be living in Beirut without knowing people who are personally affected.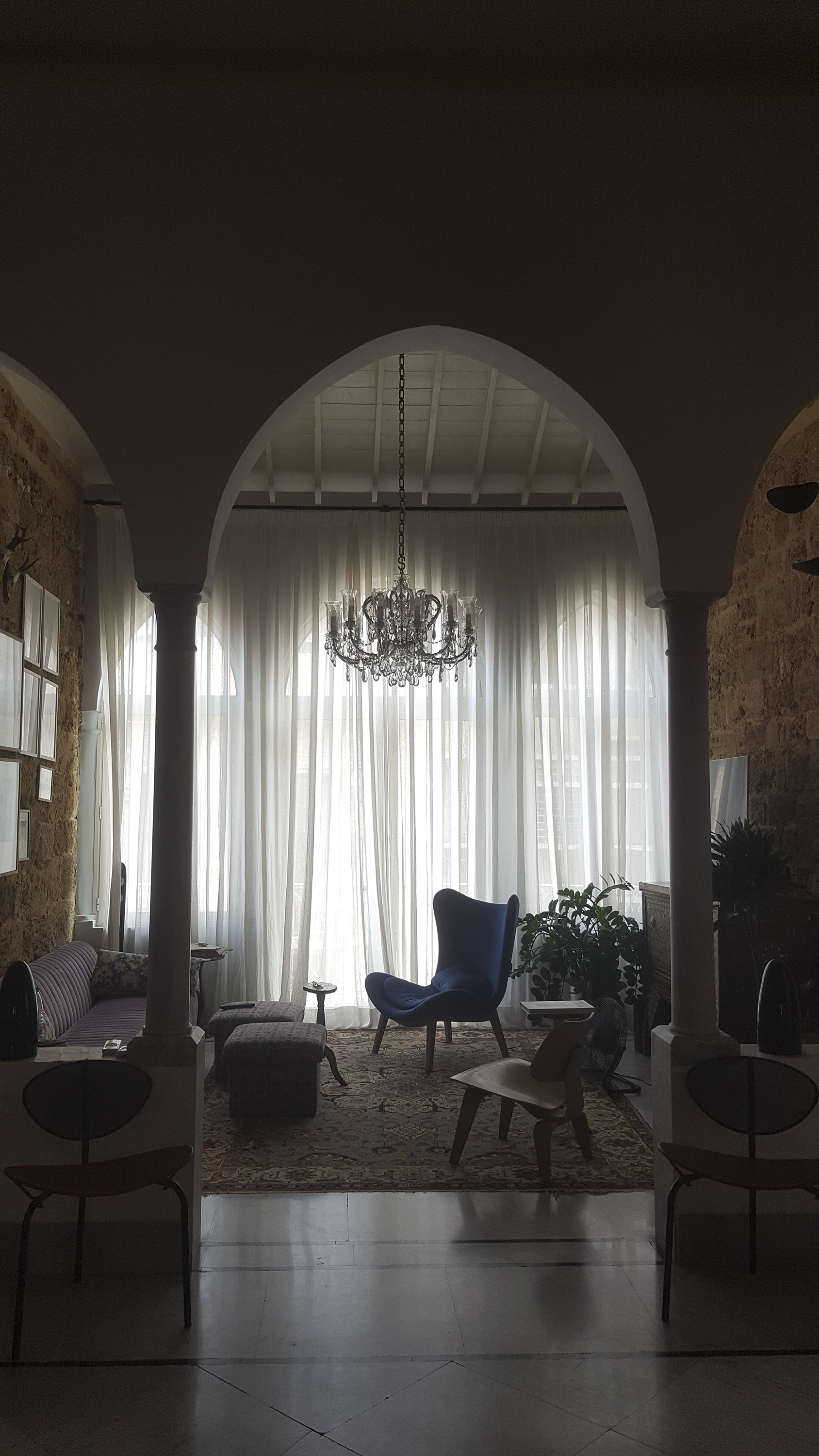 Tarek Moukaddem's apartment before the blast
Can you give us a personal experience of the day in question? I was in my Gemmayze home / studio when I heard  a weird first sound. Luckily I decided to take a few steps back from the room I was in, to stay in a safer zone of the house. A few seconds later, the house was in ruins, everything around me destroyed. I grabbed my camera , and tried to escape the building, my initial reaction was to try and document what was happening, but I didn't end up having the heart to do that. The streets were straight out of an apocalypse movie. Everyone was covered in blood, walking aimlessly as all hospitals in the area were destroyed, most roads were blocked by the rubble and the bodies of the injured and deceased.
I started roaming around to my friends and neighbors' houses, to make sure they were all safe. Most of them were frozen in place, traumatized by what happened. Others were rushing trying to find a hospital that could host their loved ones, some of them needed to drive more than 60km to find one. I didn't know where to go next,  it was nighttime, I was homeless, and so was almost everyone I knew. A neighbor made me go back to my house, and fill a bag with necessities: a passport, whatever cash I had in the safe and my cellphone and charger, then drove me to a friend's house outside of the city, leaving everything that took me years to build behind. A lot of the inbetween moments are blank memories.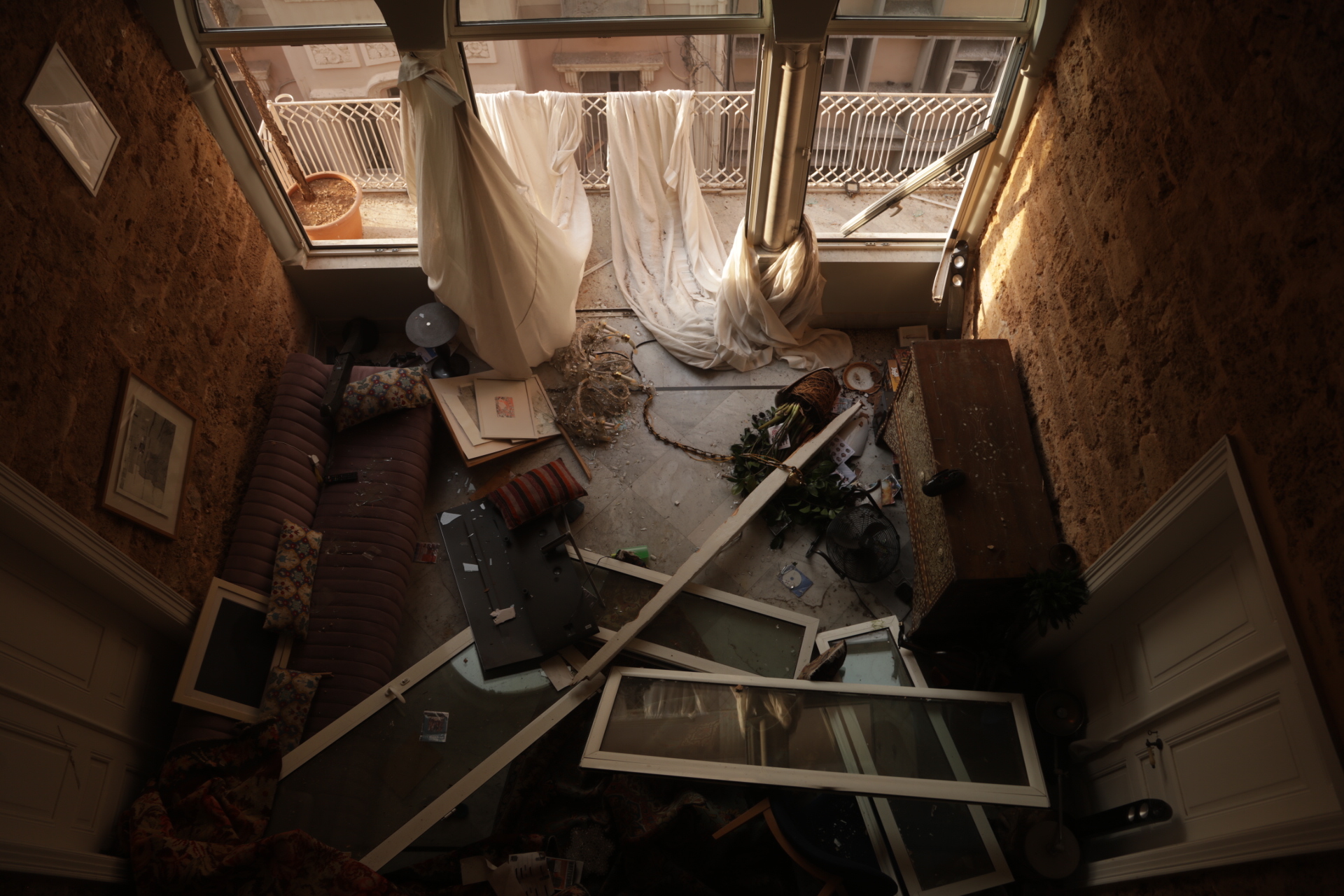 Tarek Moukaddem's apartment after the blast
How has the explosion personally affected you and your colleagues? My house and studio got severely damaged; I'm relocating as we speak. I lost most of my equipment, my assistant has torn his hand tendons. Most of my colleagues are either rebuilding their homes and offices or looking for new ones. A lot of them are still in the process of healing. Most of us are trying to rebuild , but that also has proven very difficult as this is all happening in parallel with a deep financial crisis that started almost a year ago now, capital control and hyperinflation not forgetting the Covid lockdown. We're all angry and confused, trying to plan what to do next in such a confusing time.
Is Beirut coming back to normal life or is that still a long way off? As the government is not helping in any way, and most people's savings are stuck in banks due to capital control, things are moving very slowly. I don't want to be pessimistic but I think it will take years for everything to recover.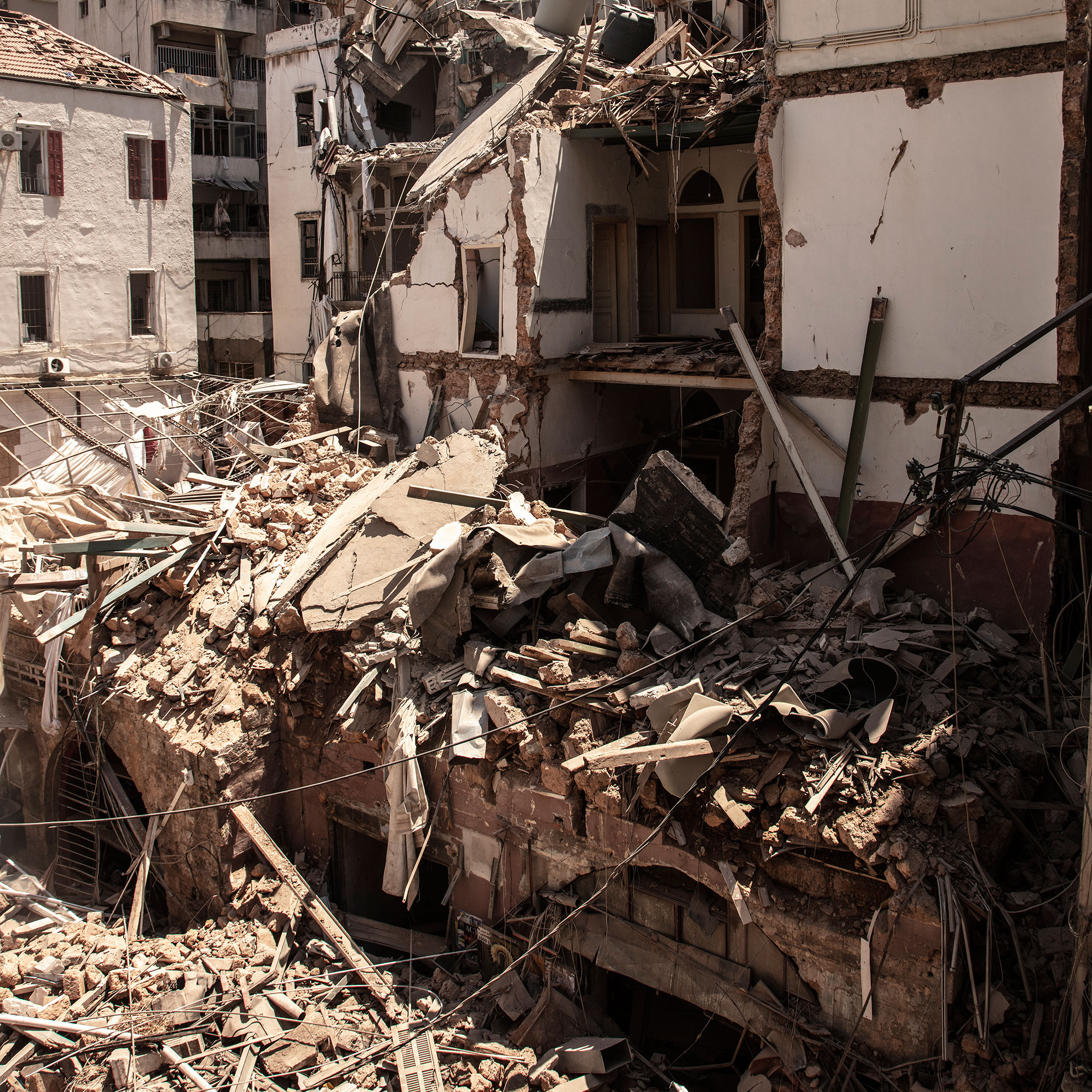 Collapsed buildings in the streets next to Moukaddem's apartment
How can people help Beirut, what is the one thing that must be done? There are two things that must be done: The first is to keep on talking about what happened to put pressure on the government to be held accountable,  as two months have gone by and still no one has taken the blame.  The second is to support the local economy by investing in more Lebanese products and artists in such needed times.
How can art and photography help at a time like this? Art thrives in times of uncertainty. It's a way to let out and let go, but also a way to tell others what is happening and how we feel about it. The art community is also one of the biggest fundraising ones in the city today, trying to save and rebuild whatever is left of the social fabric and historical and architectural heritage of the city in a time where the government is not doing much.
Come bid at The Dear Beirut auction now.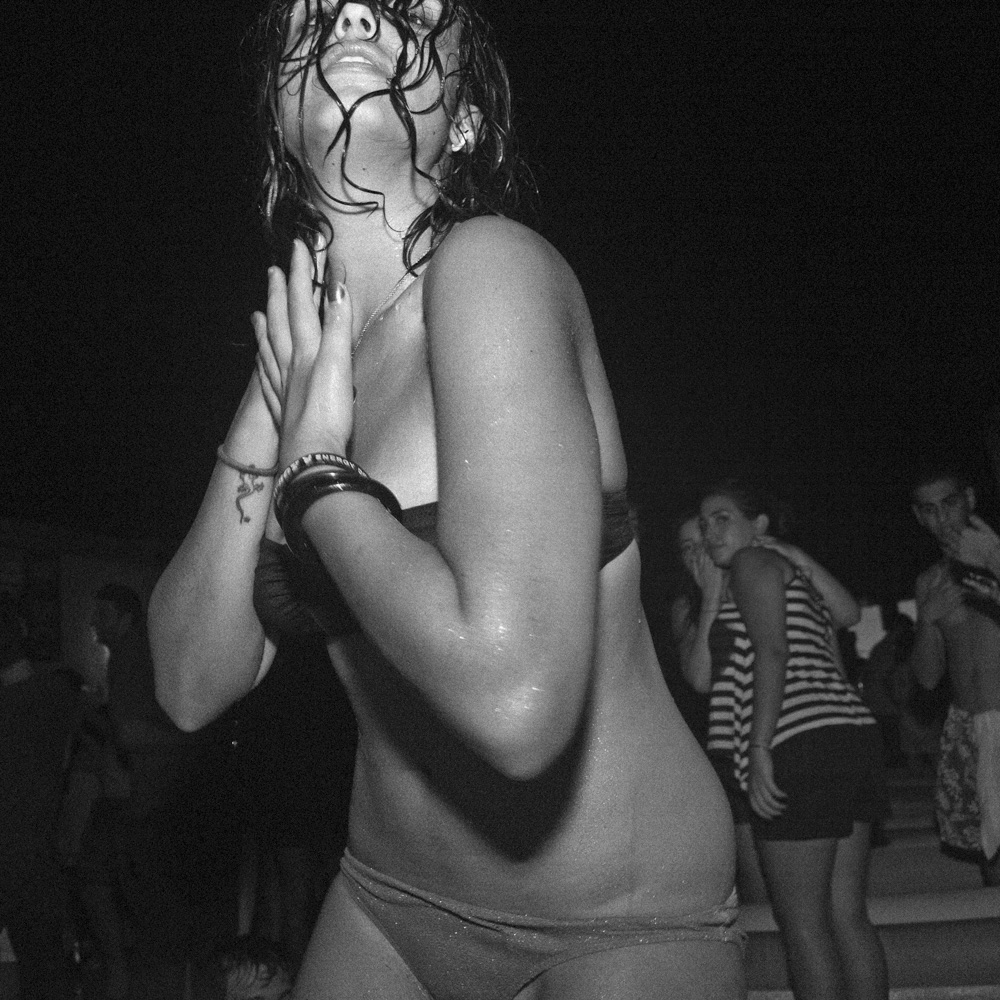 Photograph by Tarek Moukaddem