Leonardo Drew had his first art exhibition at the age of 13, at a community center in his hometown of Bridgeport, Connecticut. Copying comic books in the bedroom he shared with his five brothers, he always had a knack for drawing. Fast forward 45 years (past a stint at Parsons before transferring to Cooper Union to receive his BFA, and a job at Christie's post-graduation), Drew now makes work that finds itself inside the collections of the Metropolitan, the Guggenheim, the Museum of Contemporary Art, Los Angeles, the Hirshhorn, and the Tate, London.
Known most for his large-scale assemblages made of materials that appear found or discarded (like burnt or weathered wood, primarily), Drew currently has a solo exhibition of new work at Galerie Lelong & Co. in New York City (on view until August 2nd, 2019), along with a public installation commissioned by the Madison Square Park Conservancy called "City in the Grass."
Here, we speak with the artist about the evolution of his art, the epiphanies he had while traveling through China, and the impetus for the new directions seen in his recent work.
[drew-module]
You began making art when you were very young, and I read you had your first exhibition when you were just 13. You always had a knack for drawing and comic-book type rendering—but then you reached a turning point and abandoned drawing all together. When was the moment and how did it happen?
I saw Jackson Pollock 's work, up against what I was doing. That in itself was an epiphany. I began to realize that there's something else beyond the surface, if that makes sense. I saw it in black in white and it was still impactful. It was in the library in a book.
What was it about that image of his work that really changed things for you?
If you understand abstraction, and the emotional intensity of someone like Jackson Pollock, it's a no-brainer. If you're making work about facility, and you encounter that, you begin to understand that there is something beyond the surface. Jackson Pollock is just that way.
Your materials are often corroded, burnt, or weathered somehow. They look like could be found, discarded materials, but they're not.
No, they only echo that. I always liked the idea of going through the rigors of becoming the weather, rather than allowing happenstance to dictate these things over time. I think the fact is, we are part of the nature of nature, we are actually nature. So as I'm making work, I do become the weather.
Is it about having control over that process and being able to deliberately make decisions about the material or is it more...
...No, it's actually a spiritual connection to things larger than ourselves. So, it is a journey, it's not a technique, so to speak. It is a process that allows you to reconnect with your spiritual essence, if that makes sense. It's an important aspect of who I am, how I see things, and how I believe we all are interconnected with larger things than our selves; thinking more cosmically. If we can do that then it's easier for you to get away from the egocentric way of creating and allow yourself to be a part of something much larger.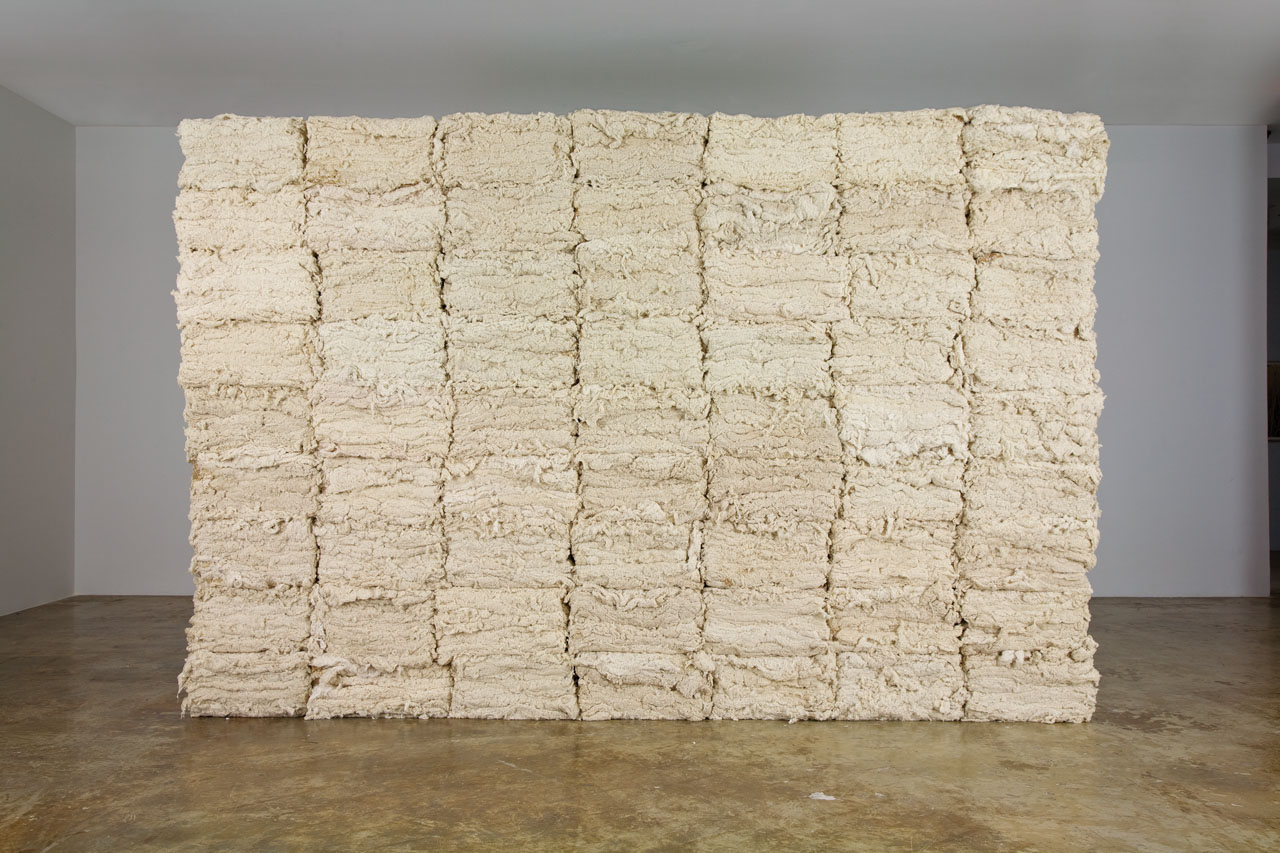 Leonardo Drew, Untitled #25 , 1992. Cotton and wax. Image via rfc.museum.
In your early career you used materials that were very racially charged—like cotton, for instance. Your work now doesn't overtly address socio-political sentiments. Why do you think that is?
We are indeed interconnected. The idea that you could only beat this one drumbeat all throughout your artistic career, I think anyway, would be nonsense. So you have to continue enhancing and enlarging your experiences—and those same experiences become art experiences. So as I move forward, I join journeys into other countries. I spent four years going back and forth to China, working with porcelain and artisans there. Some of these other things become a part of your language. So you continue to add more words to your vocabulary, and I think that's extremely important for an artist to continue to do—to have something that resembles a life that's actually growing.
Can you talk more about your trips to China? I know that you were looking for a certain kind of clay for ceramic making.
We're talking four years, not just one trip. It was back and forth over a four-year period. All the things that I realized and picked up there has become a part of my work that I create now. The piece at Madison Park is indeed influenced by it. If you know my work, color was not something that was a part of how I saw things, but now it's become a part of my vocabulary. Working in glazing and porcelain indeed influenced greatly the new direction. So the things that you see at Lelong Gallery and Madison Park, the new iteration of how I'm seeing things, is absolutely influenced by my journeys in China.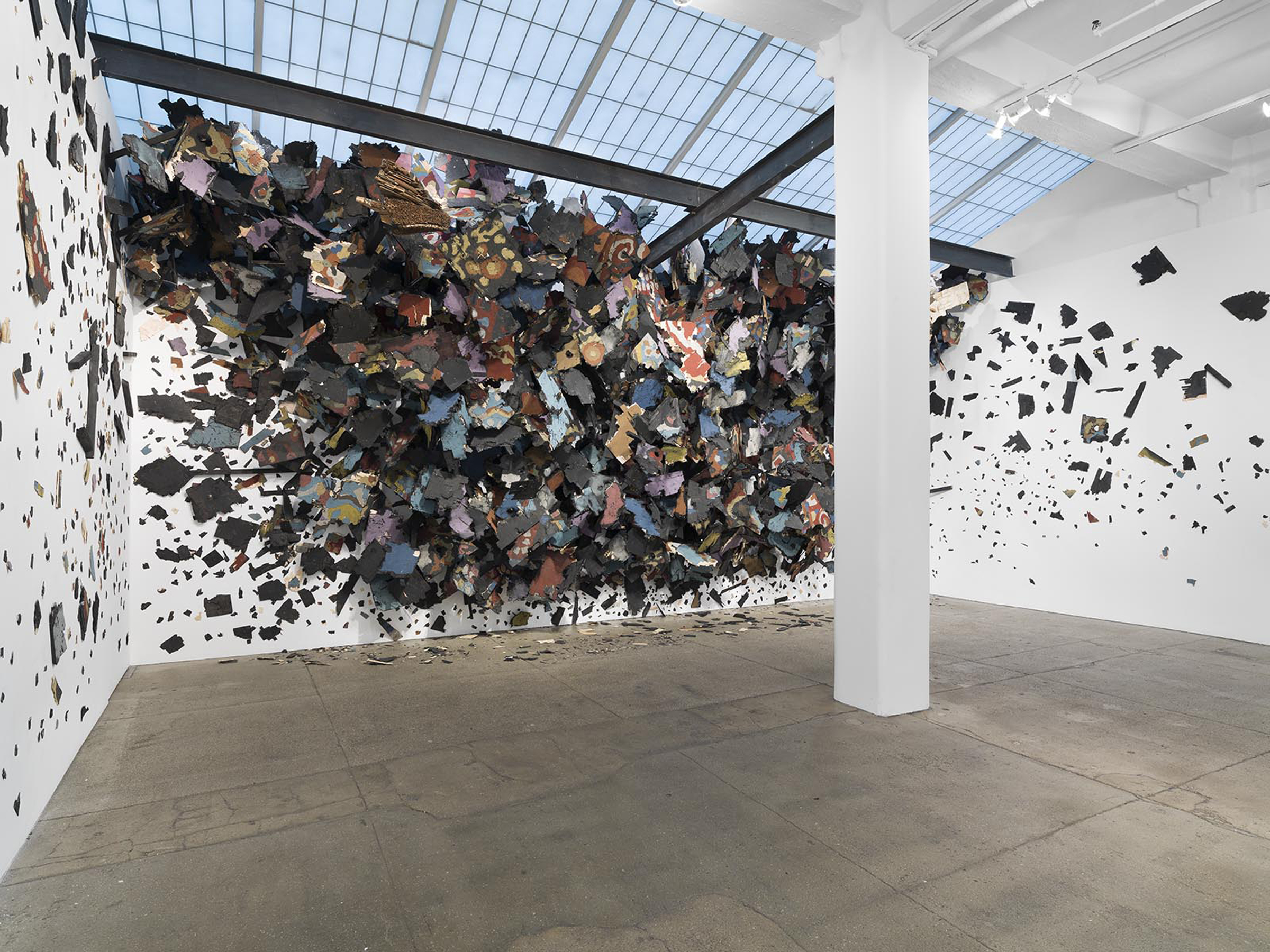 Your current exhibition at Lelong exhibits some new directions for you. First, like you said, you're using color more than you have in the past. Secondly you're using sand, another new material, and carpet patterning, as well.. And you also have one main installation that is really explosive and chaotic—not your typical gridded system. Can you talk about what prompted these new moves?
Well... life! If you're alive, you add new things to your life, and those things absolutely will effect how you create. If I was a poet, I'd be writing about it, if I was a musician I'd be singing or playing about it, but the fact is I'm an artist so I have to take in information. Like, things that intensified in my life—you don't think that that wouldn't influence how I create? It's like notes that you're playing, this is what this is. If your octaves are in the high range than your work will all of a sudden become that. If your life picks up, then your work will pick up. This action that's happening in the work has a lot to do with how I'm seeing things, how I'm moving through life. I'm connected.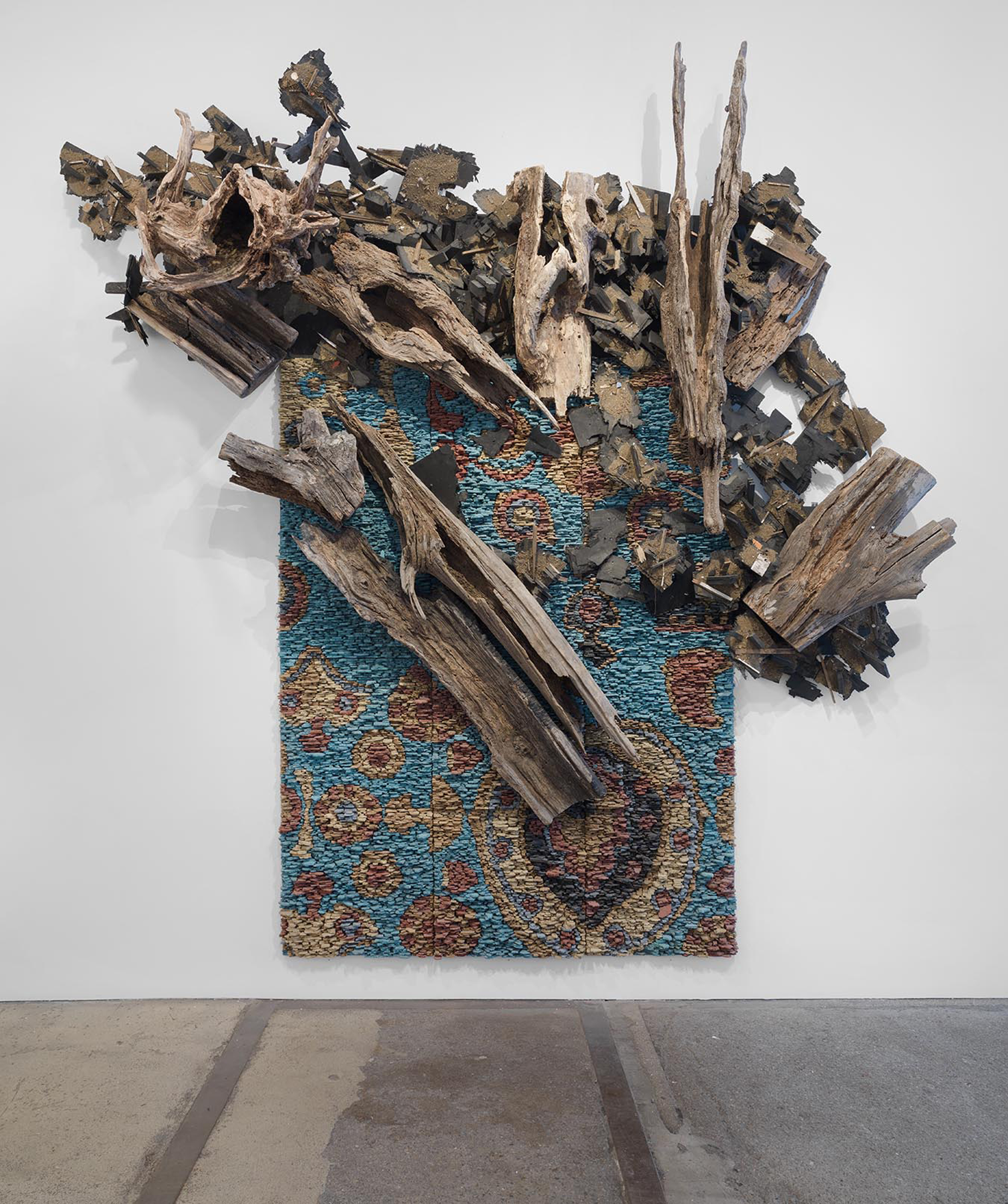 Leonardo Drew, Number 217, 2019. Wood, plaster, and paint. Installation view: Leonardo Drew, Galerie Lelong & Co., New York, 2019.
What is it about Persian carpets or carpet patterns that interests you? Is there a particular reason you started working with that type of imagery?
Not really. What ended up happening is in my studies in China with porcelain, I was simultaneously working on this piece in Madison Park. I was working on this wooden undulating rug; the working title was City in the Grass , which comes from what my work looks like when it's on the floor. The kids who were playing outside of my studio would always comment on how they thought they were seeing a city. From their perspective, indeed it was a city; they were Gulliver, and the wood parts were Lilliput. As they were realizing this, I started realizing that this idea of 'City in the Grass' was one thing, but the idea of this undulating carpet was this whole other aspect of the piece. And the fact that I was in China working with porcelain and glazing, and how the colors intervene, I was working with this carpet and then it just was leap of faith. I thought, let's take it, let's go all the way with this. And, if you're going to introduce color, there's no better pallet than these Persian rugs. So that's where that comes from.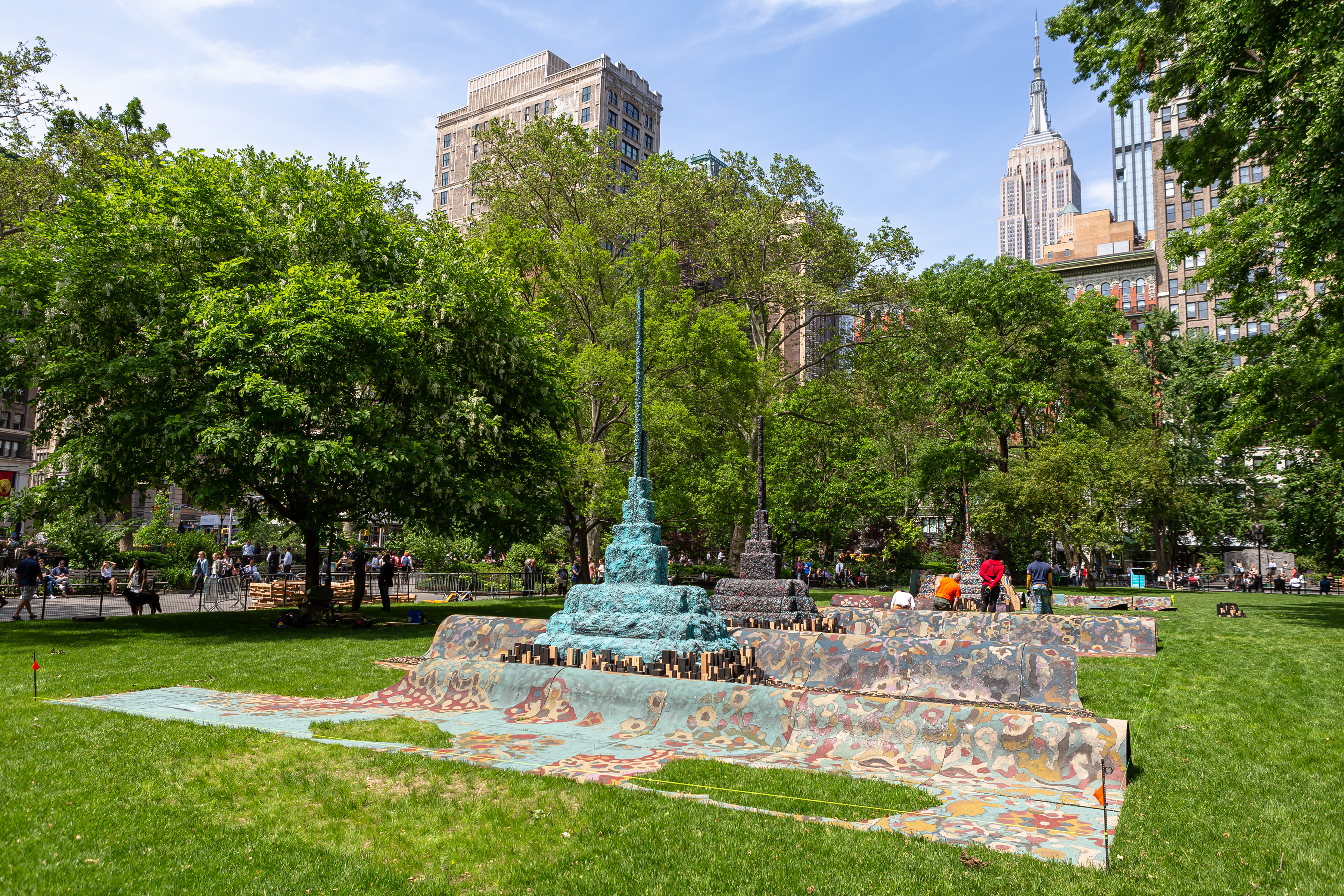 Leonardo Drew's installation at Madison Square Park. Image via Galerie Lelong & Co.
Let's talk more about your outdoor installation at Madison Square Park. What was it like formulating a work that you knew would have to remain outside in the elements? You weather a lot of your materials before you use them, but in this case, it's the other way around, in a sense.
This piece is actually not built to be indefinitely outside. It's probably going to hit maybe three more venues after this, and then I'll pull it in. But the very idea is that the viewer is allowed to sit on the piece, walk on the piece, climb the piece if they like, and this indeed will go into the very same process that we were talking about before. People are being complicit in completing the work. They're physically putting their bodies on it and they literally walk on it. That being said, they've taken on the full-on aspects of how they see things and realize things. So this piece has pushed that to next level.
Is there anything else coming up that you'd like to mention?
Actually I'm on my way to Manchu Picchu in October—another one of my journeys. Just to let you know, I'm very serious about taking in as much information as possible. This planet is just full of all these fantastic things that can become a part of your life, but you have to actually make the effort and get out and see. As an artist, it's my responsibility to take on as much as I can so I give back as much as I can.
Anything in particular you're looking for in Manchu Picchu?
I won't know until I get there!
RELATED ARTICLES:
Ceramic Art Has Made A Comeback—Here's How
An Interview with SculptureCenter's New Director: Christian Rattemeyer from MoMA
Connecting Ghanaian Artisans with Contemporary Artists, Start-up 'Crucible' Reimagines the Relationship Between Artist and Fabricators