Lost in my pre-bedtime ritual of vacantly flicking past the Instagram stories of my social media network, one post held my quickly tapping thumb at a pause—@aaaaito is opening some sort of gallery space called Chen's? I was curious—behind the sleek, high-polished, and chromatic finishes of Brooklyn-based artist Alex Ito's (owner of the aforementioned Instagram handle) work lies a sharp institutional criticality and a commitment to artistic and creative independence. Ito's cool and clean sculptures demonstrate the façade of material wealth and are stealthy reminders of the violent and oppressive capacities of consumerism and late capitalism. That said, becoming a practicing gallerist didn't strike me as something he'd be into—therein, however, lies the magic of Chen's.

Founded alongside fellow artist and curator Howie Chen (after whom the gallery is named), the self-described "occasional gallery" promises to keep things rigorous but flexible. Having recently left the curatorial production office Dispatch through which Chen organized shows at institutions including the Whitney, MoMA P.S.1, The Kitchen, and the IMO in Switzerland, both parties were eager to open up a space where they could showcase exciting work and explore conversations without the typical treadmill pace. Located in the basement of a Brooklyn townhouse, the gallery is, like so many small, independent, artist-run gallery spaces, by appointment only and with an address available upon request.

In the following interview with Artspace's Shannon Lee, Chen and Ito briefly discuss their new space, getting back to the basics, and having no masters. Their inaugural show "There is Nothing to Divide Us If We Do Not Exist" opens this Saturday and features works by Gidra, Badlands Unlimited, Guadalupe Rosales, CFGNY, Renée Green, and Sara Knox Hunter. Direct message @chens.world on Instagram for more info.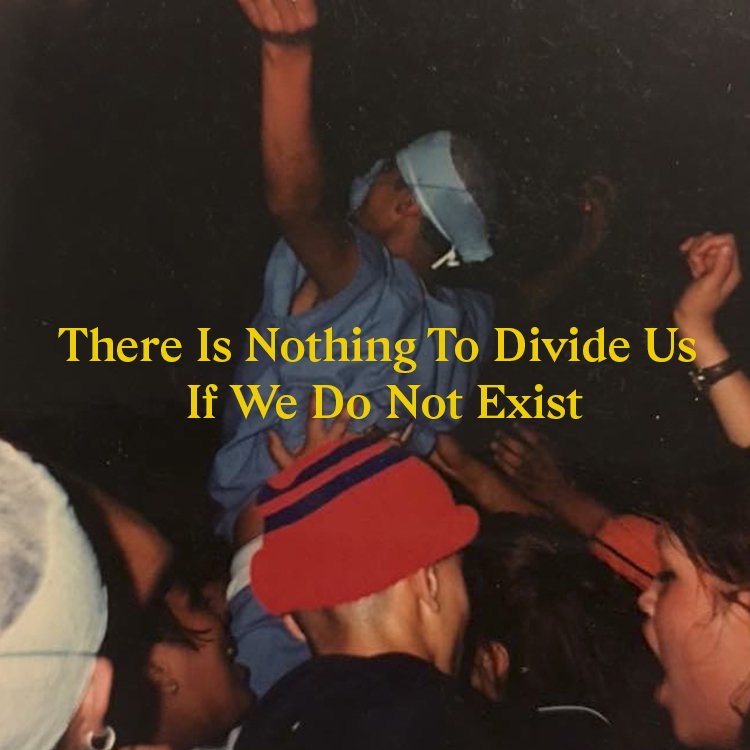 Image courtesy of Guadalupe Rosales.
Shannon Lee: So how did this project start?
Howie Chen: Chen's started with the idea of having a space to make shows that we want to see. I've been involved in other spaces and worked in museums before, but with Chen's, it is about the basics: showing work, making specific choices, and bringing people together. The only imperative is to do a good job and be accountable to the ideas, artists, and works we are showing. It's like when a musician goes acoustic.
You describe Chen's as an "occasional gallery." What's the occasion?
HC: We are going to put on exhibitions and programs at our own pace so we can concentrate on being thoughtful about shows and be realistic about art and life. It's a modest three-room space and there is a lot of potential for good times and encounters with people and what they are making. We want to put together exhibitions and events that highlight people who have an urgency to their practice and are part of real communities that do resonate with other ones. These urgencies can be aesthetic, political, libidinal, existential, or indescribable. Things might come from different disciplines, geographies, generations, and subjectivities—we want to bring sensibilities together.
What was the driving force behind the opening show "There is Nothing To Divide Us If We Do Not Exist?" Can you describe the curatorial process? Is it very different from how you've curated shows in the past?
Alex Ito: The show came from conversations about how you can think about publishing as an activity of circulating information and images—this includes the idea of "publishing" oneself. We are interested in how this can be a mode of agency whether it is through visibility or new imaginaries. In this show, we are presenting artists working in different ways such as print publications, archive, fashion, and writing.
The artists and organizations in the upcoming exhibition work against that general practice of consolidating value/content in a single space and instead move and transform content outward through the practice of circulation and open dialogue.
In terms of process, we both brought ideas to the table and it came together. The show's title comes from Sara Knox Hunter's book, "There is nothing to divide us if we do not exist," which was published through Dominica in 2016. I've known Sara for a while and attended the residency she founded called "Summer Forum for Inquiry + Exchange"—a nomadic, infrequent and non-studio based residency. Summer Forum invites creative practitioners from varying fields to engage in a series of conversations and lectures influenced by a series of assigned and contributed readings. My experience there was honest, engaging and challenging, showing me a different type of creative practice through dialogue. This was what originally inspired my interest for this show, although [it happened] much earlier than Chen's and remained as a document on my computer.
Tell us about the artists involved in this show and how they got involved.
AI: We have been in dialogue with some of the artists in past projects and as friends. There were others that have been on our minds and we've been admirers of their practices for some time. All of the artists in the exhibition have multifarious practices, moving in and out of different modes of production and methodologies. It has been a pleasure to be in conversation for this show, as the process of working with the artists has helped us deepen an understanding of their practices as well as the direction of our exhibition. With a few brand new works from some of the artists, we wanted to harness the idea of Chen's as a workshop—a place where ideas could be tested, even if not fully concretized. We want to continue this in our other programming, consisting of performance, screenings and dialogues, that will be scattered between the shows.
What do you think the words achieve and accomplish when it comes to culture? Are there better words to describe your curatorial attitude or ambitions?
HC: Swordsmithing.
AI: No masters.
Alex, how does your practice as an artist inform Chen's?
AI: I've organized shows in the past but am predominantly a studio artist. Organizing an exhibition is a way for me to exercise ideas that I am thinking about that I can't express in my own studio practice. In many ways, I can solidify ideas of my own and also learn more from the individuals I meet and converse with along the way. With our first exhibition, there were a lot of personal connections I felt with the participating artists' practices—questions I've been asking or content that I've been curious with. For example, the contributions by Guadalupe Rosales and Gidra interested me because of my ties to Los Angeles as a Japanese-American and the distance I have to that community by living in New York.
Howie, what's up with your creative consulting firm "Chen & Lampert?"
HC: Chen & Lampert is a consulting company I started with curator/artist Andrew Lampert to solve problems for artists, galleries, non-profits, institutions and collectors by drawing on our combined 35 year experience working in institutions and in other contexts. We deal with curatorial consultation, artist relations and organizational framework, to preservation, publicity strategies, sales infrastructure, and crisis control. I think we are the only ones doing this in the field right now.
We also have a forthcoming book coming out on Badlands Unlimited this fall which will be the first self-help book for the art world, Go Deep: How to be Human in the Artworld, which deals with the ethics and morals of participation.
Am I blowing up your spot by conducting this interview?
This interview never happened.


RELATED ARTICLES:
Paul Chan on Erotica, E-Book Censorship, and "Quitting" Art to Become a Book Publisher

Printed Matter's Philip Aarons on Why Artists' Books Are as Relevant as Ever in Today's Digital World