In the world of avant-garde video game design, there are few figures as influential—and controversial—as Porpentine Charity Heartscape . As a trans woman and avowed feminist, Porpentine (she's usually referred to by her mononym) has long faced an uphill battle in an industry and culture centered around men's fantasies, be they violent, sexual, or otherwise dominating.
These difficulties are not so much the result of the content of her games , which often meld fantastic, fragmented storytelling with pixelated abstractions and generally eschew straightforward or didactic messages. Rather, opposition arises out of an endemic resistance on the part of many gamers to any developments that they see as threatening the sanctity of their medium as the site of first-person shooters, sports franchises, and the rest. Last year's " Gamergate " controversy, sparked over calls from feminist game designers and critics for more positive representations of women in games, gave rise to a venomous online campaign that included threats of rape and violence towards these commentators; a gaming conference featuring the critic Anita Sarkeesian (creator of the Tropes vs. Women In Video Games YouTube series) at Utah State University was cancelled after receiving multiple threats of mass shootings.
It's in this environment that Porpentine makes her games. Unlike other women designers like the late Theresa Duncan , whose games feature complex female protagonists and beautifully detailed graphics, Porpentine's games take both her politics and her love of gaming to far weirder places. She's best known for her pioneering use of the freeware Twine game design platform, which allows users to construct hyperlinked text-based games with little or no programming experience. These free-to-play works take the form of choose-your-own-adventure RPGs (role playing games, for the uninitiated), where branching plotlines are navigated through links representing actions.
Similar formats have been in use since the mid-1990s, but Porpentine's imaginative writing and willingness to incorporate her own history and anxieties mark her games as part of the ongoing shift in independent gaming towards more introspective, less trigger-happy experiences. She embraces the personal in her works, often allowing users to choose their own name and gender identity and generally writing in the second person to create a strange sense of engagement.

Her best-known Twine work, howling dogs from 2012, takes place what is essentially a futuristic holding cell, where one can eat and drink from "nutrient dispensers," shower to stop your skin from itching, look at a photo of "her," and enter into the "activity room," a virtual reality simulator that takes you through increasingly bizarre scenarios before returning you back to your cell. Your situation grows increasingly grim as the game progresses; the shower and garbage chute stop working, leaving you to live in your own filth, and even the photograph of your beloved "her" ceases to please.
The only recourse is the activity room, where Porpentine's skills in composition and design reach their full potential in her sci-fi and fantasy asides rich with references to Joan of Arc (see below) and death-bound space empresses. The work becomes a meditation on depression, loneliness, and trauma, topics all but unmentioned in most mainstream games. This is an emotional experience, far closer to reading poetry than blowing up bad guys. Though the ending is somewhat ambiguous, the piece seems to conclude on a somewhat hopeful note; there is at least the possibility that you escape the decaying room.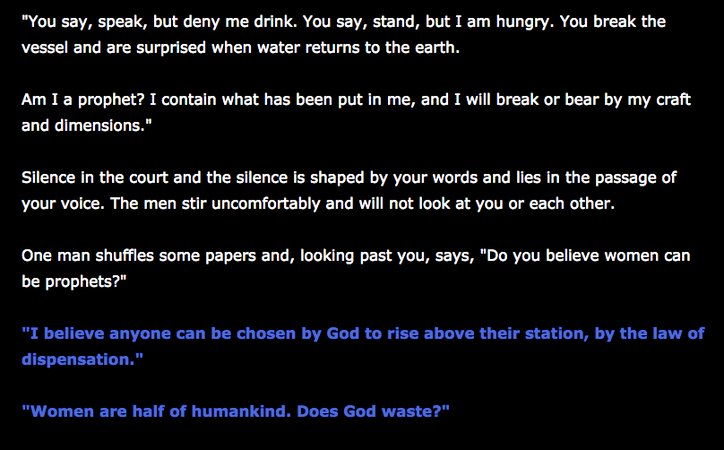 howling dogs has garnered almost unprecedented attention for an independent, text-based game, winning both the Best Story and Best Writing awards at the 2012 XYZZY Awards for interactive fiction and getting featured in as mainstream a publication as the New York Times. So fervent is the appreciation for the paradigm shift this game represents in the community that fellow game developer Richard Hofmeier famously vandalized his own booth at the Independent Games Festival that same year with the words "HOWLING DOGS," imploring fans of his game Cart Life to play Porpentine's instead. Naturally, the game has also garnered legions of haters, who inveigh against its "boring" format and decidedly subdued tone.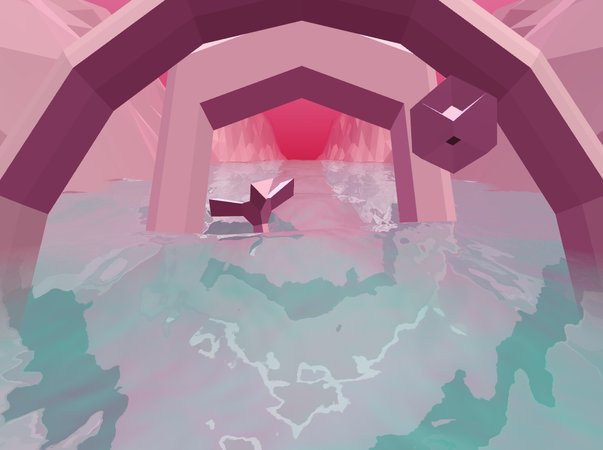 Acting as a seeming rejoinder to this earlier work, Porpentine's new This World Is Not My Home (2015) takes a distinctly divergent tact from other examples of the artist's Twine pieces. Made in collaboration with Brenda Neotenomie, this is a far more visual journey than howling dogs , one that employs dreamy digital graphics and relatively circumscribed fragments of text. The work is unidirectional, propelling you at a leisurely pace down a straight canal; pressing or holding the space bar allows bits of text to float up, along with arches and three-dimensional stars that occasionally explode to briefly fill the screen.
Porpentine's written contributions take the form of aphorisms and suggestions that recall the language of guided mediations or self-affirmation therapy: "replace every worry with gleaming marble," "envision yourself as the beloved daughter of a global franchise," and "rise to the top floor of the skyscraper on angel wings," for example. Though there is a whiff of ironic detachment in some of these lines, their outward positivity seems to be an expansion on the hope found at the end of howling dogs . For the creator of such personal and deeply felt projects, this can only be a good thing.