Hidden among the flashier new-media works at the inaugural edition of the Seattle Art Fair is a small, innocuous piece of video art by Gary Hill , exhibited by the local James Harris Gallery . Titled Liminal Objects #6 [fan and pants] , it shows a slowly rotating black-and-white digital model of an unfurling hand fan that appears to be slicing through a pair of trousers. With its strange juxtapositions, the work looks much like the 3D animation that's rampant in contemporary art (a perennial topic of this column )—but it dates from 1998, the early days (relatively speaking) of digital imaging technology.
Hill, who is based in Seattle, has worked since the late 1960s at the intersection of conceptual art and new media; his output is celebrated by academics as among the most innovative of its time. It approaches some of the issues younger artists are now taking up with gusto, such as translation and the close relationship between the written word and electronic technologies. Hill is also a pioneer of the video installation, an artist famous for tearing televisions and projectors apart for his projects.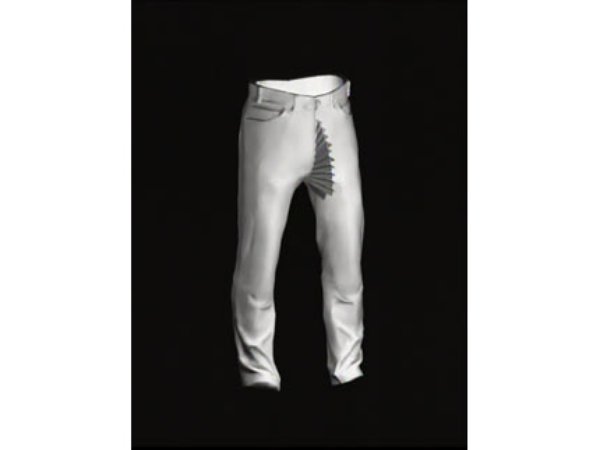 As the eminent curator Lynne Cooke writes in the foreword to An Art of Limina: Gary Hill's Works and Writings , "No artist of Hill's generation probed this medium with such invasive scrutiny, and none deployed it with such protean irreverence. And when his restless curiosity led him to computer based technologies and virtual space in the early Nineties, few of his peers proved so avid or dedicated in exploiting this uncharted terrain for art making." It's this "exploitation" that we see in Liminal Objects #6 , part of an ongoing series of works started in 1996 that pair interconnected digital objects so as to fuse them into a new kind of image-object altogether.
As the title suggests, Hill's Liminal Objects hover on the edge of reality; they are almost, but not quite, believable. We can read them as notes taken during the course of a long, conceptual inquiry. In the context of this tech-savvy fair, however, they are significant yet unostentatious enough to function simply as a welcome retreat from the relentless, self-conscious newness on view most everywhere else.