A decade into their adventure as an art gallery on the coast of the Persian Gulf, the founders of Dubai's The Third Line are seeing their efforts to champion the region's art paying off. For one thing, they have institutional support from heavy-hitters like the the Guggenheim UBS MAP Global Art Initiative, which is currently featuring the gallery's artists Abbas Akhavan, Zineb Sedira, and Joana Hadjithomas and Khalil Joreige in the new survey "But a Storm Is Blowing from Paradise: Contemporary Art of the Middle East and North Africa."
For another thing, the gallery's visibility has been growing internationally, in large part due to its tireless participation in art fairs around the world, including a vibrant booth at this year's Frieze New York, where they're showing the work of Akhavan, Ala Ebtekar, Rana Begumand more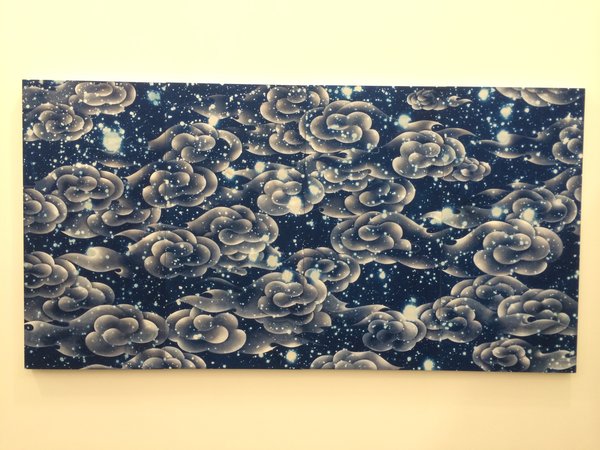 A piece by Ala Ebtekar on view in The Third Line's Frieze booth
Started in 2005 by Sunny Rahbar, Claudia Cellini, and Omar Ghobash as one of the first truly contemporary art galleries in the ever-growing metropolis, The Third Line specializes in the work of artists of Middle Eastern descent. Rahbar, who grew up in Dubai but studied in London and New York, was continually struck in the utter lack of artists from MENA (Middle East and North African) countries on view in Western galleries and institutions, and started The Third Line to give a platform to artists living in both the Middle East and the diaspora.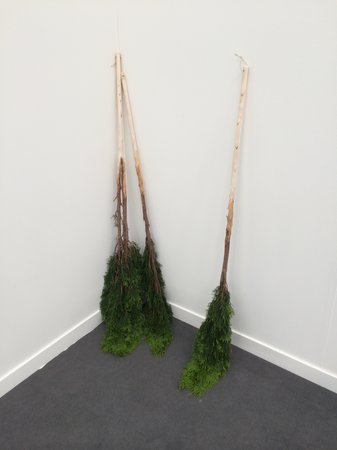 Works by Abbas Akhavan in The Third Line's Frieze booth
She attributes some of the gallery's success to their ability to weather both the Dubai art boom of 2007 as well as the economic downturn that followed, building their brand along the way through rigorous programing and various educational endeavors to warm would-be collectors up to the idea of making an investment in art. "The collectors just weren't seasoned" when the gallery started, she recalls.
Back then, collectors and their artists of choice tended to break down by national lines, with Iranians going for Iranians and Emiratis for Emiratis, and so on. Now, 10 years out, Rahbar says there's less explaining to do as her client's interests have grown to include other Middle Easterners as well as a smattering of Western artists—a trend that seems in-step with the large-scale investments in cultural institutions in the UAE including the long-troubled Guggenheim Abu Dhabi. 
But while the gallery's name is now widely known to Western collectors—the gallery has participation in elite fairs like Frieze London since 2008—sales in the West proved slower in coming. "It's sad to say," says Rahbar, "but it took time to validate ourselves." Now, she feels, The Third Line is more fully coming into its own in this new context, a state of affairs that means nothing less than more original, high-quality art for the international community to chew on.