Returning this year as the somewhat subdued Stateside foil to its more rambunctious, vanguard-scanning sister fair across the pond, Frieze New York excells in its more conservative showcases, with paintings and sculpture carrying the day—and video and other "curatorial" prestige elements less in evidence. Here are a few of the highlights we found on Randall's Island.
DAVID WOJNAROWICZ
Untitled (Burning Boy Installation) (1985)
P.P.O.W. (New York)
$1.25 million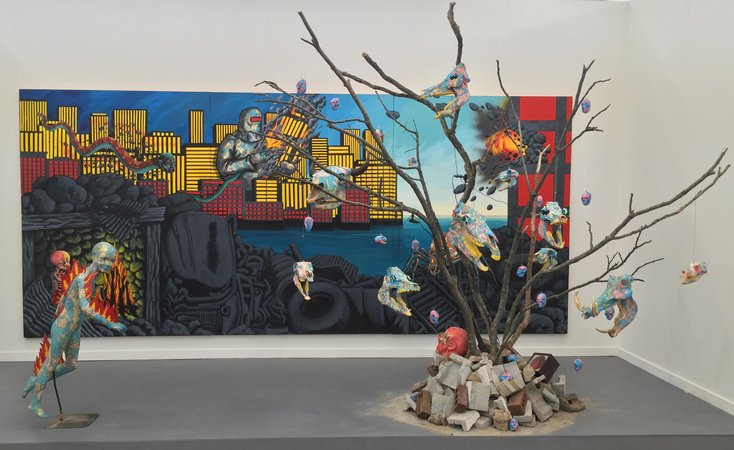 In 1985, the Goldman Sachs block-trading pioneer (and future dealer) Robert Mnuchin commissioned David Wojnarowicz to create a site-specific piece to grace the basement of their Madison Avenue townhouse, and what the artist came up with was totally outrageous. As a backdrop, a colossal painting of an asbestos-suited figure fleeing a burning Manhattan while being pursued by a human-headed snake, making its way to a garbage strewn New Jersey where a skeleton lies in wait with a gun; in front, a life-size sculpture of a map-skinned boy with flames sprouting from his body races toward a tree hung with animal skulls and a severed head.
Partly based on the Mayan genesis story of Popol Vuh, and conjuring both the violence of 1980s New York and the legacy of the Vietnam War, this piece hasn't been seen for nearly a decade and is the only of Wojnarowicz's installations left intact. "Anyone who would buy this would most likely be a worthy collector," says the gallery's Wendy Olsoff.
GHADA AMER
Shivering (2015)
Cheim & Read (New York)
$90,000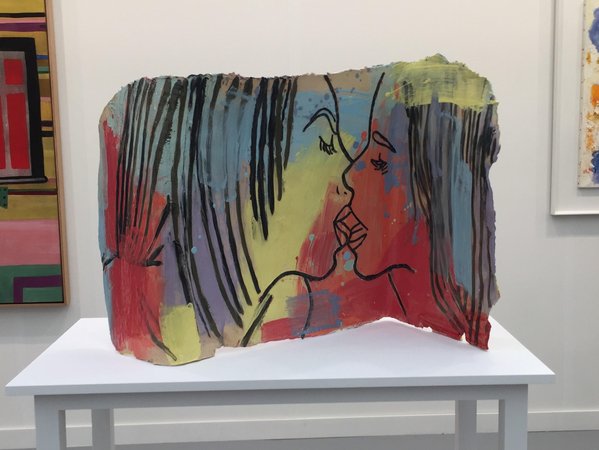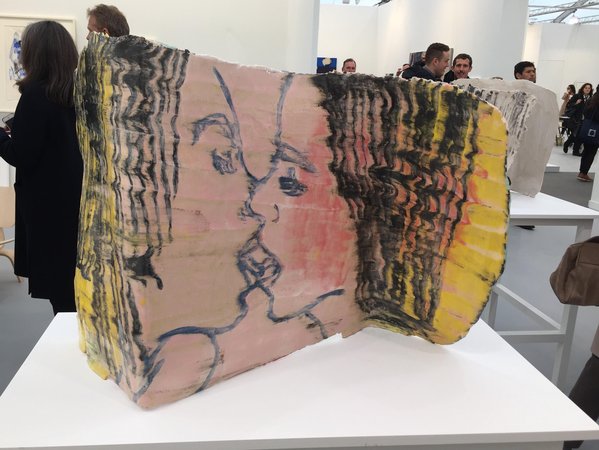 Known for her flagrantly erotic stitched paintings of women in all manner of passionate configurations, Ghada Amer turned a new page last fall when she debuted a trailblazing series of ceramic works at the inaugural show of Leila Heller's Dubai gallery. Trading the freighted history of one distaff craft tradition for another, these two-sided fired pieces pulse with vibrant colors in AbEx abandon together with the artist's pleasure-seeking protagonists, locked all the more clearly in their embraces.
WANDA CZEKLOWSKA
Head (1964)
Broadway 1602 (New York)
Sculptures and drawings range from $10,000 to about $55,000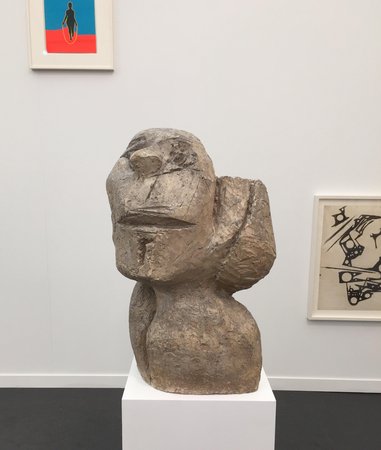 Last September, when Broadway 1602's Anke Kempkes traveled to Warsaw after curating a presentation of the artist Rosemarie Cartoro's SoHo studio, the Warsaw scholar Ewa Opalka approached her and said she were building a foundation in the honor of another artist, Wanda Czeklowska, who was akin to Castoro. The dealer investigated further and discovered that the Polish artist, born in 1930, had been a friend of Alina Szapocznikow—a major artist for the gallery—in the '60s and was still alive and working on a series of extraordinary neo-primativist head sculptures that she had begun decades earlier, and which had become larger and more abstract over time.
Now "a very sharp and elegant old lady," says Kempkes, if somewhat of a recluse, Czeklowska will have a major retrospective in Warsaw this November, to be followed by a solo show at Broadway 1602 (which is inaugurating its second Harlem gallery this week) in New York.
HENRY TAYLOR
Untitled (Elan With Phone) (2015)
Blum & Poe (Los Angeles)
Around $40,000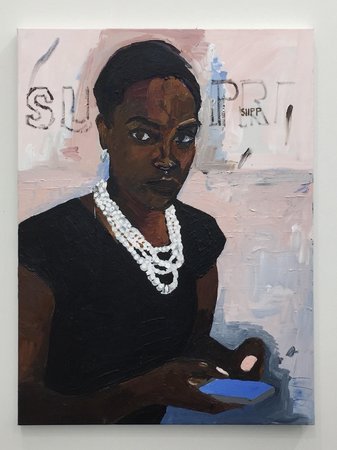 A preternaturally gifted painter whose continually surprising, psychologically attuned portraits (he worked as an aide in a mental clinic for years) are still only beginning to get their due, Henry Taylor often captures a sitter's character in unfussy-seeming brushstrokes. Here, in this portrait of a poised, sophisticated woman on her iPhone, he matches his style to the sitter's polish—and the result immediately calls to mind Manet.
THEA DJORDJADZE
Tickle the Sketch (2012)
Sprüth Magers (Berlin)
€55,000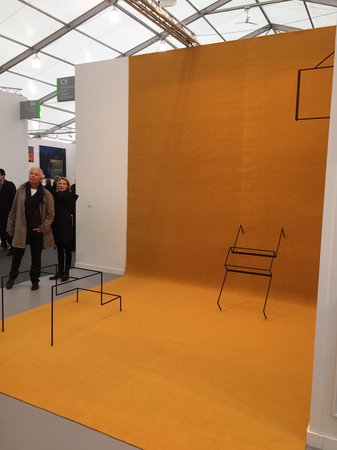 A terrific sculptor whose best work resembles quick, incomplete sketches of furniture drawn in space, Thea Djordjadze implies domestic settings that have been abstracted, and set somehow askew. Here, she uses a rug—a frequent element of her older work—to flatten distinctions between the wall and the floor, creating a ghostly space that seems to be trapped in between different dimensions.
DEREK JARMAN
Blind August (1993)
Wilkinson (London)
£55,000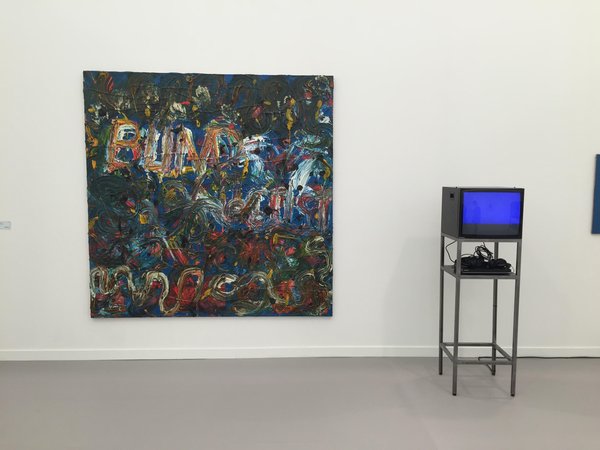 The late filmmaker Derek Jarman became an underground hero for such visually ravishing movies as his 1986 Caravaggio, and throughout his life he was also a committed painter himself, scratching out large, raw, confessional canvases that brimmed with emotion. Blue, in particular, was a touchstone for him, and he claimed Derek Jarman Blue as his own proprietary hue in the mode of International Klein Blue, using it in both his paintings and his video work, such as his 1993 video Blue (which is just that color on a screen for 79 minutes).
This painting, shown alongside Blue and from the same year, is from the heartbreaking "Blind August" series, which Jarman began as he started to go blind from complexities related to the AIDS that would eventually kill him. Extraordinarily vital, the canvas seems as fresh and vivid as its copious paint, which seems to have hardly dried.
STEWART UOO
Galerie Buchholz (Berlin)
Don't Touch Me and Moving to L.A. (both 2016)
$25,000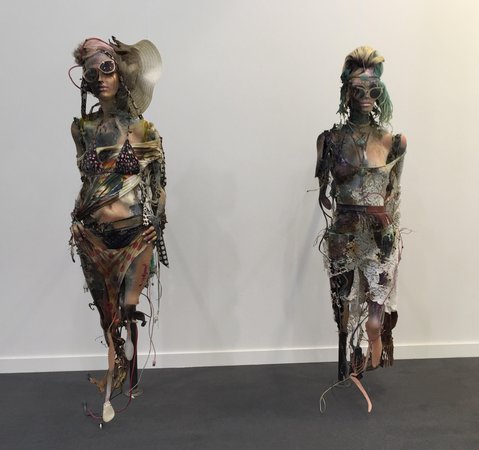 Just announced as part of next month's DIS-curated Berlin Biennial, Stewart Uoo burst onto the New York scene with his 2013 Whitney show alongside the painter Jana Euler and then again this year with his turn in MoMA PS1's Greater New York. Here, his signature dystopian figures appear to have attended a particularly misbegotten edition of Coachella set in Pompeii—either that, or perhaps Thelma and Louise have crawled out of their car at the bottom of the canyon as zombies. Either way, these sculptures are distressingly "now," and they both sold at the fair, with one headed eventually to a museum.
ANDY WARHOL
Tuna Fish Disaster (1963)
Craig F. Starr Gallery (New York)
$3 million to $4 million range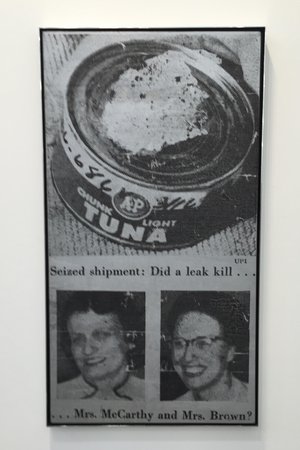 Warhol's "Death and Disaster" series is perhaps his most important body of work—after all, the "Jackies" and "Marilyns" can be counted in its ranks, since those portraits were painted after the women became inextricably associated with tragic demise. Unlike the famous car crashes and electric chairs, however, the so-called Tuna Fish Disaster is an odd little outlier. Inspired by a Newsweek story of two mothers who shared tinned-tuna sandwiches while their children played and died shortly thereafter from the tainted fish, the silkscreened painting finds peril in the most unexpected, commonplace site imaginable: the friendly can, symbol of American convenience and optimism, arch-consumer product, and Pop talisman. Consider this the dark inverse of the Campbell's Soup paintings.
LISA YUSKAVAGE
Spectral (2016)
David Zwirner Gallery (New York)
$900,000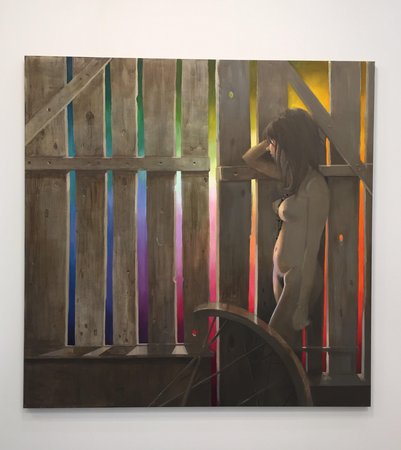 Lisa Yuskavage's paintings of gargantuan-breasted women posing is various stages of come-hitherness or voyeur-enticing vulnerability are not for everyone, but her mastery as a painter is indisputable—a fact reaffirmed by the new suite of paintings that she made expressly for David Zwirner's booth at the fair. This canvas began its life as a meticulous recreation of Johannes Itten's color wheel (which she did herself; she outsources none of her painting to assistants), which she then overlaid with an uncharacteristically sweet and wistful portrayal of a believably proportioned naked woman gazing out through the slats of a barn, a bucolic scene with a lovely sense of interiority. All of these new paintings sold very quickly, this one to Shanghai's Long Museum, which will include it in a show of women artists
in July.
SAM LEWITT
A Weak Local (Belong Anywhere – Trace Revision 1B) (2016)
Miguel Abreu (New York)
$35,000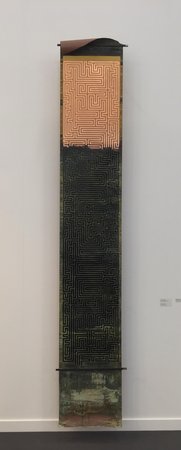 Having made a literal splash in the 2012 Whitney Biennial with a riveting puddle of black mystery fluid, magnets, and fans that seemed to take on a life of its own, Sam Lewitt continues to make work that explores the material realities that undergird our digital lives. Here, he took the copper and lead used to create the circuit boards in cameras to spell out "Belong Anywhere"—the slogan of Airbnb—by using an algorithm that calculated the most efficient way to use those letters to take up the span of the work.
Airbnb, in fact, is a preoccupation of the artist's—he previously rented a Chelsea apartment through the service for an installation of his piece More Heat Than Light, which rewires lightbulbs to heat sources rather than electricity. It all goes back to Vitruvius, who in his De Rerum Architectura celebrated the hearth as the center of the household—a gathering place that in our distributed world has changed meaning entirely.