This year was the 50th anniversary of Art Cologne, the world's most venerable contemporary art fair, and the dealers here chose to celebrate by upholding the event's famously rigorous standards—presenting, in other words, satisfying art of high standards and low flash value (with a few exceptions). It has suited the buttoned-down collectors who mass in this old German city so far, to be sure. Here are a few of the standout finds from the fair.
ALEX KATZ
Sandra 2 (1986)
Galerie Thaddaeus Ropac (Paris)
€400,000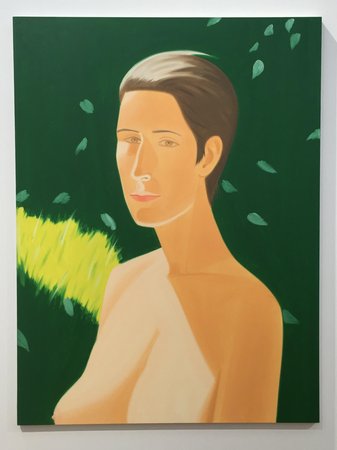 A master of the Platonically spare portrait, Alex Katz never painted many nudes, so to encounter this verdant canvas he made of a friend au natural in the wooded environs of Lincolnville, Maine, was a treat. Simultaneously lush, tender, and somewhat imposing, this painting was acquired from the artist himself three or four years ago "for a good price," according to a dealer, implying that bargain was being passed on to the fair's admirably cost-conscious collectors. 
BRIAN MAGUIRE
Police Graduation (Juarez) (2014)
Kerlin Gallery (Dublin)
€85,000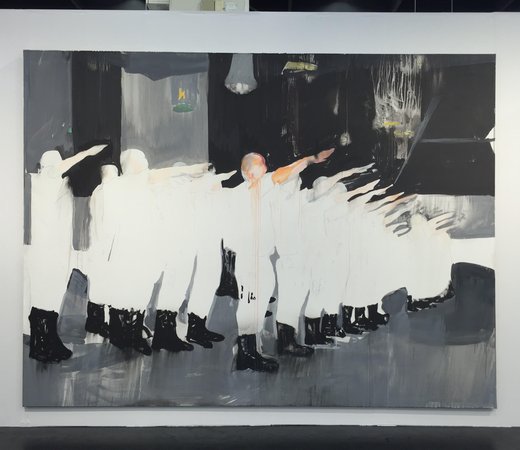 This provocative painting is not what it seems. An Irish artist who began making work during the Troubles, Brian Maguire later radiated his socially conscious art outward to other flash points around the globe—a working mode that brought him a few years ago to Ciudad Juarez, the notorious murder capital of Mexico. 
Drawn by the horrific unsolved mass killings of women in the area, whose bodies are left along the roadside, Maguire initially set out to paint portraits of the victims but soon became interested in the systematic corruption of the region's government and decided to embed himself with the newspaper El Norte. This history painting recreates an image he found in the paper's photo archives, of a graduation ceremony for Juarez police recruits. 
Such a painting, recalling the notorious Hitler salute in the midst of Germany, caused a stir among collectors. "They've been taken aback," said a dealer at the booth. "Especially with the older people, whose parents were either killed by the Nazis or were on the other side of things, you really need to step in quickly and explain." Tensions were particularly high in Cologne during the fair, as the trial of a Neo Nazi who stabbed the city's mayor, Henriette Reker, in the neck with a hunting knife had just begun.
CHRISTO
Wrapped The Art Newspaper (2015)
Carolina Nitsch (New York)
$18,000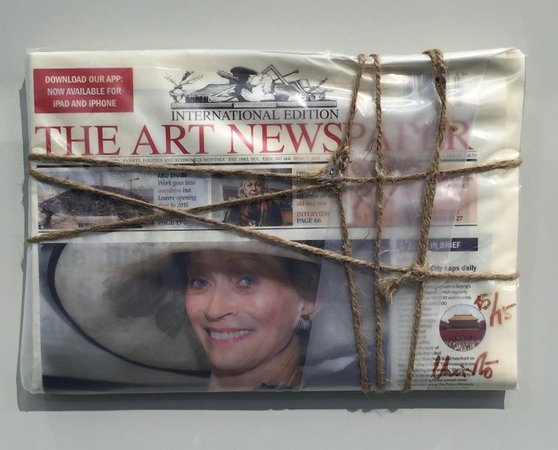 It's a piece to warm any art journalist's heart. Last year, when he was charged with creating a special edition to support the Whitney Museum, Christo wittily decided to take a copy of the Art Newspaper with the institution's great patron Melva Bucksbaum on the cover and subject it to his signature wrapping process. Sadly, before the edition could be released, Bucksbaum passed away—leading the piece to be removed from circulation due to issues of taste. Now that some time has passed, however, Carolina Nitsch has begun offering the piece (in an edition of 15), with proceeds to benefit the Whitney.
JUERGEN TELLER
Photograph of Kim Kardashian (2015)
Contemporary Fine Arts (Berlin)
€53,000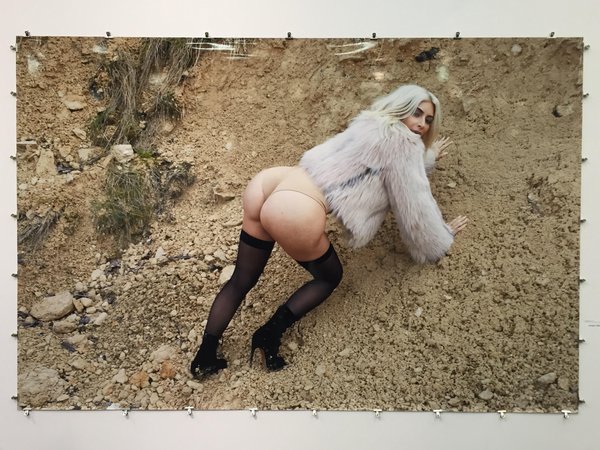 Last spring a freshly detoxed and fit Juergen Teller took Kim Kardashian and Kanye West on a jaunt out to the Renaissance-style Château d'Ambleville in France for a photoshoot, evidently seeing the setting as a fitting demesne for our funhouse-mirror versions of Marie Antoinette and the Sun King (or Catherine the Great and Ludwig of Bavaria?). However, instead of photographing them in the grand castle itself, Teller led Kardashian to a mound of dirt on the construction site on the property, where here she presents her world-conquering asset while wearing a curious mix of beige granny underwear, wrinkled tights, and a fur. 
On display in a large-format edition, the photograph provided a rare selfie moment at the reserved, intellectual fair—allowing this print, which had to be stapled up in the hanging and will be destroyed as an exhibition copy after the weekend, to survive on Instagram.
WOLFGANG TILLMANS
Isa Mona Lisa (1999)
David Zwirner (New York)
$80,000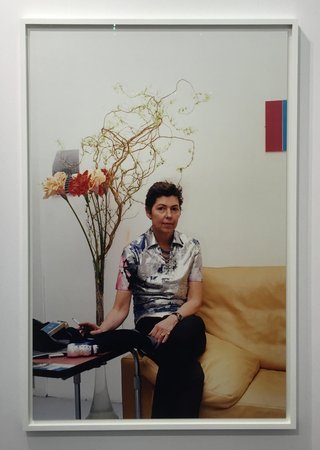 Isa Genzken and Wolfgang Tillmans are friends with a lot in common: both are among German's greatest living artists, both live in Berlin, and both are represented by David Zwirner. Their simpatico runs so deep, in fact, that when Tillmans had his debut show at the gallery last fall he insisted that Genzken have a parallel solo show at the same time. In this photo from 1999, their affinities produce a duet, with Genzken's aesthetic conveyed by her flashy shirt and the banal industrial side table, while the snaking flora in the vase and the taped-up photograph in the background are pure Tillmans.
GERHARD RICHTER
Yusuf (2009)
Schönewald (Düsseldorf)
€2.2 million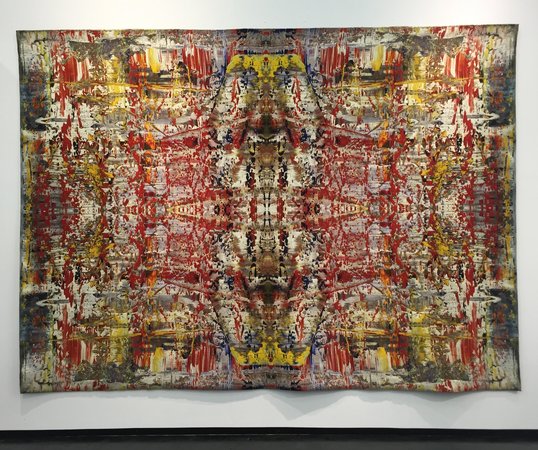 Artists from Rafael to Rubens to Chuck Close have had their paintings transliterated by the masterful looms of Flanders, so why not Gerhard Richter too? This lavish stunner arises from a series of four tapestries (with eight editions of each) that the painter had made from his 1990s canvases, and he gave each of them Arabic names in a nod to what he deemed the magicalness of their carpetry. 
ATELIER VAN LIESHOUT
Tribal Drill (2014)
Galerie Krinzinger (Vienna)
€65,000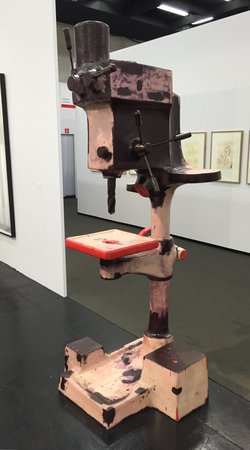 The multi-talented collective Atelier van Lieshout was founded by the maniacal Dutchman Joep van Lieshout in 1995 as a joint design, architecture, and art "firm," and the kinds of projects they undertake span everything from public sculpture to their ongoing "Tribal Labyrinth" series, in which they create monument statues of manufacturing tools as if they were the totemic idols of a self-reliant society. Sometimes these tools are imaginary, like an invented machine that you can put old unusable food into and convert in to fresh, new food; other times they are more realistic, like this hypertrophic drill rendered in fiberglass, which is meant to stand for productive labor in the same way that a statue of Athena stands for wisdom. 
EMMA TALBOT
Let's Spend the Night Together (2016)
Petra Rinck Galerie (Düsseldorf)
€15,000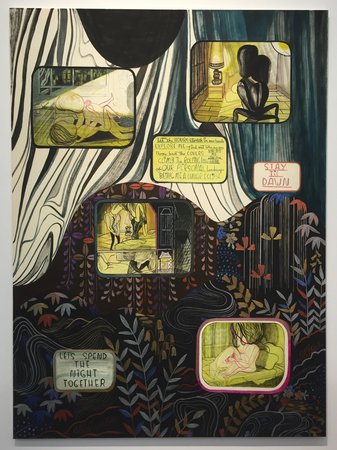 The young London artist Emma Talbot, a diamond in the rough on the Saatchi website, sources intimate memories from people she knows and weaves them into dreamlike paintings, where faceless figures enacting the psychologically laden acts are woven together by an intricate background meant to suggest a neural landscape. In this painting, the figures are caught pre-, intra-, and post-coitus, in a dreamscape worth of Freud—which is fitting, because the artist is currently exhibiting in London's Freud Museum.
ANDREA BOWERS
Radical Feminist Pirate Ship Tree Sitting Platform (2013)
Capitain Petzel (Berlin)
$85,000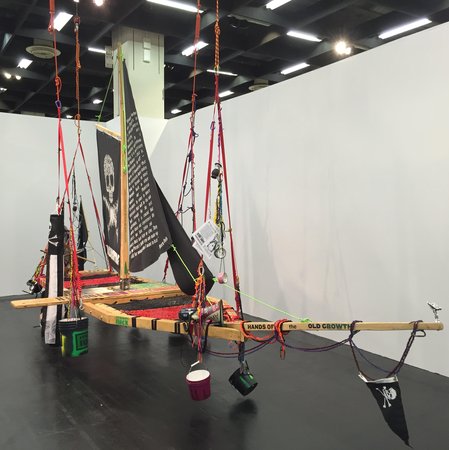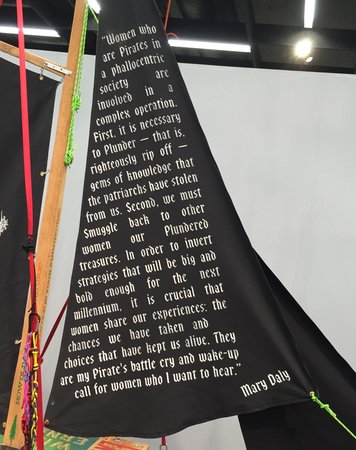 A few years ago, the Los Angeles-based environmentalist and feminist artist Andrea Bowers asked one of her studio assistants, a fellow member of a tree-sitting group, what kind of sculpture they should make as a symbol for their cause, the assistant replied: a pirate ship. She was furious. "How could you come up with such a bullshit idea—a boy's toy?" she thundered. But then she remembered radical feminist lesbian philosopher Mary Daly, who once wrote that, "Women who are pirates in a phallocentric society are involved in a complex operation. First it is necessary to plunder—that is, righteously rip off—gems of knowledge that the patriarchy have stolen from us. Second we must smuggle back to other women our plundered treasures."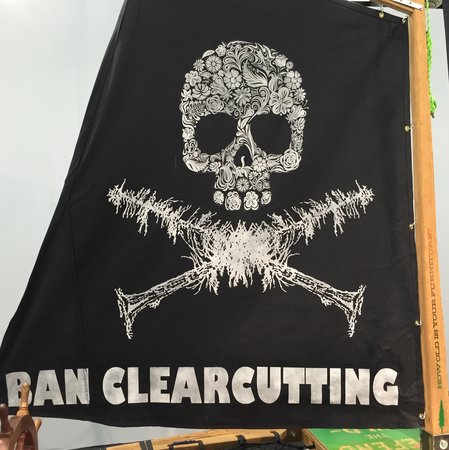 So, she decided to build a tree-sitting platform in the mold of a pirate ship—but to make it a feminist pirate ship rigged with the emblemata of the anti-clear-cutting cause, from a bullhorn to Earth First pamphlets and books to decals bearing the slogans of the movement, like, "Our kind live in forests." The piece was made to be functional, meaning that it could be hoisted high into the branches of at-risk trees so that activists can encamp there until the police drag them down with cranes, an experience Bowers has participated in several times.
Debuted at Capitain Petzel's spacious Berlin gallery in 2013, the ship is an overwhelming masterpiece of engaged art, and sold at the fair to a major German private collection, with its eventual destination being a public museum.
FRANÇOIS MORELLET
Contresens nºl (2014)
A Arte Invernizzi (Milan)
€68,000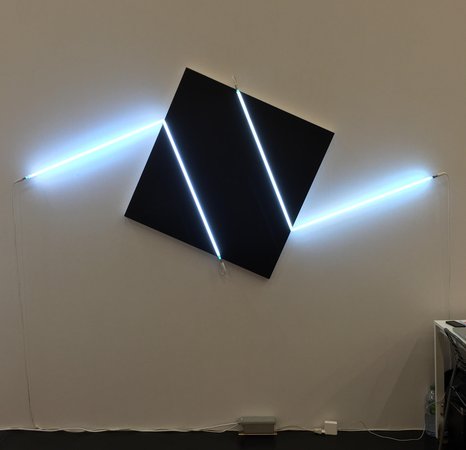 A founder of the 1960s French art group GRAV (or Groupe de Recherche d'Art Visuel) alongside such artists as Julio Le Park and Vera Molnar, François Morellet began making his signature neon pieces in 1963 as a way to deconstruct the traditional painting, breaking apart its geometric components an reforming them with angled bars of light. Turning 90 years old this weekend, he is a strikingly appealing artist, and the paragon of a movement that waits in the wings to be rediscovered as France's answer to the oh-so-in-demand Zero Group.