It's a brave move for a dealer making her New York fair debut, in the Armory Show no less, to fill her booth with video art. After all, video demands more time from the already distracted collectors at this mega-fair and is generally a tougher sell. But Nairobi's Circle Art Agency, in the Armory "Focus" section of galleries from Africa, has a confidence that comes from founder Danda Jaroljmek's two decades in the world of African art—first with nonprofit organizations such as the Nairobi artists' studio network Kuona Trust and then as an impresario of pop-up shows and auctions.
Jaroljmek founded Circle in 2012 "to focus on building local collections," she says, "because that hadn't been done before." Although she stages exhibitions at her gallery in Nairobi, auctions remain a substantial part of her business and a way of bringing art from other African countries—Tanzania, Uganda, Ethiopia and Sudan—to the attention of collectors in the booming Kenyan capital.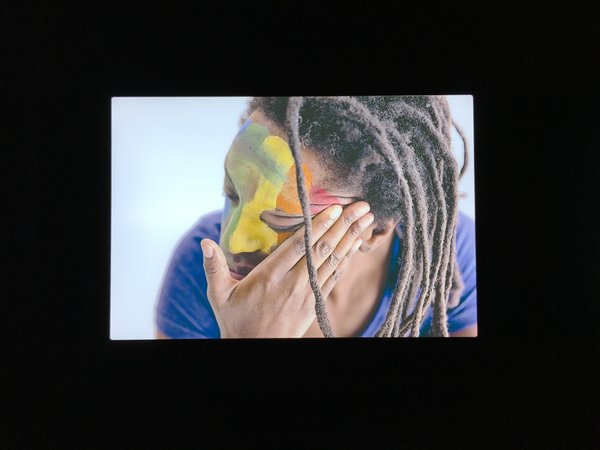 Stills from Ato Malinda's video/performance Representation, 2011

For the Armory, the agency's first-ever United States fair, Jaroljmek has staged a powerful solo exhibition of the LGBTQ Kenyan video and performance artist Ato Malinda, who was on hand at the VIP preview; among her works is a series of light-box photographs that show her wearing makeup in the pattern of the rainbow flag and then wiping it off, so as to question, in her words, "whether the flag is a coherent representation for a black lesbian in Kenya."
Also in the booth are two entrancing videos that find Malinda re-interpreting episodes and characters from African history and culture, with careful attention to colonialist misreadings—appearing in the guise of the ancient water spirit Mami Wata, in one piece, and as an imprisoned freedom-fighter, in another. 
Soon after the Armory, Circle will be going on to Art Dubai. The Emirates, Jaroljmek says, are a growing part of her collector base; many of the agency's clients are businesspeople with interests in East Africa who discover the region's artists in the course of their work. It seems that U.S. collectors, and curators, are not far behind; Studio Museum in Harlem director Thelma Golden was spotted at Circle's booth, chatting with artist and dealer.