One of the Armory Show's great strengths is its truly international flavor, with small-to-medium-size galleries coming out of the global woodwork to bring wares from all points on the map. That was certainly in evidence this year, when the gargantuan crowd on opening day filed through booths from Asia, Latin America, Eastern Europe, Scandinavia, and elsewhere—as well, of course, as Africa, the subject of this year's Focus section (which we at Artspace will mostly be covering elsewhere). Here are a few of the most exciting finds to reveal themselves at the fair.
NORBERT BISKY 
Koenig & Clinton (New York)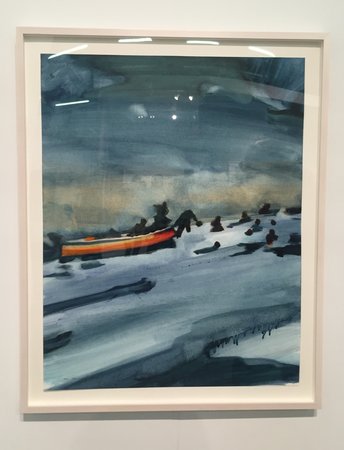 A former student of Georg Baselitz, the Berlin-based painter Norbert Bisky had built a successful career out of painting truncated bathing scenes, blue-eyed Aryan idylls, and other subtly unsettling homosocial tableaux when, on a trip to India in 2008, he found himself caught in the midst of the Mumbai terrorist attacks. Having survived the massacre, the shaken artist turned his brush to the harrowing new subject of mass human interactions that suddenly turn deadly, beginning with the 2010 stampede at Germany's Love Parade electronic festival and lately turning to the perilous migrant journeys in the waters off Northern Africa. This oil-on-paper piece ($9,700), included in a solo-booth grouping of some of his pricier pre-Mumbai work, shows refugees crossing the Strait of Gibraltar.
TOMOKO KASHIKI
Ota Fine Arts (Tokyo)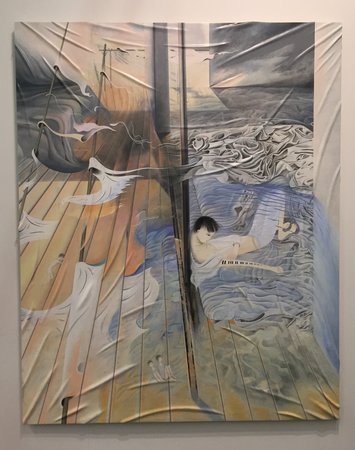 The 34-year-old Kyoto-based painter Tomoko Kashiki paints fantastical scenes that flutter to the surface of her imagination, like tantalizing snapshots of a much longer dream. This painting ($40,000), part of her solo presentation at the fair, includes a fanciful recurring motif of hers: the arm inlaid with piano keys, which here is being played by a nonchalantly doomed mariner. Those sail-like wrinkles in the painting's surface are no mere trompe-l'oeil effect—Kashiki made them by building up, sanding down, and again building up pure acrylic on the canvas. Included in the Japan Society's acclaimed 2011 survey "Bye, Bye Kitty!!!," she'll have a solo turn at Kanazawa's 21st Century Museum of Contemporary Art this fall.
NAMSA LEUBA
Echo Art (Lagos)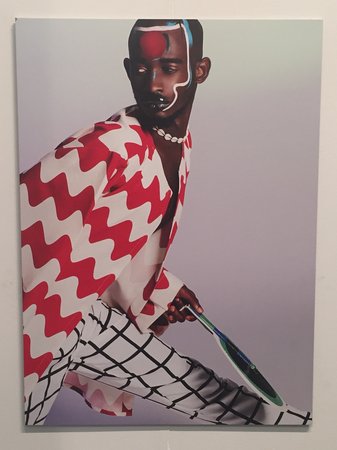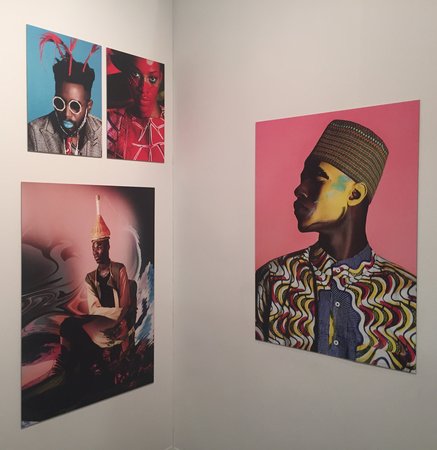 The Lausanne-based Guinean-Swiss artist Naumsa Leuba first picked up photography to explore her African heritage, traveling to her mother's native Guinea to capture its denizens in traditional ritual dress—a project that required some persuasive dialogue with her subjects, who initially saw it as a sacrilege. Deeply informed by the idiom of fashion photography (she shoots for magazines like I-D, Interview, and Foam), Leuba recently traveled to Nigeria to produce this series called "NGL"—standing for "New Generation Lagos"—to capture the sensational mix of tradition and futurism being embraced by that city's youth. These vibrant images are on offer for around $5,000. 
DAVID REED
Peter Blum (New York)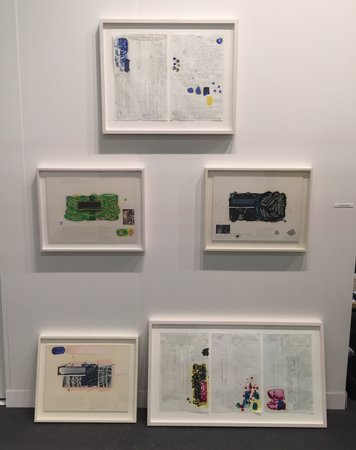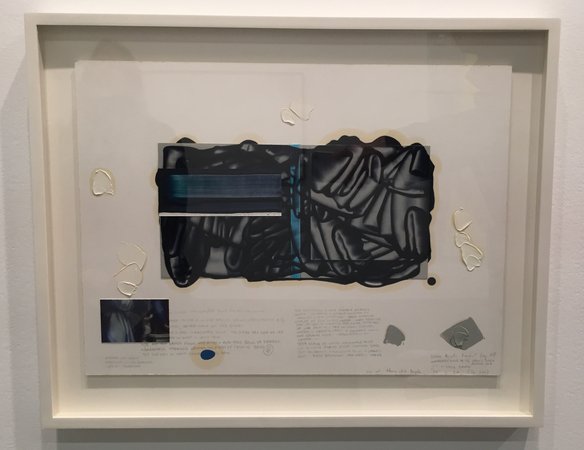 Spotting the critic Peter Schjeldahl poring over this suite of works by David Reed at Peter Blum occasioned a closer look, and what a discovery they were. An abstract painter lauded for his long, complex compositions of swirling paint, Reed lays down the oils only after creating four or five elaborate studies on paper to work out his ideas, mixing in clipped-out details of famous paintings, color tests, near-architectural schematics, and diaristic jottings of interior conversations ("Yesterday I saw Kenneth Noland's Wotan (96) from the Onnasch Collection at Hauser & Wirth in Chelsea—cross structure overlap of blue on red center—light from the canvas coming through the color in the rest of the painting. —This is unusual, perhaps unique in Noland's work."). Who knew? The works on paper are between $7,000 and $10,000 apiece.
AGNIESZKA KURANT
Galerie Fortes Vilaça (São Paulo)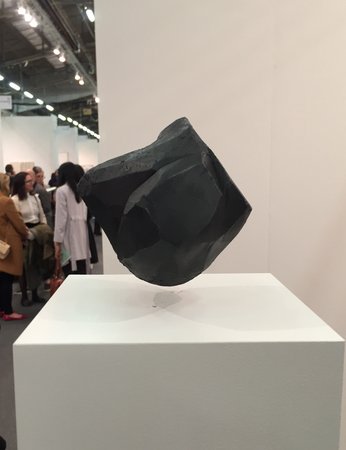 One doesn't always expect to see a piece of alien technology trotted out at an art fair, and this levitating meteorite at Fortes Vilaça caused no shortage of gawking stares and photo-ops. Turns out it's actually just a witty sculpture by young Polish art darling Agnieszka Kurant, who has been making these magnetically floating marvels as a commentary on that oddest fact of urban real estate, air rights. Shell out $14,000 for this work, and what you're really buying is the little gap of air under the hovering rock.
SEBASTIAN FIERRO
Instituto de Visión (Bogota)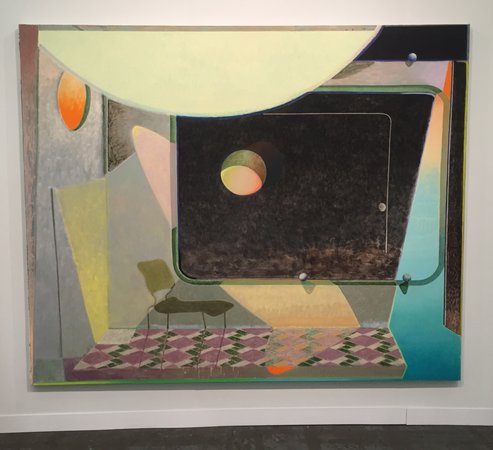 Only 28 and just graduated from the Hunter MFA program this January, the Colombian artist Sebastian Fierro started out as a landscape painter but then found his interest gravitating more to psychological landscapes, leading him to compose Surrealism-indebted settings where the boundary between interior and exterior becomes blurred and fluid. Now Fierro haunts the museums of New York, seeking inspiration from classics of the painterly tradition, and collectors hunger for the results—his demand has skyrocketed since Deutsche Bank bought his work at Liste last year. This $10,000 piece from his MFA show is one of only two paintings available. 
CAMILLE HENROT
König Galerie (Berlin)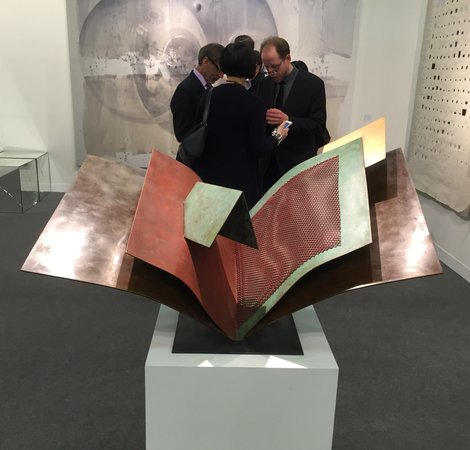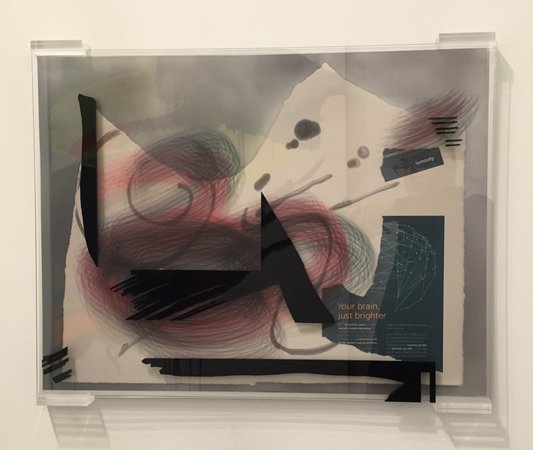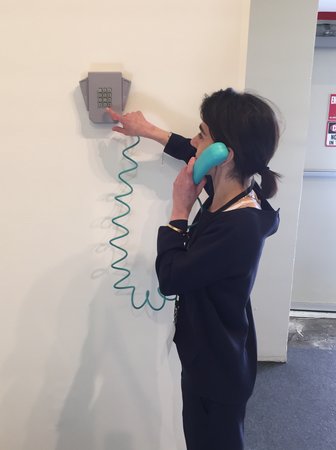 Camille Henrot is one of those artists whose careers are just a pleasure to watch, as with a tennis player who develops an unexpectedly powerful serve at a young age and then goes on to win match after match. At König Galerie, she had a bronze book sculpture from her Chisenhale installation related to Grosse Fatigue (a.k.a. her killer serve), a UV print dancing around the subject of the human brain, and, most fun of all, a telephone complaint line. When you pick up the receiver, a recording begins: "For complaints about how things are in general, press 1.... Press sterling pound if you would like to complain that people are morons. Press 4 if people are evil." The book, Amoeba, was €42,000; the phone $44,000; and the print $12,000.
THOMAS BAYRLE & BETTY WOODMAN
Galerie Francesca Pia (Zürich)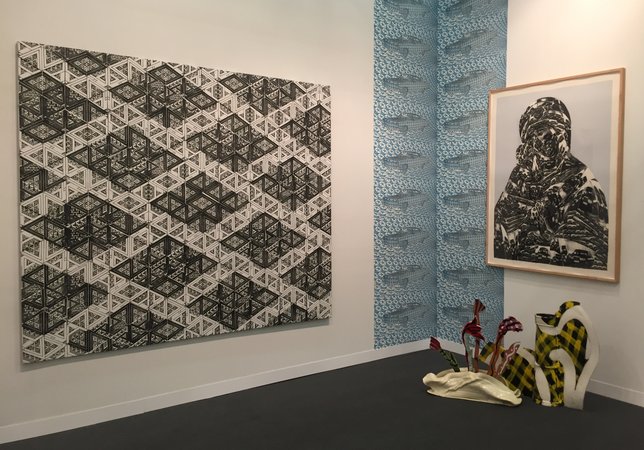 Respectively 79 and 86 years old, Thomas Bayrle and Betty Woodman are an inspired match at Galerie Francesca Pia, where the longtime Staedelschule professor Bayrle's Magic Eye-esque wallpaper, Madonna print, and a painting are paired with two of the sculptor Woodman's recent ceramics. Since Bayrle works in the vein of industrial design gone mad and Woodman's fired pieces elevate pottery to the level of fine art, the two find excellent company in each other's embrace of exquisite craft. The painting is $130,000, the prints and wallpaper in the mid $20,000 range, and the pots are $25,000 and $50,000 apiece.
JOSÉ VERA MATOS
Document Art Gallery (Buenos Aires)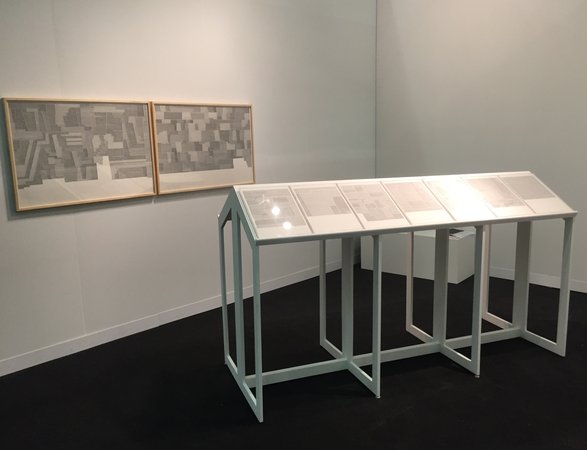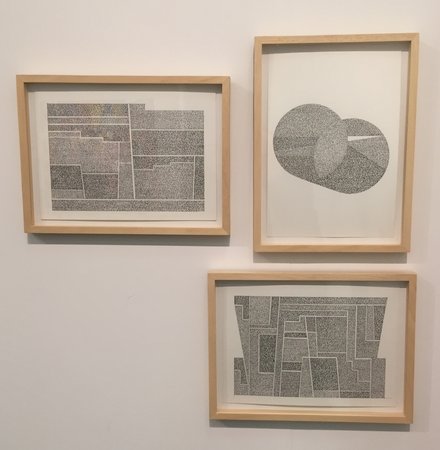 The 35-year-old Lima-based artist José Vera Matos delves into the history of his native Peru via literature. He takes books by major Peruvian thinkers and transcribes their pages into drawings, using the chunks of text to build compositions inspired by the zodiac and Incan stone walls. The resulting pieces are not really readable—the works in his solo booth at the fair, based on the first comprehensive book of Peruvian history, scrambled the contents into a scarcely traceable jumble—but, like Blowup author Julio Cortázar, he's more interested in reinterpreting the book's format, rather than its contents. Matos is quickly on the rise in the Peruvian art scene, with the highly influential collector Estrellita Brodsky (who underwrites curator posts at MoMA, the Met, and Tate) already in his corner, and here the installation is $22,000; the triptych is $6,000.

KIRSTINE ROEPSTORFF
Andersen's Contemporary (Copenhagen)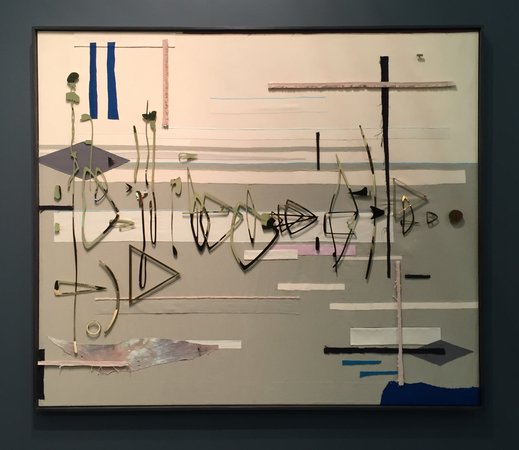 Word circulated excitedly during the opening day about Kirstine Roepstorff's small, tight solo presentation, which introduces American audiences to an artist who is already a hero of sorts in her native Denmark, in the same league as Ólafur Elíasson. Once a maker of Feminist collages, she has taken a more elliptical direction in newer works such as these poetically esoteric melanges of fabric and metal ornamentation. Here, she muses on the duet between the unconscious and conscious states of the mind—the horizontal lines reference their divide, and the symbols dance in between as a form of musical notation. Roepstorff is next up to represent her country at the 2017 Venice Biennale, and her pieces at the fair start at €24,000.