The inaugural edition of the Code Art Fair brings a rare array of fresh international work to Copenhagen, a city whose splendiferous museums—the transportive Louisiana Museum first among them—have made its citizens particularly acute appreciators of art. The fair, with local exhibitors mixed with foreigners, has a strong, boutique sampling of many directions in play at the moment. Here are some of the standout pieces.

SOPHIE DUPONT
We Always Carry Our Body (2016)
Code Art Fair performance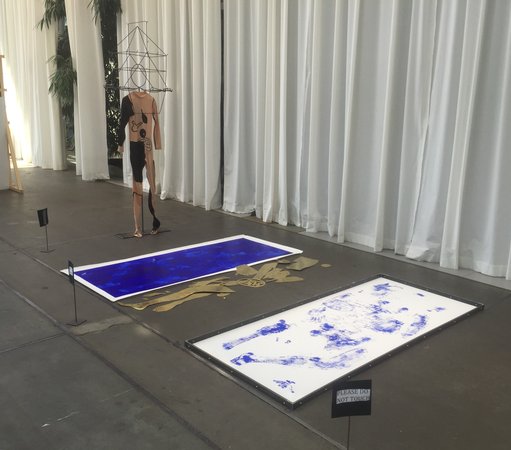 On the second day of the fair, as the autumnal sunset was streaming through the glass canopy covering the fair, the Danish performance artist walked through the fair in a skin-tight black-and-pink costume traced with the outlines of her internal organs while holding aloft a gloriously shimmering sculpture of golden body parts primed to capture the light; after the performance, the remnants and two related paintings stayed on view of the fair as traces of the event.
TOBIAS SPICHTIG
Jan Kaps (Cologne)
Untitled (2016)
6,500 CHF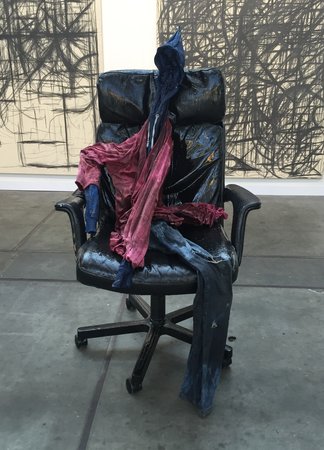 The Swiss artist Tobias Spichtig collects clothes, textiles, and bedsheets used by his friends and, coating them with resin, transforms them into ghostly avatars of his social circle—a touchibg gesture if only they didn't look as if their souls had been devoured by wraiths.
PENNACCHIO ARGENTATO
Alternate Future (2016)
Acappella Gallery (Naples)
€5,500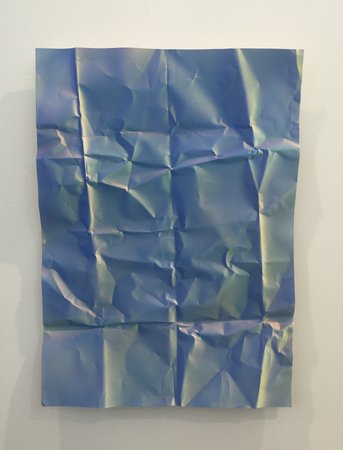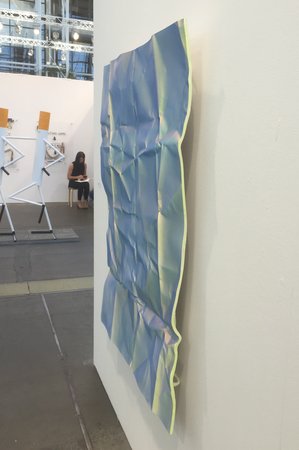 Recently nominated for Italy's Premio Cairo, the Naples-based duo Pasquale Pennacchio and Marisa Argentato employ a difficult technique that involves building armatures of epoxy resin and then performing a digital image transfer while they're still wet—with the result being a kind of double trompe l'oeil, attracting fans of Tauba Auerbach (including the Danish collector who bought this one).
LOUIS REITH
Untitled (2016)
Charlotte Fogh (Aarhus)
€875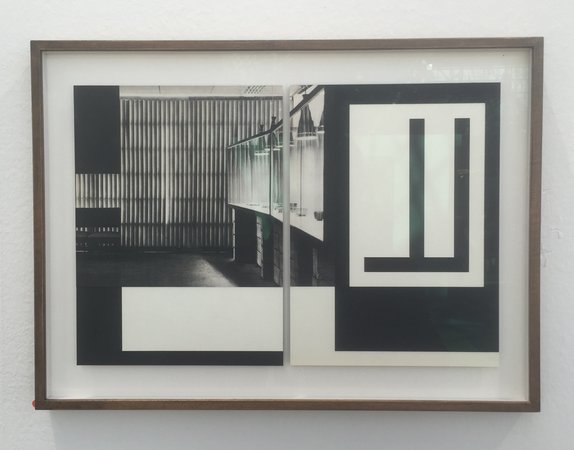 The emerging Amsterdam-based artist Louis Reith takes an ecologically minded approach to assemblage, recycling materials from books (and found frames) to create beautifully minimal works like this one that pay homage to the legacies of Bauhaus and De Stijl.
ANNA FASSHAUER
Ultraviolet (2016)
Nagel Draxler (Berlin)
€4,500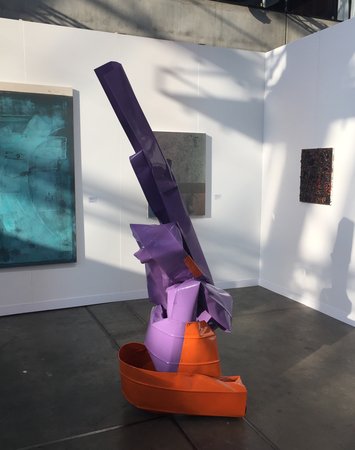 A diminutive young German sculptor who physically wrestles industrial materials into twisted shapes (she's inspired by construction-site dumpsters), Anna Fasshauer then paints her forms in brightly colored aluminum car paint—a different process from John Chamberlain's, since he worked with already-wrecked automobiles (leaving the original paint), but obviously close enough that they join that modernist narrative.
HENRIK PLENGE JAKOBSEN
Birdie (Hix Ubu) (2014)
Mikkel Carl's "Danmark" exhibition
€20,000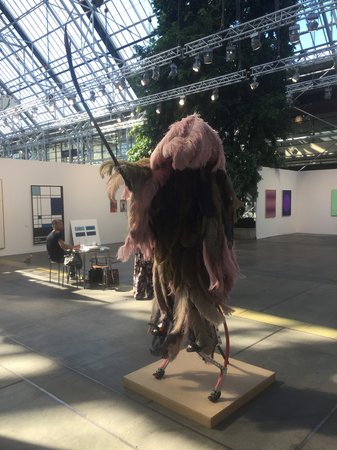 A star of the Danish art scene of the '90s, Henrik Plenge Jakobsen, gained a taste of international recognition but, like many in his generation, didn't get much support from galleries or institutions at home. That may be changing, since this ceremonial performance prop, feather-tufted like an exotic bird shaman (and wearing stilts), sold to Denmark's ARKEN Museum.
WILHELM KLOTZEK
Mocne Ballet (2014)
Galerie Tobias Naehring (Leipzig)
€12,000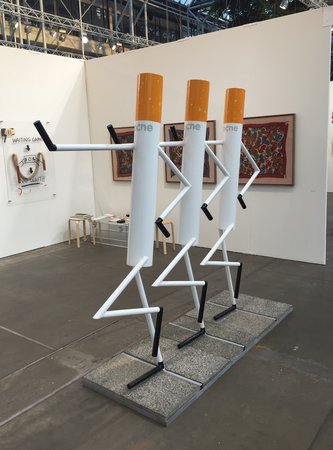 Wilhelm Klotzen has a conflicted relationship to cigarettes—he smokes them, and he lost a loved one to lung cancer—and he uses them in his work as stand-ins for human frailty and vice, building figures that enact activities that recall Germany's postwar years. This piece, bringing to fascistic life a hated brand of cigarettes associated with the bad old days, was cut down by vandals when it was shown outdoors in Berlin; it has since been repaired.
SILAS INOUE
Wolf Pack (2016)
Marie Kirkegaard Gallery (Copenhagen)
€2,150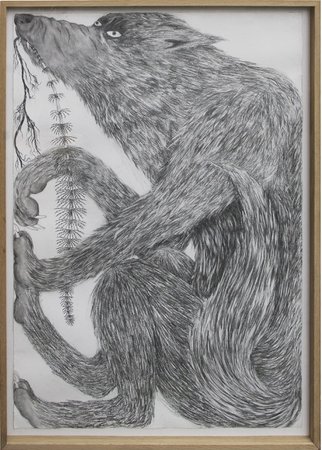 Currently featured in one of the Berlin Biennial's many online shows, the artist Silas Inoue likes to probe the ways that human culture tries to contain and render safe (or cliché) untamable nature, which he does literally in these drawings, rending wolves in a style that evokes Japanese woodcuts that are literally boxed in by their frames. (The title is a pun.)
OLIVER HUSSEIN
Slothscapes (2016)
Clages Gallery (Cologne)
€1,300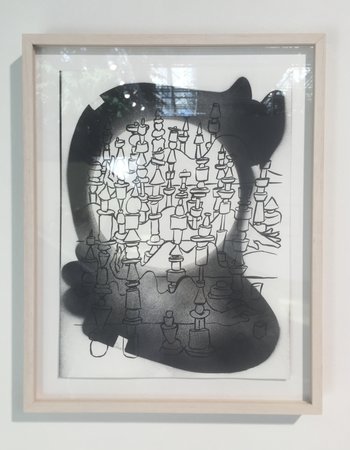 A graduate of the Staedelschule who worked alongside Sergej Jensen for some time as the performance team Da Group, the Toronto-based Oliver Hussein—like Jensen a painter primarily—has been sticking to two dimensions recently with ink-and-spray-paint drawings like this one.
[related-works-module]