This year's edition of Art Basel is, on the whole, not a place to find something you didn't already know—go to LISTE for that. Instead, it's best approached as a repository for new quirks in the accepted canon, little progressions of the art-market battleships to the left or the right. Here are some works that stood out in the vernissage, with a focus on the fair's more contemporary second floor.
ROBERT LONGO
Untitled (Wall of Ice) (2016)
Galerie Hans Mayer (Düsseldorf)
Around €400,000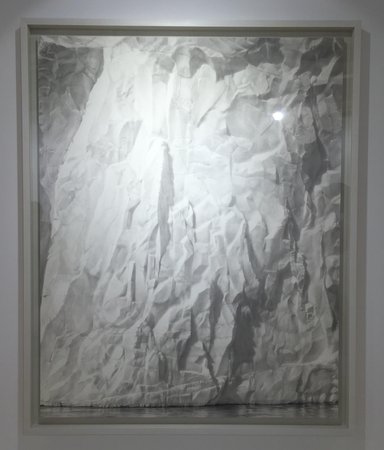 For the last decade or so, Robert Longo has been synonymous with his dark, brooding, chiaroscuro-heavy large-scale drawings of epic imagery—shark attacks, terrorist incidents, mushroom clouds—all at the point of culmination. Now, with this latest body of work, Longo seems to be stepping into the light. Inspired by a trip to Iceberg Alley in Newfoundland, these grand charcoal drawings of sheer cliffs of ice are like the photo negatives of his darker works, and also recall the photography of artists like Sebastião Salgado and Thomas Ruff. On display at Art Basel, the series was debuted at the much-in-demand artist's recent show at Thaddaeus Ropac Galerie in Paris and will be included in his upcoming show at the Garage in Moscow.
CADY NOLAND
Push Papers (1986)
Luhring Augustine (New York) 
$425,000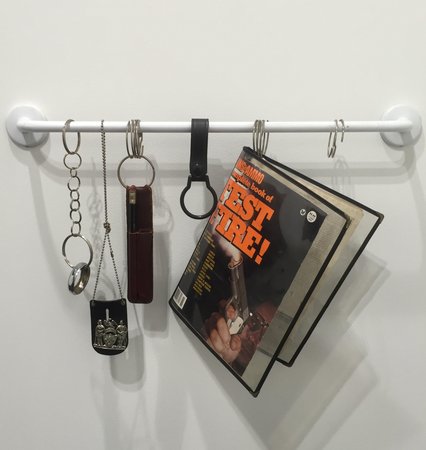 This is the moment for Cady Noland. An artist who for decades has been examining the ugly gunk on the bottom of the American Dream, Noland makes work that captures the anger, the pathos, the desperation, the violence, and above all the scary, fascistic tendencies of the country's white underclass. Look at this 1986 piece, and all the cues are there: the fetishistic tools of authority, from the badge to the cuffs to the life-altering pencil, and the copy of Guns & Ammo, with a schlubby man in glasses relishing the power of a gun on the cover and the magazine opened to an article boasting that "this highly accurate and reliable assault rifle represents real 'state-of-the-art' among military hardware." It's Trump Nation she's talking about here, 20 years ago.
DAVID HOCKNEY
Untitled No. 7 from the "Yosemite Suite" (2010)
Annely Juda Fine Art (London) 
£20,000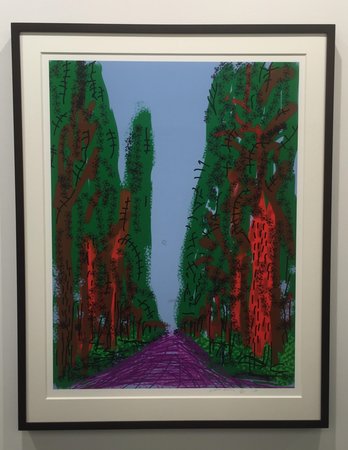 It's been three years since David Hockney debuted his iPad paintings, and it's worth savoring these marvels every time they make an appearance. Hockney is 78—a youthful 78, but still—and he stands as the paragon of a historical kind of painting, one that goes back through the Modern era to the Impressionists to Gainsborough and Corot to Rembrandt. For him to be the one to accept the iPad (and its digital ilk) as the successor of the plein-air palette has a certain symbolic heft, a bit like when Degas picked up the camera. Interestingly, Hockney started out making art on his iPhone, embracing the clumsy limits of the drawing program as not a bug but a feature, but now uses it primarily as a sketching tool while the iPad serves as his painting canvas. This series, the "Yosemite Suite," will go on view in full at Annely Juda's London space on June 28th.
CINDY SHERMAN
Untitled (2016)
Metro Pictures (New York)
$300,000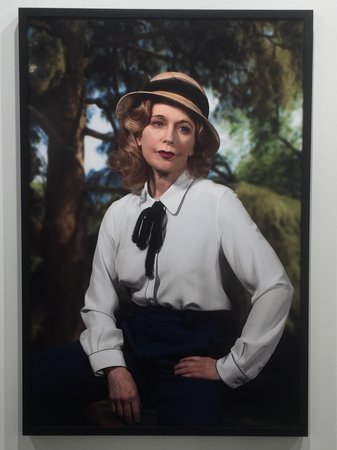 In her 2008 "Society Portraits" series, Cindy Sherman took an arch view of the artificially preserved patronesses of the upper class—a milieu she knows well from her collectors—and caught some flack for her portrayal of them as pure vessels of vanity. Too cold, too mean, too unsympathetic. Her latest series, shown in its tender glory at Art Basel, is a corrective: again portraits of women of a certain age, these lived-in portrayals are not satires but celebrations, showing beautiful women whose lined faces tell of struggles and laughter, and whose postures are not brittle but calmly self-assured. Based on publicity stills of 1920s actresses like Louise Brooks where the artist has run the age clock forward, the photographs are most telling as candid portraits of the artist herself, particularly this one set against the backdrop of Sherman's own backyard in her Long Island home.
LUZIA HÜRZELER
Self-Portriat for the Cat (2006) and Let Sleeping Dogs Lie (2016)
Galerie Gisèle Linder (Basel) 
5,500 CHF for the video, 13,000 CHF for the cat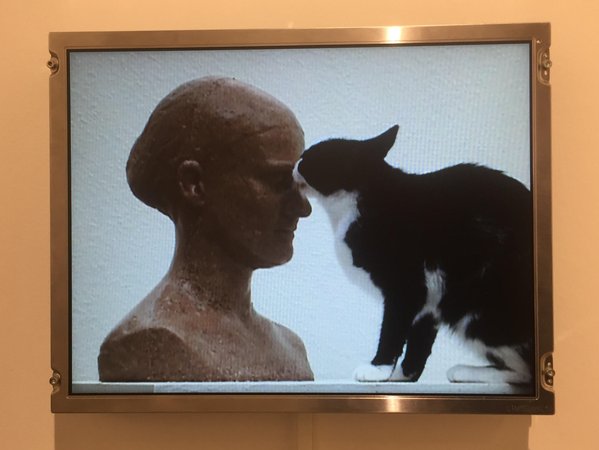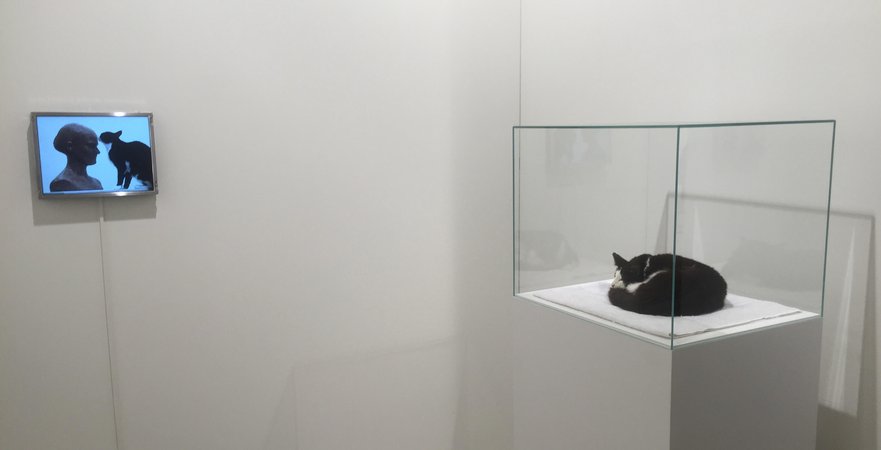 Ten years ago, the Swiss artist Luzia Hürzeler made a sculpture of her head out of cat food and filmed her cherished cat as it licked away at her face, eventually munching off her nose. She called the video—which of course suggests a more animal-involved version of Janine Antoni's 1993 Lick and Lather—Self-Portrait for the Cat, which is a double-entendre because of the German slang term where to do something "for the cat" means to do it for no good reason whatsoever. This year, the cat died, so Hürzeler had it taxidermied to display her pet at the fair next to its artistic claim to fame. The video comes in several editions, a gallerist helpfully explained, but its accompaniment "is an edition of only one, because this is the cat." Art is a many-feathered thing.
KATHRYN ANDREWS
Labor Day (2016)
David Kordansky Gallery (Los Angeles)
$75,000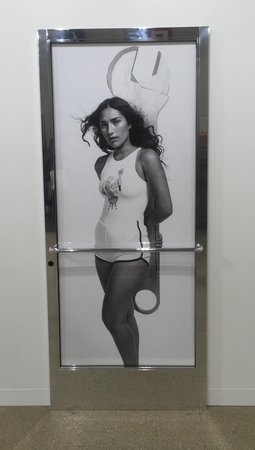 After driving again and again past billboards of provocatively posed American Apparel models hawking skimpy undergarments, the Los Angeles artist Kathryn Andrews hired the same models and took them to her studio. She gave them each garments of her own design and asked them to pose individually with oversized cardboard tools, then printed these images and displayed them underneath replicas of the front doors to American Apparel stores. The result is dripping with indignation: young women wearing ridiculously phallic cartoons while posing sexily with symbols of their own capacity as tools for Dov Charney's notoriously misogynistic corporate brainchild, imprisoned within the store's commercial setting. Eight of these ripostes were made in total, and they're far more effective than a simple angry honk on the car horn while driving past an ad.
PIERRE KLOSSOWSKI
Diane & Acteon (1990)
Cabinet (London) 
£250,000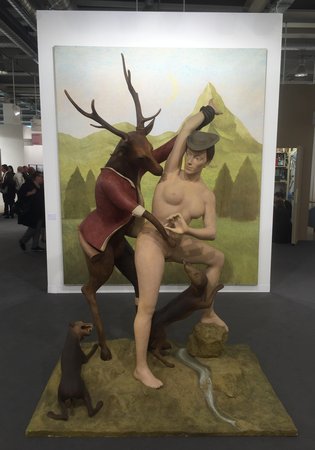 The older brother of the artist Balthus, Pierre Klossowski is known primarily as the author of such philosophical texts the La Monnaie vivante and Nietzsche and the Vicious Circle, which were major influences on the work of Foucault and Deleuze and Guattari. He was also a collaborator of Surrealist paragon George Bataille, and a lifelong draughtsman who worked out many of his literary concepts, and the themes for his fiction writing, as large-scale drawings that he would then describe in print.
Later in his life, he met a fabricator who was able to transform his art into three dimensions in resin and wood, and this monumental work—of a sculpture joined with the backdrop of a painting—brings to life a particularly twisted telling of Ovid's myth of Diana and Actaeon. Here, the rapacious hunter is becoming a stag just as he grapples for the virginal forest goddess, licking her armpit with his cervine tongue while one of his dogs licks at Diana's genitals and another bites at his ankle, preparing to devour his ensorcelled master. Taking plentiful cues from Bernini's Apollo and Daphne, the work has the psychological layers, muted palette, and relished perversity of one of the artist's brother's paintings. 
PAWEŁ ALTHAMER
Seated sculpture (2016)
neugerriemschneider (Berlin) 
Low six figures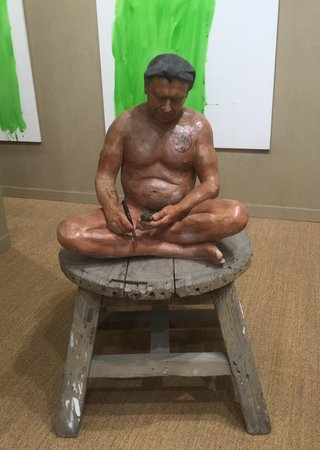 Celebrated for his gloopy Venetians installation at the 2014 Venice Biennale, featuring portraits of that island city's denizens made from extruded gray plastic, Paweł Althamer is best when he places his plausibly lifelike creations in theatrical settings, like life-sized dioramas of humanity. This sculpture arises from one of those environments, a recent installation at neugerriemschneider's Berlin gallery that placed this self-portrait of the artist—sitting cross-legged while carving a sculpture of his mother from a piece of wood—in an ancient mise-en-scène of mud, vegetation, and live birds, like some squalid, smelly patch of prehistory. Fabricated from plaster in the Pergamon Museum, which is famed for its stellar collection of antiquities from the Near East, the sculpture's ancient affect is undercut by the contemporary tattoos the artist burnt into his ersatz body.
ALLISON KATZ
Irish Cock (2016)  
The Approach (London) 
Around £19,000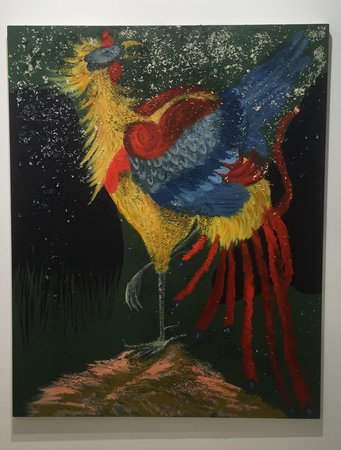 Living in London for the past several years, the American painter Allison Katz has gained an enthusiastic following among collectors, curators, and critics alike for her fresh and exuberant paintings of all manner of things, but especially for her irresistible portraits of monkeys and birds. The paintings tend to express personal themes from the artist's life, though not in an overt way, and the viewer does not need to know that Katz recently got married to appreciate this heroic, vivacious view of an Irish Cock showered with handfuls of real rice. (Previous paintings in the series have featured rice as well.) Katz will have her next solo show with The Approach in September, so watch out for it.
WADE GUYTON
Untitled (2016)
Petzel (New York)
$600,000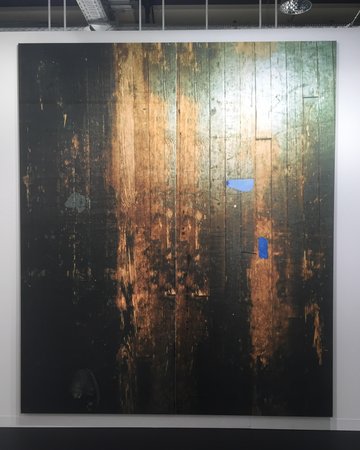 In 2014, Wade Guyton used Art Basel as the staging ground to launch a retaliatory salvo against Christie's following its sale of one of his fire paintings for $6 million—a price the artist thought smacked of pure speculative frenzy—by giving an identical painting to each of his five dealers at the fair, New York's Friedrich Petzel, Cologne's Galerie Gisela Capitain, Milan's Gió Marconi, Paris's Galerie Chantal Crousel, and Zürich's Galerie Francesca Pia. Revenge, if you can call it that, was sweet: each sold the $350,000 painting in the early hours of the vernissage.  
Guyton evidently enjoyed that, because he's done it again this year, and then some: each of his dealers has come to the fair with a brand-new oversize piece from a new series that he made, this one an inkjet print of a photo he took of the floor of his Brooklyn studio, showimg his foot in the lower left and patches of blue tape throughout. Recalling both Jasper Johns and Gustave Caillebotte's The Floor Planers, the piece—at nearly twice the size and price as last time—is actually a diptych, since the printer couldn't do the whole width in one go, and the series will go on view in Dijon later this year.
BONUS:
SARA CWYNAR
Soft Film (2016)
Foxy Productions (New York)
$15,000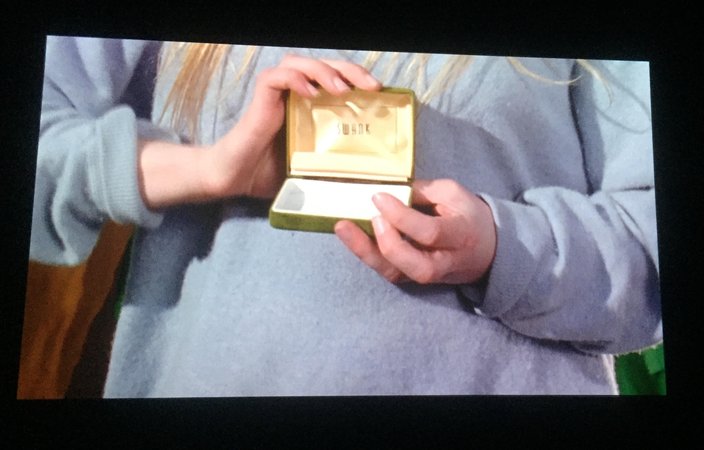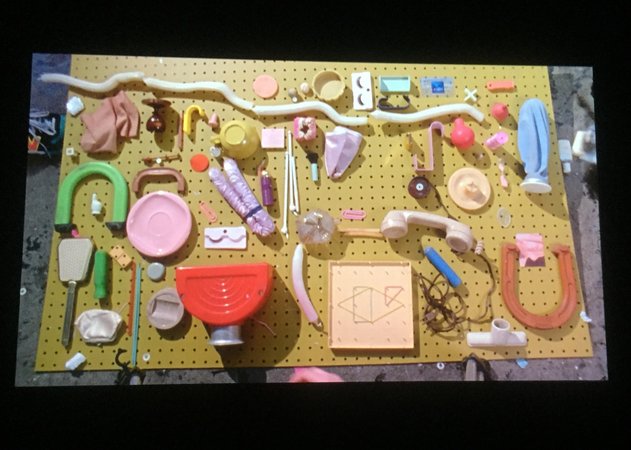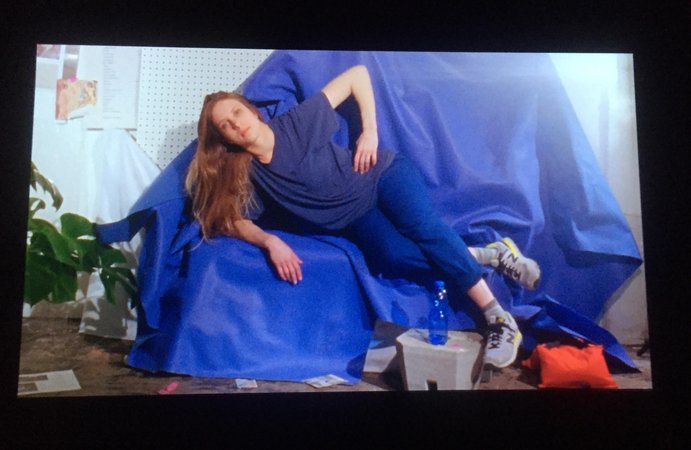 A former New York Times designer who assembled covers for the Sunday magazine section, Sarah Cwynar is adept in manipulating imagery and archival content for commercial ends—a professional skill that she turns inside out in her hugely impressive first film on view in the Statements section. 
Featuring images of hands fondling boxes and assorted objects intercut with black-and-white photographs of strangers and scenes of the artist posing awkwardly on a kind of cliché portrait set, the film is driven by a male narrator who complains about visual overload: "Of course I can't sleep because there's too much too look at… too many things to click on… Would you mind telling me where to look?… What about the idea that objects outlive humans?… Why would you make anything new when there's so much already?" He also takes a few opportunities to talk about "soft misogyny, the way someone asks your husband about his job and asks you about the family pet." 
Every now and then Cwynar's own voice cuts in to correct the narrative, and the result is an arresting, mesmerizing achievement that recalls Camille Henrot's Grosse Point Fatigue and suggests a whole genre of anxious films about looking and clicking in an effort to connect. A winner of this year's Baloise Prize, the film will be given to Frankfurt's Museum für Moderne Kunst.