Frieze New York can feel a little bit like a reality TV show at times, what with the celebrities sauntering around and the aggressive overhead lighting, the cameras everywhere, and the quasi-neighborly community that masks a fierce and thinly veiled sense of competition. Just like any good reality show, the fair has its winners and its losers. That said, it's not always clear that even the winners win, in the end. (Just think of how many seasons of "America's Next Top Model" have aired, versus how many actual top models the show has produced; then consider the number of artists included in the booths of Frieze's 190 participating galleries.)

So perhaps the best strategy for getting through the gauntlet that is Frieze New York is to keep it simple, and that was our strategy this year. Below are five promising artists that we encountered at the fair whose work we like and who we think you ought to know—whether they 'win' this year or not.
NEÏL BELOUFA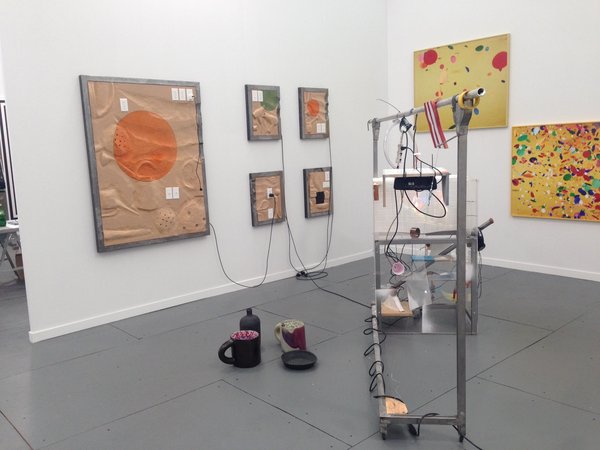 Neïl Beloufa makes wall-mounted reliefs that dually function as power outlets. At Frieze, his sculptural video installation in the booth ofLos Angeles's François Ghebaly Gallery is powered by his wall pieces, which it's plugged directly into. Beloufa's literalizing of the art installation as a 'network' is all the more poignant when other artists' works are plugged in to his, as was the case in the show "Geographies of Contamination" at London's David Roberts Art Foundation last year. His creative innovation melds the notions of medium and support in a ways that haven't been seen before, and offers tantalizing possibilities for future group-show installations with other media artists.
PAUL COWAN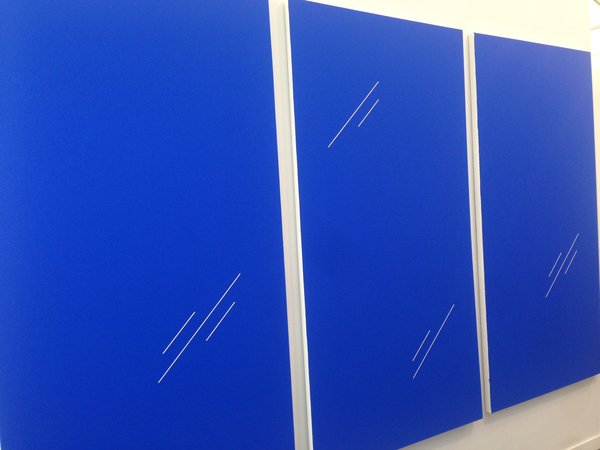 Whiz-kid Cowan is only 29 years old, but he's already got an impressive exhibition history that includes a solo show at Chicago's Museum of Contemporary Art in 2013. His paintings in Shane Campbell Gallery's booth are reminiscent of Laszlo Moholy-Nagy's "Telephone Pictures" series from 1923, in which the Hungarian-born artist produced paintings by giving directions to a fabricator over the phone—although Cowan's updated versions are executed by hand. Not sure what that says about our current relationship with Modernism's legacy, but they are nice to look at.
AVERY SINGER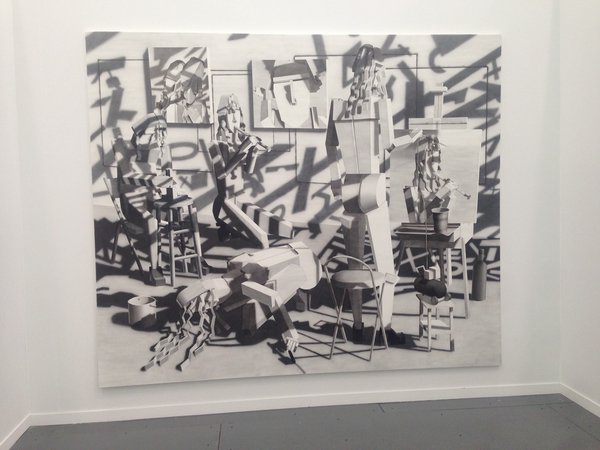 Avery Singer's large-scale paintings, shown at Frieze by Berlin's Kraupa-Tuskany Zeidler, engage the medium on its own terms without resorting to irony or pastiche and have an amazing sense of realism of light and depth, even though Singer's figures are composed primarily of abstract geometric shapes. They are reminiscent of the work of one of our other favorite painters of the moment, Sascha Braunig, in the way they unexpectedly rejuvenate abstract painting without relying on conceptualism to do so. Singer's upcoming solo exhibition at the Kunsthalle Zürich later this year has the makings of a major event.
JOSH TONSFELDT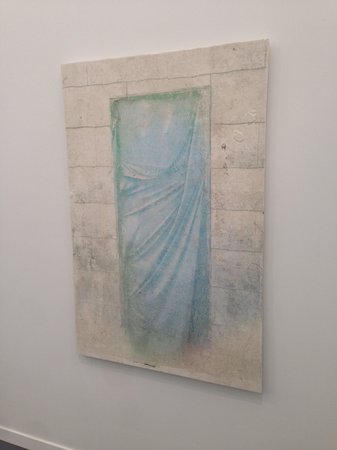 We encountered a fad-alert number of paintings on poured plaster at this fair (meaning more than two), but Tonsfeldt's in Simon Preston Gallery's booth were our favorites. The paintings themselves are pretty, if not technically mind-blowing, but the chalky texture and odd density of their plaster supports—which suggest ancient tablets of one ilk or another—make them intriguing. Tonsfedlt's been showing all over New York since finishing his MFA at Columbia University in 2007, and has had a few stints abroad as well, including a two-person show with B. Wurtz in Sweden in 2012. 
NIKOLAS GAMBAROFF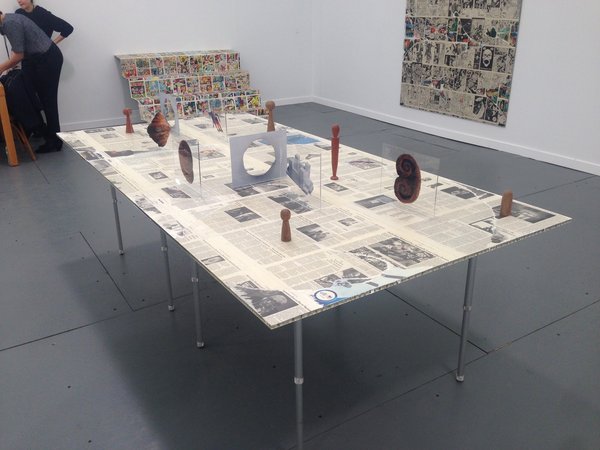 OK, it's true—we did already pick Nikolas Gambaroff earlier this year when his work was shown in the Independent Art Fair. But at Frieze we liked his installation in Los Angeles gallery Overduin & Co.'s booth before we saw his name on the wall label (so there). The fact that he popped up again so quickly is a good sign. Gambaroff's trademark papier-mâché technique is on display here, in a gameboard setup with carved wooden figurines and delicate graphic elements. It looks like his collaborative work with Ei Arakawa has influenced Gambaroff's work for the better.