For this year's edition of Art Basel's Art Unlimited section, which provides galleries with ample space to present ambitious displays of the kind usually seen in museums or biennials, curator Gianni Jetzer has gathered together a diverse spread of displays that bounce across mediums, tonal registers, and even lighting, with about half of the booths occupying darkened chambers. Here are five of the strongest displays by Artspace artists in the section.
1) Jonah Freeman & Justin Lowe's Artichoke Underground (2012/13) at Marlborough Gallery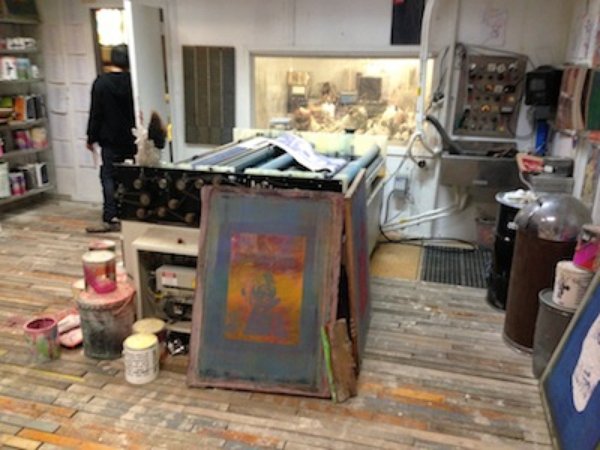 Known for building sprawling assemblage environments that mimic counterculture settings—most famously an entire ramshackle meth lab—the art duo has made a splash at Unlimited with their newest installation, a warren of dusty waiting rooms, Asian fast-food stands (selling cameras made out of rice), and other psychedelic spaces that encircle a printing press for a fictional anarchist culture 'zine called Artichoke Underground. The room is lined with copies of the invented publication—each brilliantly designed with '70s-era fonts, girly photographs, and trippy coloration—and connected to a brightly-lit laboratory where white crystals apparently power the printing press. Totally immersive, the installation, the first that the artists have created out of easily re-installable modular units, drew rapt crowds, including MoMA director Glenn Lowry.
2) Simryn Gill's My Own Private Angkor (2007-09) at Tracey Williams, Ltd.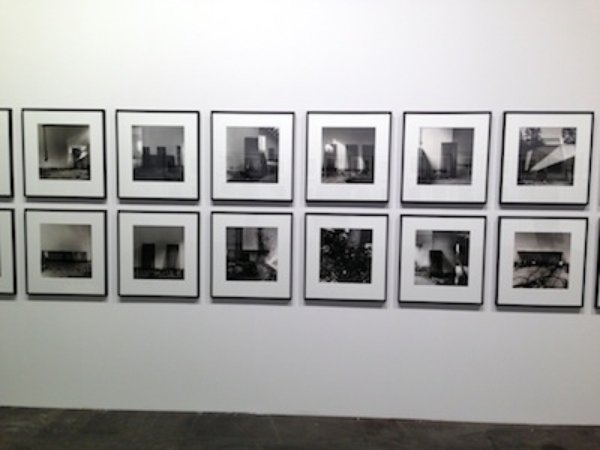 A star of this year's Venice Biennale, the Sydney-based artist has lined her space with 90 black-and-white photographs that she took of an abandoned ghost-town of a housing complex along the coast of Malaysia—a site she has explored in earlier works that have focused on the exterior architecture. For this recent series, Gill entered the gutted living space and crept through its ghostly apartments, capturing the decrepit interiors that have been thoroughly gone over by thieves and left to moulder in the dust. One of the few things that remain are the rectangular window panes, left behind by the plunderers and lending a sense of found minimalist continuity to the photographs.
3) Rob Pruitt's Not Yet Titled (2013) at Gavin Brown's Enterprise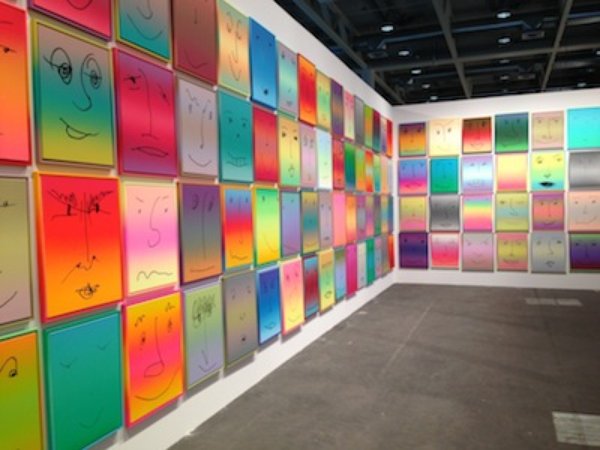 Anyone who has seen the artist's series of quickly sketched cartoonish faces over bright, digitally enhanced color gradients has probably developed a soft spot for these gentle, unassumingly lovely works. The story behind them makes them even more sweetly appealing. When Pruitt was a boy, his father used to take him to museums as a way to connect with his budding fascination with art, and when they would stand in front of a Rothko—the future artist absorbing the work, the father skeptical of its abstraction—Pruitt senior would joke, "Wouldn't this be a little better if the artist had drawn a face over it?" In a statement, the artist recounts: "Then he would gesture with his hands, with an invisible Magic Marker: two eyes and a mouth. I guess all these years later I still associate that with love and attention."
4) Günther Förg's Untitled (1991) at Greene Naftali Gallery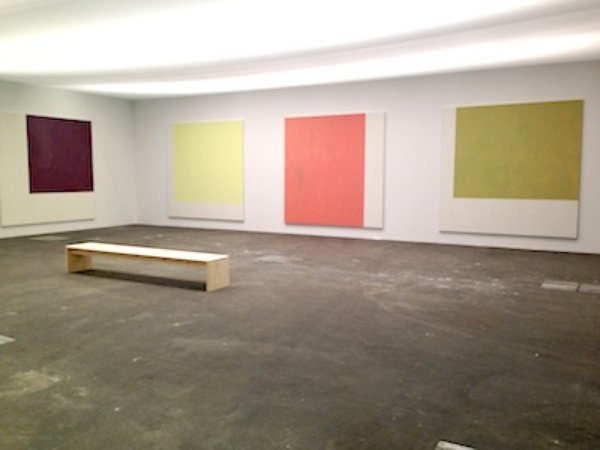 One of the great postwar German artists who turned contemporary art upside down in the midst of a divided, conscience-tormented country, Förg took a different tack than his more overtly political and expressionistic confederates—Martin Kippenberger and Albert Oehlen chiefly among them—and instead dove into a spiritually probing form of abstraction more similar to Bauhaus simplicity than chaos. This display, presenting 10 large-scale paintings that were originally shown the year the Berlin Wall fell at the Musée d'Art Moderne de la Ville de Paris, encapsulate his minimal style through brushily laid-down swaths of light colors that seem to lead a rhythmic procession around the room, fusing monumental architecture, decor, and Abstract Expressionism.
5) Betty Woodman's Alessandro'sRooms (2011) at Galerie Isabella Bortolozzi and Galerie Francesca Pia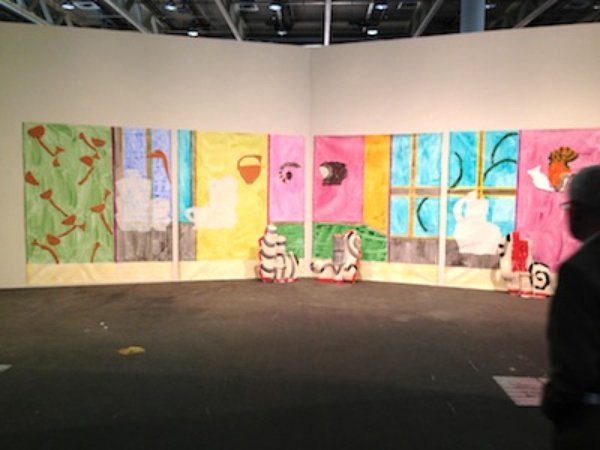 An acclaimed sculptural potter whose inventive painted ceramics have picked up with exquisite verve where Picasso's unfettered experiments in the medium left off, Woodman is one of those artists who might still be under-appreciated despite having received enormous amounts of attention—in the form of solo shows at the Metropolitan Museum of Art, for instance, and a documentary, The Woodmans, made about her artist family including her tragically late daughter, Francesca Woodman. This captivating installation supports that view, ambitiously taking on Matisse's paintings as a backdrop to three of her masterful sculptures (Rei Kawakubo would appreciate those extended flaps on the side) that seem to have popped out of the canvas, leaving white gaps in their wake.