Artspace and NADA are teaming up once again to produce limited editions of new works by two of the most sought-after emerging painters today: Katherine Bernhardt and Michael Bauer. Both artists operate at the nexus of figuration and abstraction—a particularly fertile site in the contemporary art ecosystem—but each approaches this conflation with a different aim. Bauer layers various visual references to create a kind of amorphous pictorial mass in the center of his compositions, often framed with highly personal symbols or words in each corner, while Bernhardt employs just one or two images at a time to create her distinctive compositions. Interested in learning more? Read on to find out about these exciting works and the artists who made them.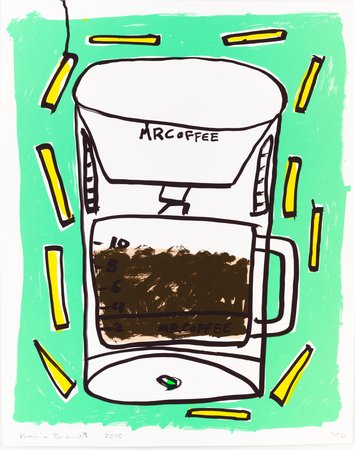 Mr. Coffee with Fries, 2015. Six-color silkscreen printed on Coventry Rag 335 gsm. $700
1. Known for her wonky, spray-painted depictions of consumer goods, junk food, and Caribbean imagery, the Brooklyn–based painter Katherine Bernhardt is part of the contemporary vanguard that is reimagining figuration for the 21st century.

2. Her paintings often take two simple forms—sharks and cigarettes, for example, or Doritos and rolls of toilet paper—and repeat them in her graffiti-influenced style against a monochrome background.

3. Bernhardt refers to these recent works as "pattern paintings," underscoring her formal approach to her preferred images. (Asked why she chooses to focus on these specific items, she responds, "They're just good colors and shapes.") She cites the unlikely combinations of natural and man-made goods in African wax prints as a major influence in these paintings.

4. Unlike many of her contemporaries, Bernhardt doesn't feel compelled to theorize her work. "I think the best painters don't intellectualize their own art," she says. "They just make stuff."
5. This print brings together two of Bernhardt's favorite motifs: fast food (here taking the form of French fries) and coffee, a perennial companion to artists of all stripes.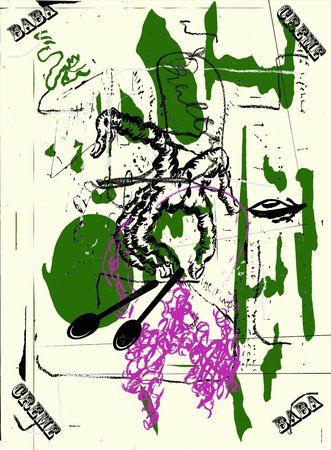 Baba Creme, 2015. Full bleed six-color silkscreen printed on Letra Ecru 300 gsm. $700.
1. The German painter Michael Bauer exemplifies the current trend of figurative abstraction in his explosive canvases, where psychological acuity and a painterly approach combine to powerful effect.

2. Bauer borrows from the colorful tradition of Modernist composition, juxtaposing collaged cutouts with a bevy of 20th-century painting methodologies—including Cubist, Pop, and Surrealist techniques.

3. The imagery for this edition is derived in part from what Bauer calls his "telephone drawings": quick, loose sketches made while he is talking on the phone or otherwise distracted. Bauer saves these doodles, no matter how rough or silly they are, and uses them as raw materials to be copied, scanned, altered, and combined.  
4. Bauer often works in series, making groups of paintings that metaphorically talk back to one another while simultaneously standing on their own as individual works. As he says, "Every painting that I do relies on the last 20 I did."  

5. In a neat literalization of his process, this print includes the words "baba" and "creme," recurring terms which Bauer uses as verbal readymades for their phonetic qualities and mutable meanings.