In 1968, the Belgian artist Marcel Broodthaers declared himself the director of his own conceptual institution, the "Museum of Modern Art, Department of Eagles." For the next four years, the traveling museum took on several iterations, culminating in an exhibition of hundreds of eagle-themed images and figurines. Broodthaers chose the bird of prey, he said, because it was an emblem of "greatness, authority, power"— qualities he wanted to emasculate, or at least cast into doubt.
Ironically, Broodthaers, who died in 1976, has become something of an eagle himself—a totemic, untouchable figure in the field of postwar European art. Meanwhile, the weird, kitschy Museum of Eagles has become enshrined in art history as a heroic, pioneering example of Institutional Critique. Broodthaers's new retrospective at The Museum of Modern Art offers a more intimate view of the poet turned late-avant-gardist. In the museum and away from the textbook, a different artistic sensibility emerges: less radical subversion and austere conceptualism, more melancholy intellect and vinegary romance.
Broodthaers's work can be elliptical and difficult, but it's also surprisingly lovely, filled with visual as well as intellectual pleasures. Here are three entry points into the show and this often misunderstood artist.
HE WAS A FRUSTRATED POET
Art was Broodthaers's second career. He came to it as a middle-aged man, having struggled to make ends meet as a starving poet. In 1964, he buried 50 copies of his last poetry volume Pense-Bete (Memory aid) in wet plaster, turning verse into sculpture and effectively rebranding himself as an artist. "I, too, wondered whether I could not sell something and succeed in life," a sour Broodthaers wrote in the show's promotional brochure, "For some time I had been no good at anything. I am forty years old…Finally the idea of inventing something insincere finally crossed my mind and I set to work straightaway."
It was a cynical bet on the art market and the '60s vogue for nouveau réalisme, bric-a-brac sculpture and objet trouve. Luckily for Broodthaers, it paid off. Pense-Bete would become the first in his series of sculptural assemblages. Several of these distinctly European, somewhat quaint takes on pop art are on view at MoMA. Many are ornamented with the shells of eggs and mussels—personal talismans and markers of Belgian identity, but also lifeless and hollow.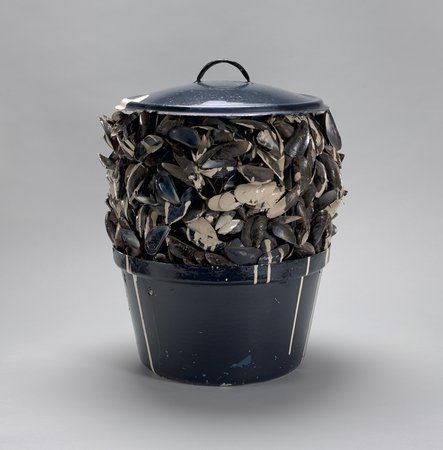 Marcel Broodthaers (Belgian, 1924–1976). Moules sauce blanche (Mussels with white sauce). 1967. Painted pot, mussel shells, paint, and tinted resin, 14 3/4 in. (37.5 cm) diam.; 19 1/8 in. (48.5 cm) high. Private collection, New York. © 2016 Estate of Marcel Broodthaers / Artists Rights Society (ARS), New York / SABAM, Brussels
By ritually sacrificing his poetry, Broodthaers jump-started his art career. "You cannot read the book without destroying its sculptural aspect," he later remarked, "…no one had any curiosity about the text; ignorant of whether it was the burial of prose or of a poetry, of sadness or pleasure." The dysfunctional relationships between language and objects, poetry and art, preoccupied Broodthaers throughout his work as a visual artist. At MoMA, words and images rub against each other awkwardly, interrupt and contradict each other. Poetry repeatedly pops up in a return of the repressed.
In 1946, well before Broodthaers's turn as an artist, René Magritte gave him a copy of French Symbolist poet Stéphane Mallarmé's Un Coup de Dés Jamais N'Abolira Le Hasard (A Throw of the Dice will Never Abolish Chance). Twenty years later, the gift would inspire Broodthaers' exhibition at Wide White Space Gallery in Antwerp, where he showed two artist books and 12 aluminum plates based on the poem's idiosyncratic layout, Mallarmé's words redacted with black censor bars.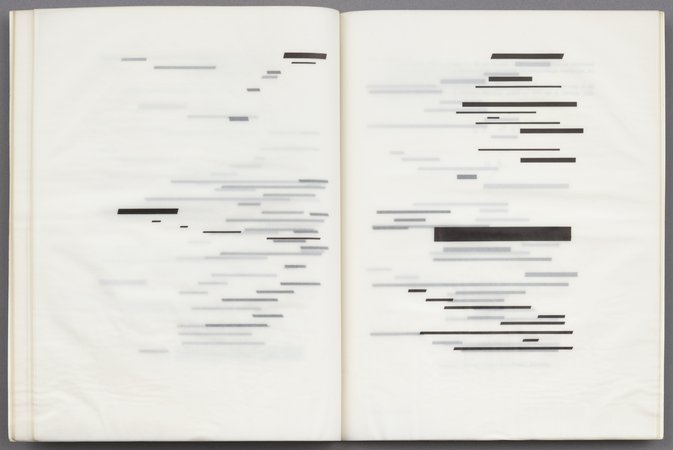 Marcel Broodthaers (Belgian, 1924–1976). Un Coup de dés jamais n'abolira le hasard (A throw of the dice will never abolish chance). 1969. Artist's book, offset lithograph on transparent paper, page: 12 3/4 × 9 13/16 in. (32.4 × 24.9 cm). Publisher: Wide White Space Gallery, Antwerp; Galerie Michael Werner, Cologne. Printer: Vereman, Antwerp. Edition: 90. The Museum of Modern Art, New York. Acquired through the generosity of Howard B. Johnson in honor of Riva Castleman, 1994. © 2015 Estate of Marcel Broodthaers / Artists Rights Society (ARS), New York / SABAM, Brussels
Given Broodthaers's linguistic inclinations, it's no surprise that Magritte, the brainy Surrealist painter and fellow Belgian, was Broodthaers's friend and artistic father-figure. The elder statesman's gentlemanly accoutrements—umbrellas, bowler hats, pipes—recur throughout Broodthaers's work, as does his penchant for negation and semiotic games. Magritte's famous painting The Treachery of Images juxtaposed an image of a pipe with a label reading "this is not a pipe," using language to break the illusionism of painting. Taking after Magritte, Broodthaers, in 1966's L'error (the Error), affixed five rows of eggshells to a chalkboard, labeling them "moules" or mussels in white chalk. The work incongruously couples Broodthaers's two signature motifs, while also punning somewhat pedantically on the double meaning of moule (which in French means both "mussel" and a sculptural "mold.") 
As his professional anxieties receded, Broodthaers's bitter agonism between art and language began to defrost. "I am now able to express myself on the edge of things," he said in 1974, "where the world of visual arts and the world of poetry might eventually, I wouldn't say meet, but at the very frontier where they part." In La Salle Blanche ("The White Room"), installed in Broodthaers's last exhibition during his lifetime, the artist built an exact replica of his Brussels apartment in blonde unfinished wood. He hired a sign painter to cover the empty room with terms associated with art making, some of them seemingly banal (perspective, seascape, oil, canvas) and others more loaded (value, rascal, thief, maggot, privilege).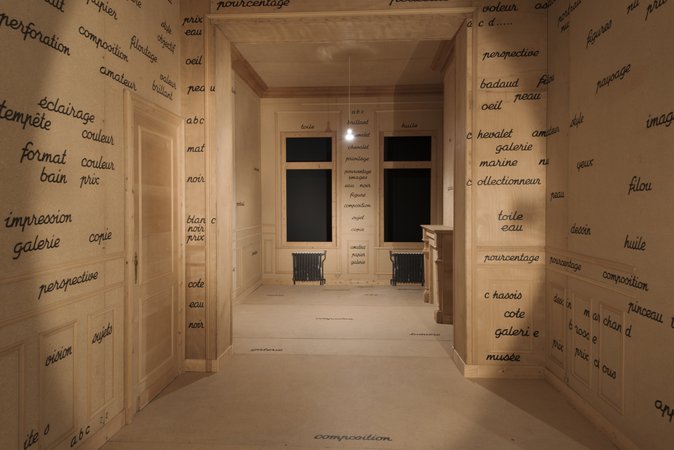 Installation view of "Marcel Broodthaers: A Retrospective." The Museum of Modern Art, New York, February 14–May 15, 2016. © 2016 The Museum of Modern Art. Photo: Martin Seck
The haunting installation turns Magritte's Treachery of Images inside out, asking us to consider three-dimensional space as a representation. But rather than attempting to bridge the gap between "art" and "life"—as so many sixties artists contrived to do— Broodthaers melancholically reduced painting to a series of linguistic conventions, interring it in what he called "a perfectly petit bourgeois ground floor where words float."
HE MOCKED THE MUSEUM—AND DUCHAMP
Broodthaers' best-known work, the Museum of Modern Art, Department of Eagles, was an eccentric byproduct of the heady countercultural moment of May '68. That summer, as anti-establishment sentiment swept Europe, students and artists temporarily occupied the Palais de Beaux Arts in Brussels in protest of Belgium's moribund art institutions. Broodthaers, the group's "reluctant spokesperson," had volunteered to host a discussion on art's role in society when he had the idea to redecorate his apartment as a mock museum filled of shipping crates, postcards, and a slide carousel rotating nineteenth century's art's greatest hits. Originally, the Musee d'Art Moderne, XIX Siècle (19th Century Section) might have evoked Walter Benjamin's theory that, through mechanical reproduction, art could be untethered from the museum and become communal cultural property. Elegantly reinstalled at MoMA, it now seems at home in the museum.
From the next four years, the Department of Eagles metamorphosed into several configurations. The most well known, "Section des Figures: The Eagle from the Oligocene to the Present" opened at the Städtische Kunsthalle Düsseldorf in May 1972. It was a display of hundreds of borrowed objects—old master paintings, advertisements, beer bottles, military regalia, flea-market tchotchkes, pre-Columbian artifacts— each one in the shape of or displaying an image of an eagle. In a crypto-Magrittean turn, each object was labeled with a marker reading, "this is not a work of art." (A display of images of the Section des Figures is on view at MoMA. Titled Musee d'Art Moderne, Section Publicité, this same photographic archive was exhibited at Documenta 5 in 1972.)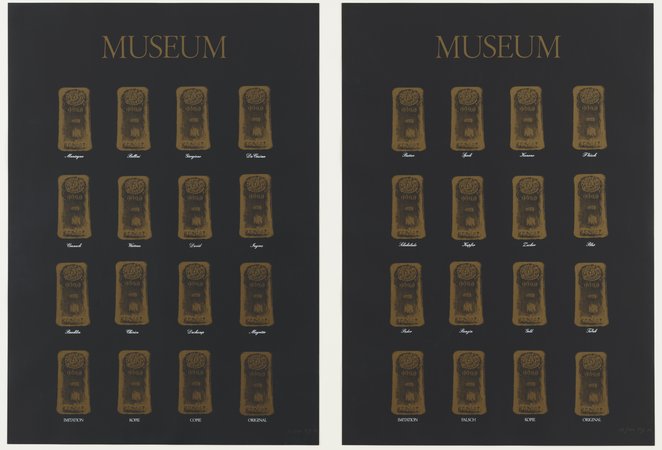 Marcel Broodthaers (Belgian, 1924–1976). Museum-Museum. 1972. Two screenprints, each print: 33 x 23 1/4 in. (83 x 59.1 cm). Publisher: Edition Staeck, Heidelberg, Germany. Printer: Gerhard Steidl, Göttingen, Germany. Edition: 100. The Museum of Modern Art, New York. The Associates Fund, 1991. © 2016 Estate of Marcel Broodthaers / Artists Rights Society (ARS), New York / SABAM, Brussels
The standard explanation of this work as an indictment of the authority of the museum and its classification of objects into arbitrary cultural hierarchies has always felt somewhat canned and unsatisfying. Compared to the focused polemics of Institutional Critique artists Hans Haacke, Andrea Fraser, or Fred Wilson, the spirit of Broodthaers' imaginary museum seems far more magical, its critique more elusive.
In a labored but nonetheless clarifying catalog essay accompanying the MoMA retrospective, art historian Thierry de Duve offers a more precise reading of the Department of Eagles.. "In 1968," he explains, "when Broodthaers inaugurated the Musee d'art Moderne, the debate revolved around the idea of a radical liberation from cultural institutions." By 1974, however, the target of Broodthaers's critique had moved. It was no longer high culture per se, but rather conceptual art, which while supposedly rebelling against bourgeois taste was actually becoming increasingly hermetic.
"Whether it is a urinal signed by R. Mutt or a found object," Broodthaers wrote in 1972, referring to Duchamp's famous Fountain of 1917, "any object can be elevated to be a piece of art. The artist defined the object in such a way that only the museum can be in its future." In Broodthaers's view, the once-radical premise of Duchamp's readymade had ossified into a new institutionalism. Broodthaers, De Duve writes, lampoons the museum "as the seat of an arbitrary, monopolistic art power," while, at the same time, holding onto "an old fashioned, romantic conception of the museum as a haven for sophisticated culture." It's this ambivalence, rather than militancy, that sets Broodthaers apart.
HE WAS A SECRET ROMANTIC
Today the Museum of Eagles might look like a low-tech ancestor of the digital eclecticism of Tumblr and Pinterest, but Broodthaers wasn't looking towards the future so much as the past—in particular, the dusty vitrines of nineteenth century natural history museum displays.
Although he didn't care for explicitly politicized art (in an open letter to Joseph Beuys, he poked fun at the messianic German artist, calling him the "magus of art-is-life-is-politics-romanticism"), Europe's colonial history haunts Broodthaers's work. Today, the association between museums and conquest might seem historical, but for Broodthaers, it was too close for comfort. After all, it wasn't until 1960 that Belgium reluctantly withdrew from the Congo. As late as 1958, a Congolese village was displayed at the Brussels World's Fair as an open-air human zoo. In his first gallery show in 1964, Broodthaers reflected on his country's recent colonial past in his assemblage Le Problem Noir en Belgique (the Black Problem in Belgium"). Doused in black paint and covered in eggshells, the front page of a Belgian daily newspaper describes the economic mess in which Belgium left its former colony. The potted palm trees that garnish Broodthaers's later room-sized installations are a recurring reminder of the spoils of imperialism.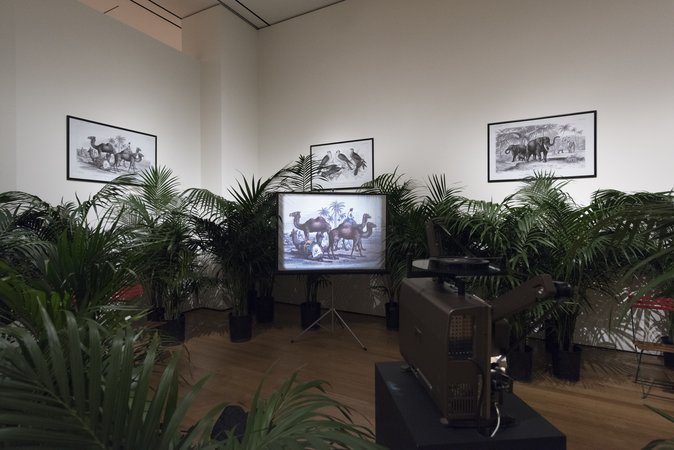 Installation view of "Marcel Broodthaers: A Retrospective." The Museum of Modern Art, New York, February 14–May 15, 2016. © 2016 The Museum of Modern Art. Photo: Martin Seck
At the same time, his art harbors tortured nostalgia for old Europe, despite its legacy of colonial violence. As the artist once put it in one of his typical riddle-like statements, "it is Ingres who interests me, it is not Cézanne or his apples."
Broodthaers's embattled romanticism emerges in full force in the last section of the MoMA retrospective. "Décor: a Conquest by Marcel Broodthaers" comprises two period rooms devoted to the ninetieth and twentieth centuries, respectively. The first is an absurdist reimagining of a Victorian parlor, appointed with overstuffed velvet furnishings, two antique war cannons, a taxidermied python, a pistol on a velvet cushion, photographs of cowboys, and a diorama of a crab and a lobster playing cards.In the smaller twentieth century room, we encounter an ugly patio furniture set, a half-completed jigsaw puzzle of the Battle of Waterloo, and a chilling row of AK 47s.
Both rooms, Broodthaers explained when they where originally installed at the Institute of Contemporary Arts in London in 1975, expose the "relationship of war to comfort," but in the twentieth century room the suggestions of gentlemanly combat and worldly eclecticism have been replaced by cheaper furniture and more efficient artillery. "Where have all the cowboys gone?" Broodthaers seems to be asking, even as he hints that to pose such a question in the late 20th century is slightly embarrassing.