Art-world insiders pored over (almost) every nook and cranny of the Whitney Biennial last week, sharply dissecting the historic three-curator show's organizational themes and trying to divine what its still-wet artistic entrails portend about the state of contemporary art. Now the public has been welcomed into the last biennial before the museum relocates to the Meatpacking District, and as they explore the show they'll be importing a completely different set of concerns—for one thing, they'll be far more interested in the art itself than analyzing the curatorial structure. And luckily, some of the work on view is pretty out-there, guaranteed to give viewers the provocative jolt we all love to encounter in contemporary art.
So what should visitors look out for, if only to have something to scandalize their coworkers/friends/parents/children with in the retelling? Here are glosses on a few of the most spectacular works on view, with "spectacular" meaning "something that attracts attention because it is very unusual or very shocking." (Of these, the most actually shocking to some visitors might be Zackary Drucker and Rhys Ernst's celebration of transgender love, but since we already covered it here, and since the New York Times already made them the cover stars of their article on "The Growing Transgender Presence in Pop Culture," it's safe to assume they're already known quantities.) 
It's something of a tradition for artists to have their Biennial contributions duet site-specifically with Marcel Breuer's Brutalist architecture—you may remember, for instance, R.H. Quaytman's bravura painting series in the 2010 Biennial that riffed on its irregular windows—and so it's fitting that the final edition in the building would do so in a memorable way. And, boy, did Zoe Leonard come up with something special. In a fourth-floor room that curator Anthony Elms borrowed from Michelle Grabner, the artist carried out the most minimal intervention imaginable: she covered the window, except for a single aperture, and turned out the lights. The result is a camera obscura that projects an upside-down view of the street outside on the gallery's walls, growing incredibly distinct and then dimming as the sun arcs through the sky.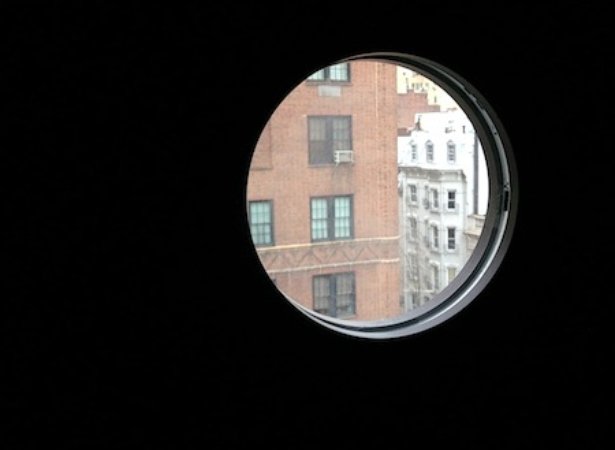 So why a camera obscura, an ancient optical device around since the time of Alexander the Great, in the 2014 biennial? For one thing, the effect it creates here is completely beautiful, rhyming the square coffering of the ceiling with the windows of the high-rise across Madison Avenue, and it neatly pulls off the Duchampian marriage of art and life by bringing the street inside the museum; for another (perhaps unintentional) thing, the upside-downing serves as a reminder that Renzo Piano's downtown Whitney museum looks suspiciously like the Breuer building flipped on its head. Also, camera obscuras have been all the rage lately in contemporary art—Allyson Vieira, for instance, used one to striking effect in her recent Swiss Institute show—perhaps because of the theory, put forth by David Hockney and the documentary "Tim's Vermeer," that such old masters as Jan van Eyck and Vermeer used the simple technology to make their paintings.
Did you ever play the game "penis" growing up, where someone says the word quietly and then someone says it louder and you go on and on until your crazy friend shouts it at the top of their lungs and wins. Well, Bjarne Melgaard just won "penis" forever, game over. Entering his display on curator Stuart Comer's second floor, one first passes through a slit of diaphanous pinkish fabric (wink, wink) to enter a room that might just be a perfect cross of "Pee-wee's Playhouse" (there's even a vaguely Chairy-looking sofas sitting around) and what may have been going through Paul Reubens's head the night he got busted doing something un-kid-friendly in a porn theater.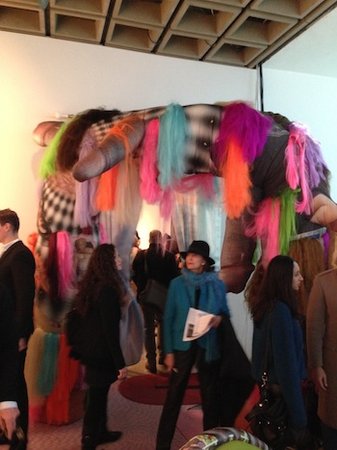 Looking around, the first thing you may notice are the naked or semi-clad anatomically correct mannequins of bouffant-haired blond models sitting around the room as if in some post-bacchanalian daze. (Melgaard fans may recognize these as caucasian cognates of the black S&M mannequin that caused a stir recently when a certain Russian art patron used it as a chair.) Then you might spot the videos playing on screens in the corner, one showing people fornicating and the other showing monkeys doing the same. But the imagery you are guaranteed to leave with are the penises. They're everywhere, made of novelty pillows that merge pornographic members with psychedelically playful toys and Internet memes, and they achieve their most triumphant expression in the bristlingly virile archway directly inside the door. See it, tell your buddies, and don't think about the art part too hard. 
DAVID FOSTER WALLACE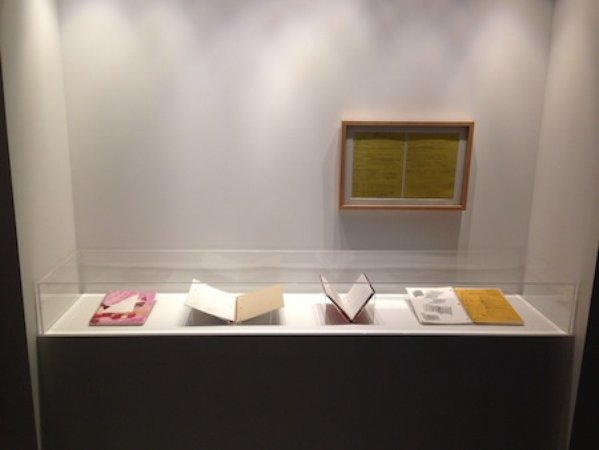 In a show replete with poets, publishers, journalists, and writers of all stripes, the megawatt star is unquestionably the late David Foster Wallace, who is represented on Michelle Grabner's floor with a quartet of notebooks that relate to his unfinished novel The Pale King and two scribbled-on pages from a legal pad of "interview notes" for his magisterial 2006 profile of tennis player Roger Federer in the New York Times Magazine. Some explanation: ThePale King, which he was working on when he committed suicide in 2009 (and which was posthumously published in 2011), is a footnote-festooned multicharacter saga that in typical Wallacian style delves into the arcana of an IRS office in Peoria, Illinois; the manuscripts were a "vital inclusion" in the show, a piece of wall text notes, "not only for [Wallace's] Midwestern roots, shared by many artists in curator Michelle Grabner's section, but also for the ethical nature of his creative output."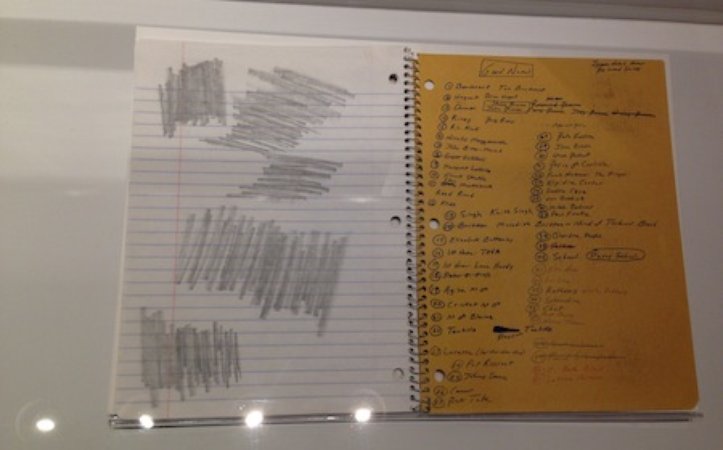 So, what are we actually dealing with here, visually speaking? On the inside cover of one spiral notebook is a list of "Good Names" (which one viewer excitedly misread as "God Names," much to his later disappointment) including "R.L. Keek," "Elisabeth Bottomky," "Reed Reed," "Elipidia Carter," and, number 32, "Female Nickname: The Finger;" an adjoining page in that notebook contains some minimal doodles that could tendentiously be called Twomblyesque (what, in a notebook, couldn't?). Another journal, displayed closed, bears a pink cover of a blue-eyed kitten cuddling with flower blossoms under the title "Cuddly Cuties™," with a triangle-ish piece of white paper taped over it labeled "Scenes."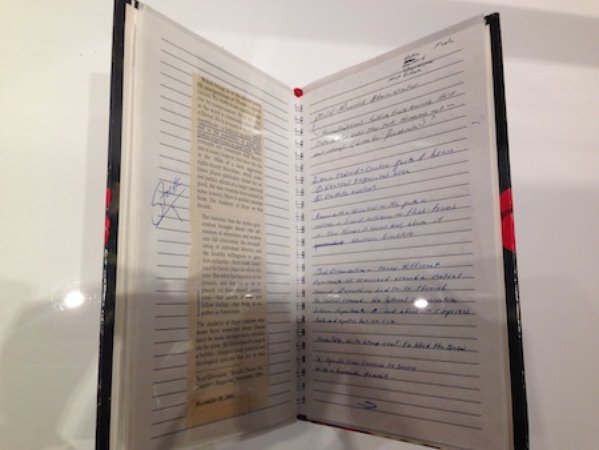 The most interesting notebook, however, is one that features a pasted-in strip from "The Phenomenon," Michael Tomasky's 2006 essay on Barack Obama in The New York Review of Books, with the description that the future president was at heart "a civic republican—a believer in civic virtue and in the possibility of good outcomes negotiated in good faith" underlined. A line with an arrow points away from that quote to the name "Steyck," and on the opposite page, Wallace writes: "Mild-Mannered Administrator: Non-confrontational. Suffers fools quietly. He'll listen to them until they talk themselves out—won't interrupt. (Lives by "Desiderate.")" In The Pale King, Leonard Steyck is a "pathologically nice" IRS administrator who is continually humiliated by less-principled rivals. Wallace did not live to see Obama's inauguration.
Behold, the biggest painting in this painting-happy show: Laura Owens's pharaonically scaled and decidedly unsentimental homage to a cheesy motivational poster. This thing is huge—maybe 15 feet tall?—and chockablock with painterly brilliance. Owens, a Los Angeles-based artist who specializes in using both digital and old-fashioned analogue means to paint canvases of Joycean painterly complexity, has used around two dozen different techniques to make it. That latticework giving the painting a digital vibe, for instance, is sculptural and sits on top of the surface; the aquamarine streak at the top left and purple circle at the top right are fat clumps of paint affixed on the canvas.
The intricacy doesn't stop there. In his review of the Biennial, ace art critic Andrew Russeth praised the "superb" painting and wished there were "two or three more (at least), [so] you could get a sense of her range." He might be happy to learn that there are actually four more Owens paintings in the show—each of them secretly nested, Babushka-style, behind this whopper of a canvas. There's also, apparently, a book back there. What can you do when faced with an onslaught like this, other than to just drop your jaw.
DIEGO LECLERY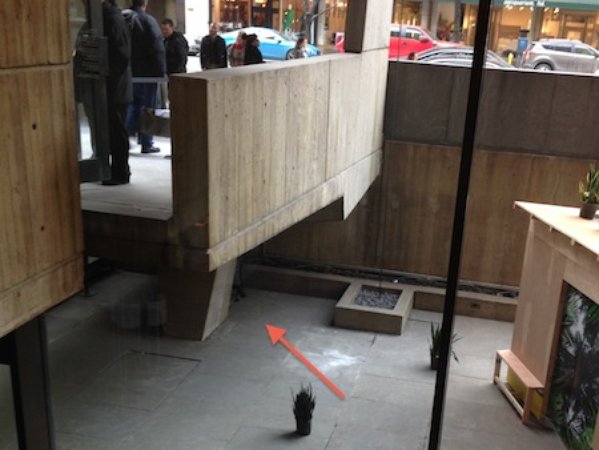 In a show full of hard-to-find artworks secreted throughout the building, from Yve Laris Cohen's chunk of wall that is removed every day and replaced to Darren Bader's unobtrusive money-collecting bins in the basement, the most satisfying Easter egg may come courtesy of the 35-year-old French artist Diego Leclery. Located in the downstairs outdoor sculpture garden near Radamés "Juni" Figueroa's shed, his piece is more or less completely hidden from view: it consists of the artist sitting at a desk behind a concrete column, playing the video game "Civilization" on a desktop computer… for the entire run of the Biennial, throughout all museum hours, in all weather conditions.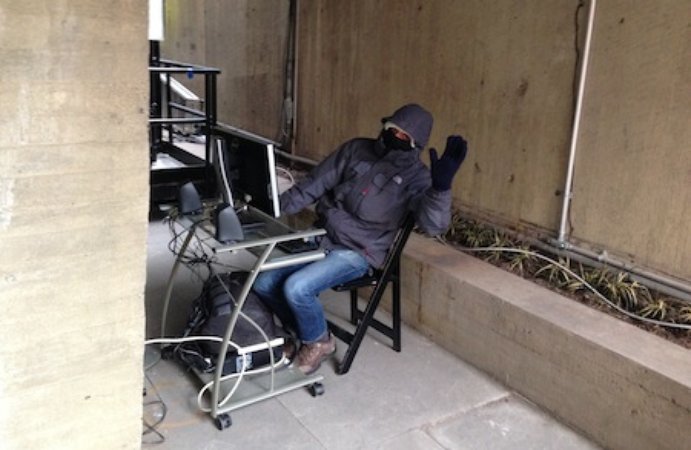 Leclery, who knows Michelle Grabner and does a performance every holiday season at her Suburban art space in which he dresses up as a polar bear, presents his durational undertaking as a post-studio gambit: he hopes to transmute his love of the interminable strategy game, which he says is the only part of his life that he hasn't incorporated in his work, into a piece of art through sheer dogged willpower, changing the game from something that exists physically outside the museum into something that lives conceptually within the boundaries of the museum context.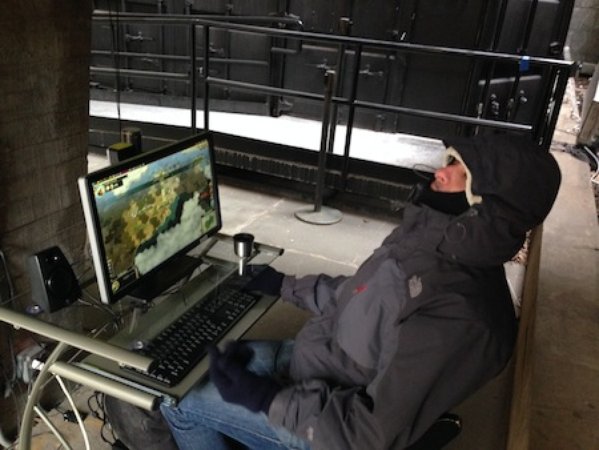 "The game is a real zero, artistically speaking," Leclery said. "I want to see if the museum can turn that zero into a one, and I can make some ducats. Because, really, the collapse of art into life is about the ability to make money." The artist, who has played "Civilization" for years, now has it set on its hardest difficulty level, "Deity." He's never beaten it at that difficulty, and it may, in fact, be impossible. When you go to the Biennial, head downstairs and say hello—he'll be happy to talk about his work, the show, anything at all really. It's a pretty dull game.