This year's Outsider Art Fair , at Center 548 in Chelsea (through February 1), makes clear that the category of "outsider art" has never been more vital—or more nebulous. In the past couple of years, self-taught or developmentally disabled artists such as James Castle or Judith Scott have had major museum retrospectives, and curators of the Venice Biennale and the Carnegie International have begun looking far beyond the M.F.A. set to pull from their ranks. A subtle shift from biography to geography, as in the Studio Museum in Harlem 's recent survey of visionary Southern artists, has made it even harder to distinguish inside from out.
The Outsider Art Fair has responded to these developments in kind, by letting in a few "insiders." An otherwise predictable curated show on the theme of paranoia includes a flowchart by the conceptual draftsman and conspiracy-theorist Mark Lombardi alongside works by Adolf Wölfli and the Philadelphia Wireman . Elsewhere, the exhibitor Chris Byrne has capitalized on a breakout year for his star artist, Susan Te Kahurangi King , by showing her wickedly distorted cartoon characters alongside similarly perverse drawings by the acclaimed painter Peter Saul .
Even in this especially historical, contextual edition of the fair, however, some fresh voices stood out:
ANDREW FRIEDER
THE GOOD LUCK GALLERY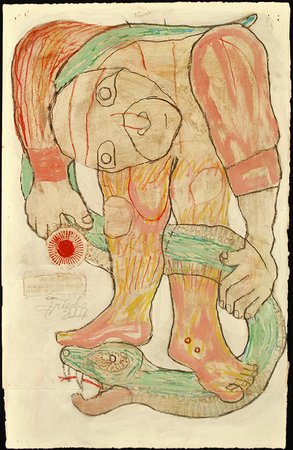 This Los Angeles gallery specializing in self-taught art has devoted its entire booth to Frieder (1959-2014), a draftsman and "tinkerer" from California's Antelope Valley whose works have never been shown outside the region. His mythological and Biblical figures, drawn on perforated paper and shaded with pastel, appear psychically burdened yet physically giddy and elastic.
MARIANNE
EEN NIEUWE WIND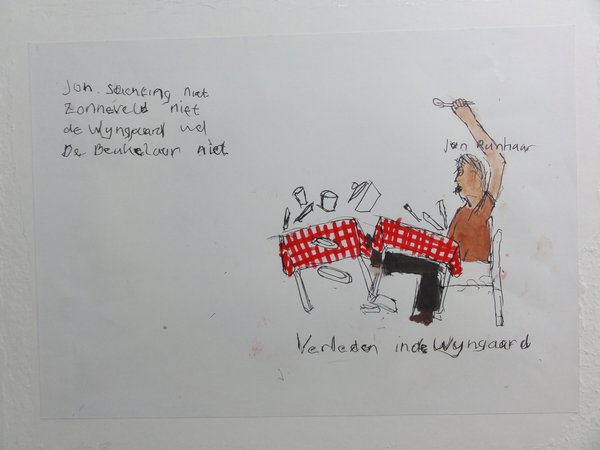 Deaf and with cerebral palsy and a learning disorder, Marianne Schipaanboord (who goes by just "Marianne") communicates her intentions and desires with lively ink drawings and plaintive texts on little scraps of paper, which fill the booth of the Dutch charity Een Nieuwe Wind. Some concern her daily routines, as in a group of works about bathing and showering; others speak to major life events such as moving house. All have an unmistakable sense of urgency.
BRUCE DAVENPORT JR.
LOUIS B. JAMES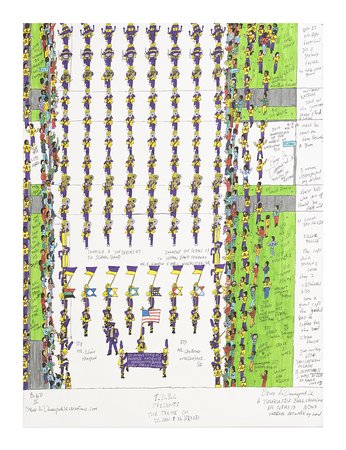 Davenport's colorful and minutely detailed magic-marker drawings of marching bands in formation (often shown from an aerial perspective) are out in force at the booth of Lower East Side gallery Louis B. James. The New Orleans-born artist has appeared in "Prospect 2: The New Orleans Biennial" and other hometown exhibitions, but he's never had a New York solo until now. (The gallery is also exhibiting his drawings of boxing rings, inspired by Mike Tyson, at its Orchard Street space through February 21).
T. A. HAY
TANNER-HILL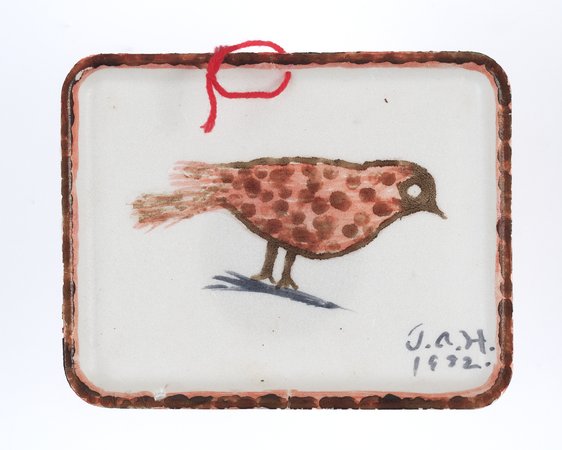 The Chattanooga gallery Tanner-Hill has stocked its booth with the works of Kentucky farmer T. A. Hay (1892-1988), who finger-painted with shoe polish on gourds, styrofoam trays, and other found objects. His spare, dainty images of birds, livestock, horseshoes, spinning wheels, and spiderwebs bring to mind Bill Traylor's enchanted figures and animals.
JERRY THE MARBLE FAUN
JACKIE KLEMPAY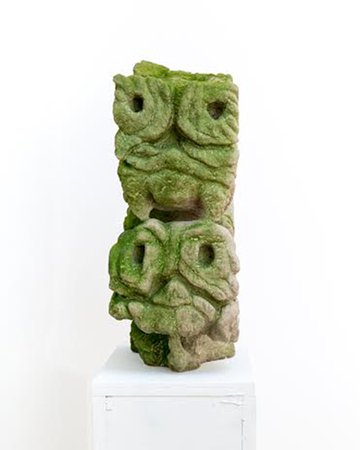 It's strange to think of an artist in this fair as being close to celebrity, but the sculptor Jerry Torre—the former handyman at the storied East Hampton estate Grey Gardens, and the subject of an upcoming documentary by Albert Maysles—certainly qualifies. His limestone sculptures, which look like lost gargoyles or rogue pieces of garden statuary, are also compelling in their own right. Displayed at the booth of Bushwick gallerist Jackie Klempay, they're a welcome addition to a fair dominated by works on paper.