New York's fall art season is in full swing, and well-off culture lovers from across the globe are flocking to the city in the hopes of scoring the next big blue-chip masterpiece. Of course, all that bidding can make anyone hungry. Native Manhattanites and visitors alike are spoiled for choice when it comes to dining options on the island; to help in the hunt for the perfect meal (or maybe just a stiff drink), we've selected these five New York hotspots from Phaidon'sWallpaper* City Guide: New York. 
ALL'ONDA
22 E 13th Street, T 212 231 2236, www.allondanyc.com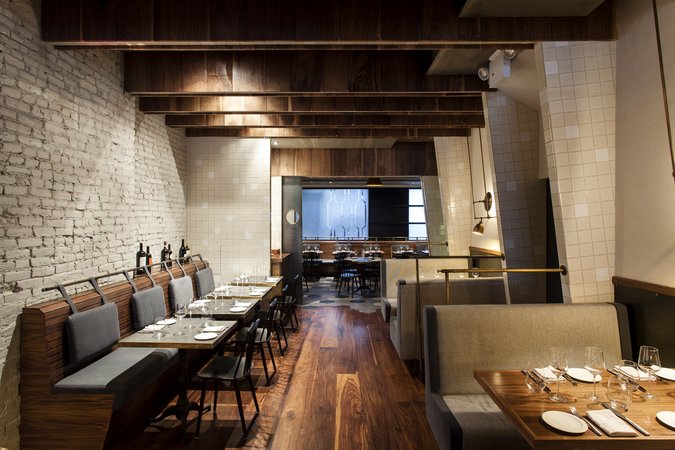 Contributing to the recent renaissance of Greenwich Village, All'onda takes a fresh look at Venetian fare. Chef Chris Jaeckle has added Japanese influences to his interpretation of cicchetti, from black truffle arancini and chicken liver crostini to crudo, risotto, and pasta. The mix of brick, tiles, wood, and metallic details is the work of Silvia Zofio and Jack Dakin.
CHEFS CLUB
275 Mulberry Street, T 212 941 1100, www.chefsclub.com/new-york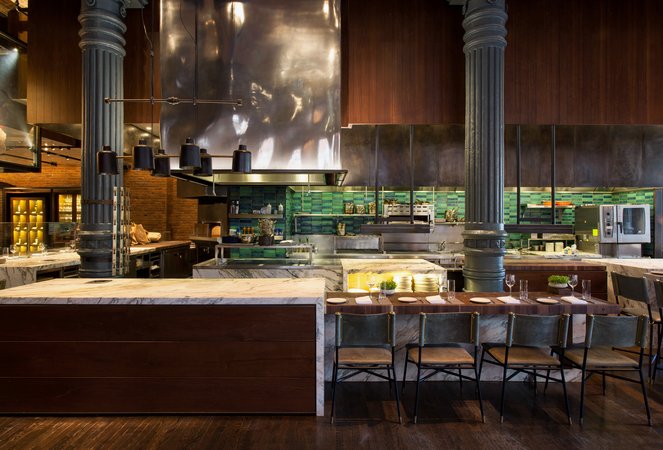 Following its success in Aspen, Chefs Club arrived in the Puck Building, a Romanesque revival pile named after sculptor Henry Baerer's gilded imps. Culinary director Didier Elena and executive chef Matthew Aita replicate the dishes of some of the country's best talents, who come to guest cook in short stints in the intimate 16-seat "studio." Expect a hearty seasonal menu, with plenty of meat, game, and seafood and earthy garnishes. Within the brick vaults, the open kitchen is naturally the focal point of the masculine space, which features walnut wood, marble, concrete, leather, brass, and steel, with tableware by Uhuru from Brooklyn. The art installations by Murray Moss in giant suspended vitrines include a huge Himalayan salt deposit.
COSME
35 E 21st Street, T 212 913 9659, www.cosmenyc.com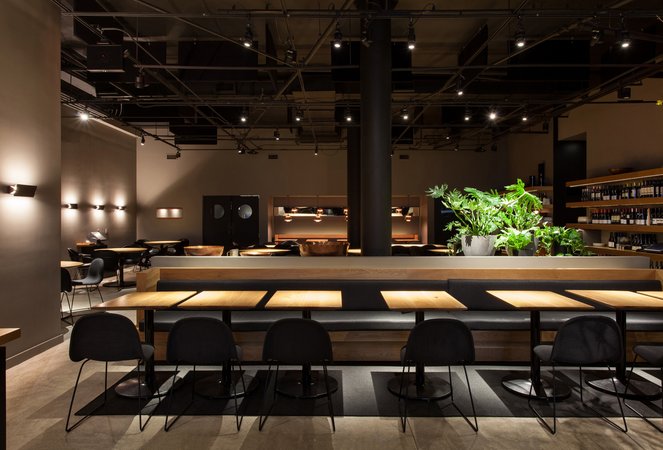 Chef of the acclaimed restaurant Pujol in Mexico City, Enrique Olvera's sultry Gramercy space is a dark den of culinary pleasure that can seat 140 yet delivers a deeply intimate experience. Order three dishes each to share, perhaps the duck carnitas, scallop aguachile with fresh wasabi, cucumber and lime, and uni tostadas, paired with a fiery agave cocktail from the buzzy bar.
LOIS
98 Avenue C (Loisaida Avenue), T 212 475 1400, www.loisbarnyc.com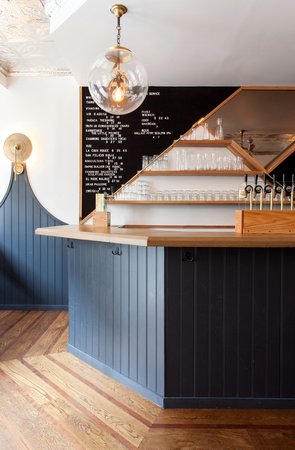 Manhattan's first all-draft wine bar, Lois opened in Alphabet City in early 2015. There are 16 rotating labels served from the keg, detailed on a triangular letter board behind the bar, as well as two beers, and a paired menu of small plates ranging from rillettes to cheeseboards and charcuterie. It's an enjoyable way to educate your taste buds without breaking the bank — glasses range from $5 to $12. The sleek space also takes the pretension out of the process. Michael J Groth, in collaboration with artist Robert Ogden, has installed warm woods such as white oak and mahogany, brass-accented pendant lights, sconces and chandeliers, a banquette upholstered in vintage Turkish kilim, and an unfinished-tin-tiled ceiling. Lois opens at 5pm (12pm on weekends).
THE NOMAD BAR
10 W 28th Street, T 347 472 5660, www.thenomadhotel.com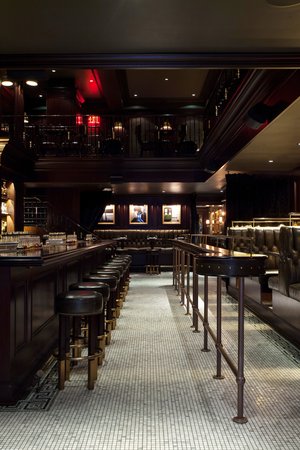 Chef Daniel Humm and restaurateur Will Guidara are growing their empire, after Eleven Madison Park (11 Madison Avenue, T 212 889 0905) and the stylish NoMad Hotel (T 212 796 1500). The independent NoMad Bar showcases Leo Robitschek's bespoke cocktail offering in a soaring room with clubby leather booths and highball tables surrounding a dramatic backlit mahogany bar. Designers Stonehill & Taylor have drawn on the district's high-low aesthetic through Mackenzie Canlis' photos (Louboutins on a dirty street, etc) and the work of local artisans — trays from Brooklyn's Works Manufacturing, uniforms by Kimmie Kakes, and dinnerware by Jono Pandolfi. Try the extravagant gin-soaked Forbidden Dance, and soak it up with the chicken potpie with truffle and foie gras.