Today marks the opening of FIAC, the premier Parisian art fair and the next logical art world destination after last week's festivities in London. The city's extensive and storied dining scene can be daunting even for the seasoned gourmand—to help you sort out your options, we've excerpted five of the best spots for a drink and a meal from Phaidon'sWallpaper* City Guide: Paris.
Saturne 
17 rue Notre-Dame des Victoires, 2e, T 4260 3190, www.saturne-paris.fr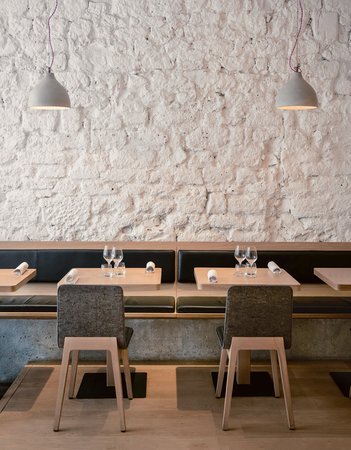 Photo: Jérôme Galland
Chef Sven Chartier, just 24 years old at the time, opened Saturne with the sommelier Ewen Le Moigne in 2010. The pared-back, Scandi-style interior of this centrally located restaurant features undressed tables, Jean Louis Iratzoki's felt- and wool-covered oak "Laia" chairs, stone walls, an open kitchen illuminated by a giant skylight, and light fittings by Serge Mouille and Céline Wright. The €45 lunch menu and €75 "carte blanche" dinner of six courses deploy impeccably sourced ingredients in dishes such as gilt-head bream and Utah Beach oyster with pear granita and Savagnin vinegar, and lobster with thyme, cauliflower, and lemon. Vins naturels from the Loire, Auvergne, Languedoc, and Savoie are ambrosial, especially with Le Moigne's guidance. Saturne is closed on weekends.
Monsieur Blue, Palais de Tokyo
13 avenue du Président Wilson, 16e, T 8197 3588, www.palaisdetokyo.com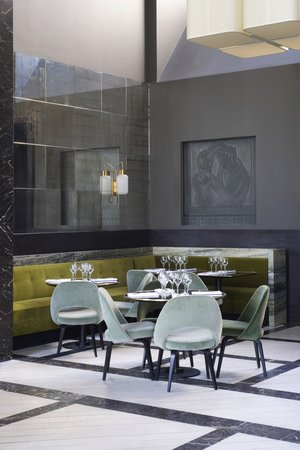 Photo: Adrien Dirand
Extended in 2012, so it now reaches down to the Seine, Palais de Tokyo is a must for its surveys of contemporary art, and its architecture — a 22,000 sq m labyrinth of concrete chambers and lofty alcoves. Anne Lacaton and Jean-Philippe Vassal took a minimalist approach to the renovation, freeing up space and revealing the vast proportions. In some of the rooms, it can feel as if you're entering a no-go area, so unsignposted and unrefined is the finish. As many of the artworks are disruptive of normative seeing, the experience can be thrillingly disorienting; the venue's fabric is also subject to intervention. Take a break for lunch at Monsieur Blue (above; T 4720 9047), designed by Joseph Dirand. The museum opens at noon; closed Tuesdays.
Le Mary Celeste
1 rue Commines, 3e, www.lemaryceleste.com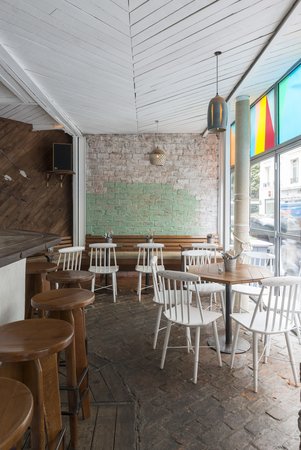 Photo: Julien Fernandez
There is much that is welcoming about Le Mary Celeste, and the patient staff will find you a perch when it's busy (it's always busy) and chat even when the pressure's on. Plus, it occupies a premium position on a street corner, and has expansive windows and a sociable hexagonal bar center stage. Kick into evening mode with a potent cocktail, such as the Minerva, consisting of Beefeater gin, Amontillado Contrabandistia, dry Curaçao Pierre Ferrand, Rinquinquin, and bitter orange or a glass of Jacques Selosse fizz. Mads Christensen's adventurous menu changes daily, usually featuring oysters in season, and perhaps a veal ragout with jalapeños and polenta. The owners run nearby Candelaria (52 rue de Saintonge) and Glass (7 rue Frochot) in the 9th, both beloved of the party crowd.
Clamato
80 rue de Charonne, 11e, T 4372 7453, www.clamato-charonne.fr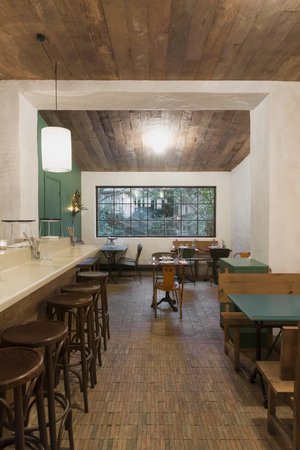 Photo: Julien Fernandez
Fans of Septime (photo at top of article; T 4367 3829) are all aglow about this next-door offshoot, which has a looser, later vibe, a no-reservations policy, and a globetrotting, ocean-going menu quite unlike more traditional Paris seafood joints. The cabin-esque interior features parquet bricks on the floor that continue up the side of the bar, bench seating, wood tables, and a pine-clad ceiling. Arrive when the doors open at 7pm, or after 9.30pm, to avoid the crowds, and order to share. Start with clams — ask your server for the plus fines — and perhaps a living crevette (very Noma), followed by ceviche of grey mullet, tuna sashimi with chives and umezu plum vinegar, and marinated sardines. The puddings are fantastic too: leave room for the damson clafoutis with basil sorbet.
Brasserie Thoumieux
79 rue Saint-Dominique, 7e, T 4705 4975, www.thoumieux.fr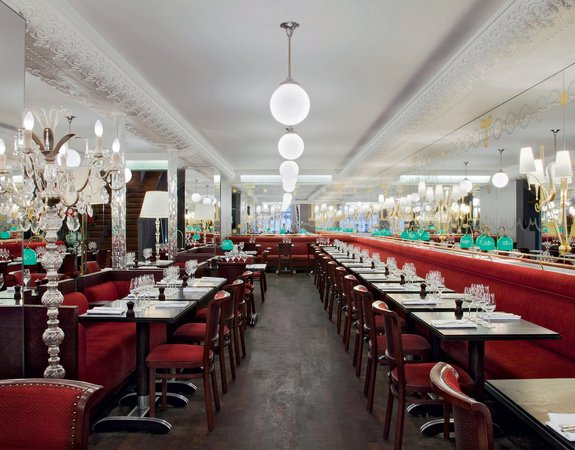 Photo: James Reeve
Since the relaunch by Thierry Costes, whose family is behind so many of Paris' see-and-be-seen destinations, this venue is abuzz again, offering a snapshot of the well-heeled habitués of the 7th. The upstairs restaurant, with chef Sylvestre Wahid at the helm, has two Michelin stars and there's a refined 14-room hotel (T 4705 7900) with interiors by India Mahdavi.