Lives and Works
Edinburgh, UK
Education
MA Fine Art, Goldsmiths College, London, UK, 1996
BA Fine Art Sculpture, Edinburgh College of Art, Edinburgh, UK, 1993
Exchange to Maryland Institute of Art, Baltimore, MD, 1992
Representing Galleries
Office Baroque, Brussels, Belgium
Hotel, London, UK
Galerie Neu, Berlin, Germany
Keith Farquhar's work suggests what it is to make figurative sculpture in the age of digital reproduction. Best known for his photo-sculptural works, More Nudes in Colour is an ongoing series of works where each new piece begins with paint spontaneously applied to a naked model. The results are photographed producing images reminiscent of nudes from classical antiquity–the painted skin often emulating marble, wood-grain, or other materials from which figurative sculpture is traditionally made. The images are then fabricated as life-sized cardboard cut-outs (similar to those found in cinemas promoting the current releases) and exhibited on custom-made plinths of the same material. Farquhar refers to these finished works as flat-pack statues.
Production starts in Farquhar's studio with an improvised series of actions, reminiscent of particular 1970's performance practices that forefront the body as a site of engagement. Referencing both Yves Klein and Jackson Pollock in it's painterliness, the work also evokes Hippy body painting and certain coffee-table erotica books such as Charles Gatewood's Messy Girls! and Richard Kern's New York Girls. Those familiar with Farquhar's work will note the trademark economy by which multiple, disparate references are impacted within one unified, elegantly realised solution. With More Nudes in Colour, the distillation process is intensified within the flat-pack, kit formation of each finished piece: What begins with a wholly physical, messy and chance-filled endeavour culminates in a series of concise, dematerialised artworks that can literally fold away to nothing.
He has had solo exhibitions at High Art in Paris, Leslie Fritz in New York, New Jerseyy in Basel, Hotel in London, and Galerie Neu in Berlin. His work has been shown in museum exhibitions at Witte de With in Rotterdam, London's Institute of Contemporary Art, the Scottish National Gallery of Modern Art in Edinburgh, and in Bordeaux's Museum of Contemporary Art.
Courtesy of Studio Voltaire
Works Available for Purchase
Articles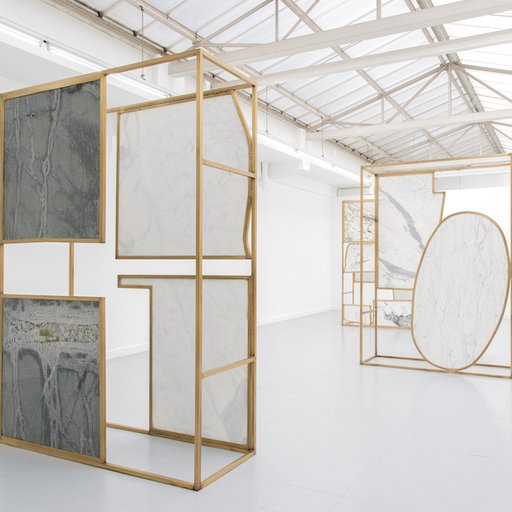 12 Galleries to Know in Brussels