There has never been a better time for galleries to be in Brussels. In the past couple of years, galleries from London (Rod Barton) to Brooklyn (Clearing) have migrated or branched out to the thriving and ever-evolving Belgian capital. The city's discreet demeanor, relatively low rents, and a constant influx of artists make for a vibrant art community.
As the city's veteran art dealer Xavier Hufkens puts it, "It seems like there is a new non-profit space or gallery opening every other week. Simultaneously, existing exhibition spaces and galleries propose more and more ambitious shows and projects that make a difference on an international level."
Keeping the art-hungry crowds satisfied are institutions like WIELS and BOZAR, both of which boast world-class exhibitions of local and international artists. Equally impressive are the many artist-run spaces, such as Société and Komplot. Here is a partial list of the new and established galleries transforming the Brussels art scene.
ALBERT BARONIAN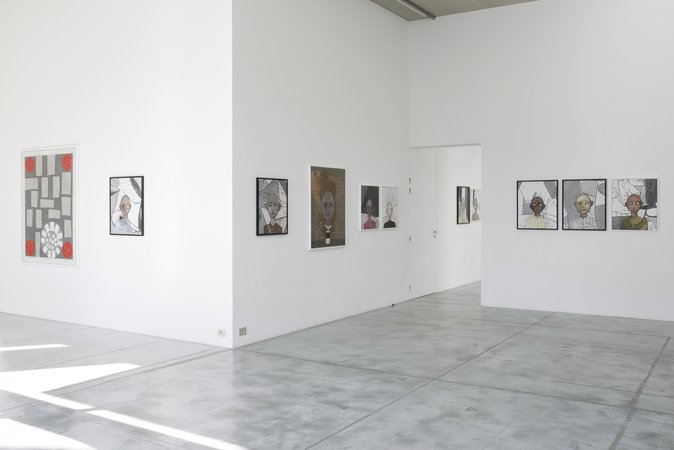 An installation view of  Thomas Zipp, "Attempts to quantify sensation." Courtesy Isabelle Arthuis
The well-established gallery Albert Baronian showcases an impressive array of artists. Artists such as Andy Warhol and Hergé have set foot in the gallery, as well as Belgium's Queen Paola. Baronian opened his first gallery back in 1973, focusing on Arte Povera with artists such as Alighiero e Boetti, Mario Merz, Giulio Paolini, and Gilberto Zorio. Currently, Baronian's gallery consists of two exhibition spaces, both not too far from the heart of Brussels and a short walk from Place Stéphanie. The main gallery is a spacious white cube space with a garden designed by Patrick Mayot. Just across the street is a smaller space dedicated mainly to lesser known emerging artists, as with a recent solo show by Eric Croes.
Baronian works with an eye to the long-term development of each artist's career, acting as a liaison to international institutions and aiming to have represented artists hanging in private collections or museums. His gallery, in his words, is a "public space in which the exhibitions become an exemplary gesture of the power of subjectivity to the audience at large." His exhibitions vary widely in medium and narratives, veering towards introspection. Notable shows include one by Wang Du, who set up a two-day performance in which he occupied the street for two days.
BOX GALERIE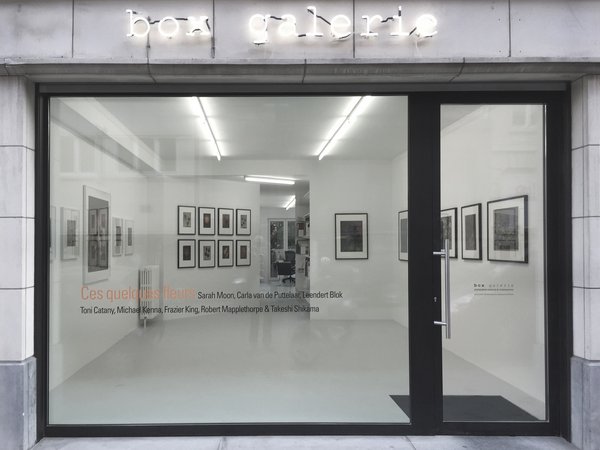 From the exhibition "Ces quelques fleurs," September 25 - October 31, 2015.
A must for any photography lover in Brussels, Box Galerie houses images from renowned and emerging artists. Founder and director Alain D'Hoogh opened Box Galerie back in 2004, then with Stefan De Jaeger. D'Hoogh brings 30-plus years of expertise in attending, curating, and writing about photography, as a magazine editor, lecturer, and curator of international exhibitions. The gallery has recently moved locations to a more highly trafficked area of Ixelles, not far from Flagey.
Photographers such as Larry Fink, Richard Dumas, Marina Cox, Graciela Iturbide, Alberto Garcia Alix, Michael Kenna, and Kevin Griffin are among those on the list, which D'Hoogh describes as artists who "use a camera to see the world." When it comes to attending to his gallery, D'Hoogh says it is "a bit like teaching—I like to share experience and my love for photography." He has been known to convert first-time collectors into "full-on collectors," by spreading his love of photography and deep knowledge of the medium.
D + T PROJECT GALLERY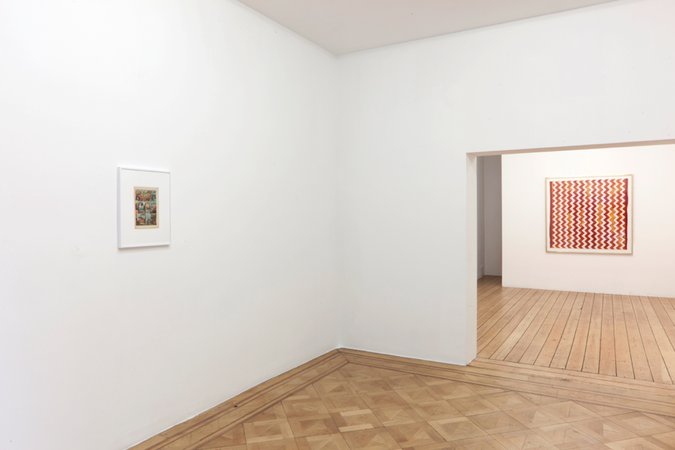 View of exhibition "Kledze Hatal" by Sebastien Bonin. Courtesy of D+T Project Gallery, 2016.
Gregory Thirion and Alexandre Daletchine have made a name for themselves in the international art scene with D+T Project Gallery since its opening in 2010. As art historians, they carefully select art with a story and are committed to representing international artists whose work resonates with issues of politics, identity, borders, and the environment. They work both with young and mid-career artists such as Mona Vatamanu & Florin Tudor, Jens Haaning, Nicoline van Harskamp, and Elena Bajo.
Gregory and Alexander also promote and support young emerging artists by giving selected graduate students the opportunity to present their works at the gallery as part of an annual competition. The gallery is not afraid to take big risks in presenting fresh, cutting-edge art, a move larger galleries usually cannot afford. D+T Project gallery is also known for working closely with artists on projects conceived outside the gallery space.
GALERIE RODOLPHE JANSSEN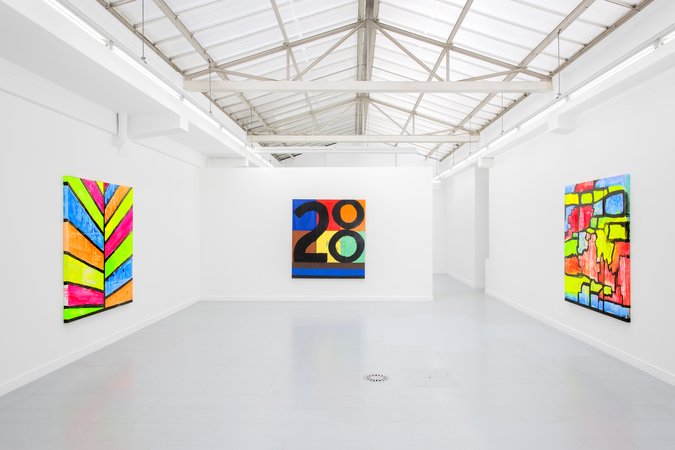 An installation view of Chris Martin at Rodolphe Janssen, Brussels, Belgium, 2015
Rodolphe Janssen is one of the longest-running contemporary art galleries in Brussels, open since 1991. It occupies an old garage turned white-cube space, where a glass roof lets in natural light to supplement the gallery's neon lamps. Its second space, just over on Rue de Livourne, is a former workshop in an early-20th-century building. Located in the uptown district of Châtelain near Avenue Louise, it is surrounded by a mix of galleries, champagne bars, embassies, and upscale restaurants. Janssen exhibits an impeccable selection of artists, from the well known to the emerging. Janssen describes them as "artists that have energy and with whom we can have a long term commitment." International and Belgian names such as Wim Delvoye, Thomas Lerooy, Nathaniel Axel, Chris Martin, Gert and Uwe Tobias, Marlo Pascual, Sean Landers, Farhad Moshiri, and Lucas Blalock are on the roster.
ISLAND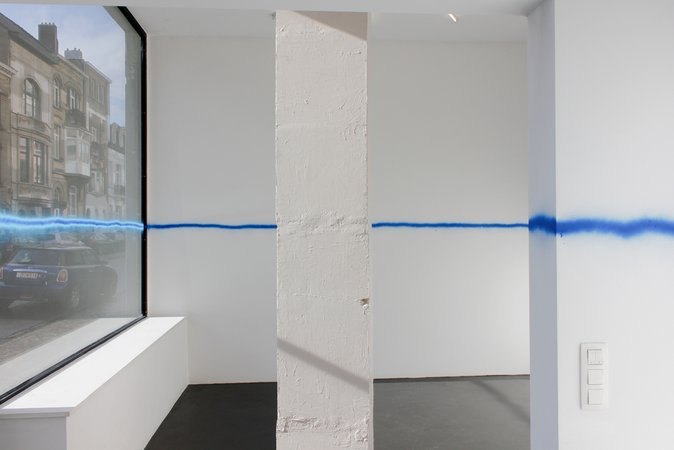 An installation view of Gijs Milius, "Island," 2016.
An artist-run gallery, Island is best known for exhibiting young and promising artists in its casual, intimate, two-story compact space. It first set up shop in the lively area known as Matonge; recently, in 2015, it moved to be near to other galleries such as Meesen de Clercq and Xavier Hufkens. An atypical gallery, Island does not represent artists and prefers to invite them to curate and exhibit their art freely. They tent to exhibit young artists who have not shown their work in other galleries. Emmanuelle Indekeu (the gallery's co-director, with Anne-Catherine Lacroix) says "visitors know that by coming to our exhibition they will see works by artists who are growing and who will surely have a great future." Most recently, it hosted a group exhibition titled "Des Chevals" with works by Dimitri Carez, Frédéric Dumoulin, Dieter Durinck, Pierre Konder, Julien Meert, Tim Onderbeke, and Laurent Veldekens. Indekeu, a Brussels-based art agent and curator, is also the founder of IDK Contemporary, a curatorial platform and art agency, and Corrida, a new art project room located in Ghent.
XAVIER HUFKENS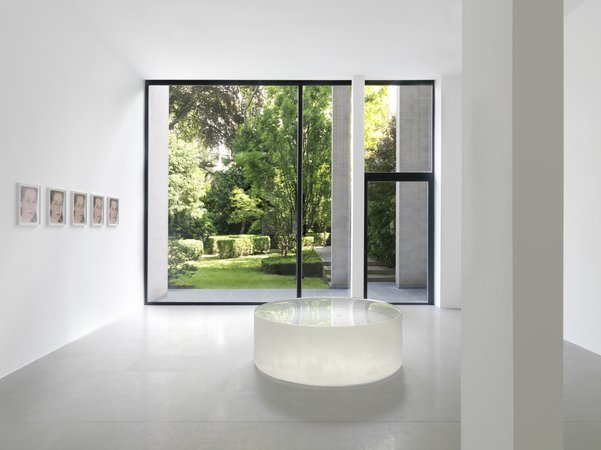 Installation view of Roni Horn's exhibition at Xavier Hufkens, May 20-June 14, 2008, 6 rue St-Georges, Brussels. Photo: Allard Bovenberg, Amsterdam. Courtesy the artist and Xavier Hufkens, Brussels.
Xavier Hufkens is a veteran on the Brussels scene, and a trusted name in the rest of Belgium and abroad. As Hufkens says, "the eye is a muscle that one develops by looking at art a lot," and his exhibitions are evidence of the years put into training and selecting tasteful art. Hufkens, following his teenage dreams, first opened up shop in Brussels in 1987. Years later he continues to run a gallery based on his eclectic but clear vision, where quality is valued above everything else.
The gallery is situated in a 19th-century townhouse renovated by the Belgian architects Paul Robbrecht, Hilde Daem, and Marie-José Van Hee, complete with a garden where it often exhibits sculptures. Its smaller second space, located further down on the same street, opened late in the spring of 2013 near the Rivoli gallery building. Its roster comprises thirty-plus international and Belgian based artists, emerging, mid-career, and established, including Thomas Houseago, Adam Fuss, Sterling Ruby, Louise Bourgeois, and Michelangelo Pistoletto. Notably, Xavier Hufkens was one of the earliest galleries to exhibit the works of Felix Gonzalez-Torres.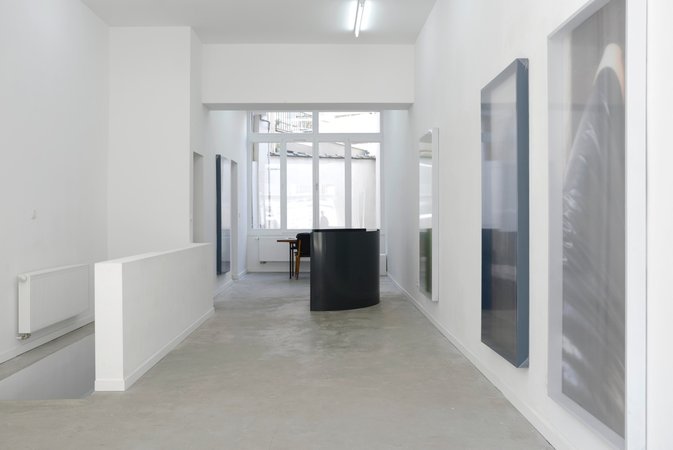 Ariane Schick at Super Dakota, April 2015. © Isabelle Arthuis, courtesy of Ariane Schick and Super Dakota, Brussels
Damîen Bertelle-Rogier, a young and savvy Parisian, has managed to cultivate a daring and cutting-edge roster encompassing both lesser known and internationally recognized names. Among Super Dakota's previous exhibitions are "Lighght" with Joachim Bandau, Alex Clarke, Luke Diiorio, Dean Levin, Connor McNicholas, Bruce Nauman, and Fred Sandback; a solo show with Hugo Pernet called "Peinture"; and Chris Dorland's first European solo show, "Happiness Machines." Super Dakota's welcoming, unpretentious white cube space allows artists to exhibit on either of two floors. You can often catch Damien giving private tours to curious onlookers. What guides his choice of art is "substance either in the ideas, aesthetics or both," he says, with an eye to technical explorations of a given medium. As for the origin of the gallery's name, Damien refers to it as "a million-dollar question involving a plane, a bottle of whiskey, and a gun"—ask him when you're visiting.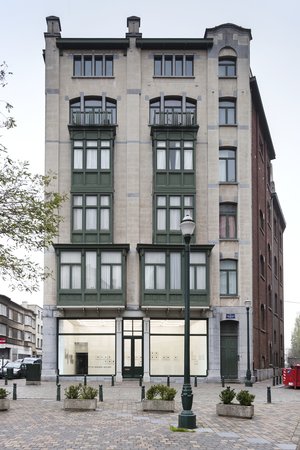 Office Baroque Downtown Gallery Space, Brussels. © 2016 Pieter Huybrechts
After stints as independent curators and directors of the Antwerp gallery Extra City, Wim Peeters and Marie Denkens laid the foundations for Office Baroque back in 2007 in their apartment in Antwerp. Over six years, Wim and Marie created an intimate and inviting art space. Then, in a move to expand their horizons and find a more suitable space, Office Baroque settled in the Dansaert area of Brussels. Its newest home is an imposing cast-iron building designed by Paul Hamesse, an old brewery with large glass display windows.
In September 2015, Office Baroque opened a second space just steps away from the cultural center BOZAR. The gallery shows emerging and established artists with a rigorous curatorial approach. Artists represented include David Diao, Jan de Cock, Liam Everett, Keith Farquhar, Catherine Aheam, Tyson Reeder, and Margaret Salmon, and the roster encompasses minimalism, conceptualism, painting, video, and photography. The gallery's young and dynamic director Louis-Philippe Van Eeckhoutte says the space functions as "a platform to communicate across media and disciplines, and between different generations." During the week of Independent, Office Baroque will feature an exhibition titled "8 Femmes" showing the works of Sascha Braunig, Jess Fuller, Anthea Hamilton, Ella Kruglyanskaya, Melanie Matranga, Junko Oki, Silke Otto-Knapp, and Sophie Von Hellermann.
ROSSI CONTEMPORARY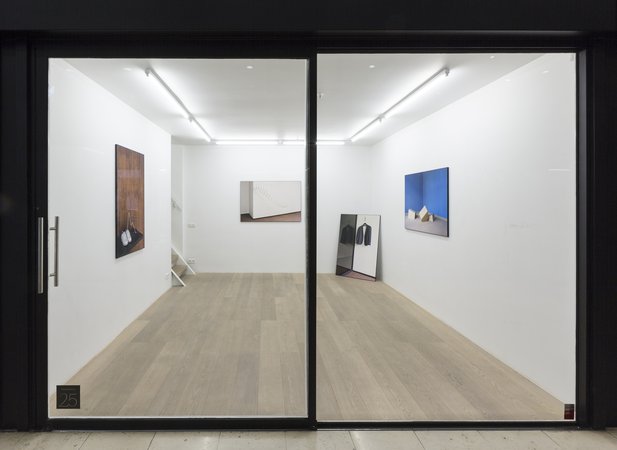 Image courtesy of Rossi Contemporary and the artists
A pioneering gallery, Rossi Contemporary was the first to open its doors in the gallery cluster in Uccle's Rivoli building in 2008. Once a shopping center, the building has evolved into one of Brussels's main hubs for contemporary art. Currently hosting thirty galleries in a space of 400 meters, it is home to leading international galleries such as Xavier Hufkens, Almine Rech, and Meessen DeClercq.
Founder Francesco Rossi, an Italian-born art historian, presents an impeccable selection of artists in its three adjacent spaces, showing 20 or so exhibitions a year—many of them devoted to contemporary painting and conceptual art. As a visiting curator once put it, the place is welcoming and "never pretentious." For Rossi, the gallery allows him to have "a closer relationship with artists and act as an interlocutor, a sort of ally." Exhibited artists include John van Oers, Marie Rosen, Carolina Fernandez, Chisato Ishiyama, Thomas Mazzarella, and Marie Rosen.
DEBORAH BOWMANN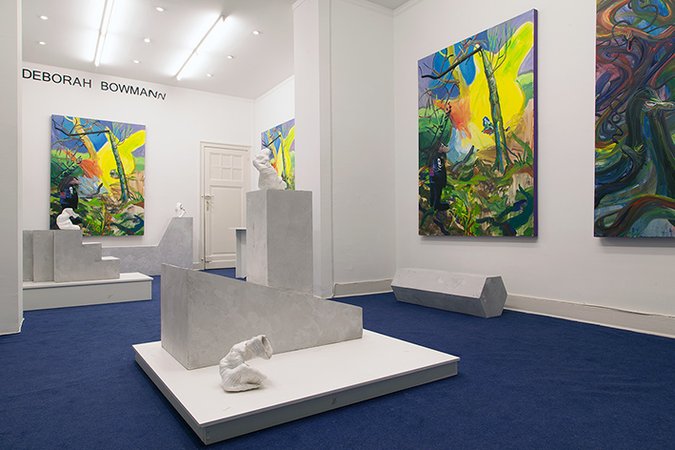 Installation view of "Starting over and failing again," at Deborah Bowmann, with Ludovic Beillard and Remi Lambert
"What are you actually selling?" is a question Amaury Daurel and Victor Delestre, founders of Deborah Bowmann, often hear. Their answer is, simply, "everything is for sale."  And that is what makes Deborah Bowmann a unique space, where nearly every object, from the display material to the art itself, can be purchased.
Amaury and Victor, both French artists, describe the space as "between a shop and an art gallery, between a living-sculpture and a real economic project." Behind the moniker, Deborah Bowmann, lies a branding and marketing strategy similar to those of large companies. But despite their "strictly business" façade, they question the viability of art practices. They openly flout the label of art dealer, opting to refer to themselves as "gallerists-makers proposing a platform for collaboration, diffusion, and distribution."
Amaury and Victor first opened Deborah Bowmann in Amsterdam in 2013, and in September of 2015 they moved to Brussels—settling in a luxurious 20th-century space with large display windows and high ceilings. Deborah Bowmann does not represent artists; instead it creates exhibitions through collaborations with young artists, established artists, designers, and people from the international cultural scene. During each exhibition, the founding duo also opens their self-designed bedrooms, located in the gallery's basement, for conferences. Recent exhibitions include "Everything you need to bring bathrooms to a shine," which was a collaboration with Thea Djordjadze, Estrid Lutz and Emile Mold, Vincent Knopper, Amaury Daurel, and Victor Delestre.
ATTIC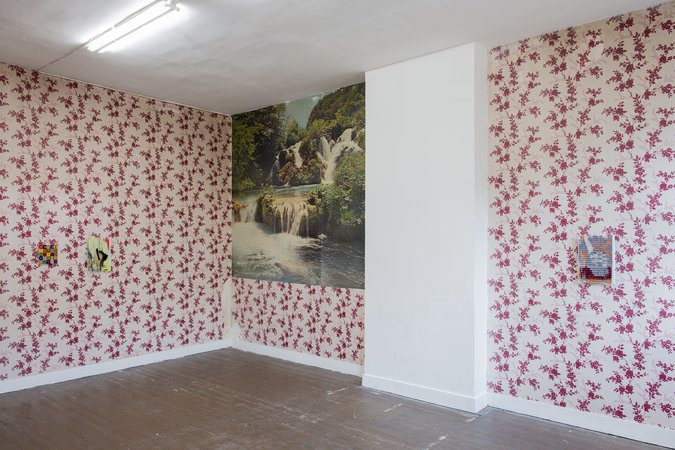 From the exhibition Alighiero Boetti / Zoë Paul, September 11 - October 31, 2015. Photo © Hugard & Vanoverschelde​​
After ascending several flights of stairs in the large gallery cluster on Rue de la Regence, one finds Sebastian Ricou's cozy gallery space, fittingly called Attic. The old pink flowery wallpaper and large poster of a waterfall add to the space's endearing kitsch and homey feel. The founder, French-born Sébastien Ricou (1984), first moved to Brussels to work for Almine Rech back in 2008. Shortly after, Sébastien opened his first eponymous gallery near Place du Jeu de Balle. With his newest art space, Attic, he takes a more intimate approach, nurturing a close relationship with artists, collectors and visitors alike. Attic presents young artists alongside more established names, creating contrast with every show and bypassing the conventional white-box space. Past exhibitions include the works of Alighiero Boetti and Zoë Paul and the pairing of Walker Evans and Apolonia Sokol; an exhibition curated by Arlene Berceliot Courtin with the works of Math Bass and Albert Mertz is forthcoming.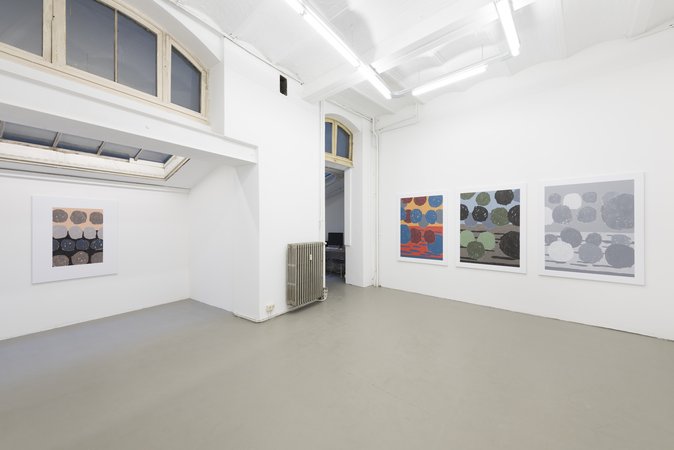 Installation view of Luc Fuller at Rod Barton, 2016
Prior to starting his own gallery, Rod Barton got his foot in the door of the art world as an art student, an exhibition assistant at the Gagosian Gallery, and a studio manager for Julian Opie. Later, in 2009, he organized a solo exhibition by Belgian artist Michiel Ceulers, prompting him to open his first gallery in London in March of the same year. His gallery has since evolved into a well-known, artist-led space. Shifting gears, he recently set up shop in Brussels this past January, managing to seize the last available space in the gallery cluster on 67 Rue de la Regence, a building occupied by galleries such as Sorry we are closed, Jan Mot, and Micheline Szwajcer. Why Brussels? Barton mentions Belgium's solid, well-educated collector base as well as the "abundance of cheap spaces for artists to live and work … a healthy cocktail for the development of a newly dynamic art scene."