Each year, as spring and fall approach, some members of the international art world feel a near-euphoric tingle of anticipation. Why? Because they know the change in season brings with it another excuse to visit one of Europe's most dynamic artistic scenes, Berlin, where the buzzing Gallery Weekend takes place every April, and where, every September, Berlin Art Week and abc art berlincontemporary summon the fun-loving arty intelligentsia. Featuring a packed calendar of openings, screenings, and performances taking place at galleries, institutions, and nonprofits throughout the city, these events provide a Saturnalian visual feast not just for the art community but also for the general population.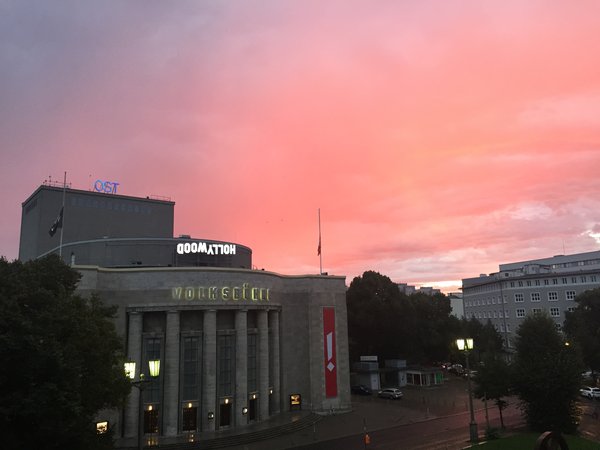 This month, an inverted Hollywood sign overlooking Rosa-Luxemburg-Platz was mounted atop the monumental Volksbühne (People's Theater)—the original slogan of which was "Die Kunst dem Volke" ("Art for the People")—and neatly expressed the kind of relationship between art and the public in Berlin. It was high-minded entertainment, for sure, but mixed with a sense of "common good" and collective participation as one would expect from a progressive crowd enamored with the promise of Socialism.
That the sign came courtesy of Los Angeles art hero Paul McCarthy and his son Damon McCarthy, whose explicit installation-cum-video projection Rebel Dabble Babble (2013) is featured there, added to the spirit of provocation. Meanwhile, standing in a row on nearby Weydingerstrasse, were Kimmerich, Nagel Draxler, Croy Nielsen, and BQ—galleries offering a sampling of more easily digestible work by such artists as Marie Lund, Hugh Scott-Douglas, Heimo Zobernig, and Margherita Manzelli.
When it comes to collectors, "Berlin does not have a lot of them," said Mascha Logačeva, sales director at Carlier Gebauer. The people in for the week, however, "might be lawyers, doctors—clearly an affluent clientele." Another dealer elaborated: "Western and Southern regions of the country is where money is. Rich people live in Bonn, or in Cologne, but they scout artists and buy artworks in Berlin."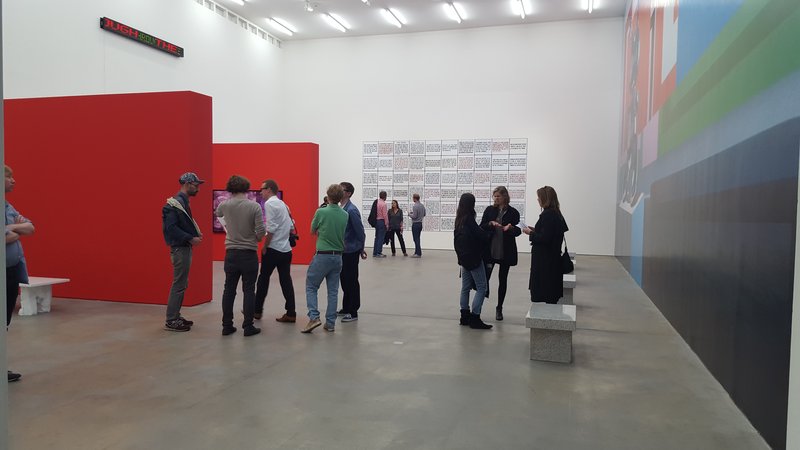 Sprüth Magers
The art dealer Mario Iannelli—owner of the eponymous gallery showing Felix Kiessling, ClausPhilip Lehmann, and Joe Clark—provided a bit more nuance: "Berlin collectors support historical galleries in the city" like Meyer Riegger and Sprüth Magers, both founded in the 1990s, "while the newcomers have to rely on the international market that's made accessible through the art fairs." As a result, the galleries, who await the week like monsoon season, are very happy to see these deep-pocketed visitors—meaning, according to Iannelli (who moved his Berlin gallery to Rome), that "collectors can really get some good bargains today as they can invest in plenty of artists, without a big expense."
As for the city's famed potpourri of striving artists from around the world, that remains as robust as ever, with the global economy always throwing up new cheap-rent-seekers to restock the pond. "Artists are still coming from everywhere, but mainly from the U.S., France, and Greece," said the Berlin-based Greek painter Yorgos Stamkopoulos. "I constantly meet new people." The communal spirit is infectious."The energy comes from the people living and working in the city—they make the magic happens," he added. "Everywhere you go, there is a really relaxed attitude towards life."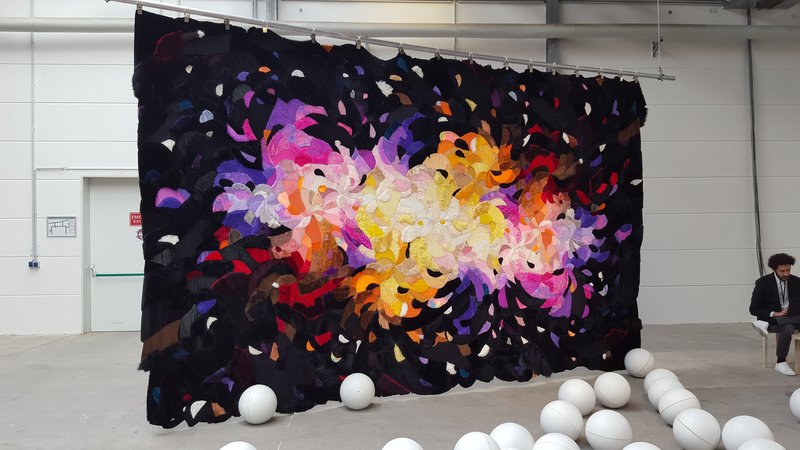 A scene from the fair

A short, head-clearing walk from the populous Mitte district, Kreuzberg and its neighboring Neukölln area are the new hub for contemporary art, extending around the crowded tourism nexus Checkpoint Charlie. Between the stately buildings along the river Spree and the southern Turkish enclave, more than 50 international galleries have popped up within that square-half-mile stretch. Eminent names include König Galerie, settled within the Brutalist St. Agnes church designed by Modernist architect Werner Düttmann, and Blain Southern, which occupies the 400-square-foot site of the liberal newspaper Der Tagesspiegel's former printing press.
Besides galleries, Kreuzkölln, as the cozy area is commonly known among locals, benefits from the cultural activity of the Kunstlerhaus Bethanien, one of the major artist-in-residence organization in Europe, which every year welcomes talents from the Americas, Oceania, the Middle East, and South East Asia. After all, it's the diverse cultural heritages and their interchanges that make the city so vibrant.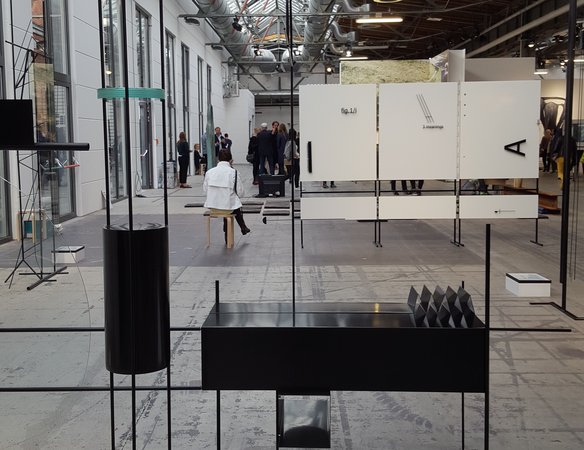 abc art berlin contemporary
It's in this context that abc art berlin contemporary is rooted. Unconventional but still very market-ready, the fair occupies the onetime Berlin Dresdner Bahnhof. Stepping foot inside one immediately perceives what makes the event so different from its famous peers in London, Paris, and Milan: the sweeping scale yet sparse display, and the unpretentious industrial setting. There's no awe-inspiring entrance, for instance, to prepare visitors for endless aisles and sore feet. In fact, the atmosphere was markedly laid-back at Station Berlin, which with its ping-pong tables and recreation games for children resembled a playground more than an art fair.
"There are fairs in which you know you will be selling works, and fairs where you mainly make a statement," one participating dealer said. Abc art berlin contemporary, primarily a communication opportunity, is squarely the latter. Duve Berlin, for instance, brought the Greek artist Iris Touliatou, who embodies the gallery's interest in urbanism, commercial culture, and architecture; at Barbara Thumm, meanwhile, the presentation of Romanian painter SimonCantemir Hausì in a wall-less space sought to claim the gallery's maverick position; neugerriemschneider, by occupying four booths (alone and in partnership with other commercial spaces), affirmed its status as a financially powerful and historical gallery in Berlin.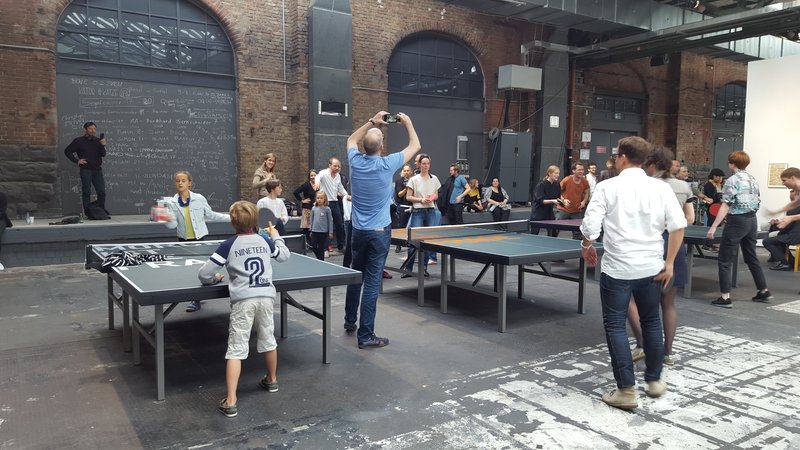 For a visitor to the city, the cumulative experience is one of happy wanderings, upbeat conversations, and an omnivorous visual appetite sated. It's why, when that tingle starts up again in the spring, so many people will return to this city next year.