Erected by a Roman colonial in Egypt's Nubian region in 15 B.C. as a shrine to Isis, Osiris, and Horus, the Temple of Dendur was brought to the Metropolitan Museum of Art in 1967 at the beginning of the enterprising reign of director Thomas Hoving. Installed in 1978 in its now-iconic glass housing—an operatic setting designed by architect Kevin Roche—the temple quickly became the social hub of the museum, a place for assignations (remember when Harry met Sally there?) and benefit galas (a trustee once called it the "Temple of Din-Din"). This Tuesday, however, the museum called upon the temple to serve its most up-to-date function yet: as the stage to celebrate the launch of the Met's new smartphone app, with a performance by early-aughts drone heroes Interpol.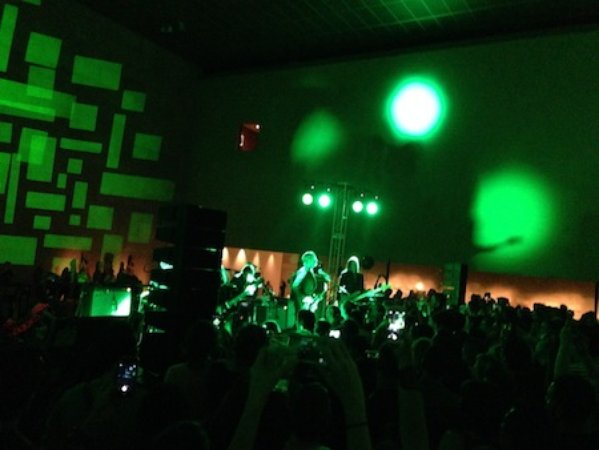 The band playing
First, the app. Funded by Bloomberg Philanthropies and developed under the direction of Sree Sreenivasan, the Met chief digital content officer who rose to fame as a social-media guru at Columbia, the lavishly illustrated plug-in offers new ways to explore and interact with the museum's collection whether one is onsite or afar—a form of digital democratization long championed by Met director Thomas Campbell. The app was an immediate success upon launch, according to an announcer who revealed, in preface to the concert, that it had debuted in second place on the Apple Store's charts.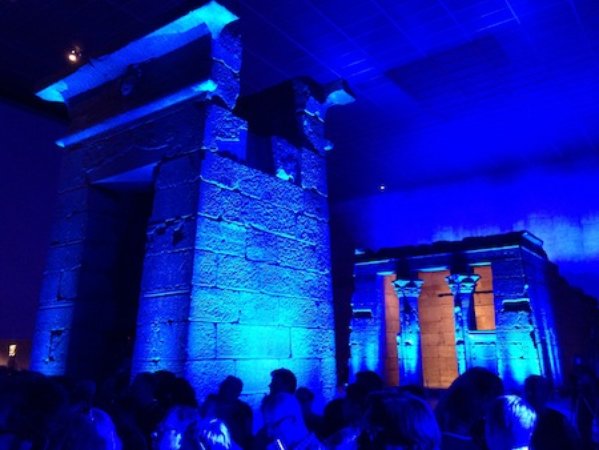 The Temple of Dendur, illuminated
Now, the band. Seeming to step out of a John Varvatos campaign, Interpol strode onto the stage in immaculate fitted suits under oversaturated colored lights and unloosed a stylishly melancholy set, playing hits from their early days of breaking onto the New York scene as the Joy Division-inspired corollary to the '70s-besotted Strokes. While the sight of the skinny-tied rockers playing in the Met's usually hushed Egyptian galleries provided a deliciously sacrilegious thrill, they were hardly the first musicians to play in the space—others who have graced the ancient stage include Frank Ocean, Bruno Mars, the Liars, and famed German soprano Hildegard Behrens.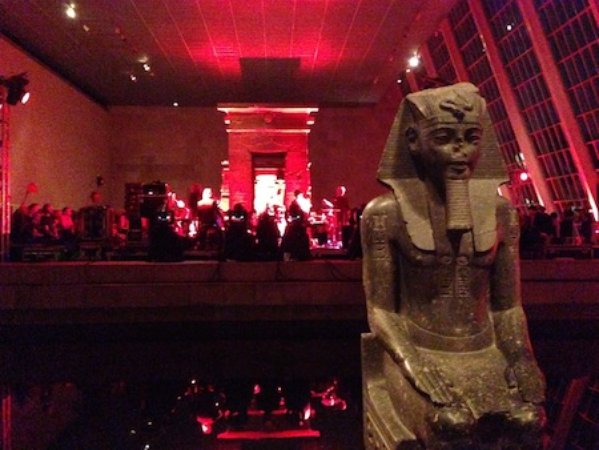 A view of the set from across the artificial moat