The following is excerpted from Phaidon's new release, Flying Too Close to the Sun: Myths in Art From Classical to Contemporary— the first book to unite myth-inspired artworks by ancient, modern, and contemporary artists, from Botticelli and Caravaggio to Jeff Koons and Damien Hirst.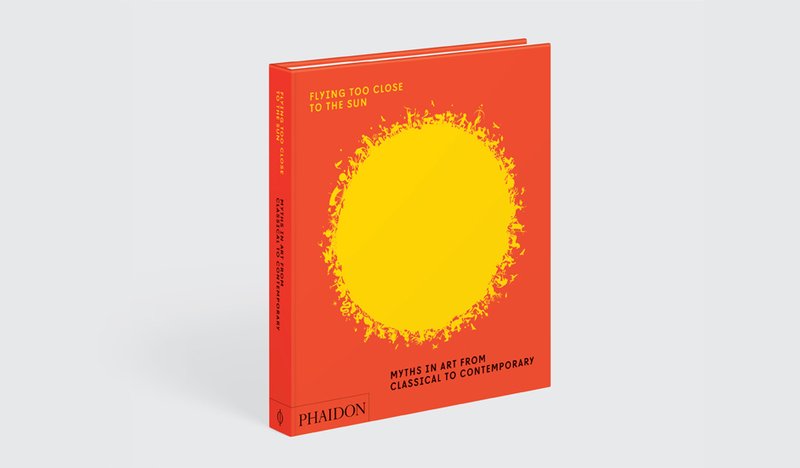 Flying too Close to the Sun is available for $59 on Artspace
The water-nymph Liriope gave birth to a child called Narcissus, beautiful from earliest infancy. The famous seer Teiresias was asked by Liriope what her baby's fate would be, and he foretold that Narcissus would live to a ripe old age "so long as he never knows himself." The words appeared empty for a long time, but eventually proved true. Over sixteen years, the boy grew into a young man of captivating good looks, who attracted the advances of many longing girls and lecherous men; but his heart was hard and proud against their solicitations.
One day, as he chased a deer into a snare, Narcissus was sighted by a nymph, Echo. Echo had been cursed by Hera with an inability to speak and could only repeat the end of the last sentence she heard. (She had incurred the queen's displeasure by working as a decoy for Zeus, keeping Hera in long conversation while her husband philandered in the mountain dells). Echo was transfixed with love for Narcissus but was powerless to express it, so she appeared before him, stretching out her arms. He recoiled in disgust and she ran back into the forest, overcome by shame and the pain of rejection. She wasted away in a deserted cave, her bones turned to stone, and only her voice––now a disembodied echo––survived.
Another spurned admirer of Narcissus decided that enough was enough and prayed to the gods for retribution, demanding that the haughty young man might himself fall in love and yet never obtain the object of his affection. The goddess Nemesis granted this prayer. Narcissus found himself in an idyllic woodland glade by a shimmering lucid pool, surrounded with velvety grass and trees offering shelter from the summer sunlight. Weary from the hunt, he fell to the ground and began to drink the clear water. As he did so, he was overcome by a vision of perfect beauty.
Narcissus took his own reflection to be the manifestation of a god, and leant forward to kiss the apparition. And yet, every time, the pool would ripple and distort the face of his beloved. The young man tried to embrace his silent paramour, but found his hands plunging through the water. It seemed as if the mysterious youth beneath the surface longed just as strongly for Narcissus, returning his smiles and tears and trying to reciprocate his embraces. If he had turned away for an instant, Narcissus's obsession would have broken, but he wasted away on the banks of the pool, unable to unlock his eyes from his own gaze, and suffered as Echo had done on his account. As he languished, she returned his mournful cries. He died there, and a flower rose in his place, the springtime narcissus.
The myth of Narcissus has pervaded art, literature, philosophy and psychoanalysis. Caravaggio's painting presents the boy eyeing up his double in the glassy pool, as if studying a picture, and encapsulates the idea of Narcissus as the first painter, as proposed by the Renaissance theorist Leon Battista Alberti: "What is painting but the act of embracing by means of art the surface of the pool?" Frequently, the scene of Narcissus's self-encounter is also a picture of introspection: Lucian Freud imagines a boy staring sullenly into a mirror, head in hands. The drawing Narkissos by American artist Jess expresses the metaphorical breadth of the story, transforming it into an allegory of looking, desire and memory. Jess evokes the sense in which looking out at the world is also, always, a process of filtering the world through the self.


CARAVAGGIO
Narcissus, 1954-56
Oil on Canvas
Galleria Nazionale d'Arte Antica, Rome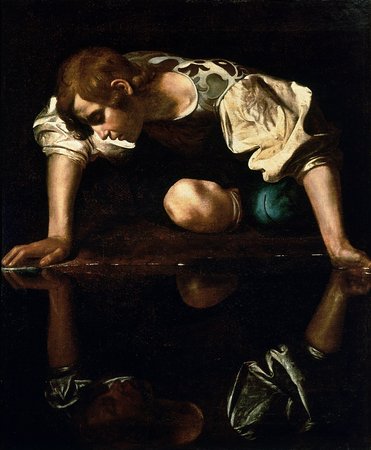 Image via Wikipedia
This theatrical painting by the Italian Baroque master Michelangelo Merisi da Caravaggio (1571– 1610) concentrates on the psychological state of the melancholy Narcissus. The canvas is divided in half along the edge of the water, depicting the youth above and his reflection below. Employing his characteristic techniques of chiaroscuro and tenebrism, or extreme light and shadow, the painter spotlights his protagonist against an inky background, dispensing with all extraneous detail. Caravaggio was known for the stark realism with which he depicted people, painting from life and often illuminating unexpected areas of the body (here, the knee) where the light fell. Narcissus's forearms form a circular framework with his reflection, underscoring the vicious cycle of his self-love. He dips his left hand into the water and seems about to embrace his image, his longing palpable. Little is known about the circumstances of the commissioning and execution of this painting. Long disputed as an original Caravaggio, its innovative composition and distinctive style eventually convinced many scholars. Caravaggio was painting at the height of the Catholic Counter-Reformation, and although many of his commissions treated dramatic biblical themes, his cultured patrons were still appreciative of his mythological depictions using attractive adolescent boys as models.
MAT COLLISHAW
Narcissus, 1990
Print on Resin Coated Paper
Tate, London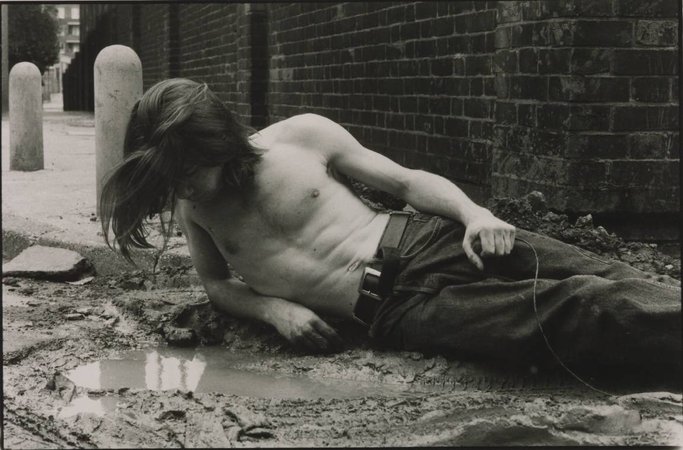 Image courtesy of the Tate London
Artists have habitually depicted Narcissus as a beautiful youth enraptured by his own reflection in a pool. Sometimes he is accompanied by the nymph Echo, who adores him but whom he, so self-absorbed, rejects. Unusually among Old Master depictions, Caravaggio painted Narcissus (opposite) as a contemporary boy in a loose shirt and torn trousers. The British artist Mat Collishaw (born 1966) has taken this contemporaneity a step further. In a dirty alley, the artist lies on the ground, shirtless and unkempt, gazing at his reflection in a muddy puddle of rainwater. Inspired by an ancient myth, Collishaw's work could not be further from the idealized images of the past. This artist has consistently trapped degrees of meaning in striking images that entwine beauty, menace, fantasy and arthistorical references, as well as cultural and social observations of his own time. This work was in part inspired by the cover of 'This Charming Man', a 1984 hit single by the English band The Smiths, showing a young man gazing at himself in a pool. There is also a strong suggestion here of the visibility in British cities of rough sleepers, drug addicts and vagrants at the time Collishaw made the work. By adopting the role of Narcissus, he has created through it a new, unsettling take on the artist's gaze.
JESS
Narkissos, 1976–91
Graphite and gouache on cut and pasted paper in found frame
San Francisco Museum of Modern Art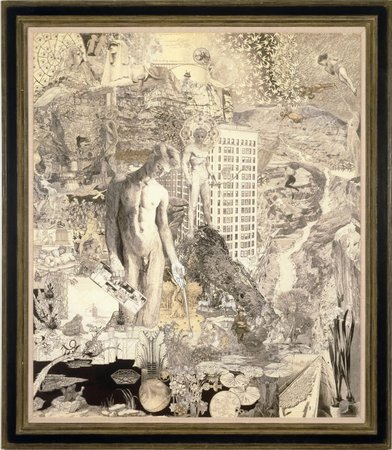 Image courtesy of SF MoMA
Jess (born Burgess Collins, 1923–2004) was a key figure of the Beat scene in 1950s San Francisco. His masterwork, Narkissos, documents its own creation over three decades: it is inscribed "Imagined '59. Collected '59–73. Sketched & Pinned up '76–79. Translated and Pasted up '78–79. Developed '79–91." The work is made up of collected images, each of which Jess would draw and scale up (in his own terminology, "translate") and then paste on the support to create a hand-drawn collage. Even the artist's signature––the initials "JS"––is a found image. The story of Narcissus has great potency as a vehicle for homosexual expression, with particular relevance for Jess as a gay artist who rejected his family name, his original career as a scientist and his birthplace. His research still exists in a ring binder with notes and reference images of Narcissus in myth, literature, art and popular culture––from Caravaggio's sixteenth century painting (p.132) to a nineteenth–century sculpture by Constantin Brancusi to contemporary Hollywood movies and comic strips. The drawings in Narkissos are centered around the paired figures of Narcissus and Eros. Narcissus is a young boy and Eros a mature man, like the erastes and eromenos of the homosexual relationship as espoused in classical Greek philosophy, emphasizing the importance of these classical references for Jess.
RELATED ARTICLES
Icarus, Prometheus, Pandora: 10 Famous Contemporary Artworks Based on Myth
The Other Art History: The Overlooked Women of Surrealism
"It Feels Good to Be an Outsider": Yayoi Kusama on Avoiding Labels, Organizing Orgies, and Battling Hardships
[related-works-module]