Rio de Janeiro is in the final stages of gearing up for the opening of the 2016 Summer Olympics , with all the fanfare, excitement, and excess that goes with the international event. We're taking a step back from the sporting festivities with this short excerpt from Phaidon's Art & Place describing one of the city's best-loved artistic attractions: the Palácio Gustavo Capanema.
Cited as the first truly Modernist building of the Americas, this large complex features contributions by a variety of Brazilian artists, architects, and designers (including the influential landscape architect Roberto Brule Marx , currently the subject of a solo show at the Jewish Museum in New York) all organized by the famed, controversial godfather of 20th-century architecture himself, Le Corbusier . If you're in the city for the Games, don't miss seeing this one-of-a-kind building for yourself.
The Capanema Palace, originally built to house the Ministry of Education and Health (now the Ministries of Education, Health, and Culture) was designed by a team of young Brazilian architects that included Lúcio Costa, Affonso Eduardo Reidy, Ernâni Vasconcellos, Carlos Leão, Jorge Machado Moreira, and Oscar Niemeyer, overseen by Le Corbusier. The project's avant-garde ethos included the creation of site-specific artworks by, among others, Cândido Portinari, Alberto da Veiga Guignard, and José Pancetti. These reflect local themes, resources and materials used for the building.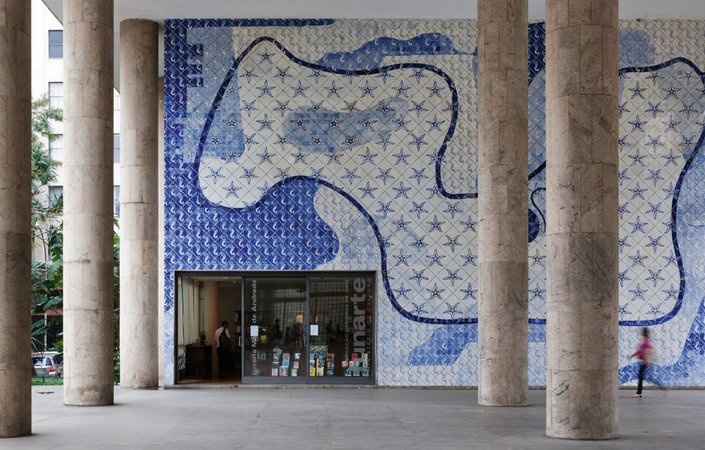 Portinari (1903–62) created two blue and white tile panels (exterior and interior) and a series of interior murals (1937–44). The design of the tile panels references traditional Portuguese azulejos but is also directly related to the palace's surroundings: the artist used the color palette to express maritime themes, as well as alluding to the building's proximity to the sea by including starfish, seashells, fish, and seahorses in the designs.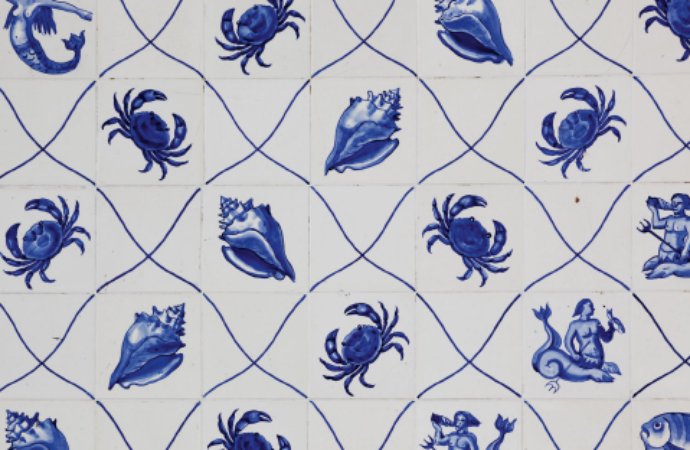 The tiles were manufactured by Osirarte (Atelier de Arte Decoratica, São Paulo), a company that no longer exists. Portinari's interior frescos include a series depicting education through work, with scenes of national industries such as rubber, iron, cotton, and redwood, representing the economic development of Brazil.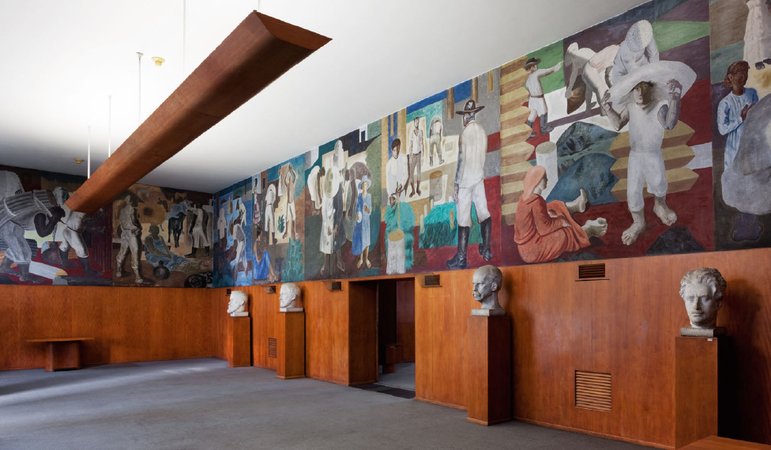 Brazilian landscape architect and artist Roberto Burle Marx (1909–94) was invited to design the gardens, with the intention of integrating the modernist architecture and art with landscape design. Burle Marx was one of the first landscape artists in Brazil to use local plants rather than those of European origin. The Burle Marx Garden on the terrace of the Capanema Palace (1937) includes imperial palms and other plants native to Brazil arranged in compositions that represent Abstraction , Concretism , and Constructivism . Seen from higher up in the building, the organic shapes of the garden elements echo the fluid lines of Portinari's tile panel.