Art and architecture have long informed one another, but recent years have seen a veritable flowing of crossover projects as the latter discipline (inspired in part by the rise of installation art) has grown increasingly confident in shaking off its pragmatic roots in favor of more imaginative undertakings.
With socially charged and highly multidisciplinary agendas in mind, contemporary designers continue to push the boundaries of architecture with an emphasis on material and an unwavering attention to aesthetics, working on a sliding scale of size from very small to larger-than-life. These ten works, excerpted from Phaidon's new compendium Nanotecture, each explore form and function by transcending utilitarian purpose to become captivating works of art.
BASIC HOUSE
Martin Azúa
2010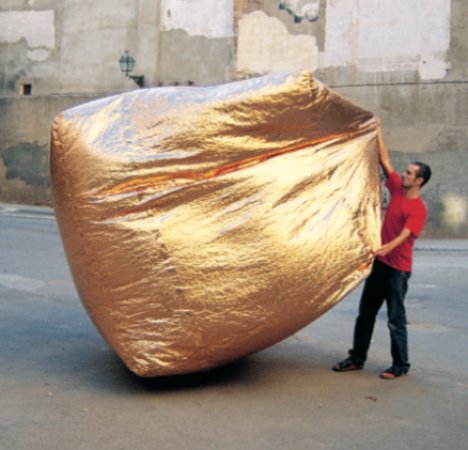 Barcelona designer Martin Azúa questions the idea of the private home with the foldable, inflatable, and reversible Basic House. The experimental prototype challenges the idea of home ownership, offering an alternative to the materialistic reality of today's world. Made from metalized polyester that is so light it floats, Basic House is intended as a shelter small enough to fit in your pocket, allowing you to break away from the imprisonment of materials ties. The shelter self-inflates with body heat or from the heat of the sun, protecting users from both the cold and from the heat.
SEED PAVILION
Heatherwick Studio
2010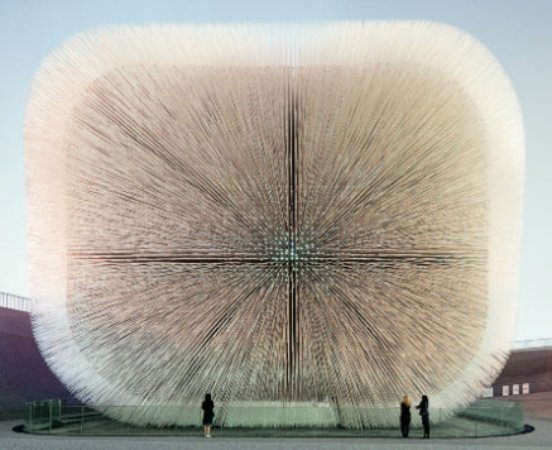 Representing the UK at Shanghai's 2010 Expo, the Seed Pavilion was intended to convey the country's connection between cities and nature in a way that would also be popular with the public. Standing 20 meters (651⁄2 ft) tall and pierced by more than 60,000 fiber-optic rods, the pavilion is a light conductor: each of the 7.5 meter (241⁄2 ft) long translucent rods pass through the steel and timber structure, drawing daylight into the "seed chamber." Embedded with a light source, at night the rods direct light outward to create a glowing "hairy" haze. The tip of each rod is embedded with plant seeds—more than 217,300 in total—that were collected in association with Kew Gardens' Millennium Seedbank.
TAPE CITY
Numen/For Use 
2011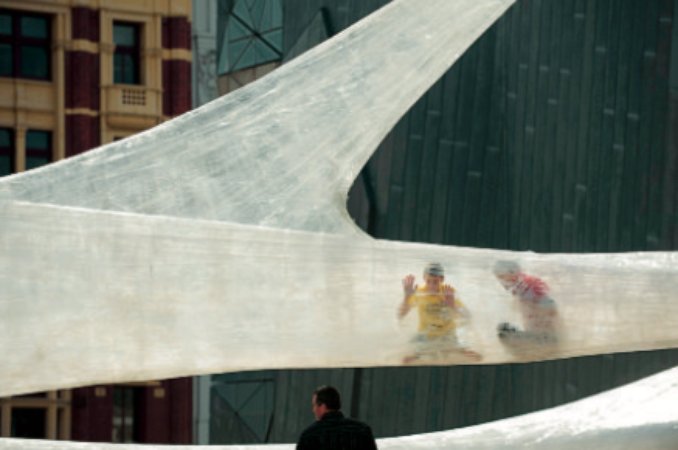 The first project by Numen/For Use outside of Europe, Tape City at Federation Square in Melbourne was commissioned as part of the city's Creative Programme, which focused on the social impact of large-scale public art. Made of 30 kilometers (18 mi) of packing tape, this edition of Tape City stretched the full 16 meter (521⁄2 ft) length of the venue's Western Terrace, spanning like an over-scaled web across the plaza. Its form was dictated by the context, projecting 6 meters (193⁄4 ft) above ground from the external walls of the SBS building. Visitors to the project could explore the semi-translucent interior of the tunnels, which filter light through the carapace and conjure the effect of a chrysalis.
CHAIRS FOR ABU DHABI
Tadashi Kawamata
2012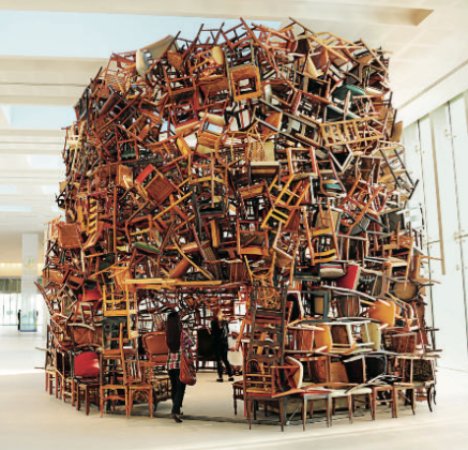 This large dome of stacked seating is consistent with the language of Tadashi Kawamata's oeuvre, which often uses repurposed or found objects as raw material to work with. Chairs for Abu Dhabi is a 6 meter (193⁄4 ft) high cupola of 1,000 stacked chairs that almost reach the gallery's ceiling and allowed people to pass through, meet at, or rest on the sculpture. The work included a diverse range of seating, including armchairs, sofas, benches, and stools, all of which were amassed and assembled by twenty people over five days. The different timbers, upholstery, and shapes of the chairs form a rich textural body towering in the space and acted as a visual beacon for the Abu Dhabi Biennale.
COCA-COLA BEATBOX
Asif Khan and Pernilla Ohrstedt
2012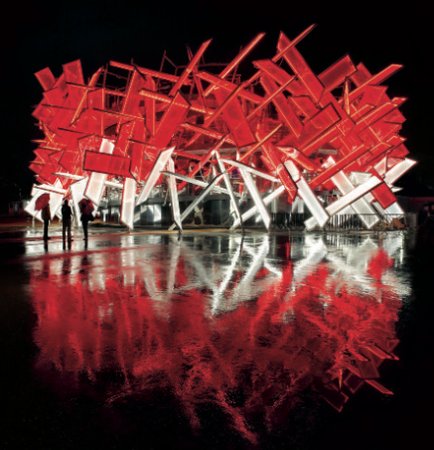 Part of the London 2012 Olympic Games, this interactive Beatbox sponsored by Coca-Cola was a fusion of architecture, music, sport, and technology, intended to popularize the Games for young people. Like a human-scale mixing deck, Beatbox was composed of 200 interlocking red and white ETFE plastic pillows—each the size of a billboard—which were sensitive to movement and touch. As visitors ascended the pavilion's ramp, certain pillows could be "played" to emit recorded sound samples: from athlete's heartbeats to squeaking running shoes and samples from the Olympic song "Anywhere in the World." Its striking red and white crystalline structure references the sponsor's iconic colours and acted as a beacon in the expansive Olympic Park arena.
EXBURY EGG
PAD Studio and Stephen Turner
2013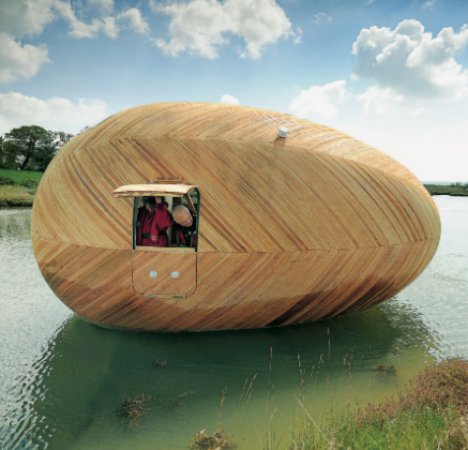 Moored on an inlet of the Beaulieu River in Hampshire, the Egg is a workspace, home, and laboratory for artist Stephen Turner. The self-sufficient oval structure is almost 6 meters (193⁄4 ft) long and is designed to act like a boat, rising and falling with the estuary's tides. It provides a place from which Turner can observe and collect data about the river that then informs his artworks. Constructed from two ovoid halves joined together, the boat uses traditional yacht-building techniques: Douglas Fir stringers secure the ribs of the Egg, which are cold moulded with narrow lengths of recycled cedar, coated with epoxy fiberglass to make it buoyant and stable. As well as a place to work, the project is a catalyst for an educational program, intended to raise environmental awareness.
HOME WITHIN HOME WITHIN HOME WITHIN HOME WITHIN HOME
Do Ho Suh
2013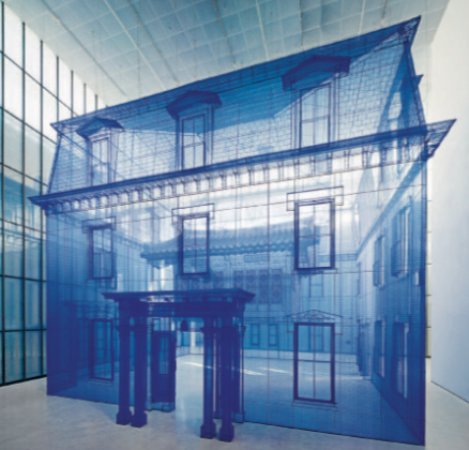 Home within Home ... by Do Ho Suh is an illuminating comment on the geographical, cultural and physical contrasts between the artist's birthplace in Korea and his life in the USA. The work renders a full-scale replica of a three-storey American townhouse in which he once lived, with a spectre of his family's traditional Korean home suspended inside. Both houses are meticulously made from a filmy blue fabric, articulated by a metal frame. This immediately describes the different size, structure and details specific to each place: the capacious mansard-roofed home engulfs the Hanok style house but both are rendered ghostly by the translucent blue mesh.
HELLO HOUSE
OOF! Architecture with Rose Nolan
2014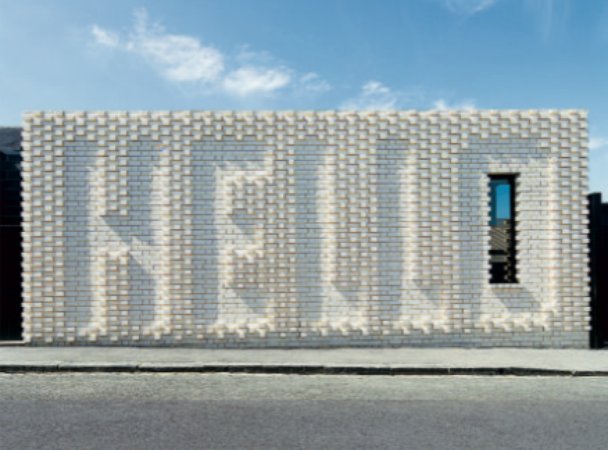 In contrast to its inner-suburban neighbors, many of which are from the Victorian era, this contemporary two-bedroom house offers a friendly greeting to all that pass by. Designed by OOF! Architecture in collaboration with artist Rose Nolan, the white-brick wall spells out the word "HELLO" at full height along its main facade. This gives the project a boldly cheerful face to the street while providing domestic privacy to its inhabitants. Only a narrow vertical window that pierces the "O" offers a glimpse of the home and creative studio inside, which is a simple pavilion for work and rest.
UMBRELLA SKY
Sextafeira, Produções
2014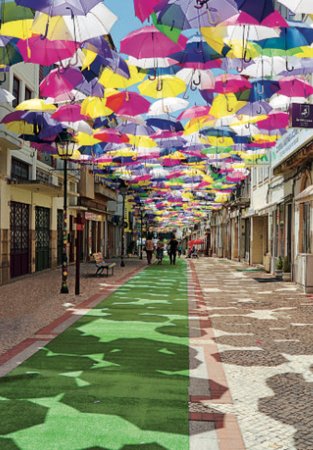 Umbrella Sky is the second street installation by Sextafeira, Produções, part of the annual Agitagueda Art Festival held in Águeda, Portugal. Suspended from a complex grid of fine steel wires, the bright umbrellas hang above the central city streets, forming a canopy that covers almost 3000 square meters (98421⁄2 sq ft). In vibrant hues of pink, blue, yellow, purple, and green the umbrellas were selected to contrast with the typically dull greys of the urban environment, creating a celebratory spatial experience for festival-goers. More than 3000 umbrellas were used, spread over different locations, and were installed by a small team in just one week.
DRAWING OF A DRAWING
Massimo Uberti
2014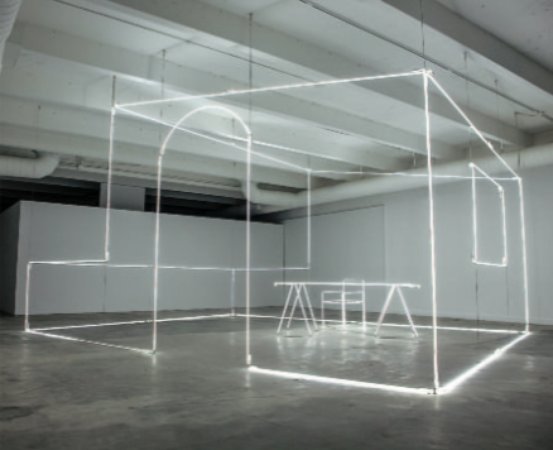 Creating an uninhabitable but poetic description of a home, this light installation of neon tubes by Massimo Uberti transcribes the character of a typical domestic room at real scale, including walls, door, window, and furniture. The piece was commissioned by British car manufacturer Bentley as one of a series in its Bentley Elements installations for the 2014 Miami Design District. Drawing of a Drawing is intended to provoke reflection as viewers contemplate and move about inside the illuminated house. The neon-lit space is also a reference to Bentley's similarly lit vehicle audit bays at its manufacturing plant in Crewe, England.