Hosted on the eve of the Met Costume Institute's exhibition opening Manus x Machina: Fashion in an Age of Technology, this year's star-studded annual Met Gala showcased a cast of celebrities and socialites wearing the crème de la crème of fashion's biggest names who have an eye on the future and a hand in the latest technologies. As we take a look back (to the future) at some of history's most "techie" fashion designers, we see how the manipulation of technology, old and new, has bred a cutting edge sartorial language in technique and material.
From Phaidon's newest edition of The Fashion Book, hereare 10 designers whose collections are what robot, space explorer, and Trekkie dreams are made of.
ANDRÉ COURRÈGES
Space-Age Designs
1964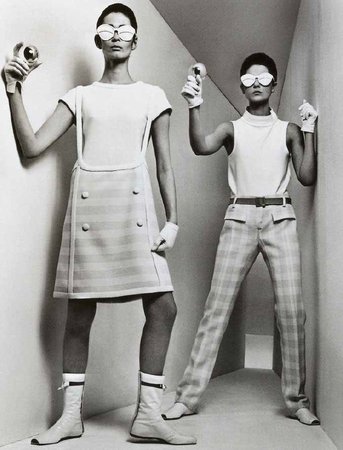 A former civil engineer, André Courrèges placed the meticulous cut of fashion he had practiced in Balenciaga's atelier in the 1950s in the service of the 1960s idealism of youth and the future. Along with Pierre Cardin and Paco Rabanne, Courrèges led the cult of visionary fashion design in Paris. It was a movement that cut away superfluous material, banned decoration, and established geometry and new materials for fashion. "I think the women of the future, morphologically speaking, will have a young body," said Courrèges at the time. His miniskirts were stiff and square and advocated a minimum of body coverage, enjoying those "young" bodies that became visible in the 1960s. His most characteristic symbol, often covering his dresses and bare body parts, was the youthful daisy. Unisex was another Courrèges theme. He predicted that womenswear would become at least as practical as menswear.
PACO RABANNE
Aluminium Chainmail Dress
1966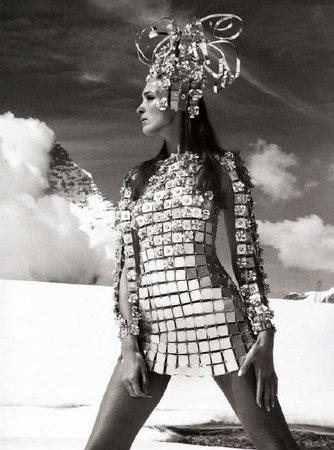 Aluminium discs and panels linked together by wire using pliers have replaced conventional fashion created by threads and needles in this space-fantasy costume. Rabanne studied architecture at the École des Beaux-Arts in Paris but turned to fashion, supplying plastic buttons and jewellery to Givenchy, Dior, and Balenciaga. Opening his own fashion house in 1966, it was his architectural training combined with the impact of space and space travel in the 1960s that inspired Rabanne to create such startling new styles. His space-age fashions using alternative, experimental materials were important in pushing aside the traditional parameters of what were acceptable clothes to wear on the street. Other fashion designers who travelled the space-age fashion route in the 1960s were Pierre Cardin, André Courrèges, Rudi Gernreich, and Yves Saint Laurent.
MICHÈLE ROSIER
Quilted Ski Jacket and Pants for V de V
1966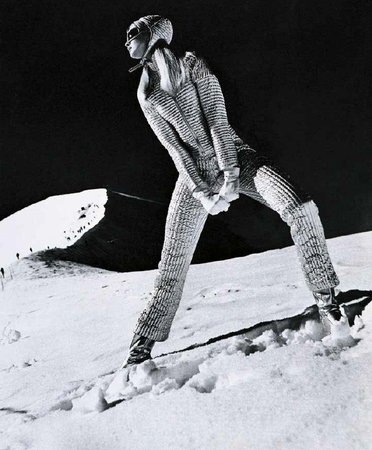 A mountain takes on the look of another planet for the backdrop to Michèle Rosier's space-age sportswear. The model's bug-eyed goggles and silver boots amplify the drama of Rosier's foil ski jacket and pants. Together with her contemporary Christiane Bailly, Rosier was a major player in France's burgeoning ready-to-wear market. With her young, accessible response to haute couture, she helped boost the export of French prêt-à-porter five-fold between 1962 and 1970. Rosier spent her childhood with her mother, publisher Hélène Gordon-Lazareff, in the United States, where the youth-orientated style was a formative influence. Rosier began her career as a writer for New Woman and France-Soir, but quit journalism to found V de V (Vêtements de Vacances) in 1962 with Jean-Pierre Bamberger. Rosier's use of sportswear fabrics, such as nylon fleece, paved the way for their adoption as part of everyday fashion clothing.
PIERRE CARDIN
"Space" Collection
Autumn/Winter 1967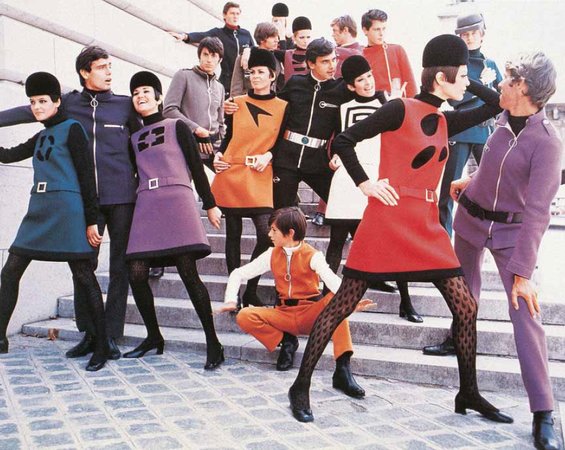 In what could be a still from Star Trek, men, women, and even a boy, strike poses to accentuate their tomorrow's wardrobe. In the mid-1960s Pierre Cardin spun off into deep space with Courrèges and Paco Rabanne. He offered utopian clothes to a new generation. Graphic symbols were cut from his jersey tunics; men's jackets were given military epaulettes. The silver shine of asymmetric zips, steel belts, and buckles brought haute couture into the space age. Cardin's training had been a traditional one—at the houses of Paquin, Schiaparelli, and Dior—but his mind was on the future. In 1959 he was the first couturier to design ready-to-wear and was expelled from the Chambre Syndicale. Cardin became fashion's scientist, developing his own material, Cardine, a bonded fiber that would rigidly hold his geometric shapes, and experimenting with metals to produce dresses. In later years, Cardin put his name to everything from pens to frying pans.
WALTER VAN BEIRENDONCK
Printed T-Shirt and Rubber Trousers
W&LT Autumn/Winter 1995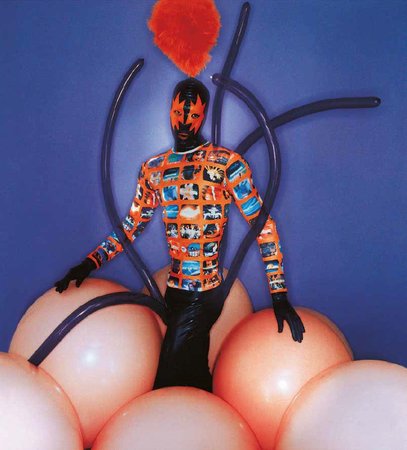 Hovering somewhere in the aesthetic territory between a video game, tribal costume, and sexual fetishism, this outfit expresses the all-embracing futuristic hedonism of W&LT, the club-wear label designed by Walter Van Beirendonck during the 1990s. Graduating from Antwerp's Royal Academy of in 1980, Van Beirendonck was one of the "Antwerp Six" who broke onto the international scene in 1987. His roving imagination is fed by his interest in contemporary art, anthropology, historical costume, and current affairs. After leaving W&LT in 1999 he turned his attention to beautifully realized experimental high fashion, using bespoke textiles and materials such as raffia, printed tablecloths, and techniques not usually associated with menswear. A great supporter and promoter of young designers, Van Beirendonck has taught fashion at the Royal Academy of Fine Arts in Antwerp since 1985, becoming head of the fashion department in 2006.
HUSSEIN CHALAYAN
"Remote Control Dress"
Spring/Summer 2000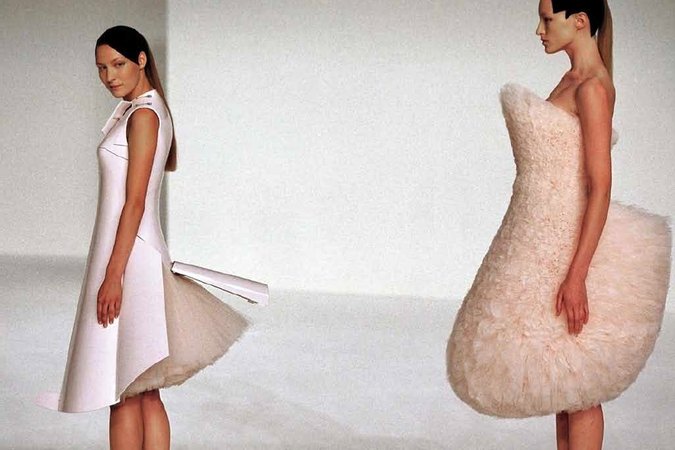 Molded from a fiberglass and resin composite the hard shell of the "Remote Control Dress" opens to reveal a contrasting mass of soft tulle. Operated by a boy on the catwalk with a radio control, this playful counterpoint speaks of the relationship between technology and nature, and our attempts to use one to control the other. Highly inventive collections and conceptual projects have become Hussein Chalayan's trademark since his debut collection in 1994, with pieces including furniture that transforms into garments and a dress made of 200 lasers. Chalayan is celebrated for the complex, almost architectural rigor of his pattern-cutting, which results in structured, geometric designs. Coming to prominence in the 1990s, Chalayan was one of a generation of designers, including Alexander McQueen, responsible for the cutting-edge style associated with London's cultural boom in that decade.
NICOLAS GHESQUIÈRE
Ghesquière's Metallic Leggings for Balenciaga
Spring/Summer 2007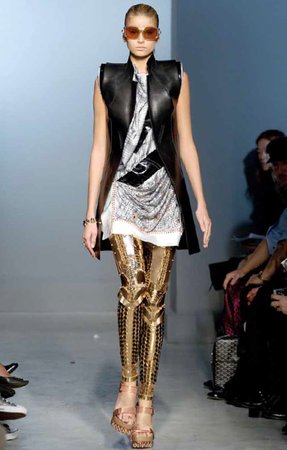 After serving an internship with agnès b and assisting Jean Paul Gaultier, Nicolas Ghesquière was plucked from relative obscurity to become the creative director at Balenciaga in 1997. He reinvigorated the brand with electrifying, cutting edge collections, mixing minimalism with technology to design clothes "for a woman who is looking to the future." His spring/summer 2007 collection for Balenciaga was just that. Ghesquière produced a vision of fashion's future. The model is as sharp, slick, and cool as the black and white printed silk dress and black leather waistcoat she wears, cut around the body with a laser precision. Her jointed, articulated leggings in gleaming silver, gold, and black metal are astonishing, while her scraped-back hair and gargantuan goggles complete the silhouette of a futuristic fashion android. Ghesquière's fifteen year tenure at Balenciaga ended in 2012.
GARETH PUGH
Black, Open-Knit Dress with Sculptural PVC Sleeves
Spring/Summer 2007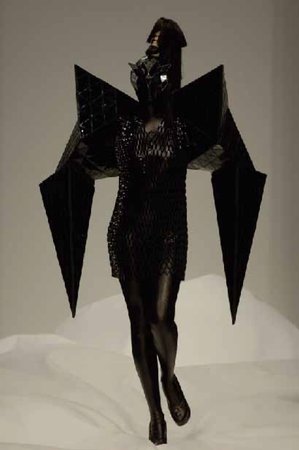 For his spring/summer 2007 ready-to-wear collection, British designer Gareth Pugh transformed his models into otherworldly creatures on an inflated, billowing runway. Every centimeter of skin was hidden under futuristic materials—mostly in black, shaped into geometric structures—and topped with sculptural hairstyles. Pugh's fashion week presentations are often driven by performance—stemming perhaps from his background as a costume designer for the English National Youth Theatre. After graduating from Central Saint Martins, Pugh's darkly carnivalesque debut show made its mark with a ballooned-out puffer coat and a preference for fierce females, garnering the soft-spoken couturier comparisons to eccentric compatriots John Galliano and Alexander McQueen. Filmmaker Ruth Hogben collaborates with Pugh on films that play during his shows, giving his visionary fashions a fitting digital-age presentation.
IRIS VAN HERPEN
Cathedral Dress from the "Hybrid Holism" Collection
2012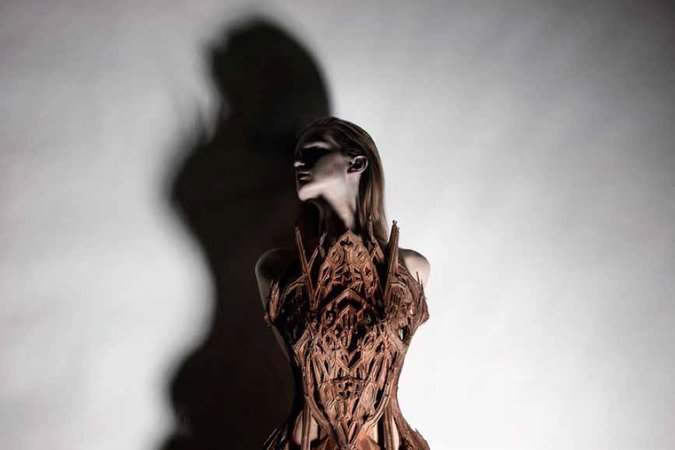 Recalling a skilled medieval woodcarving, the Cathedral dress from Iris van Herpen's "Hybrid Holism" collection from 2012 is in fact the product of cutting-edge technology. The one single intricate piece is manufactured using a 3D-printing process called stereolithography. An interest in structure—be it architectural, anatomical, or atomic—lies at the heart of much of this Dutch designer's work, as her complex couture pieces are often compared to sculpture. As a student, van Herpen felt limited by the structural possibilities of fabric, exploring other materials and calling in architectural and manufacturing collaborators. The technology-conscious themes of her collections have included scanning electron microscopy and synaesthesia, matched by a fascination for ancient handcrafting techniques. Popular as they are as museum and gallery exhibits, van Herpen insists that the beauty of her garments can be fully realized only on the moving body.
PETER PILOTTO
Peter Pilotto
Autumn/Winter 2013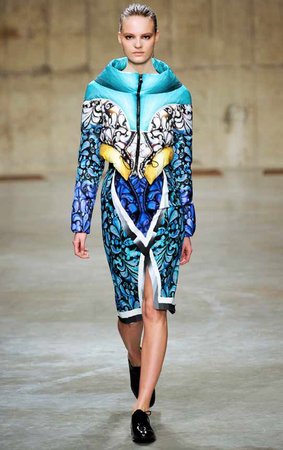 Peter Pilotto and Christopher De Vos—designers behind the label Peter Pilotto—met in 2000 while studying at the Royal Academy of Fine Arts, Antwerp. Now based in London, the pair are known for their modern, bold silhouettes that are illustrated with color and print. Inspired by recurring patterns in nature, decor, and technology, is seen here in their autumn/winter 2012 collection. The color and illustration on the fabric, using digital print technology, works together with the sporty design and detailing; the puffa-jacket style with zip and toggles is a modern take on the high fashion genre. The inventive and eye-catching silhouette converges the effects of light and movement in imitation of the scientific observational study of clouds. Peter Pilotto is at the vanguard of a London fashion movement, having innovated and reinvented textile technology, producing hyper real prints united with soft, sculptural shapes.